'Dracula' deserves a chance
Bisexual controversy aside, new series is bloody fun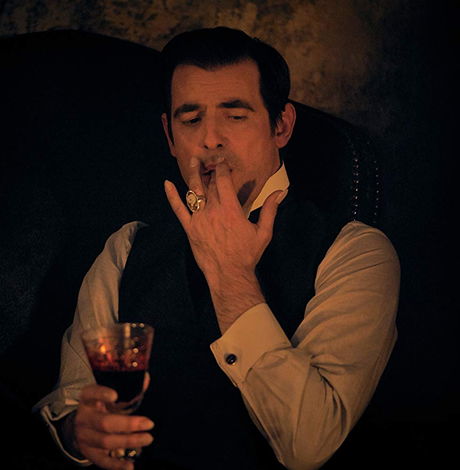 It's already become fashionable to bash the new "Dracula" series unleashed on the world with the new year by "Sherlock" creators Mark Gatiss and Steven Moffatt.
Co-produced by the BBC and Netflix, the latest incarnation of Bram Stoker's 1897 classic became queer news late last year when Gatiss (who is out) teased that its re-imagined title character would have bisexual appetites, immediately piquing the interest of queer horror lovers the world over.
Things began to turn, however, when co-creator Moffatt "clarified" by telling The Times that 'bisexual" was not exactly the right word to describe the show's vision of the Count. "He's bi-homicidal, it's not the same thing," he said. "He's killing them, not dating them."
Controversy ensued, of course. Online commentators suggested that the BBC had engaged in "queer-baiting" to draw LGBTQ viewers to the show, and some took Gatiss' additional comments that "horror should be transgressive" to imply that the bisexual overtones themselves were meant to be shocking – an outdated concept in 2020, to be sure.
When the show dropped on Jan. 1 (on BBC One in the UK and Netflix in the U.S.), the "bi-vampire-curious" among us got all our questions answered – and those answers, it seems, were not the ones most of us wanted.
Any real discussion of whether this "Dracula" works is dependent on "spoilers," thanks to the nature of its narrative conceits, so readers beyond this point should consider themselves warned.
The details of Stoker's novel are well-known, of course, and this latest renovation remains surprisingly faithful to them, all things considered; but as any follower of Gatiss and Moffatt's career knows, much of the magic in their work – most notably, their modern-day "Sherlock," which made Benedict Cumberbatch the household name everybody loved to mispronounce – hinges on the way they shatter an already-familiar story and re-assemble its shards into something that feels entirely fresh.
When it works, it's breathtakingly enjoyable. For many viewers, it seems, the problem with their "Dracula" is that it just doesn't.
Comprised of three feature-length episodes, the series begins in much the same way as almost every version of the tale, with the arrival of solicitor Jonathan Harker at the mysterious Romanian castle where Dracula has spent centuries draining his neighbors of their blood. This time, his story is told in flashback, as he relates his harrowing experiences there to a nun at a convent to which he has barely escaped with his life – or so he thinks. The Count, he tells her, had hired him as an agent to set up a relocation to England, in hope of finding meals with more "flavor" than the superstitious and unsophisticated locals are able to provide.
It's here where we discover that the "bisexual" spin was not altogether wrong; Dracula's "wooing" of Harker is overtly homoerotic (by which tactic the unfortunate lawyer is not unmoved), and he ultimately refers to the young man as his "favorite bride." Yet ultimately, it's all a ploy; like all of Dracula's attractions, it's based on blood, not sex, and anyone hoping for a queer vampire love story would be well-advised to look instead to the books of Anne Rice.
By the end of the first installment, we have learned that the situation is both nothing like what we are being told and exactly what we think it looks like, and also that the increasingly hard-edged and interrogative nun is none other than the Gatiss-Moffat reinvention of Dracula's equally iconic arch-nemesis, Dr. Van Helsing, having been given both a gender-flip and considerably more sass. Up to this point, most viewers seem to have been all in.
It's with the second episode that audience opinions seem to split. Documenting the Count's sea voyage to England, it expands the Stoker novel's six-page account into an Agatha Christie-style "And Then There Were None" scenario (which includes a doomed gay couple within the mix – again, not the supernatural romance we might have wished, but more than a token nod to representation, at least) before unexpectedly having Dracula finally set foot on English soil smack in the middle of modern times. This climactic reveal – along with the presence of a new and doubly-determined Van Helsing (no longer a nun but still female) – sets up a final chapter in which, if social media can be considered a valid gauge, the whole thing falls apart into a disappointing and frustrating mess.
Contemporary setting notwithstanding, many of the book's characters still put in an appearance, such as the tragic Lucy, whose journey from hopeful bride to walking corpse is here played out by a lovely young social media influencer – who also happens to be a woman of color with gay BFF, adding a few more points for to the diversity scale. It's the tale's final twist, however, that has left many viewers feeling cheated, betrayed, or otherwise victimized by the series.
That final revelation will remain unspoiled here. What matters more is that a lot of people seem to really hate it. Like disgruntled "Star Wars" or Marvel fans who take to the internet to campaign against creative choices with which they disagree, so too have "Dracula" purists seem to have embraced the new series as the latest example of how a thing they love has been "ruined."
It would be hard to argue that the latest offering from Gatiss and Moffatt is a masterpiece. Its cleverness is often too deliberate, its glibness too self-referential, and its horror too perfunctory; and while Dolly Wells is a show-stealing wonder as the durable Van Helsing, Danish actor Claes Bang can't quite manage the delicate balance between camp and menace that is required to make Dracula the sexy beast we all want to see – though admittedly, he tries his best to shine through the sometimes ridiculous dialogue he's been given to work with.
Even so, "Dracula" was never high art. It was a purely commercial endeavor for Stoker, and even the iconic 1931 movie version starring Bela Lugosi was a clunky potboiler, even for its day. Every screen retelling has remade the durable tale in the image of the day, from the bloodthirsty horror of Christopher Lee's popular incarnation to the subversive proto-goth allure of Gary Oldman's romantic outsider in Francis Coppola's divisive 1992 adaptation, and the best of them have always made bold choices in order to bring some meaning to the proceedings beyond the archetypal horror that drives the original novel.
Gatiss and Moffatt have done no less, and if the result flies in the face of expectation, it can hardly be helped. Instead of simply telling us a story we already know, they have taken the core of the vampire mystique – the seductive appeal of death itself – and made it the focus of a meditation that happens to also be a lurid, not-to-be-taken-too-seriously guilty pleasure. For those who prefer their classics as-is, that might understandably be a deal-breaker.
Anyone else should be encouraged to give it a chance. It can be a lot of bloody fun, if you let it.
'Fellow Travelers' mixes queer love, politics for sexy history lesson
A relationship enduring across the years despite resistance and betrayal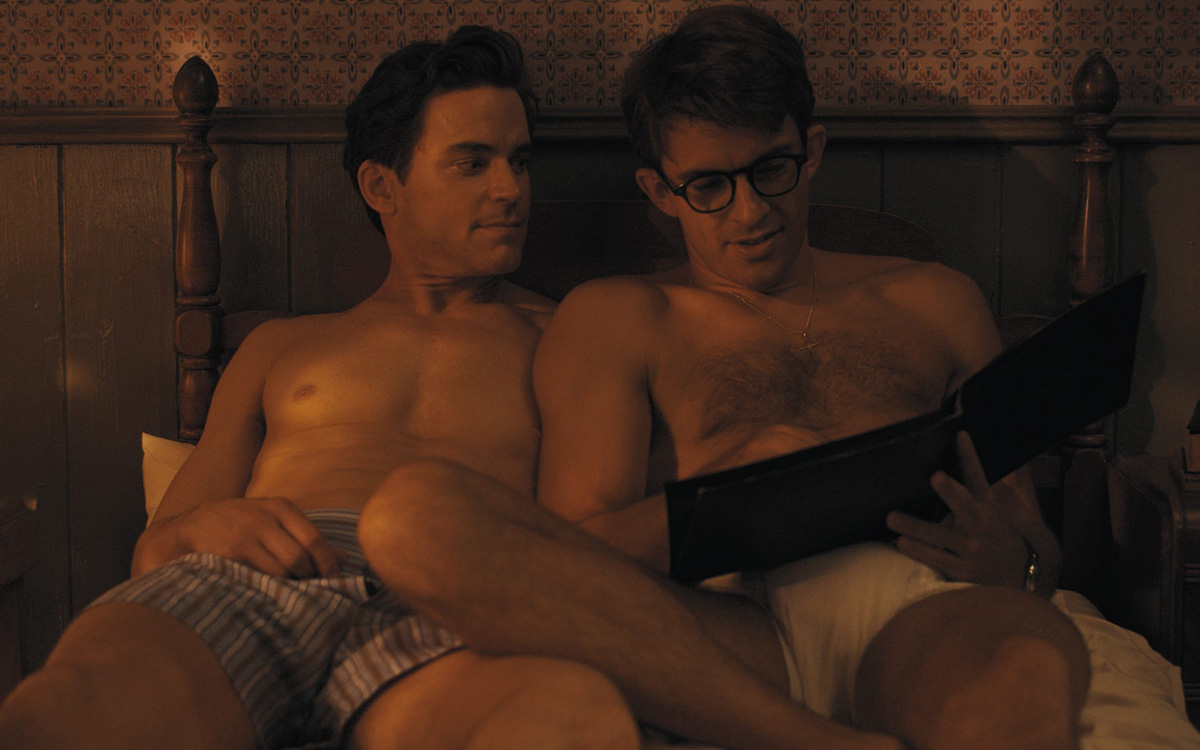 In a time when every streaming platform is falling over itself to present the newest "must binge" series, the phrase "Event TV" really has no meaning.
Yet once upon a time – just a few decades ago, in fact, when three major networks and a handful of cable companies highlighted every season with "hot topic of the day" shows from "Roots" to "The Band Played On" – it was something television viewers expected, a standard part of the small-screen line-up that inevitably generated ratings and provided a cultural touchstone (or at least, a good topic of discussion in the break room at work) for millions of people. If that era were still going on today, "Fellow Travelers" would be a perfect fit for the category.
Adapted from Thomas Mallon's 2007 novel of the same name, Showtime's sweeping eight-episode historical romance, which premiered with its provocative first episode on Oct. 27, checks off all the necessary boxes to pique the zeitgeist of our time. Presenting a fictionalized-but-authentic narrative that weaves real-life history into an intensely intimate love story spanning decades, it touches on issues of hotbed importance to our modern world while spinning an irresistible tale of forbidden romance – tempered by hard reality – that both blends into and epitomizes the lived reality of a generation.
To cement its status as a show that is not to be missed, it casts gay heartthrobs Matt Bomer ("Magic Mike," "The Normal Heart," and any number of Ryan Murphy projects) and Jonathan Bailey ("Bridgerton") as the star-crossed couple at its center, whose love plays out across a period of queer American political experience that spans from the deeply closeted pre-Stonewall era of 1950s America to the cultural trauma of the AIDS epidemic.
Simultaneously telling both the beginning and the end of its story, "Travelers" moves back and forth through time as it follows the love affair between two gay men – war hero turned government man Hawkins "Hawk" Fuller (Bomer) and political idealist Tim Laughlin (Bailey) – through three-and-a-half decades of American history. Juxtaposing the story of their increasingly enmeshed relationship – alongside that of a queer couple of color, a Black journalist (Jelani Alladin) and a gender-bending nightclub performer (Noah J. Ricketts) – with the years-later saga of their reconnection after a devastating betrayal has torn them apart, its dominant throughline is tied to the underreported (though irrefutably documented) history of homophobic discrimination by the U.S. government that began with the McCarthy "Red Scare" era purge of known-or-suspected homosexuals employed within government service. Perpetrated under excuse of the presumed security risk associated with anyone participating in a "deviant" lifestyle, it was a targeted propoganda campaign that would eventually culminate in the debacle of the nation's indifference to AIDS and the rising death toll that was taking place in plain sight.
It's not the first show to tackle this subject matter; America's response to AIDS, and the deeply ingrained cultural homophobia that laid unabashedly behind it, has been explored so much that it has become almost a thematic trope. As to the topic of queer life in an environment where "passing" as straight is purely a matter of survival, it's a subject as relevant to queer existence in much of the world today as it has ever been, which we've rightly seen reiterated time and again. But given the current push in American politics to erode the hard-won advancements of the LGBTQ community toward acceptance and equality, it's hard to complain about a show that wants to explore it on our screens yet again.
Even so, it's also hard not to go into "Fellow Travelers" without noting the common ground it shares with other dramatic narratives covering the same ground – especially, perhaps, playwright Tony Kushner's seminal and now-iconic Pulitzer-winning "Angels in America," with which it invites comparison by virtue of its inclusion of real-life poster boy for internalized homophobia Roy Cohn (played here by Will Brill) and its focus on closeted characters working within the U.S. political establishment – and wondering if it will have anything new or noteworthy to say.
Based solely on its first episode, you might be prodded toward even more skepticism; establishing itself with a broad strokes and a glossy tone, it feels a bit like an old-school tearjerker, evoking the Douglas Sirk-ish social melodramas of its (predominantly) vintage setting even as it moves from past to future and back again. It's stylish, even lovely, but seems built on a distancing artifice. And its romantic leads, the characters to which we are supposed to attach ourselves, might be hard to swallow – for some viewers, at least – simply because they are gay men seemingly content to live their real lives under cover while working for a governmental system that facilitates their oppression. To put it simply, it all feels a little too "Hollywood."
Yet despite this, or perhaps because of it, the show draws us in. Though at first we might think it tends toward the shallow, drawing on familiar formulas and offering up two thinly drawn protagonists in hopes we'll accept them simply because they are played by a pair of impossibly handsome leading men, the ideas it presents are important and the history it documents illuminates a past that has remained obscured for far too long, so we're willing to jump on board. Besides, those leading men are not only very handsome, they have a winning chemistry together, and the authenticity of the casting pays off by delivering a queer screen couple that feels genuine – and that's not just because of their unapologetically sexy love scenes. Even if their story doesn't quite make sense to us yet, we want to see more of them.
That's a very good thing, because as the series moves along, the tone changes drastically. Though the world of episode one is full of blithe denial and resignation to a status quo that might make our hindsight bristle, it's a world that quickly changes as things progress, a point driven home by the show's time-jumping framework. The oppression gets worse, the danger gets real, and the effect those things have on the lives of these two men – one a seemingly amoral pragmatist who has accepted and embraced a closeted life as a condition for success and the other a passionate "true believer" naïve enough to fall under the spell of a right-wing political ideology – has an impact. They change, they make choices and suffer consequences; in other words, they deepen, and as they do, the show does too.
That's because show creator Ron Nyswaner, despite making some changes from the novel, understood the throughline at its core and held tight to it in building the series. Ultimately, "Fellow Travelers" is not a story about politics, or social causes, or any of the other weighty issues that shape its trajectory. It's a story about love, enduring across the years despite resistance, opposition, and betrayal; whether it ends happily or not – and you won't get any spoilers here – it is lived passionately. Because of that, we care, and because we care, those big ideas land even more soundly.