Fresh episodes of Fonda/Tomlin comedy full of grace, frank as ever
'We really want to deliver for everybody who's been there for us'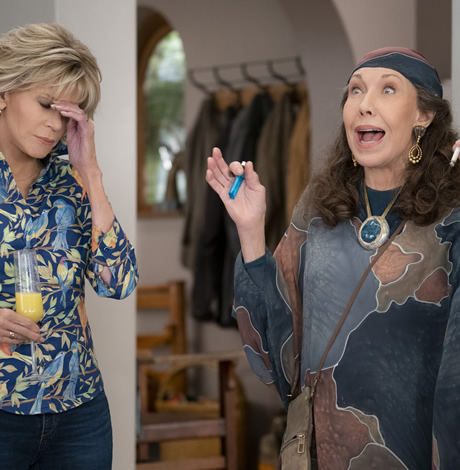 Change comes crashing in like waves at the beachfront property shared by the polar opposite title characters of "Grace and Frankie," as Season 6 picks up mere seconds after the last one left off.
Now available in full on Netflix, the 13 episodes of this penultimate season, deliver game-changing storylines for every member of the ever-evolving, deliciously dysfunctional, San Diego-based Hanson and Bergstein clans.
Honeymoon plans, health scares, mobility issues, an arrest warrant, a bacon curfew, and a new invention from the creators of a pleasuring device designed for older females figure into the goings-on.
Haven't seen the series? You're missing out on a binge-worthy ensemble comedy, and one of the few shows committed to exploring, with sly humor and saucy language, the potentials and limitations of the 70+ set.
Loyal fans and curious newcomers alike, be warned: The below paragraph contains backstory tidbits, and the rest of the proceedings drop some current season spoilers.
With Jane Fonda as vodka martini-loving, mega-WASPish cosmetics company founder Grace Hanson and Lily Tomlin as hard-toking, hearing-challenged free spirit Frankie Bergstein, these two women with only mutual loathing in common are thrust together by a shocking announcement: Their divorce lawyer husbands, ultra-liberal people-pleaser Sol Bergstein (Sam Waterston) and musical theater-loving, comparably conservative Robert Hanson (Martin Sheen) are embarking on a life together. Appropriately stunned, Grace and Frankie both stake their claim to the beach house whose "good investment" purchase served as canoodling central for Sol and Robert. A younger generation is also experiencing upheavals, as the Hansons and Bergsteins each have two children. Respectively, they are brood-tending, troubled-marriage Mallory (Brooklyn Decker) and filterless insult savant Brianna (June Diane Raphael), and adopted sons Coyote (Ethan Embry, as a recovering addict) and Bud (Baron Vaughn, as a divorce lawyer and go-to fixer of family drama).
Having made its debut in May 2015, "Grace and Frankie" is the brainchild of veteran comedy creators Marta Kauffman and Howard J. Morris.
"We are, first and foremost, writers," says Morris, of his working dynamic with "Friends" co-creator Kauffman. "I've known Marta since she gave me my first job [as a writer] on 'Dream On,' in 1990. We've always shared a similar sensibility. It's comic, but doesn't leave the realm of the real. We both love complicated situations that are messy and human, and reflect how people really are."
Even though "Grace and Frankie" is, notes Morris, "an absolute, avowed comedy," he and Kauffman are not afraid "to hit the more poignant moments. We decided early on that this is a show about hope, about what happens when you think your life is over, but it isn't."
Of the once-contentious, still-tense Grace and Frankie relationship, says Morris, "They're always going to be at odds, because whatever they do, they approach it from opposite attitudes."
Citing a pivot in Season 3, Morris recalls, "You're doing a show about two people who, at the beginning, really disliked each other, and you can't keep doing that show, reacting to the fact that their husbands left them… So we had them open a business, helping older women with products that people don't usually talk about."
Frank talk tackled with grace is something "Grace and Frankie" excels at, especially as it applies to people of a certain age.
"That's something we really wanted to explore," says Morris, "and when there's something nobody else is doing, it's often an opportunity. That excited us. So we will always ask, 'What are we talking about that is true to these characters, and their age?' It's not a show that could be done if they were 35."
As for how the narrative evolves, says Morris, "We sit down at the end of the year, watch the previous season, and see what the hanging chads are."
Such reflection has yielded the return of supporting characters, including, says Morris, "Tim Bagley, who cracks us up constantly."
Seen previously as the tyrannical director of a gay community theater troupe who runs a catering business with his husband, deadpan artist Bagley's hypercritical Peter returns this season, taking a weak stab at amending for his stint as the demanding houseguest of Sol and Robert (whose impossible dream of playing the lead in "Man of La Mancha" was crushed when Peter cruelly downgraded him to Sancho Panza).
Ernie Hudson, as the main ingredient supplier of Frankie's yam-based lube, returns from Santa Fe to vie for her attention, alongside newcomer Michael McKean, as a monied Deadhead with a secret Frankie fails to hear, during a date in a noisy restaurant ("He's fantastic," Morris rightly notes, of McKean). Millicent Martin, as former divorce firm secretary (and porn director?) Joan-Margaret, builds on her legacy of straight talk, while Peter Cambor returns as accountant Barry, whose sperm donation to a lesbian couple further complicates his relationship with Brianna.
But for all these notable guests who grew into recurring characters, Morris says Peter Gallagher has proven to be "the most obvious" example of, "Oh, wait, there's something more there, and we've got to write this."
Gallagher plays Nick Skolka, the charismatic, confident tycoon whose unyielding commitment to considerably older Grace led to a Vegas marriage at the tail end of last season.
"Whenever you cast somebody who's a potential romantic lead," says Morris, "it's so hit or miss. But we immediately recognized Jane and Peter have this great chemistry."
Also high on the show's chemistry scale (aggressively topped by Fonda and Tomlin) are Sheen and Waterston. The well-paired straight actors share frequent smooches and knowing glances that convey the hard-won intimacy of Robert and Sol, whose journey out of the closet is soured by frequent reminders that they cheated on their wives for 20 years. Add to that their bickering nature and propensity for keeping secrets (par for the course for this show), and you've got decidedly less than ideal poster boys for the gays. Morris acknowledges there's been some pushback on that.
"The criticism we've gotten, especially in the beginning," he says, "is that it wasn't truly 'gay' enough, or felt inauthentic." But from the very beginning, he recalls, "We were like, 'We're not going to be suddenly having them wear leather pants.' We've stayed true to who these guys are, who were repressed all this time." (Sol does don leather this season, but it's more about revenge than fetish.)
"Aside from that," Morris says, of the can't-be-all-things-to-all-people Robert and Sol relationship, "people in the gay community just go crazy for Jane and Lily, and we're just very grateful that the show was embraced."
In the service of authenticity, Morris notes the contribution of gay writers John Hoffman and Billy Finnegan. "He's fantastic," Morris says, of Hoffman, "and will always let us in on the perspective of people he knows." Finnegan, Morris says, "is just a tremendously funny, talented guy."
Among other things, Finnegan and Hoffman are responsible for writing, respectively, episodes 3 and 4 of Season 4, which tie up a Robert/Sol storyline about activism, flesh out the Grace/Nick age difference thing, give the title characters their zaniest scheme to date, and kills off Frankie, in a manner of speaking. Dense with plot pivots and one-liners that we dare say could only come from a "gay sensibility," the episodes also offer new takes on the show's core themes of aging, partnering, and reinvention.
Now, says Morris, the creative team is challenged with the task of closure: Season 7 will be their last, with 16 episodes ordered (three more than the usual).
"I can say it will continue in a vein of hope," says Morris, "but it does feel like a lot of pressure. You want to do it justice. We really want to deliver for everybody who's been there for us."
Trans trailblazer helps queer the sci-fi genre in 'The Peripheral'
Alexandra Billings on increasing representation in Hollywood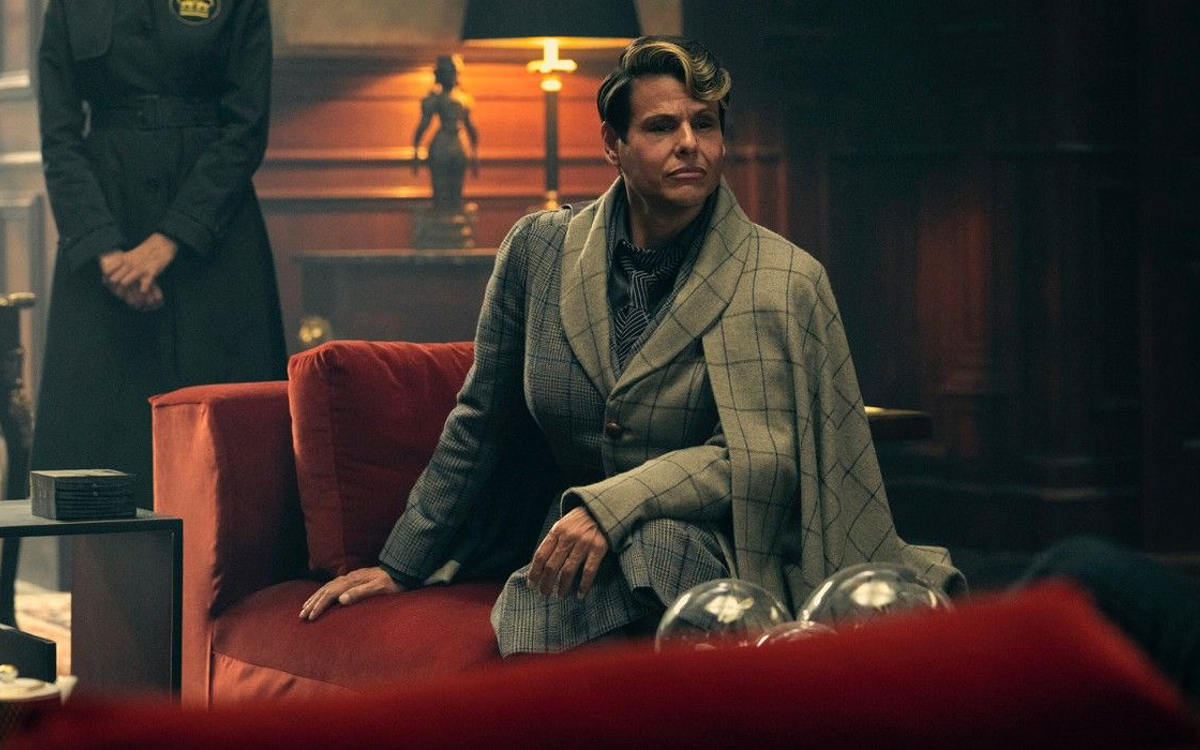 Alexandra Billings has been a pioneering trans performer several times over, but she tells us that her recurring role as Inspector Ainsley Lowbeer in "The Peripheral" – Amazon Prime's series adaptation of William Gibson's 2014 book of the same name – is a more personal first for her.
"I love science fiction! This is really my bag, and I've never done anything like it before!"
Created by Scott B. Smith, who co-executive produced the show alongside "Westworld" creators Jonathan Nolan and Lisa Joy, the show is a mystery-thriller set not just in one future but in two. Beyond the depressingly prescient dystopian one inhabited by protagonist Flynne Fisher (Chloë Grace Moretz) lies another, from which the surviving remnants of humanity employ advanced computer technology to reach back and alter the past. The stakes are high – there's an apocalypse involved — and a complicated, "Black Ops"-style secret war going on between factions struggling for control makes them even higher. Even for someone who doesn't look for these things, the allegorical comparison with our own world is impossible to miss; but then science fiction, done right, has always been a prime genre for making social, cultural, and political commentary – and author Gibson, widely credited with creating the whole "cyber-punk" sub-genre, knows how to do it right.
Billings recently spoke with the Blade about the show, among other things. Our conversation is below:
BLADE: It's refreshing to see you in something like this. We're not used to seeing such strong representation in these kinds of stories.
ALEXANDRA BILLINGS: Usually, if trans characters were in sci-fi in the past, we were plugged in – they were cisgender characters that trans people played and then they turned trans. But Lowbeer is written as a trans woman. That was extraordinary, and it was thrilling to me.
BLADE: She's a very strong presence.
BILLINGS: She's kind of a guide, and she also has great power – not mystical power, or magical, but intellectual. And that's one of the wonderful things about this show that I want to stress – it's very female-centric, very female-heavy. There's gender identity that is addressed, there are women of color that have great power and great strength and intellect. These are smart, witty, competent, capable women. No female depends on any other power except their own to be able to survive in the world of this story, and I think that matters, too.
BLADE: Did you ever imagine you would be playing a part like this in a mainstream Hollywood project?
BILLINGS: Oh no, God, no. When I first came to Hollywood, there were five of us, basically, me and Candis and Laverne and Trace Lisette, and a couple of other people, and that was it. Every time there would be an audition for a trans person – which was usually one of us in the hospital, or going to the hospital, or getting ready to go to the hospital, or something that had to do with the hospital – we would always meet each other. We finally just formed a little brunch club, we were like, 'Let's just get together after the next audition and go out. We might as well have food.'
Back then, there was just no concept of the transgender experience, because trans people were not writing any of these shows. You can't have someone who's never been through a lived experience pretend that they've lived that experience, it doesn't make any sense. Now, with more trans writers, more trans producers and showrunners in Hollywood, things are starting to change. But this was a shock. I was shocked when I heard about this character, and really shocked when I read the script. It really is brilliant.
BLADE: That's just one aspect of the show that feels forward-thinking. Don't you think the whole concept of a future world influencing our present day really strikes a chord with the rise of a younger generation that is primed and ready to take the wheel?
BILLINGS: I think what this show does is that it shines a light. It's a reflection of a human experience that is happening politically, globally, which is the takeover of righteousness, of our idea of what is helpful to the community – and what isn't.
We have a whole shift that is happening in the United States right now, which is a younger generation – the Gen Zs – saying 'I don't like the way a lot of the country talks about female empowerment, I don't like what you've done to take away autonomy for female bodies or choices, I don't like the way you talk about gender. There's a whole bunch of stuff that I don't like, so I want you out." It's why this 'blue wave' happened – because of them. There was this whole conservative movement before the midterms that was supposed to, like, take over, and it just fizzled out and died. I think this is just the tip of the iceberg.
BLADE: Let's all hope you're right. There's such a disheartening backlash in some pockets of our country over queer rights in general. We still even have fight to preserve marriage equality.
BILLINGS: We have this whole group of people out there talking about 'traditional marriage.' That means nothing. I want to tell them, 'Nothing exists inside that container – how far back do you want to go when you say 'traditional', do you still want to be able to vote? Stop being an idiot.'
BLADE: As someone on the battle lines, what would you like to see for the future of trans representation?
BILLINGS: We need to begin to have conversations that are so normalized about the transgender experience that we no longer talk about the transgender experience. We need to have an over-abundance of trans and nonbinary stories, of trans and nonbinary writers, producers, directors, creators, innovators, telling their own stories – so many of them that the cis-white-heteronormative patriarchy finally needs to step aside. That's what needs to happen.
BLADE: That seems like a hard sell to the people still holding onto the reins of power.
BILLINGS: When I say things like that, all of Hollywood takes a huge intake of breath. They think it's impossible. They can't conceive of that to be true because they think, 'What about MY stories? What about me?' As if there was a shortage of those.
Look at Candace Cameron, who quit Hallmark and just came out and said, 'I'm going to honor traditional marriage on my new channel, and those are the stories I'm going to tell.' What she's saying is, 'These two heteronormative cisgender people are the norm, that's what we're going to draw a circle around. Those are the only people that are going to be represented, that's what we're telling every single queer youth on the planet is the thing to be.' That's the message? So everybody else needs to move aside? That doesn't make you a trailblazer, it makes you a coward.
BLADE: There's another "C word" that comes to mind.
BILLINGS: (Laughing) That too.
You can watch "The Peripheral" on Amazon Prime.