'Metanoia' archival exhibit connects past AIDS activism to present actions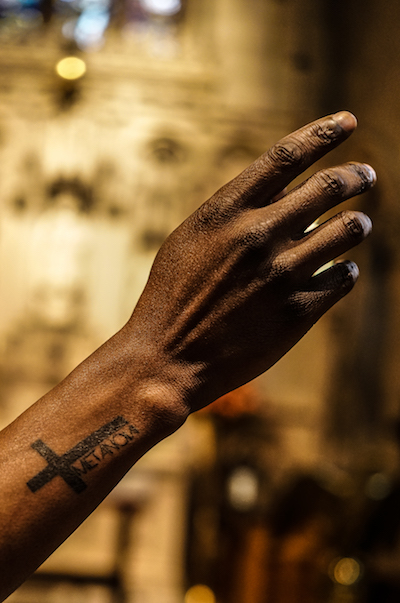 Largely relegated to the margins of history and contemporary conversation, the social justice work of Black cis and trans women, as well as cis and trans women of color, gets the front-and-center placement it merits, in "Metanoia: Transformation Through AIDS Archives and Activism."
On view through April 5 at the ONE Gallery in West Hollywood, the archival exhibition's collection of posters, newsletters, pamphlets, and other ephemera invites viewers to contemplate community-based responses to the AIDS crisis.
As noted by the curators, "Metanoia" seeks to "draw out the larger context in which Black women with HIV in prison were changed into agents of transformation for themselves, their communities, and all people living with or affected by HIV."
Culled from the holdings of the ONE National Gay & Lesbian Archives at the University of Southern California Libraries alongside those of NYC's Lesbian, Gay, Bisexual & Transgender Community Center (where "Metanoia" debuted in 2019), the assembled materials focus on the work of those who "strongly advocated for health, well-being, access to HIV medication, and compassionate release for themselves and their sisters experiencing incarceration in the early to mid-1990s."
"It is not an exhaustive show," notes NYC-based activist, artist, journalist, and "Metanoia" co-curator Theodore "Ted" Kerr.
"It's not trying to tell all the history of AIDS activism in California and Los Angeles. It's trying gesture to two experiences: One, of Katrina Halslip, a Black woman living with HIV, in Bedford Hills [Correctional Facility for Women], who helped change the definition of AIDS to include women, in 1992. And for me, the object that most invites that is a beautiful black and white photograph of taken from a video about women involved in AIDS activism."
The other experience, notes Kerr, "is about Joann Walker, a Black woman who, once she was incarcerated, found out about her HIV status, and then started advocating for the compassionate release of women living with HIV, so they could die with dignity at home, rather than the hell of prison."
Walker, notes Kerr, was released from prison "a mere two weeks before her death, barely able to walk." The item that best exemplifies Walker's power, he says, is an iPad containing the letters exchanged by Walker and Judy Greenspan (whose holdings are in the ONE Archives). "In these letters," says Kerr, "we learn that Joann Walker is a smart and funny and fierce woman who is fighting for freedom, for herself and other people."
"Metanoia" seeks to rectify the marginalization of prison reform advocates by the art world and historians—but it's not just about legacy: The exhibition also champions the work of contemporary activists in and around the greater Los Angeles area.
"The LA commission made lots of sense to us," says Umi Hsu, Director of Content Strategy at the ONE Archives Foundation, "because the historical papers [in the NYC version] featured the activism work of two important collectors, Judy Greenspan and Judy Sisneros. They were instrumental in the HIV/AIDS movement, within incarceration activism, and led a lot of work here in California."
With Greenspan residing in Oakland and Sisneros in Los Angeles, "It was our wish to kind of bring it home, in a sense," says Hsu, noting that the bulk of the exhibition comes from the ONE Archives' collection of materials gathered by Sisneros, while objects from Greenspan's collection came from The Center in New York.  Hsu add that the West Coast iteration of the exhibition is imbued with elements meant to "connect the show and its history to the present. The curators did a really fantastic job of reaching out to HIV activists working in Los Angeles county, that are doing really important work in our current day… so we have these dialogues of past and present."
In that manner, "Metanoia" sends "a message to the people of California, that there are strong and powerful women, men, and people among them who are doing amazing AIDS activism, who have done amazing AIDS activism," says Kerr, who curated the NYC and LA exhibitions alongside Katherine Cheairs and Alexandra Juhasz—all of whom are members of What Would an HIV Doula Do?, a collective of artists, filmmakers, writers, and activists committed to, they note, "ensuring that community plays a key role in the current AIDS response."
"I'm a Canadian living in New York [City]," says Kerr, who "grew up craving more information about HIV/AIDS, in terms of activism, education, and culture. And there wasn't a lot, and what was available was often about New York City—which of course is such an important epicenter of AIDS activism and culture. But it's not the only place. So to have an exhibition about California AIDS activism in California is important, to put those people on the historical record."
What's more, says Kerr—who teaches a class at NYC's The New School, on how to memorialize AIDS while it's still ongoing—the conversation around HIV/AIDS activism is too-often viewed within the context of past efforts.
"Metanoia," he notes, "connects to what's being done now, because archives are only as powerful as the people who use them, and how they're activated in the present… Diving into the most urgent concerns of the present is the best form of memorial, because it's ensuring that nobody died in vain, and that all the activism of the past is being carried forward, for the benefit of the future."
Respect for the present tense begins before you enter the actual gallery, says Kerr. "You are invited in by this bright yellow wall that's facing the windows, and on that wall are nine portraits of amazing activists from New York City and Los Angeles, who are doing intersectional activism that's saving people's lives every day… and there are photos and bios and interviews."
That supporting text is an important example of contemporary archiving, says Kerr, "because it's not enough to say someone's name. We wanted the tactics they used to survive and thrive, to also be part of the historical record."
NYC's Lolita Lens and LA's Black Queen Photography  are the artists who shot the documentary photographic series, whose subjects include Chela Demuir, Krystal "Krys" Shelley, Sabel Samone-Loreca, and Yuè Begay—activists in LA working on issues related to HIV/AIDS.
"Then you go inside," says Hsu, of the ONE Gallery, "and you're encouraged to get close to the wall, to this intimate history. The space is set up so visitors can have a proximity to historical objects as well as reproductions, documents, and papers." Visitors also, they add, "are able to experience large-scale blowups and projections of maps, that locate where the demonstrations were happening in the past."
A Jan. 17 opening night program brought together all of the activists whose portraits comprise the yellow wall series. "They gave remarks," recalls Hsu, "speaking on their experiences of doing activism work, and how activism and intersectionality play a large role in each of their personal and activist lives.
Two-spirit Navajo activist and LA county resident Yuè Begay began the program with a Land Acknowledgment ceremony—another instance, says Hsu, "in which the exhibition connects across different social groups, while resonating on the history of HIV/AIDS, and the People of Color's experience."
The program concluded with, notes Hsu, "Jana Zainabu, a Black woman poet who has been active in the spoken word and poetry scene for decades," and wrote original poetry "in response to the exhibit."
Hsu added that during the program, they were "particularly moved by a handout with a very provocative [imprisonment-themed] activism chant," from the 1990s work of ACT UP Los Angeles.
"This is something," says Hsu, "that spoke to me, especially when the curators led the chanting with our audience. It really, truly created an experience of connecting with the past, with the history."
Greenspan, Hsu notes, "who probably led some of the chants" in the '90s, "ended up leading and modifying the chants, and making them more relevant to current incarceration rights issues."
Noting that Greenspan "cringes" at the use of the word "inmate," Kerr says she asked that the audience replace the chant's original phrase "Inmates with AIDS under attack!," with "Prisoners with AIDS under attack!"
In doing so, says Kerr, "It reminded us that as much as we were a bunch of people standing in a West Hollywood art gallery, we're also people with political power—and our language has an effect on what we do, and how we can create change."
"Metanoia" is on view through April 5, at the ONE Gallery (626 N. Robertson Blvd., West Hollywood). Hours: Fri.-Sun., 11 AM – 2PM and 3PM – 6 PM. For info, call 323-968-0410. For more info, visit onearchives.org/now-open-the-one-gallery-in-west-hollywood.
NOTE: On Tues., Feb. 11, (6:30 PM reception, 7 PM screening), the ONE Archives Foundation will co-host an event with the Foundation for the AIDS Monument: A screening of "Poz Roz," a digital comedy series exploring the life of twentysomething Rozzlyn Mayweather, after an HIV+ diagnosis rocks her already shaky world. The event takes place at the Barnsdall Gallery Theatre, inside Barnsdall Art Park (4814 Hollywood Blvd.). After the screening, a panel discussion will be moderated by Tony-nominated actress, singer, author, and activist Sheryl Lee Ralph. Panelists include "Poz Roz" creator, writer, director, and producer Carlton Jordon, "Poz Roz" star Chauntae Pink, HIV/AIDS activist and APLA Health Outreach Worker Porchia Dees, and HIV/AIDS activist, artist, and blogger Lynnea Lawson. Admission is free, but tickets are required. For ticket info, click here.
18-year-old Out YouTuber, TikTok creator & entertainer celebrates first year
"I told myself for a long time, I was like, 'One day, if I have someone to come out with, then I will come out"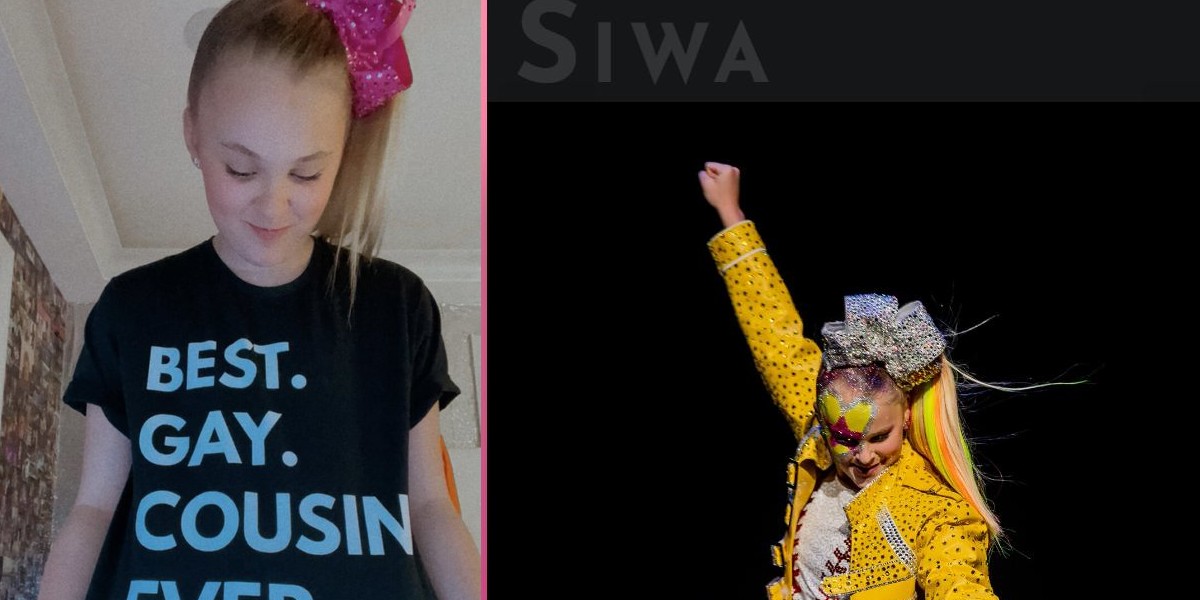 LOS ANGELES –  JoJo Siwa marked her first year of being an Out member of the LGBTQ+ community this past weekend in a series of photos and posts on her Instagram reflecting on the personal milestone achieved.
"🏳️‍🌈In the last 365 days I've felt more love than ever. A year ago today I posted this picture and shared with the world that I was gay🌈 I get asked a lot "was coming out scary for you"… and the answer is yes of course, anything that's different about you is scary, however… it's what makes me… me. so I had no fear with sharing it with the world❤️ I also get asked a lot "your demographic is so young are you worried about telling kids your gay"…. Truthfully I feel like I was put on this earth to be a role model for kids, and letting all the kids of the world know that loving everyone for who they are no matter what is something that I will always believe in and always share❤️ please never forget that no matter who you are, what you look like, who you LOVE that you are absolutely perfect. thank you for showing me the most love throughout this year and throughout my entire life. I love you all❤️🙏🏼🏳️‍🌈" Siwa posted.
In an interview with Entertainment Weekly she said that she was inspired to reveal the truth about her sexuality earlier this year after falling in love with girlfriend Kylie Prew.
"I knew since I was little that I was never straight, I knew that. But I also was never like, 'Oh, I'm gay,'" said Siwa.
She added, "I told myself for a long time, I was like, 'One day, if I have someone to come out with, then I will come out."
Thierry Mugler, iconic gay French fashion designer, dies at 73
Often, Mugler's embrace of gay iconography overshadowed his House of Mugler world-class designs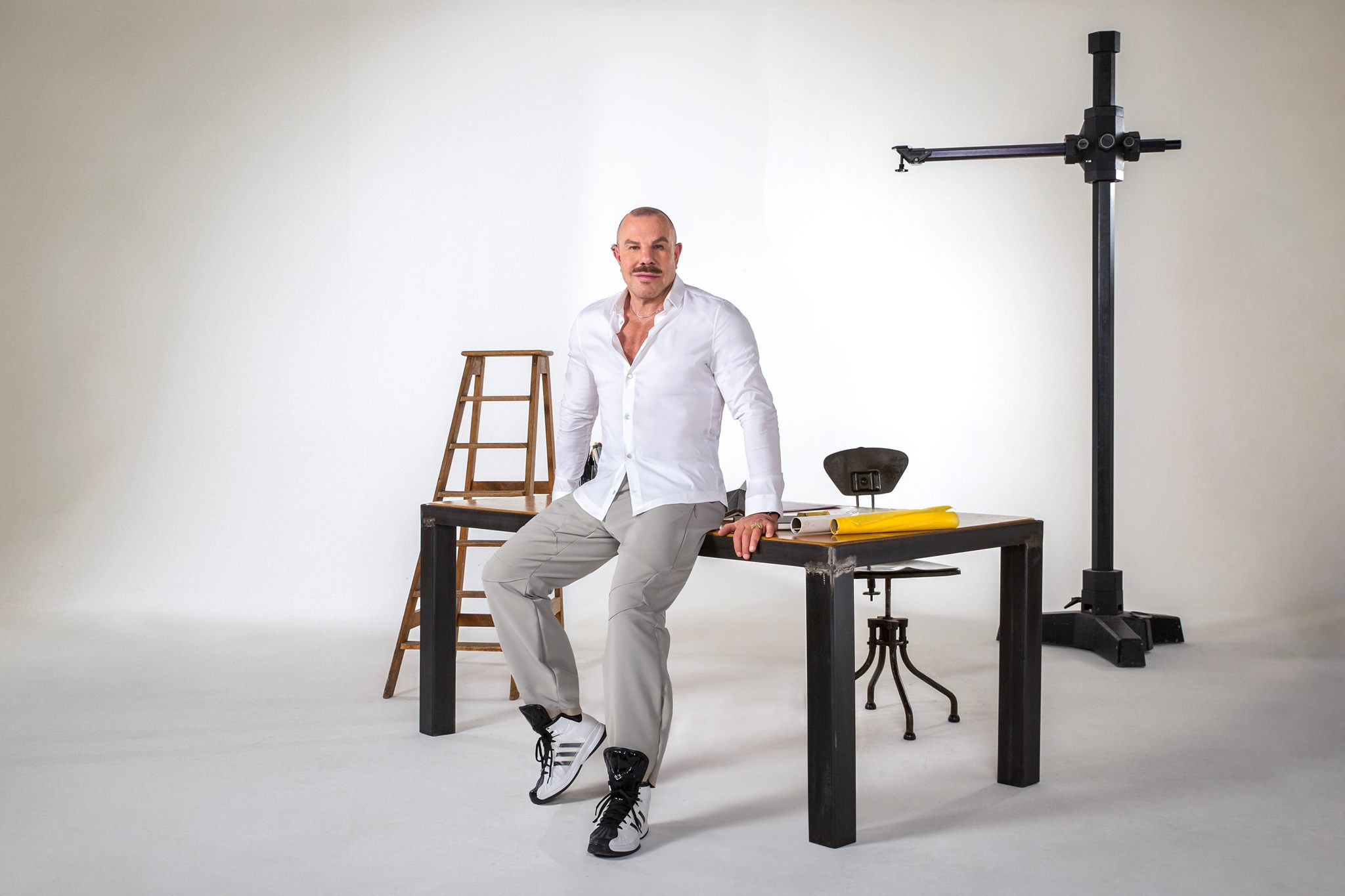 VINCENNES, France – Thierry Mugler, the openly gay, French fashion icon who dressed celebrities from Lady Gaga to Beyoncé, died Sunday at his home in Vincennes, France, outside of Paris. He was 73.
His death was announced on his Instagram. According to a press release, Mugler died of natural causes.
"May his soul Rest In Peace," the post read.
Mugler was a beloved figure in the LGBTQ community who fought extensively for queer rights. Throughout his career, which started in the 1970s, he showcased many trans models, like Connie Fleming, Teri Toye and Roberta Close. 
In one of his more iconic runways, legendary drag artist Lypsinka opened his 1992 show at the Century Plaza Hotel in Los Angeles, wearing four looks while exuding the Mugler's trademark high-camp.
Often, Mugler's embrace of gay iconography overshadowed his world-class designs.
"The outwardness of designers embracing being gay wasn't then a thing," Paul Cavaco, the fashion director of Harper's Bazaar during Mugler's heyday, told the New York Times. "People knew but you didn't really talk about it. It was considered not chic. And here he was sending drag queens like Lypsinka down the runway."
Cavaco added that even at Harper's Bazaar, one of the most adventurous American fashion magazines at the time, Mugler's clothes were passed over.
Still, Mugler dressed some of the world's top supermodels and most famous celebrities in his broad-shouldered and sharp-tailored designs during his career.
In George Michael's 1992 "Too Funky" video, Linda Evangelista, one of the most accomplished and influential models of all time, donned a Mugler design, as many did in the video. He also created flamboyant and theatrical looks for musical stars like Diana Ross, David Bowie and George Michael.
Part of what set Mugler apart from other designers of his time was his unique view of what fashion should be.
"I don't believe in natural fashion," he told the Times in 1994. "Let's go for it! The corset. The push-up bra. Everything! If we do it, let's do the whole number."
The House of Mugler, his brand, described the famous designer as a "visionary whose imagination as a couturier, perfumer and image-maker empowered people around the world to be bolder and dream bigger everyday," in a LinkedIn post.
Though he retired from fashion in the early 2000s, Mugler has still left his mark on the current fashion landscape. Some of today's biggest celebrities – including Katy Perry, Rihanna and Cardi B – have worn iconic Mugler garments.
In 2009, Beyoncé wore a Harley-Davidson corset designed by Mugler for a George Michael video. Lady Gaga donned a famous suit-dress and hat from Mugler's 1995 collection in her 2010 music video for "Telephone."
Mugler even briefly resurfaced in 2019 to create Kim Kardashian West's infamous "wet look" at the Met Gala.
Heartfelt messages from celebrities that Mugler has worked with poured in on social media and beyond after the news of his death broke.

On her website, Beyoncé wrote: "Rest In Peace, Thierry Mugler."
Janet Jackson doc premieres this weekend
Remembering 10 times iconic singer was there for LGBTQ community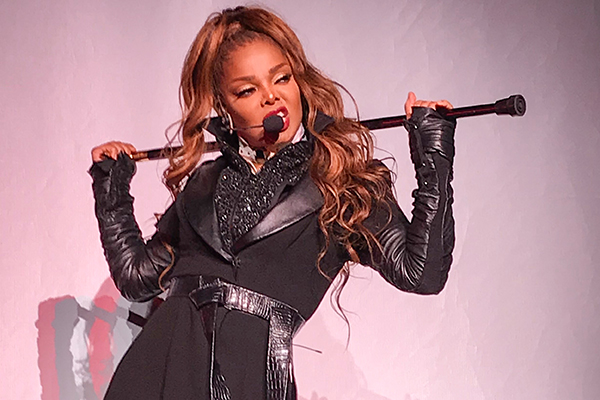 LOS ANGELES – Iconic singer Janet Jackson, a longtime LGBTQ ally, unveils her long-awaited documentary simply titled "Janet" on Friday, Jan. 28. It concludes the following night; each installment is two hours long. 
Jackson has said she spent five years compiling footage and creating the documentary, which airs at 8 p.m. both nights on A&E and Lifetime networks. It was produced by Jackson and her brother Randy Jackson and it's timed to commemorate the 40th anniversary of her 1982 debut album.
An extended trailer for the film reveals Jackson will talk candidly about her brother Michael and the 2004 Super Bowl incident, including the news that Justin Timberlake reached out and asked her to join him during his widely panned 2018 Super Bowl return performance.
Prior to the pandemic, Jackson announced a new studio album and tour titled "Black Diamond," but both were postponed due to COVID. No official word about the status of either, but speculation is rampant that she will finally release the new album once the documentary airs.
"Musically, what I've done, like doing 'Rhythm Nation' or doing 'New Agenda' or doing 'Skin Game,' creating those bodies of work with Jimmy and Terry, I feel like I've laid a certain foundation," Jackson tells Allure magazine in a new cover story this month. "I would hope that I'd be able to continue if I choose to. You know what I mean? But only time will tell."
As Jackson's legion of queer fans awaits this weekend's premiere, the Blade takes a look back at 10 times Janet was there for the LGBTQ community.
1. "The Velvet Rope" project. In 1997, Jackson released her critically acclaimed sixth studio album "The Velvet Rope," an introspective and deeply personal collection of songs that touched on her depression, but also tackled LGBTQ issues. On the track "Free Xone," she spoke out forcefully against anti-LGBT bias. She also covered Rod Stewart's "Tonight's the Night," without changing the pronouns in the love song, prompting speculation about her sexual orientation. But it was her international No. 1 hit "Together Again" that continues to resonate with LGBTQ fans. An upbeat, joyful dance song, it was conceived as a tribute to Jackson's friends who died of AIDS.
2. GLAAD award. In 2008, Ellen DeGeneres presented Jackson with the Vanguard Award at the 19th annual GLAAD Media Awards. GLAAD's president said, "We are delighted to honor Janet Jackson at the 19th annual GLAAD Media Awards in Los Angeles as such a visible, welcoming and inclusive ally of the lesbian, gay, bisexual and transgender community. Ms. Jackson has a tremendous following inside the LGBT community and out, and having her stand with us against the defamation that LGBT people still face in our country is extremely significant."
3. Ebony magazine interview about her sexuality. In 2001, Jackson gave an interview to Ebony magazine in which she was asked about her sexual orientation. "I don't mind people thinking that I'm gay or calling me gay," she said. "People are going to believe whatever they want. Yes, I hang out at gay clubs … I go where the music is good. I love people regardless of sexual preference, regardless of race. No, I am not bisexual. I have been linked with dancers in our group because we are so close. I grew up in a big family. I love being affectionate. I love intimacy and I am not afraid to show it."
4. Video support for It Gets Better, Trevor Project. In 2010, Jackson recorded a video for the Trevor Project and later appeared on CNN's "Larry King Live" to promote awareness of youth suicide. "If you're LGBT you're probably thinking you're all alone, but you're not," she said in the video. "I can relate because I was one of those kids who internalized everything."
5. "State of the World Tour." Jackson's LGBTQ support continued in 2017. Her tour's opening sequence highlighted a range of problems facing the world, from famine and war to police brutality and included a call for justice and for LGBTQ rights.
6. "The Kids." Jackson has always employed a diverse crew of professional dancers for her videos and tours. Some of her closest friends and collaborators over the years have been prominent out gay and lesbian choreographers, singers, dancers, makeup artists and designers. She lovingly refers to her backup dancers as "the Kids."
7. NYC Pride performance. In 2004, Jackson performed for a packed audience at Pride Dance NYC at Pier 54.
8. "Will & Grace" cameo. In 2004, Jackson made a memorable cameo on "Will & Grace," judging a dance-off between Jack and another dancer.
9. HRC, AIDS Project Los Angeles awards. In 2005, Jackson was honored by both the Human Rights Campaign and AIDS Project Los Angeles for her work raising money for AIDS charities.
10. Janet's Blade interview. In 2006, Jackson granted an exclusive interview to the Washington Blade. It was one of the rare times she touched on the Super Bowl controversy and her brother Michael's acquittal on child molestation charges, telling Blade Editor Kevin Naff, "I got all of that out of my system, that's not what I'm feeling right now. I wrote about [those controversies] but I didn't choose to put it out there on the album." In the interview, Jackson also reiterated her support for marriage equality, said she'd never had a sexual relationship with a woman and revealed that she'd never met Madonna.