February 5, 2020 at 5:38 pm PST | by John Paul King
'Photosexual' Peter Berlin to celebrate new book with cocktails at TOM House
The Tom of Finland Foundation is hosting a cocktail party next weekend in Silver Lake, and the guest of honor is none other than '70s gay icon Peter Berlin.
The event is in celebration of a new book, "Peter Berlin: Icon, Artist, Photosexual," which dropped late last year. Published by Damiani, and edited by Michael Bullock, it features an extensive collection of Berlin's photography and "pays tribute to the man who in the early to mid-1970s revolutionized the landscape of Gay male eroticism and became an international sensation," according to the official invitation.
Berlin – whose real name is Armin Hagen Freiherr von Hoyningen Huene – is a German-born multi-media artist who became known in Europe for his provocative self-portraits, taken while cruising the parks and train stations of Berlin in skin-tight, sexually-charged clothing, before moving to San Francisco in the 1970s and becoming a fixture of the queer scene there. Besides his iconic photography, he created paintings, designed clothing, and made groundbreaking gay porn, and he moved within a circle of artists that included Robert Mapplethorpe, Andy Warhol, and Tom of Finland himself.
According to Berlin, who spoke to W Magazine ahead of the book's November 2019 release, the photographer most famous for overtly gay, hyper-erotic photos of himself made a choice to be unabashedly open in his self-expression.
"I decided, I will not fake my life like Rock Hudson and all of these ­Hollywood stars who were hiding their sexuality, pretending to be straight," he told the magazine. "And why did they do it? Just a matter of mathematics. If they didn't do it, they wouldn't have that career, they wouldn't get the money. So I won't do it. I didn't hide and paid a price for it. I was exactly knowing what I was doing."
He also lamented that, despite the modern obsession with selfies, no one has come along to follow in his footsteps.
"I wanted them to say, 'Okay, if Peter Berlin thinks he is so hot, I will show him.' When you go and see the Academy Awards or whatever, these Emmy Awards, the women are all dressed up sexy and great, and the men are completely hiding their sexuality. There is not one Peter Berlin walking around, either on the streets, or on the Internet, or at the awards shows. It's all sort of gone."
Berlin himself is most definitely not gone, however. Now 77, he'll be on hand to sign copies of the book on Sunday, February 15, at TOM House in Silver Lake – the historic LA home of Tom of Finland during the last decade of his life, now a dedicated space for maintaining the artist's legacy. Copies of the book will also be on hand.
The cocktail party is RSVP only, but you can do that – and find out more – by clicking here.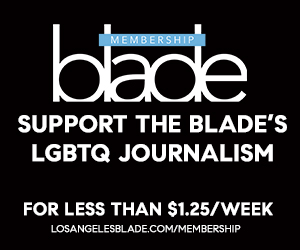 Sign Up for Blade eBlasts