Longtime UK morning host comes out as gay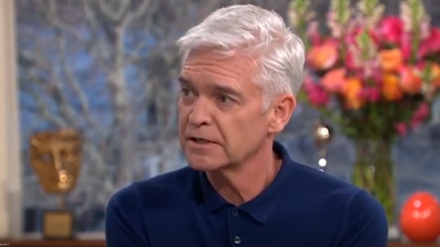 A beloved UK television host has come out as gay, prompting the LGBT equality charity Stonewall to call his revelation a "massive moment" both for him and for society.
Phillip Schofield, a co-presenter of ITV's "This Morning" who has been married for almost 27 years, on Friday posted a lengthy message on the program's Twitter account in which he said, "With the strength and support of my wife and my daughters, I have been coming to terms with the fact I am gay."
He went on to say that his sexuality had been the topic of "many heart-breaking conversations at home," but that his wife, Steph, and his daughters, Molly and Ruby, have been supportive "despite their own confusion" as he has grappled with an "inner conflict" that "contrasts with an outside world that has changed so much for the better." He also expressed gratitude to his co-presenter on "This Morning," Holly Willoughby, for being "so kind and wise," and saying she had hugged him as he "sobbed on her shoulder."
"Every day on This Morning, I sit in awe of those we meet who have been brave and open in confronting their truth – so now it's my turn to share mine," the 57-year-old Schofield wrote. "This will probably all come as something of a surprise and I understand, but only by facing this, by being honest, can I hope to find peace in my mind and a way forward."
He closed with a plea for people to be kind, "especially to my family."
Stonewall subsequently joined followers and fans on social media to offer support and congratulations to the TV star.
Jeff Ingold, head of media for the UK charity organization, said it was a "hugely powerful and courageous move" for Schofield.
He said, "In the first instance, having high profile, visible, out LGBT people can make a massive difference in not just the lives of LGBT people, to you know be able to watch something and see themselves reflected and someone who they identify with, but also for the general public to see and hear the stories of LGBT people can go a long way in changing the way that people see and think and feel about LGBT people as a community.
"It's a hugely powerful and courageous move Phillip has made to be open about himself, particularly in the public eye at a time when everyone will have an opinion on social media.
"It's a massive moment I think for him and for society in general."
Schofield went on Friday's edition of "This Morning" to open up further about his announcement with Willoughby.
He told her that the decision to go public had not been forced upon him, but that he had come out because "all you can be in your life is honest with yourself and I was getting to the point where I wasn't being honest with myself and I didn't like myself very much because I wasn't being honest with myself".
He said he felt "lighter," having made the announcement, while acknowledging that "it causes pain and upset" for his family.
"The thing is you know this has been bothering me for a very long time," an emotional Schofield said. "Everybody does these things at their own speed, when they think the time is right. It has consumed my head, and has become an issue in my head."
Willoughby said she could "feel the relief" from her fellow co-presenter, and told him she would stand by him "for ever and ever."
Schofield first achieved fame in the 1980s as a presenter on Children's BBC. He went on to host a popular Saturday morning show, "Going Live!," and he been a presenter on "This Morning" since 2002. He also hosts another popular UK show, "Dancing on Ice."
Zachary Zane is on a mission to destroy sexual shame
The bisexual influencer, sex columnist, & author of the memoir Boyslut opens up about his career, his anxiety, and his upcoming vasectomy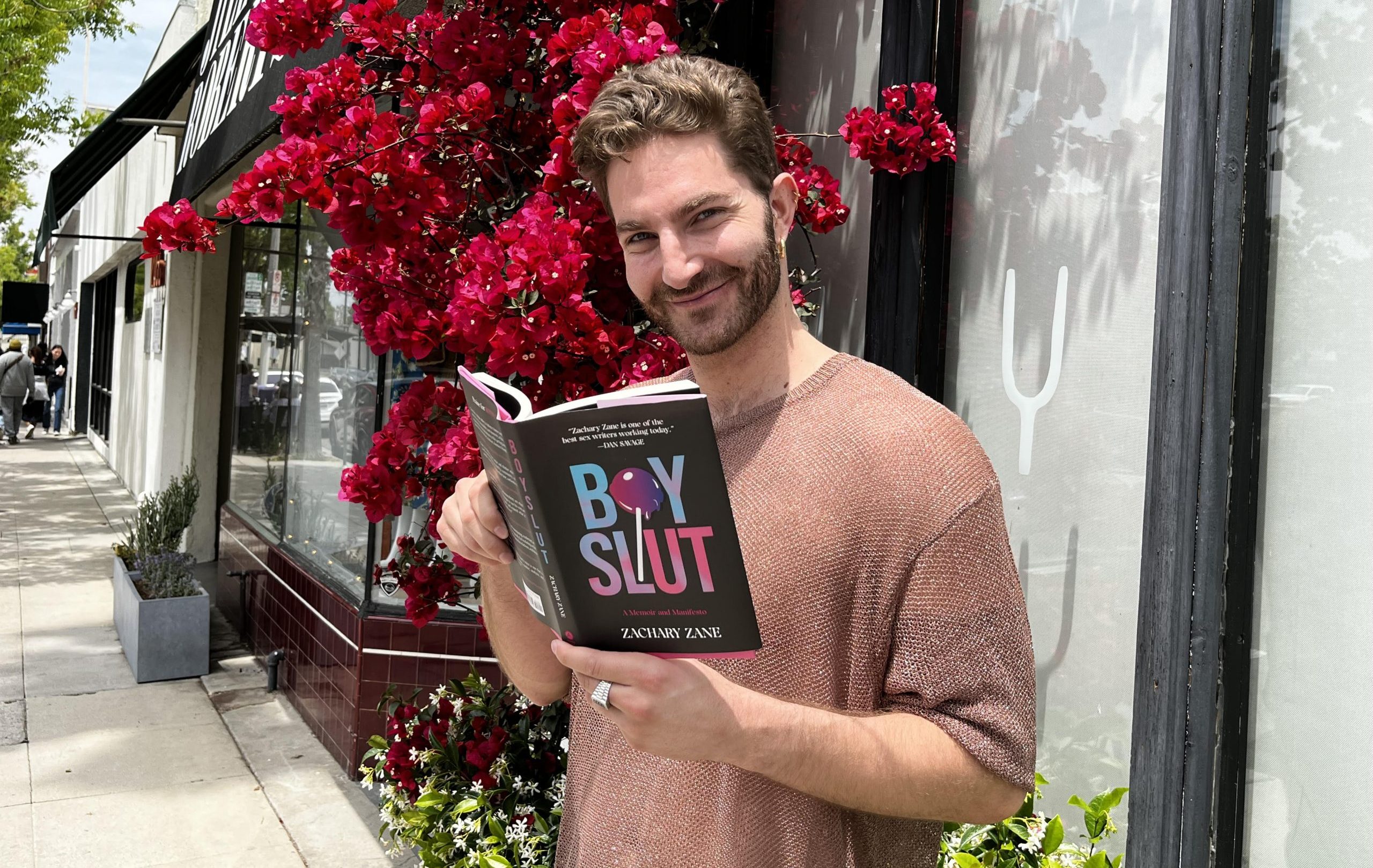 By Rob Salerno | WEST HOLLYWOOD – Zachary Zane isn't having fun this weekend in Los Angeles.
While normally the Brooklyn-based sex columnist and bisexual influencer would have a string of sex parties lined up for a trip to his hometown, Zane says he's had to restrain himself because he's freezing his sperm in advance of an upcoming vasectomy.
"This weekend is particularly boring," he says with a broad laugh over coffees in Studio City. "There are a lot of fun sex clubs and parties here. It's a lot of house parties that turn into orgies. That's one of my favorite things."
It's the sort of frank, guileless admission that's become the 33-year-old's trademark through his "Sexplain It" column at Men's Health and substack newsletter, which has made him an icon of the bisexual community and led to his book Boyslut: A Memoir and Manifesto.
Zane says he was motivated to get the snip after the Supreme Court's Dobbs ruling last year gutted abortion rights in the United States.
"After Roe v. Wade got overturned, I kind of wanted to take control, and no longer have it be that the impetus has to be on the woman," he says. "I do not want to have kids. I like having unprotected raw sex. I like being able to cum in my partners. Over the years, you have close calls, and the science is here, you don't have to worry about it."
And this too is surprising, given that Zane's online presence seems to embody the "chaotic bisexual" character type.
"My editors say I'm cautious and take calculated risks. I've never turned in a story late. In many ways I'm a sexually chaotic bisexual, but I'm also very on top of everything," Zane says.
Reading Boyslut, Zane's tendency for over-preparing, cautious planning, and protecting the feelings of others is evident and oddly refreshing, whether he's writing about his struggles with obsessive-compulsive disorder, anxieties about his remaining sexual hangups, juggling polyamorous relationships, or broaching a truly shocking fetish with his partners (I'll leave that for you to read about in the book).
If you were picking up Boyslut expecting it to be a polemic about sexual libertinism, you might walk come out surprised by the degree to which the book advocates for caution, comfort, and compassion as much as it's an endorsement of reckless, uninhibited sexual pleasure.
Indeed, Zane says an early title for the book was "Cautious Slut." And, lest you think the actual title is exclusionary, Zane defines a "boyslut" as "a person of any gender or sexual orientation who approaches sex without a lick of judgement or shame."
"I'm trying to help people live unabashedly in whatever their relationship is with sex. It's not just about being slutty and having sex with as many people as possible. If you are asexual I want you to own that," Zane says.
Zane also makes a compelling argument for the importance of having a community of people you trust to overcome sexual shame.
"Of course, I experience shame. I'm not superhuman. I live in society," he says. "When I do experience shame, I try to differentiate between feeling shame or feeling guilt. When I'm feeling overwhelmed by it, I think a lot of the answer is having this community and friend group that I can call instead of going home and crying alone."
It's hard to imagine that the guy who regularly writes about his prodigious sexual escapades could suffer from shame, but Zane insists there's plenty he still holds back.
"I'm vaccilating between the things that cause me shame and things I don't need to share with everyone," he says. "I feel very comfortable writing about very raunchy sexual experiences – me getting DP'd and my hairy asshole. But I don't talk about my breakups online, my relationship with my family. Even when I talk about my OCD and anxiety, it's usually from a humorous place and not like, 'oh, this was crippling.'"
Though he insists that he's very sexually open, it was in fact his anxiety over sexual shame that led him to his current career.
"I chose a career where, if my nudes leaked, that would be the best thing that happened to me. I wouldn't get fired – I would get great articles from it," he says. "I did that purposely because I didn't want to have that fear and anxiety."
So is that the answer? Share everything that causes you anxiety?
"I think all of us have different levels of risk tolerance," he says. "Engage with the amount of sharing you want to do. I'm talking about cultivating a friend group or community where you feel loved and embraced by people who really cherish you and know you. I'm not encouraging people to just overshare online and seek validation from headless torsos and strangers. It's about having these more meaningful connections that matter more."
Of course, not everyone has the luxury of a column in a national magazine to exorcise their anxieties into.
But over the three years that Zane has written Sexplain It for Men's Health, he believes he's contributed to a culture shift both at the magazine and in the broader culture.
"Men's Health has always been slightly gay, just by being a men's fitness magazine with half-naked men on the cover," he says. "A lot of closeted bi guys who've been married for twenty years, they don't feel comfortable to read Out or Pride.com, but they do feel comfortable to go to Men's Health and if they're on the site and they see something, they're going to click. So I'm reaching an audience who arguably needs it the most."
"I was really part of this new generation at Men's Health. They have a lot of queer men on staff, a lot of women on staff, and they're making it more feminist and queer and intersectional."
And what even qualifies Zane to be a sex advice columnist anyway?
"First and foremost, I was a journalist. In the first Sexplain Its, I always reached out to an expert in the field." Zane begins to explain how he reads every relationship book out there and sifts his reader submissions to only answer the questions he feels comfortable with.
Then he gets wistful as he begins to tell a story that led him to believe he could write authoritatively on sex.
"It's a weird thing about being a sex expert. I had a date with this woman when I was 22. She was like 50 and a sex expert/therapist. A funny thing was I was the same age as her kids. So, I was at the beginning of my career, trying to break into this, and I asked, 'What constitutes a sex expert?' And she goes, 'For anything, being an expert is when you say you're an expert and people believe you.'"
********************************************************************************
Rob Salerno is a writer, journalist and actor based in Los Angeles, California, and Toronto, Canada.