Equal Insurance HIV Act to end discrimination in life and disability insurance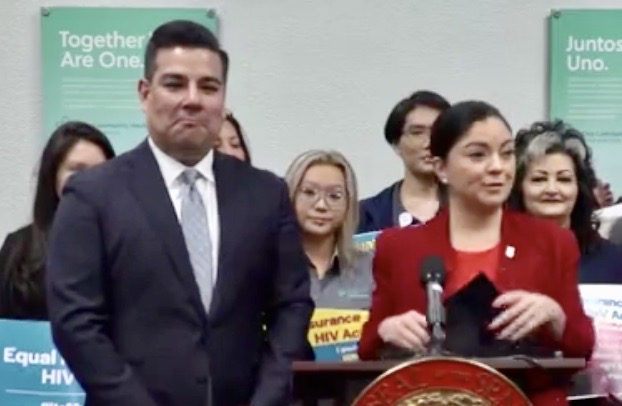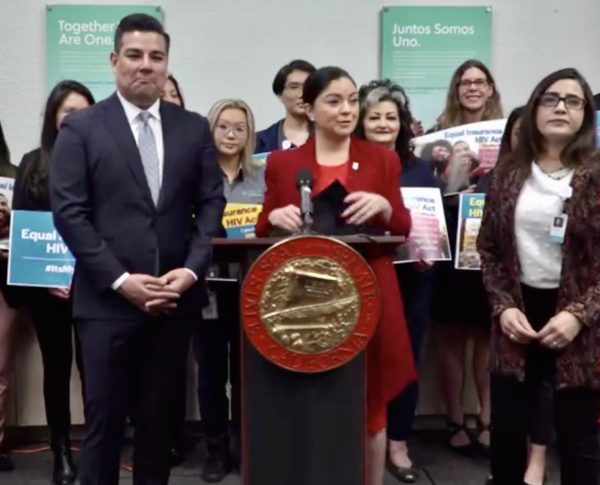 Perhaps the most egregious lie President Trump told during his State of the Union address was his promise on healthcare. "I have also made an ironclad pledge to American families," Trump claimed. "We will always protect patients with preexisting conditions."  But the Trump administration is in court trying to repeal almost the entire Affordable Care Act, an effort Trump also has back in the Republican-controlled Congress, which would kill protections for people with pre-existing conditions such as HIV status.
The ACA, or Obamacare, was signed into law in March 2010. It prohibited insurance companies from using pre-existing conditions as an excuse to deny health coverage. However, 25 years after the announcement of the miracle drug therapy that turned HIV/AIDS from a presumed death sentence into a manageable, treatable chronic medical condition with long life expectancy, insurance companies are still denying life and disability insurance to people with pre-existing conditions.
Not only does the denial of coverage impact the financial status of people who are HIV positive, but the insurance companies are basing their determinations on the results of outdated ELISA tests and a positive Western Blot Assay performed by or at the direction of the insurer, according to the bill's sponsors, as well as an outdated and discriminatory insurance underwriting law.
On Tuesday, Feb. 11, State Sen. Lena Gonzalez of Long Beach, Insurance Commissioner Ricardo Lara and Equality California announced the introduction of the Equal Insurance HIV Act, a bill that would prohibit insurance companies from discriminating against HIV positive people by denying them life and disability income insurance coverage.
"Everyone deserves access to life and disability income insurance, regardless of preexisting conditions," Gonzalez said in a press release before a news conference in Sacramento. "I am so proud that my first bill introduced in the legislature will ensure access to these critical resources for residents who are HIV-positive. It is time that we end the practice of insurance companies refusing to provide services to those who need it most."
"A person should not be defined by their HIV status and it should not be the only factor when determining their right to insurance protection," said Lara. "People living with HIV are raising families and seeing their children grow up just like anyone. This legislation is crucial to ensure they have equal access to the same kinds of insurance that helps us all plan for the future."
"Thanks to modern medicine, people living with HIV lead happy, healthy lives," said Equality California Executive Director Rick Zbur. "It's time for our laws to keep up with the science and protect Californians living with HIV from insurance discrimination. Our goal to end HIV by 2030 means ending all HIV transmissions, deaths and stigma. This bill is a critical step to getting there."
"The life expectancy of people who are HIV positive has dramatically changed in the last two decades thanks to highly effective HIV treatment regimen including new antiretroviral drugs and existing antiretroviral therapy," said Dr. Tasnim Khan, Chief Medical Officer of One Community Health. "It is now time to acknowledge the advances in HIV care and prevention and how to work collaboratively with the insurance industry to review policies on life and disability income coverage to people living with HIV."
Peacock will premiere HIV documentary on World AIDS Day
Drew, who was diagnosed with HIV in the late 1980's when he was only 23 years old, was not paid for his participation in the trial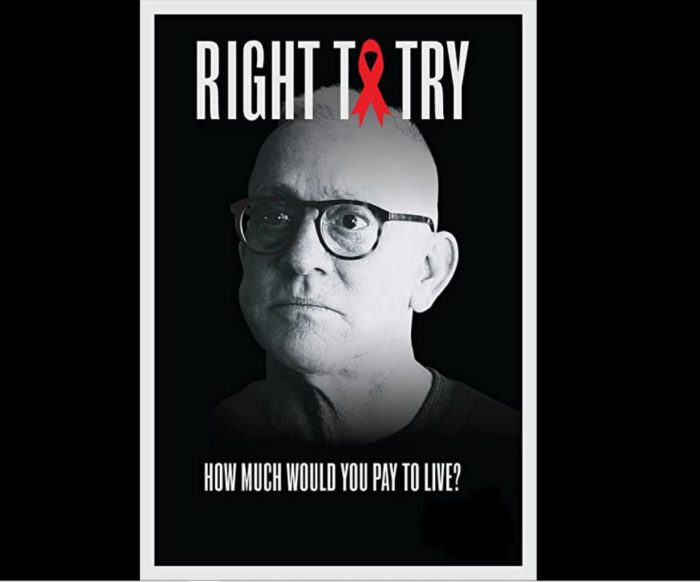 NEW YORK — NBCUniversal's streaming service Peacock will premiere the documentary short "Right to Try," which explores one man's search to cure his HIV, Wednesday on World AIDS Day.
The film, produced by Oscar-winning actress Octavia Spencer and directed by "The Late Late Show With James Corden" producer Zeberiah Newman, follows HIV survivor and activist Jeffrey Drew's participation in an experimental vaccine trial.
"We are thrilled our film 'Right to Try' will be seen on Peacock. Though Jeffrey Drew's heroic journey is singular, his story is universal," Spencer said in a statement, according to Variety. "This is an important film and with Peacock we have a wonderful partner to bring it to our audience."
Val Boreland, EVP of content acquisitions at NBCUniversal Television and Streaming, added: "It is an honor to share Drew's story with Peacock users and raise awareness around the important issue of HIV research. We know the impact of this documentary will be far-reaching."
The documentary shows the side effects that Drew experienced during the early days of the trial. The coronavirus pandemic interrupted the study, as the doctor spearheading the experimental vaccine started working on the COVID-19 vaccine.
Drew, who was diagnosed with HIV in the late 1980's when he was only 23 years old, was not paid for his participation in the trial that a major pharmaceutical company did not fund.
"There are people who are still getting infected and sick and dying," he told Variety in a June interview. "I would love to see a generation that doesn't have to think or worry about this anymore."
"Right to Try" won the Audience Award for Documentary Short last summer at Outfest, an LGBTQ+ film festival in Los Angeles.
Los Angeles observes World AIDS Day with star-studded concert
Gay Men's Chorus of Los Angeles and Juan Pablo di Pace will also be performing at the ceremony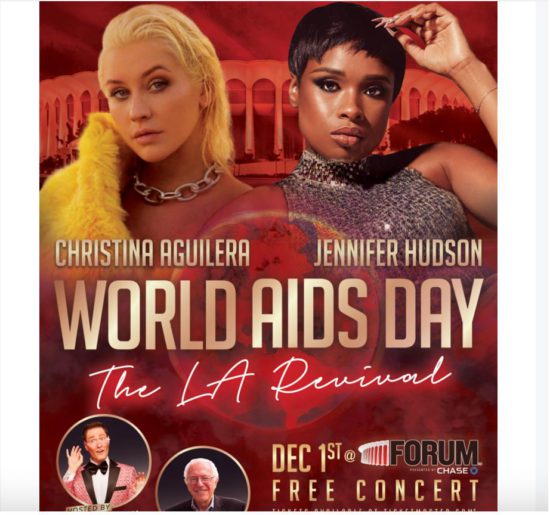 LOS ANGELES — As World AIDS Day is recognized around the globe, Los Angeles will mark the day with a free concert with a star-studded line-up at The Forum hosted by the AIDS Healthcare Foundation (AFA) and a ceremony at The Wall Las Memorias (TWLA) AIDS Monument in Lincoln Park Wednesday.
In a press release, the AFA said Grammy award winners Jennifer Hudson and Christina Aguilera are set to perform in front of a sold-out crowd. Emmy-nominated comedian Randy Rainbow will host the event, which will take place from 8:00 p.m. to 10:00 p.m.
In addition to the entertainment, the AFA will honor Vermont's U.S. Sen. Bernie Sanders with a Lifetime Achievement Award and a special video presentation. The award will be accepted by his wife Jane Sanders.
"This year marks two significant milestones in the decades-long fight against HIV and AIDS: first, for the first recognition by the CDC of the virus that led to what is now known as AIDS (40 years ago, in June 1981), and second, the launch of AHF (35 years ago)," the release reads.
TWLA's ceremony will reveal an expanded footprint of the surrounding landscape of the country's only publicly funded AIDS monument. The monument, created in 2004, will also add over 1,000 names of loved ones lost to AIDS to the 360-plus names already etched into it and unveil new artwork.
TWLM Founder Richard Zaldivar, Los Angeles City Councilman Gil Cedillo and County Board of Supervisors Chair Hilda Solis are all expected to attend the event, which will start at 6:15 p.m. at 3600 N. Mission Road. According to NBC 4 Los Angeles, organizers also hope Los Angeles Mayor Eric Garcetti will be in attendance.
Gay Men's Chorus of Los Angeles and Juan Pablo di Pace will also be performing at the ceremony.
World AIDS Day is observed every December 1 to raise awareness about AIDS and honor the people who have died of the disease. This year's theme is "End inequities. End AIDS and End Pandemics."
National Black Justice Coalition Partners with Twitter for World AIDS Day
Conversations about HIV prevention, treatment, and support on World AIDS Day must center on the Black community.
WASHINGTON n- On December 1, 2021, World AIDS Day, the National Black Justice Coalition is partnering with Twitter's #CampaignsForChange and #TwitterIgnite on a campaign to educate people about HIV/AIDS and the importance of their involvement in the fight to end the epidemic. The campaign will center around a safe space on Twitter that encourages the use of the #MyFirstHIVTweet hashtag and urges people to talk about HIV and sexual wellness. '
World AIDS Day (WAD) is an opportunity to remember those who have passed due to an AIDS-related illness, support those currently living with HIV, and unite in the fight to end HIV/AIDS worldwide.
An estimated 37.7 million people globally were living with HIV at the end of 2020, and since the epidemic began in the 1980s, 36.3 million people have died from an AIDS-related illness.
In the U.S., the Black community is disproportionately impacted by the HIV epidemic, with gay, bisexual, and same-gender loving men and Black women being the most affected. In 2018, Black people comprised 42% (16,002) of the 37,968 new HIV diagnoses, and Black same-gender loving, gay, and bisexual men made up 26% (9,712) of the new diagnoses. In 2016, Black women accounted for 6 in 10 new HIV diagnoses among women.
"Conversations about HIV prevention, treatment, and support on World AIDS Day must center on the Black community. We must reduce stigma in our community, including by having critically important but sometimes challenging conversations about HIV/AIDS," explained David Johns, executive director of the National Black Justice Coalition.
"There are many people who are engaged in activism around the LGBTQ+ community and racial issues but are notably absent from the conversation around HIV. This is because the epidemic is not visible for them and because they lack accurate information on HIV. My hope is this safe space encourages people to send what will not be their last HIV/Tweet and to consider using NBJC to help find a testing location or to request an at-home testing kit. Too many people are still dying as a result of HIV/AIDS and this does not have to be our reality."
NBJC has created this Words Matter HIV Toolkit to support asset-based conversations about holistic health and wellness.
For more information on how HIV/AIDS impacts the Black community and how to engage during World AIDS Day and beyond, view NBJC's World AIDS Day Toolkit. Get tested and know your status. Doctors recommend testing every three to six months.
You can find a testing site near you at https://gettested.cdc.gov/ or if you are 17 years or older and live in the U.S., order a FREE at-home HIV test kit via the Have Good Sex program.