February 14, 2020 at 11:31 am PST | by Nicole Murray Ramirez
The International Imperial Court – 55 years of noble deeds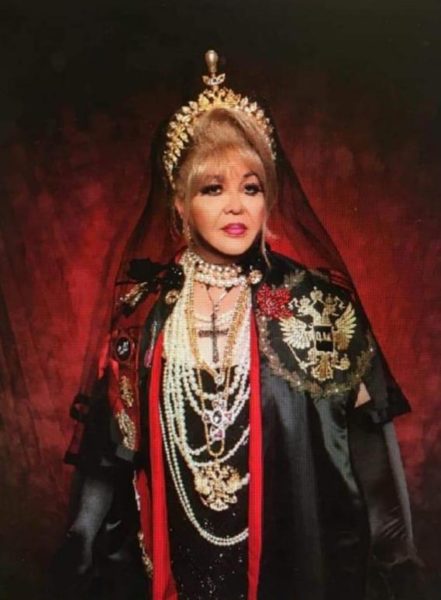 As I have said so many times: A community – indeed, a civil rights movement — that does not know where it came from and whose shoulders it stands on does not really know where it's going.
Fifty-five years ago, World War II veteran Jose Julio Sarria was crowned "Empress I Jose of San Francisco." In 1961, this proud Latino-American became the first openly gay candidate to run for public office. Yes, in 1965, the first Chapter of the International Imperial Court System was established in San Francisco — and now, fifty five years later, there are Imperial Court Chapters in 70 cities within the U.S.A., Canada and Mexico.
The Imperial Courts have raised millions of dollars for countless causes, organizations, and agencies inside and outside the "LGBTQ community." We were there fighting and raising money against the homophobic campaigns of Anita Bryant and John Briggs, among others.
Imperial Courts, especially in the 1960's and 70's, helped established many LGBTQ community organizations, including Pride Parades. The Imperial Court of Reno founded the first "Gay Rodeo" — and the rest is history.
We of the Imperial Court System have mastered letter writing campaigns using our 70 city chapters to produce huge letter writing and lobbying efforts that are responsible for not only the Harvey Milk U.S. Postage Stamp but the U.S.N.S. Harvey Milk, the first Naval ship to be named after an openly gay leader which last month began to be built in San Diego. The ship is expected to be christened and launched in 2021.
We were rightfully at the White House for the unveiling of the Milk Stamp and at the Secretary of the Navy's official announcement of the U.S.N.S. Harvey Milk.
The Imperial Courts also founded and established the "National LGBTQ Wall of Honor," now in the historic Stonewall Inn in New York City, which was dedicated last June during the 50th anniversary of the Stonewall uprising.
We were also one of the first to establish LGBTQ Student Scholarship Programs (1979) and currently our International Jose Julio Sarria Scholarship Program has raised $250,000.  We are also proud that we have raised over $230,000 for the Matthew Shepard Foundation's "Erase Hate" and anti-bullying campaigns. We also, along with the Supervisor Bevan Duffy, successfully led the campaign to have Jose Sarria become the first Gay San Franciscan to have a city street named in his honor.
Last year, we met with State Senator Scott Weiner to discuss our ongoing national letter writing campaign to get a Bayard Rustin U.S. Postage Stamp honoring the longtime Black gay civil rights activist. That discussion led to Senator Weiner, the LGBTQ Legislative Caucus and the Black Legislative Caucus formally asking Gov. Gavin Newsom for a pardon for a decades-old homophobic arrest in Pasadena that was still on Rustin's record.
We spoke at the State Capitol news conference in Sacramento in which Governor Newsom not only pardoned Bayard Rustin but established a procedure where other LGBTQ Californians can receive pardons for unlawful arrests in the 1950's, 60's, 70's for homosexuality, as homosexuality wasn't decriminalized until 1976 in California. We are proud to have had the National LGBTQ Task Force and the Harvey Milk Foundation as major sponsors on many of our projects.
I am proud and humbled to be Empress I Jose's Heir and Successor and to have been crowned by her as "Queen Mother I of the Americas" and to be the titular head of the oldest LGBTQ organization in the world. We are an all- volunteer organization with no paid staff and we are most sincerely grateful for the love and support we have received these last 55 years from our LGBTQ brothers and sisters, allies and families in support of our Noble Deeds.
Nicole Murray Ramirez is a San Diego City Commissioner who has served the last seven mayors of San Diego.
Ramirez is also known as Empress Nicole the Great, Queen Mother I of the Americas, and has been a Latino/LGBTQ activist for over half a century. She is a past state Chair of Equality California, past National Board member of the Human Rights Campaign, the National LGBTQ Task Force and is currently Chair of the National GLBT Civil Rights Network U.S.A. and GLBT VOTE 2020. PHOTO BY BEN FINK .
For more information on Rustin's pardon and the procedure to be pardoned for a homophobic arrest, please see the Rustin story on www.losangelesblade.com.