February 25, 2020 at 9:46 am PST | by John Paul King
Author finds room for queer inclusion in mythic African fantasy
Marlon James didn't start out wanting to be an epic fantasy writer.
His career as a novelist has been built on stories derived from the history of his birthplace, Jamaica, exploring the effects of religion, supernaturalism, sexuality, violence, and colonialism on the struggle to find a Jamaican identity in a post-colonial world. There have always been threads of allegory and surrealism woven into his work, to be sure – his first novel, "John Crow's Devil," was a politically provocative parable about the archetypal struggle between good and evil. As for epic, his third effort, "A Brief History of Seven Killings," was a sweeping (and scathing) political thriller that was awarded the prestigious UK Man Booker Prize for its depiction of several decades' worth of social unrest, violence, intrigue, and instability through the voices of 12 separate narrators.
Even so, it was something of a surprise that his most recent work, "Black Leopard, Red Wolf," published in early 2019, turned out to be a surreal, full-blown epic fantasy novel, derived from the folklore and mythology of ancient African culture and jokingly referred to by its author as "an African 'Game of Thrones." The joke may have been on him, in a good way, because the book (which he says is the first of a planned trilogy) has garnered raves from critics and fans as all that and more. In the words of New York Times critic Michiko Kakutani, it's "the literary equivalent of a Marvel Comics universe—filled with dizzying, magpie references to old movies and recent TV, ancient myths and classic comic books."
James, who spoke with the Blade ahead of an appearance at UCLA on Thursday, February 27, can't remember a specific inspiration that sparked his ambitious foray across genres – "It was so many years ago," he says, somewhat incredulously – but he does recall early discussions with friends around the subject of Tolkein-esque fantasy epics in which he argued their irrelevance.
"'The Lord of the Rings,'" isn't real,'" I would tell them. 'You can do what you want with [those kinds of stories] – it doesn't matter if a hobbit is Chinese, nobody cares.'"
Ironically enough, "Black Leopard" has been praised by no less a giant of fantasy literature than Neil Gaiman as containing "a fantasy world as well-realized as anything Tolkien made." And James is now quick to point out that he's not disrespecting Tolkien – indeed, he now gives lectures on the much-revered author, who created Middle Earth as a realm imagined from the heritage and folklore of its author's own Germanic roots, partly to provide a gap he perceived in the mythic underpinnings of his family's adopted homeland of Great Britain.
That's something to which James can relate profoundly.
"When you're a black person in diaspora, you don't realize how big the gap is in that part of your life," he tells the Blade. "Part of the emotional history of a people and of a country is their mythology, and to grow up without it, which I did, means I never had all of that."
It was to fill that gap that James began a deep dive into African mythology and folklore. "Before I ever thought about writing a single word," he says, "I was reading these books just to connect with my own cultural legacy, to fill that void which I didn't even know was there."
The book that grew out of that research has drawn praise for filling that void on a cultural level, by creating a gloriously non-traditional, unabashedly African point of intersection in a genre traditionally – and overwhelmingly – dominated by white, Euro, usually hetero male authors writing about themes and characters appealing to white, Euro, usually hetero male readers. Salman Rushdie (another literary lion) called it "a fabulist reimagining of Africa," in a Time Magazine review, and Entertainment Weekly lauded its "astonishingly realized" precolonial setting that "crawls with creatures and erects kingdoms unlike any I've read."
Another surprise of James' novel, perhaps, is that its inclusion extends to the LGBTQ experience as well. There are "a number of queer characters" in "Black Leopard," enough so that some commentators have suggested the author was layering a contemporary statement into his fantastical ancient world.
On the contrary, says James, "it was in going back to the mythologies and the histories that I found a far more open-minded view of African queerness than the present day would lead us to believe."
Nevertheless, the importance of depicting queer existence in these fictional realms is not lost on James, who agrees that the LGBTQ community has long had to make a leap of mental transference in order to identify with the characters in the stories they were told in their favorite fiction.
He's also heartened that, even in the short space of years that positive queer visibility has been rising in popular media, the representation is making a difference.
"You see in younger queer people, where there are some things they do take for granted which we didn't, which I never could, certainly, and it's kind of glorious."
He tells a story about speaking recently at a college in Jamaica, where he was addressing a campus LGBTQ association. "I was prepared to give my whole 'it gets better' speech to these kids," he says. "And they were like, 'We don't want to hear that bullshit, do you know Beyonce?'
"They refuse to be denied a childhood, they refuse to be denied the fun and the mess of just being a teenager and doing dumb crap." He laughs, "Where the biggest issue is 'do you buy Cardi B or do you buy Nicki Minaj?"
He continues, "There's a validation you get from seeing yourself, and people like yourself, and seeing that from an early age. It's one thing to watch 'Queer As Folk' when you're 32, it must be a hell of a thing to watch it when you're 16."
Shifting to the subject of his upcoming book discussion at UCLA, he told us, "Sometimes when you are writing, you sit down at a desk, you're pretty alone, and you have no idea what the impact of your work is. Events like this can be a reminder that I do write for an audience.
"We talk about things, we talk about fantasy, about writing the supernatural or the fantastical. And we talk about who gets to tell what story. Because when you write a fantasy novel, all of it is 'other,' all of it is foreign."
"So, who should tell these stories," he concludes, "when you're writing anything, really?"
Marlon James will appear as the concluding event of CAP UCLA's Words and Ideas series this season, at 8pm on February 27 at Glorya Kaufman Hall. For tickets, visit their website.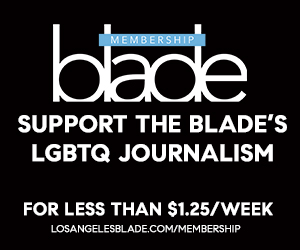 Sign Up for Blade eBlasts