Florida organization advocates for transgender women with HIV, immigrants
Arianna Lint founded Arianna's Center in 2015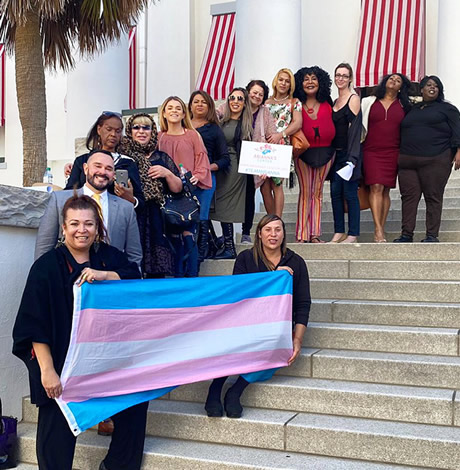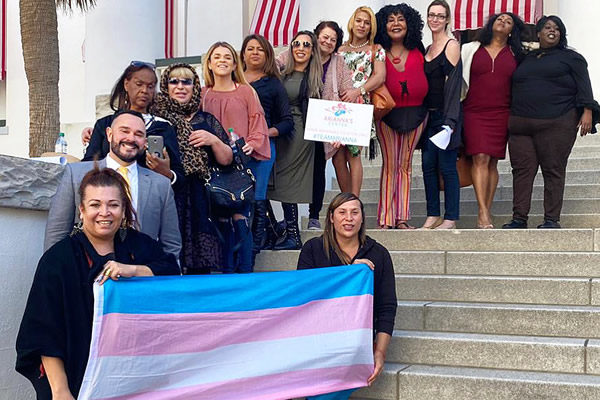 The founder of a South Florida organization that serves transgender women says her goal remains to change her clients' lives "in a good way."
Arianna's Center CEO Arianna Lint during an interview with the Los Angeles Blade last month at the National LGBTQ Task Force's annual Creating Change conference in Dallas said her organization is "the first resource for transgender" immigrants who are in U.S. Immigration and Customs Enforcement custody and once they are released.
Lint said a combination of grants and private donations allows Arianna's Center to purchase bus tickets to Florida for trans women after ICE releases them from their custody. Arianna's Center also provides them with housing, monthly bus passes and access to free health care and English classes so "they can continue their lives."
"We have to provide everything," said Lint. "We don't pay them, but we give them transportation … we put them in school. We try to find them stable housing. We find them a free doctor."
Lint moved to U.S. to complete transition
Lint, 47, was a lawyer in her native Peru before she moved to the U.S. in order to complete her transition. Lint opened an escort service when she was living in New York.
"It gave me the financial life to continue my life, pay my bills," Lint told the Blade.
Lint moved to Florida after Sept. 11 and opened a construction company in Orlando. Lint told the Blade she "had a relationship and everything, and then" she tested HIV positive.
"It was a very big shock for me," she said. "I left my own business and everything."
Lint was a volunteer at an Orlando HIV clinic before she became a full-time employee. Lint worked for the Florida Department of Health before Sunserve, a Fort Lauderdale-based LGBTQ organization, in 2013 hired her as its trans director.
Lint founded Arianna's Center in 2015.
"I decided to step out and open my organization because I saw in South Florida there were no trans-led agencies," Lint told the Blade.
Arianna's Center, which is based in Wilton Manors, offers a variety of programs to its trans clients. These include home testing and linkage to care for those who test positive.
Lint told the Blade her group conducts needs assessment, and encourages clients who are negative to go on PrEP. Lint also said many of Arianna's Center's clients are homeless, sex workers and survivors of domestic violence.
"They don't go to the office," she said. "We go to where they are."
Arianna's Center partnered with Human Rights Watch on its report about trans women of color who live in Broward and Miami-Dade Counties. Arianna's Center also worked with the Transgender Law Center on a Florida and national survey about trans issues.
Lint is a member of Trans [email protected] Coalition's board of directors.
Arianna's Center opened Puerto Rico office in 2019
Puerto Ricans with HIV are among the vulnerable groups that Hurricane Maria left even more at-risk after it devastated the U.S. commonwealth in September 2017. Arianna's Center began to work in Puerto Rico a few months later.
Lint told the Blade many Puerto Ricans with HIV come to Florida to receive treatments that are not available on the island. AIDS Healthcare Foundation, Borealis, Gilead Sciences, AIDS United, the Elton John Foundation, the Southern HIV Impact Fund and Miami Dolphins: Football Unites are among the organizations that have given Arianna's Center funds to expand its work.
Arianna's Center is working with the University of Puerto Rico to conduct the first needs assessment for people with HIV on the island. Arianna's Center opened an office in Puerto Rico in 2019.
"They tell us what's happened in Puerto Rico, so that was of interest for us to go to Puerto Rico and start working over here," said Lint, referring to Puerto Ricans with HIV with whom Arianna's Center works.
Arianna's Center's staff now includes COO Tony Lima. Lint herself only began to receive a salary late last year.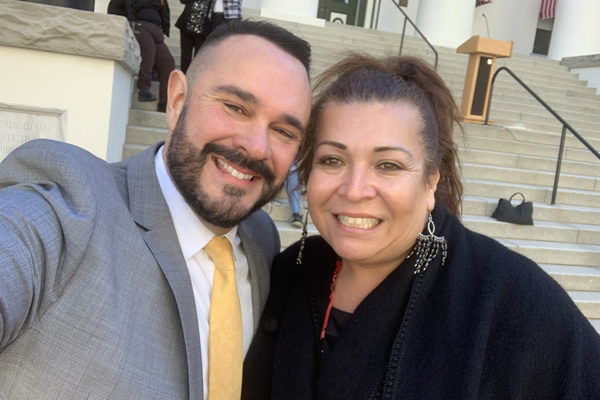 Casa Ruby CEO Ruby Corado is among those who Lint considers a "mentor."
Corado in a statement to the Blade said Lint's "hard work and perseverance has evolved in building a center that is the life-saving key for many Florida and Caribbean trans people."
"Her work is priceless," said Corado.
Trans [email protected] Coalition President Bamby Salcedo echoed Corado.
"Arianna Lint is an example of possibility in the trans community," Salcedo told the Blade. "Through hard work and determination, Arianna has been able to build a great center and be one of the leaders of the trans community in Florida and across the nation."
Lima said Lint "inspires me on a daily basis."
"She is the consummate advocate, who goes above and beyond to ensure that trans women of color are represented, included, protected and empowered to fight the discrimination they face daily," Lima told the Blade. "She leads with passion, dedication and love and for this reason she is not only respected throughout Florida but also across the country."
Virginia Senate subcommittee tables anti-Trans student athlete bill
SB 20, which would have exposed school districts to costly lawsuits for failing to protect trans students, was defeated in subcommittee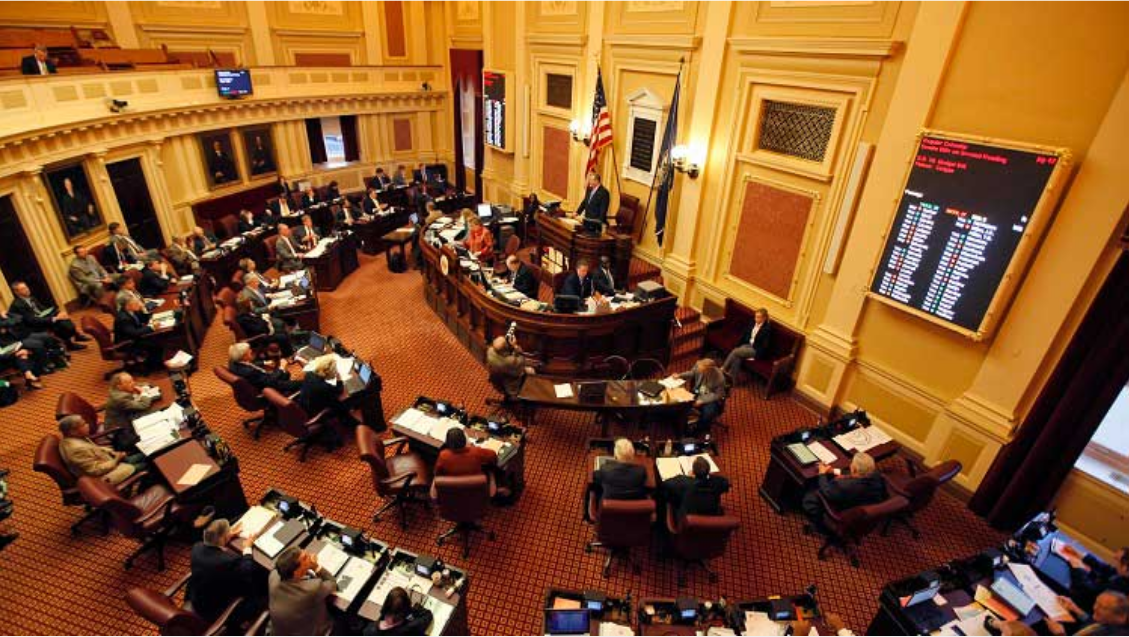 RICHMOND – A Virginia Senate subcommittee on Thursday tabled a bill that would have banned transgender students from joining school sports teams that are consistent with their gender identity.
Senate Bill 766, which state Sen. Jennifer Kiggans (R-Virginia Beach) introduced on earlier this month, would have required "each elementary or secondary school or a private school that competes in sponsored athletic events against such public schools to designate athletic teams, whether a school athletic team or an intramural team sponsored by such school, based on biological sex as follows: (i) 'males,' 'men,' or 'boys'; (ii) 'females,' 'women,' or 'girls'; or (iii) 'coed' or 'mixed.'"
"SB 766 (trans sports ban) was passed by indefinitely (it died!) after a long line of speakers testified against it, affirming trans students' rights to participate in sports just like their cisgender peers," tweeted the American Civil Liberties Union of Virginia after the vote. "Trans students belong in sports. Period."
🎉BREAKING: SB 20, which would have exposed school districts to costly lawsuits for failing to protect trans students, was defeated in subcommittee.

We will never stop saying this: Trans youth are LOVED. Trans youth belong. We will show up for them.

— ACLU of Virginia (@ACLUVA) January 27, 2022
Republican Gov. Glenn Youngkin during his campaign said he does not support allowing trans children to play on sports teams that are consistent with their gender identity.
The General Assembly's 2022 legislative session began on Jan. 12 with Republicans in control of the House of Delegates. Democrats still control the Senate by a 21-19 margin.
A bill that would have eliminated the requirement that school districts implement the Virginia Department of Education's trans and non-binary student guidelines died in a Senate subcommittee on Thursday. The Senate General Laws and Technology on Thursday also tabled a religious freedom measure that would have undermined Virginia's LGBTQ-inclusive nondiscrimination law.
Arizona Republicans introduce 'no promo homo' bill in 2022 session
"I'm extremely disappointed with the Arizona Republicans who continue to perpetuate homophobia and transphobia"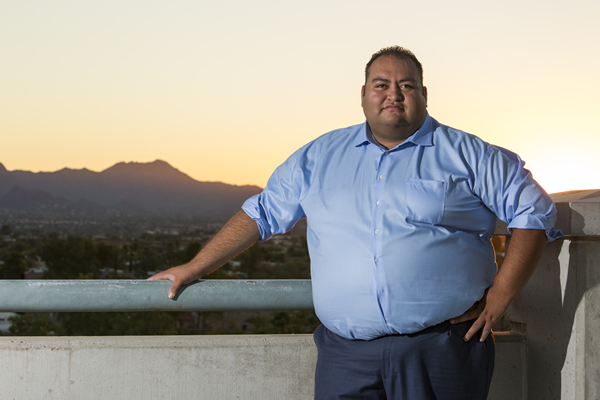 PHOENIX – State Representative Jake Hoffman, (R-12), during a state House Education Committee meeting this week told fellow lawmakers that certain materials he discovered in schools is a foundational reason the committee should pass House Bill 2495. 
"This one is a teenager masturbating. Here's another teenager masturbating. Here's two teenagers engaged in sex," said Hoffman, presenting what he alleged are examples of what was available to students although he admitted that the materials weren't in all schools. "There is nothing more sacred than the innocence of a child," said Hoffman who co-sponsored the bill.
The bill defines 'sexually explicit materials' as "Textual, visual or audio materials or materials accessed via any other medium" that depict any of the following matters:
A. NOTWITHSTANDING ANY OTHER LAW, A PUBLIC SCHOOL IN THIS STATE MAY NOT REFER STUDENTS TO OR USE ANY SEXUALLY EXPLICIT MATERIAL IN ANY MANNER.
B. FOR THE PURPOSES OF THIS SECTION, "SEXUALLY EXPLICIT MATERIALS" INCLUDES TEXTUAL, VISUAL OR AUDIO MATERIALS OR MATERIALS ACCESSED VIA ANY OTHER MEDIUM THAT DEPICT ANY OF THE FOLLOWING:
1. SEXUAL CONDUCT. FOR THE PURPOSES OF THIS PARAGRAPH, "SEXUAL CONDUCT" MEANS ACTS OF MASTURBATION, HOMOSEXUALITY, SEXUAL INTERCOURSE OR PHYSICAL CONTACT WITH A PERSON'S CLOTHED OR UNCLOTHED GENITALS […]
2. SEXUAL EXCITEMENT. […]
3. ULTIMATE SEXUAL ACTS. FOR THE PURPOSES OF THIS PARAGRAPH, "ULTIMATE SEXUAL ACTS" MEANS SEXUAL INTERCOURSE […]
The bill's definition of homosexuality as 'sexual conduct' has drawn sharp criticism from LGBTQ+ advocates including members of the Arizona Legislative LGBTQ Caucus.
Democratic State Rep. Daniel Hernandez accused Hoffman and other Republicans pushing for the bill's passage as engaging in a campaign to turn back LGBTQ+ progress in the state to an earlier era under a law colloquially referred to as the 'no promo homo,' which banned the state's schools from acknowledging or 'promoting' a so-called 'homosexual lifestyle.'
"What this bill does is once and again try and erase the LGBTQ community from Arizona public schools, under the guise of protecting children," said Hernandez, during the meeting.
"It's not the mere of status of being a homosexual, it is the act of homosexuality, so the act of sexual intercourse between two people of the same gender. That is a completely different thing than you represented it to be," Hoffman retorted.
In an email to the Blade Hernandez noted, "Republicans in the legislature are pushing legislation to effectively ban sex education in Arizona schools and roll back the clock. Even mentioning the LGBTQ+ community will be against the law. As someone who knows what it's like to grow up under an antiquated law that keeps the LGBTQ community from being seen in the classroom, I can tell you this makes our kids less safe."
Hernandez, who is campaigning for a seat in the U.S. Congress to represent the Second Congressional District, wrote in an email to supporters; "I'm extremely disappointed with the Arizona Republicans who continue to perpetuate homophobia and transphobia. So, I'm speaking out against this shameful targeting of LGBTQ children and erasure of the LGBTQ community. Because as one of four gay members in our state's legislature, I have a duty to stand up for the LGBTQ Arizonans who can't be in our state's Capitol to defend their own rights."
In 2019, Republican Governor Doug Ducey signed Senate Bill 1346 which repealed the1991 law, which made it illegal for K-12 public schools to provide HIV prevention instruction that "promotes a homosexual lifestyle," "portrays homosexuality as a positive alternative lifestyle" or "suggests that some methods of sex are safe methods of homosexual sex."
The law had been the subject of a federal lawsuit challenging its constitutionality.
New York blogger Joe Jervis reported that Hoffman has been in the national news this week as he is one of Arizona's fake electors. In 2020 he was banned by Twitter for running a paid teenage pro-Trump troll farm with Charlie Kirk.
Georgia school official says gay art is same as Nazi flag
There are ongoing complaints that this current administration has been discriminatory against women, LGBTQ people & English language learners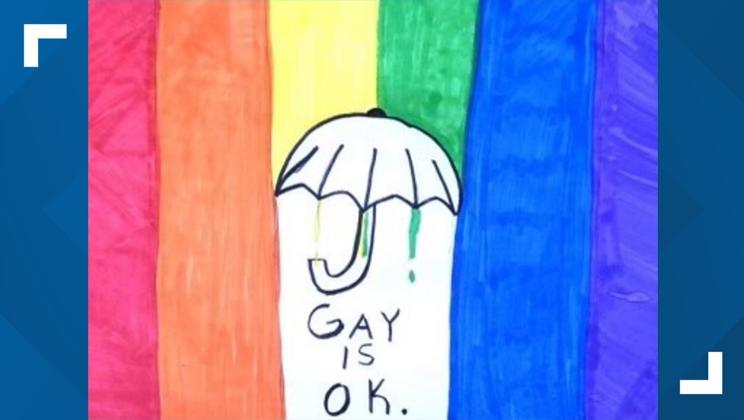 ATHENS, Ga. – A display of student artwork at Oglethorpe Avenue Elementary School in Athens this past week created a controversy, when a poster that was hung in the collection by a faculty member for a student that had rainbow colors and the words; "Gay is OK," was taken down by an school administrator who labeled it comparable to exhibition of a Nazi flag.
Atlanta's NBC affiliate WXIA-TV 11 reported that some parents whose children attend Oglethorpe said they are concerned about how this situation and others have been handled.
"There are ongoing complaints about this current administration has been discriminatory against women, being discriminatory against LGBTQ people, being discriminatory against English language learners or emerging bilinguals, emerging multilingual and Spanish speakers. So we have seen a pattern of inequity at our school and we have been asking for support at this point for years," said Jemelleh Coes, a parent and professor at the University of Georgia. 
WXIA-TV 11 heard from staff and faculty at the school expressed their disagreement with the characterization of Oglethorpe. A current teacher, who wished to remain anonymous, told the station: 
On behalf of a majority of the staff at Oglethorpe Avenue Elementary School, we are disheartened that these words and actions have happened in our school building during this time. This does not represent why we chose this profession, and it does not represent the feelings, beliefs, values, and attributes our amazing school family has within these four walls. We are disheartened that there has been no action taken by CCSD or our building administration to rectify the divide that has been caused. We will continue to seek resolution and promote a community of love, acceptance, and tolerance within our building and community. 
Parents want action.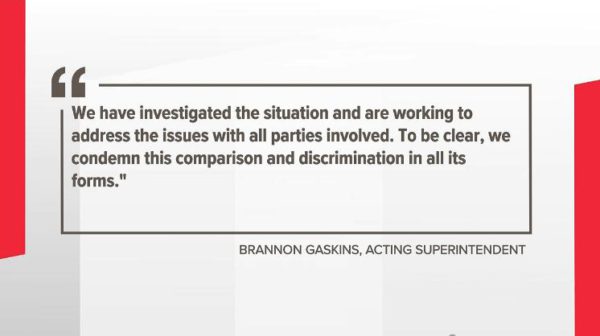 The Clarke County School District released a statement this week:
January 25, 2022
Dear Oglethorpe Avenue Elementary Community,
I write this letter to acknowledge a situation at Oglethorpe Avenue Elementary that has caused a great deal of anger and frustration in our community.
It has been alleged that a piece of student artwork was compared to Nazi symbolism. We have investigated the situation and are working to address the issues with all parties involved. To be clear, we condemn this comparison and discrimination in all its forms.
The Clarke County School District embraces diversity and inclusion for all students and staff. We stand with our LGBTQIA+ community and are dedicated to proving our commitment to diversity and inclusion.
To that end, we will continue having sensitive and appropriate conversations with our school communities.
Sincerely,
Brannon Gaskins
Acting Superintendent
Athens Pride weighed in on their social media accounts raising awareness on the issue and then asking people to donate to help LGBTQ people in need. 
Athens Pride is appalled to hear of the actions that transpired at a local elementary school. Our organization is committed to providing resources and support to LGBTQ+ students, parents, and community members- especially now. We are in contact with all parties involved, who at this time request privacy. We will keep the community updated on further information as it becomes available. We are reminded today that our school, city, and people have a lot of work to do to create true safe spaces for our children. Homophobia, Anti-semitism, and all forms of hate have should have no home here in Athens – especially in our public schools."