Bad Bunny talks sexual fluidity in new interview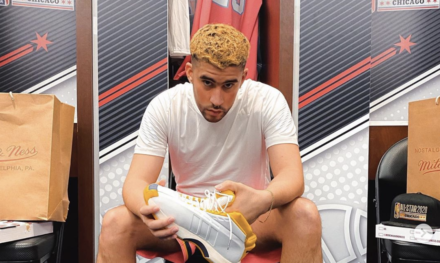 Rapper Bad Bunny has been a longtime LGBTQ ally, but he's never opened up about his own sexuality – until now.
The Puerto Rican recording star, whose real name is Benito Antonio Martínez Ocasio, talked about the subject in an interview with the LA Times, saying that he sees himself, like many members of his generation, as fluid.
"It does not define me," he says. "At the end of the day, I don't know if in 20 years I will like a man. One never knows in life."
He goes on to add, "But at the moment I am heterosexual and I like women."
The 25-year-old rapper, who is one of the most-streamed artists in the world, has long shown support for the LGBTQ community. His videos have included same-sex couples and transgender women; he was a leader in protests against Puerto Rico's governor and his attitudes toward gender and sexuality, and on social media he has praised women who don't shave their body hair, called out a nail salon that would not serve him, and criticized reggaeton star Don Omar for making homophobic comments.
"Homophobia in this day and age?" he tweeted to Omar. "How embarrassing, man."
In January, the release of his music video "Caro" prompted many to wonder if Bad Bunny himself was coming out. The video features the rapper getting his nails done while watching a fashion show before transforming into a female version of himself portrayed by model Jazmyne Joy. He later returns, kissing both his female self and another man.
Last week, the rapper paid homage to Alexa Negrón Luciano, a trans woman brutally murdered in Puerto Rico, while appearing on "The Tonight Show Starring Jimmy Fallon" to perform "Ignorantes" with Sech.
Carl Nassib comes out as gay, first active player in NFL history
Nassib also announced that he is donating $100,000 to the Trevor Project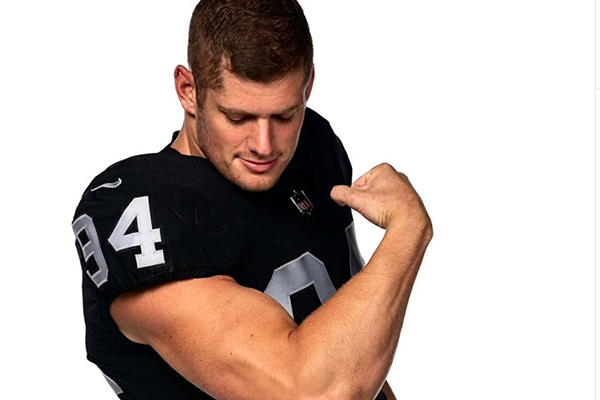 LAS VEGAS – Carl Nassib, who is a fifth-year defensive end for the Las Vegas Raiders, became the first active NFL player to announce he is gay. The Raiders defensive end is now the NFL's only openly gay player.
"I just want to take a quick moment to say that I'm gay," Nassib said in a video he posted on his Instagram account. "I've been meaning to do this for a while now but I finally feel comfortable enough to get it off my chest. I really have the best life. I've got the best family, friends and job a guy could ask for. I'm a pretty private person, so I hope you guys know I'm not doing this for attention, but I think representation matters."
Nassib also announced that he is donating $100,000 to the Trevor Project.
"The Trevor Project is grateful to Carl Nassib for living his truth and supporting LGBTQ youth. This generous donation will help us scale our life-saving crisis services to reach the more than 1.8 million LGBTQ youth who seriously consider suicide each year in the U.S.," said Amit Paley, CEO & Executive Director of The Trevor Project in an emailed statement to the Blade.
"Coming out is an intensely personal decision, and it can be an incredibly scary and difficult one to make. We hope that Carl's historic representation in the NFL will inspire young LGBTQ athletes across the country to live their truth and pursue their dreams.
"At a time when state lawmakers are actively trying to restrict transgender and nonbinary youth's participation in school sports, this news should serve as a clarion call for greater LGBTQ inclusion in the locker room and on the field," Paley added.
Sesame Street embraces 'Gay Dads' for this year's Pride month
Love is love, and we are so happy to add this special family to our Sesame family and Happy Pride to all!!!!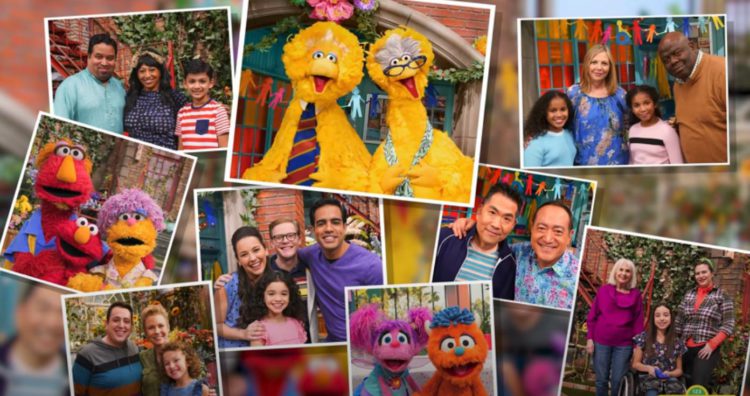 NEW YORK – The iconic children's program Sesame Street enhanced LGBTQ visibility this Pride season introducing two gay dads and their daughter, in a special episode directed by Japanese American actor and theatre director Alan Muraoka who also plays Alan, the current owner of Hooper's Store on the show.
Muraoka shared the exciting news on Facebook, saying he was "honored and humbled" to have directed such a milestone episode, "Love is love, and we are so happy to add this special family to our Sesame family. Happy Pride to all!!!!," he posted.
"The 'Family Day' episode of Sesame Street sends the simple and important message that families come in all forms and that love and acceptance are always the most important ingredients in a family," GLAAD President and CEO Sarah Kate Ellis tells Yahoo Entertainment. "Frank and Dave, as Mia's dads, are the latest characters in an undeniable trend of inclusion across kids & family programming, one that allows millions of proud LGBTQ parents, and our children, to finally get to see families like ours reflected on TV."
Sesame Workshop (formerly Children's Television Workshop), which produces the show for National Educational Television on PBS has long embraced LGBGTQ visibility and equality. In addition to having openly gay celebrities such as Sir Elton John, Ellen DeGeneres, Billy Eichner, Billy Porter and recently Lil Nas X, guest star or make appearances, the show has produced several shows with positive LGBTQ themes over the past decade.
Mexico soccer fans punished for anti-gay slur chanted at games
FIFA sanctions team by banning spectators from first 2 World Cup qualifier matches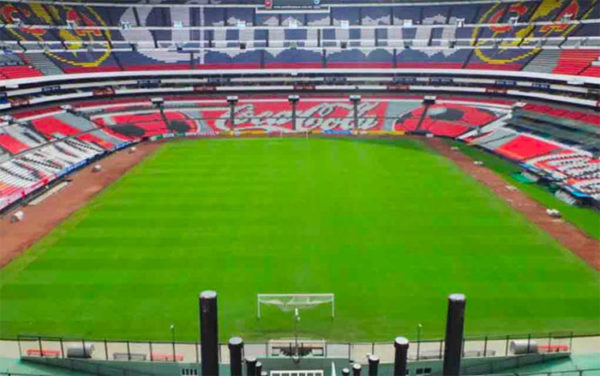 MEXICO CITY – When the Mexico men's national team play their all-important 2022 World Cup qualifiers come September and October, they will do so without a single fan cheering them on. As Yahoo Sports first reported, FIFA has sanctioned the team and ordered it to play to an empty home stadium because its fans won't stop using a controversial chant—widely seen as anti-gay—during matches.
For years, fans have shouted "puto" during opposing goal kicks at almost all Mexican men's national team games, a word that one soccer fans site described this way:
"For some, it's a harmless word that they've been shouting at opposing goalkeepers for decades. For others, it's a salty, inappropriate swear word you'll hear at some soccer games. And for many others it's a homophobic slur that denigrates LGBT individuals and makes attending a soccer game feel like an unsafe space."
"On behalf of the FMF, the players, the Liga MX, the clubs and all the national teams: Let's stop. Let's stop the fucking cry, please," said Yon De Luisa, president of the Mexican Soccer Federation (FMF) at a press conference Friday, as reported by El Economista. "It is taking us away from our team and although many think it is fun, it is not."
Coach Gerardo Martino, added: "I invite our fans to make a reflection so that they understand once and for all the meaning and scope of this type of attitude. They are great at cheering, but we ask that you focus exclusively on the selection. We have a great concern."
The punishment of banning spectators will reportedly impact two World Cup qualifying matches against Jamaica and Canada in September and October at Mexico City's Aztec Stadium. It is in addition to a fine of 60,000 Swiss francs—roughly $65,000 specifically being levied for the chanting of "Eh, puto" at two Olympic qualifying games held in March in Guadalajara, according to Mexico News Daily. An investigation has also reportedly been opened into chanting of the word at Mexico's friendly against Iceland last month in Arlington, Texas.
Despite what the coach and FMF president said, there are many straight soccer fans who argue against "puto" being considered a slur. Soccer writer Elliot Turner, who has lived and worked in Spain, Argentina, the Dominican Republic, and Nicaragua, explained that in a 2014 piece for Fusion:
"In Spanish, the term puta means prostitute, and Spanish, like other romance languages, has gendered nouns (a noun is either male or female). Thus, the term puto is the masculine form, meaning a male prostitute. (The feminine form is puta.)
Did you just get a big tax bill from Uncle Sam? You're likely to say 'putos impuestos!' Did your boss just give you a shitty assignment? You may mutter under your breath 'puto trabajo.'
'Puto' is thus used similarly to 'bloody' in the United Kingdom and 'fucking' in the United States. It's pervasive. The chant only reflects the ugly linguistic reality of Latin America and Spain. Everything that provokes rage is a 'puto.'"
"Puto" can also mean "coward," Turner argues, and writes "the typical El Tri fan means 'coward,' not 'fag' or 'queer.' And contextually, that has some support. Fans only use the term when the opposing goalkeeper punts the ball up the field."
But because it also means "faggot," a clearly hateful slur, Turner concludes the puto chant is "a form of prejudice and homophobia."
This year, Mexican officials have stepped up efforts to stop the chant but social media campaigns and stadium announcements have failed, according to the Washington Post.
The chant was widely used at Mexico's June 3 and 6 games against Costa Rica and the U.S., but as Yahoo Sports reported, officials enacted only Step 1 of FIFA's three-step protocol, which call for match stoppages and PA announcements whenever the chant is heard; temporary match suspensions – with players returning to locker rooms – if the chant is heard again; and forfeits if it arises a third time.
Whether having to watch the team on TV, playing in front of 87-thousand empty seats, has an impact on this fan tradition remains to be seen.