Calif. prison system updates policy on trans inmates as scrutiny grows
New guidelines get mixed reviews from transgender advocates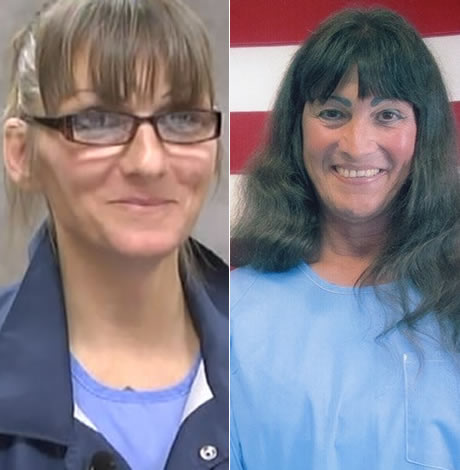 As scrutiny of the treatment of transgender inmates continues to grow, the California prison system has updated its policy on transition-related care, including gender reassignment surgery, although the new guidance is getting mixed reviews at best from transgender advocates.
One transgender advocate said the document "appears to contain some important improvements," but "there are still a few areas where the policy appears problematic or unclear." Another said the changes "do nothing to change" access to transition-related care for inmates. In defense of the policy, a spokesperson for the California prison system says the new guidance is "expected to improve access to care."
The California Department of Corrections & Rehabilitation, which is credited with being the first state prison system to implement any policy granting transgender inmates access to gender reassignment surgery, shared the updated 30-page guidance and a summary with the Blade last week.
The new guidelines, developed by California Correctional Health Care Services, dedicate a full page to specific criteria for granting inmates gender reassignment surgery: Persistent gender dysphoria; being at least 18 years old; having continuously used hormone therapy for 12 months; full-time living in a new gender role and keeping any other medical and mental health conditions well-controlled.
"Individuals may live successfully as transgender persons without surgery," the guidelines say. "Gender affirming surgery may be considered for those individuals who are diagnosed with Gender Dysphoria and demonstrate significant distress not attributable to conditions of confinement, mental illness or other factors, but are due to lack of reasonable response to available nonsurgical treatments and there are no available, additional treatments other than surgery that are likely to improve or alleviate their symptoms."
The updated guidelines come after a review period the California prison system announced when the Blade published data — obtained from a request under California's Public Records Act — revealing few transgender inmates who requested gender reassignment surgery were granted the procedure.
In a letter dated Nov. 8, 2019 to the Blade, the state prison health system reveals 130 inmates requested male-to-female gender reassignment surgery since the policy was announced, but only seven were granted the procedure in the same time period. Meanwhile, 51 inmates requested female-to-male gender reassignment surgery, but only 10 obtained the procedure.
Terry Thornton, a California Department of Corrections spokesperson, told the Blade this week the new policy came out, however, because guidelines "are continually revised to align with community standards and as needed to ensure operational efficiency."
The California prison system isn't done. Thornton said a supplement to the transgender inmate guide on requests for gender reassignment surgery is currently undergoing a revision, but it's unknown when that will be complete.
The previous policy, established in 2015, was brokered by then-California Attorney General Kamala Harris as a result of lawsuits filed by transgender inmates Michelle Lael-Norsworthy, who was serving time for second-degree murder, and Shiloh Quine, who's serving a life sentence for first-degree murder, kidnapping and robbery. Both inmates had obtained medical clearance for gender reassignment surgery and sought the procedure, but were denied.
(In response to the Blade report last year that few inmates were granted gender reassignment surgery despite the deal Harris brokered — and promoted on the campaign trail — the California Democrat's presidential campaign said the the policy should be reviewed because anti-transgender bias may be in play. Harris's Senate office didn't respond to the Blade's request to comment on the update.)
Ensuring transgender prisoners have access to gender reassignment surgery, which would come at taxpayer expense, has been a controversial issue and may even soon be adjudicated by the U.S. Supreme Court as a result of a case percolating up from Idaho.
Transgender advocates, however, have said denying the procedure to inmates is the denial of medical care, which would be cruel and unusual punishment and prohibited under the Eighth Amendment of the U.S. Constitution.
But the key difference in the new California policy seems to be hormone therapy, not gender reassignment surgery.
Thornton said the new guidance provides guidelines on hormone therapy for transgender inmates to primary care doctors as opposed to endocrinology specialists, which she said "is expected to improve access to care."
"The new Transgender Care Guide, which more clearly aligns with WPATH criteria, expands its education to primary care providers and gives a more detailed step-by-step approach to care for transgender men and transgender women," Thornton said. "This new guide improves education for providers about the terminology and diagnoses related to transgender care."
Thornton added the guidance updates access to hygiene items and clothing for transgender inmates.
"All of these improvements will enable primary care providers the ability to more effectively meet the needs of the transgender population," Thornton said. "CCHCS and CDCR will continue to expand education to providers and patients about transgender care."
Despite the changes, advocates for ensuring transgender inmates have access to gender reassignment surgery were largely unimpressed, saying the guidelines still hamper access to transgender-related care.
Shawn Meerkamper, senior staff attorney with the San Francisco-based Transgender Law Center, flat-out rejected the changes.
"For years, California's prisons have had in place a sham policy that serves to deny critical and often life-saving health care to the overwhelming majority of trans people who need it," Meerkamper said. "Unfortunately, these updates do nothing to change that reality for the hundreds of transgender people in California prisons who desperately need access to medically necessary transition-related surgeries."
Harper Jean Tobin, director of policy at the National Center for Transgender Equality, took a more nuanced approach, saying the new guidance "appears to contain some important improvements," but at the same time "there are still a few areas where the policy appears problematic or unclear."
For starters, Tobin took issue with the California prison system housing transgender inmates consistent with their gender identity in sex-based facilities on a case-by-case basis as opposed to implementing a blanket policy ensuring a mismatch won't happen.
"The new policy says prisoners 'have traditionally' been housed based on external genitalia, and 'may possibly be moved' following surgery," Tobin said. "CDCR also says that new state legislation 'may allow' placement consistent with gender identity in other cases — but in fact that is already permitted and under federal law it is required to be considered in every case."
A recent NBC News report from Kate Sosin documents the conditions transgender inmates face across the United States, few are housed consistent with their gender identity, and that mismatch can have dire consequences.
Of the 10 transgender women at a Chino, Calif., facility who spoke to NBC News during a weekend visit last year, nine reported having been sexually assaulted behind bars. Half said they'd sought a transfer to a women's prison, but were denied.
Other issues transgender inmates face, per the NBC News report, include not being called by the name they prefer.
The federal government is no help. The Bureau of Prisons under the Trump administration, to the consternation of transgender advocates, has issued guidelines allowing facilities to deny transgender inmates housing consistent with their gender identity, calling instead for case-by-case placement.
Tobin also criticized the guidance's incorporation of self-injurious or suicidal behaviors as factors that could prevent a transgender inmate from obtaining treatment for gender dysphoria, which she said "appears contrary to the standards of care."
"Nearly 40 percent of transgender adults have attempted suicide at some point, suicidal ideation is even more common, and 'self-injurious behaviors' could include attempts at self-surgery among patients facing denials or prolonged delays in care," Tobin said. "These may be severe symptoms of GD, not contraindications to treatment, and CRDC's policy should not suggest otherwise without great caution."
Further, Tobin faulted the guidelines for calling on medical providers to rule out other mental health disorders in inmates that may co-occur or mimic gender dysphoria before providing transition-related care, saying that practice is contrary to standards from the American Psychological Association and the World Professional Association for Transgender Health.
"Accepted clinical guidelines for gender dysphoria recognize that co-occurring mental health conditions are common, because gender dysphoria itself can cause depression and anxiety, and because being transgender makes individuals a target for abuse and trauma," Tobin said.
Thornton, in response to concerns about housing in the updated guidelines, said placement for all inmates, not just transgender inmates, takes many factors into account.
"All inmate housing is evaluated on a case-by-case basis, which includes an inmate's criminal history, behavior, rehabilitation opportunities, medical and psychiatric needs, program needs as well as their safety and security," Thornton said.
As an example, Thornton said a transgender man requesting a hysterectomy would not be moved to a male facility following the procedure, while a transgender woman undergoing a vaginoplasty would be moved.
With respect to ruling out other mental health conditions being a requirement before treating gender dysphoria, Thornton said that practice is consistent with medical standards as defined by the World Professional Association for Transgender Health.
"People who engage in self-injurious or suicidal behaviors may have other mental health concerns that, until optimally managed, could possibly preclude medical treatment of gender dysphoria," Thornton said.
All in all, Thornton said, the updated guidelines demonstrate a commitment from the California prison system to provide adequate treatment and facilities for transgender inmates.
"CDCR is the only prison system routinely approving gender-affirming surgery and is working to build trust with its patients, their families, and community advocates," Thornton said. "CDCR has policies in place to improve safety, help prevent sexual abuse, create a more respectful environment, improve outcomes for reentry and improve medical care for its incarcerated transgender community and is committed to creating safe and humane environments for all people housed in California prisons."
Proud Boys disrupting a California Pride drag show get pepper sprayed
"There was an altercation, obviously people are here & are upset about the bar having their Pride event," said the deputy police chief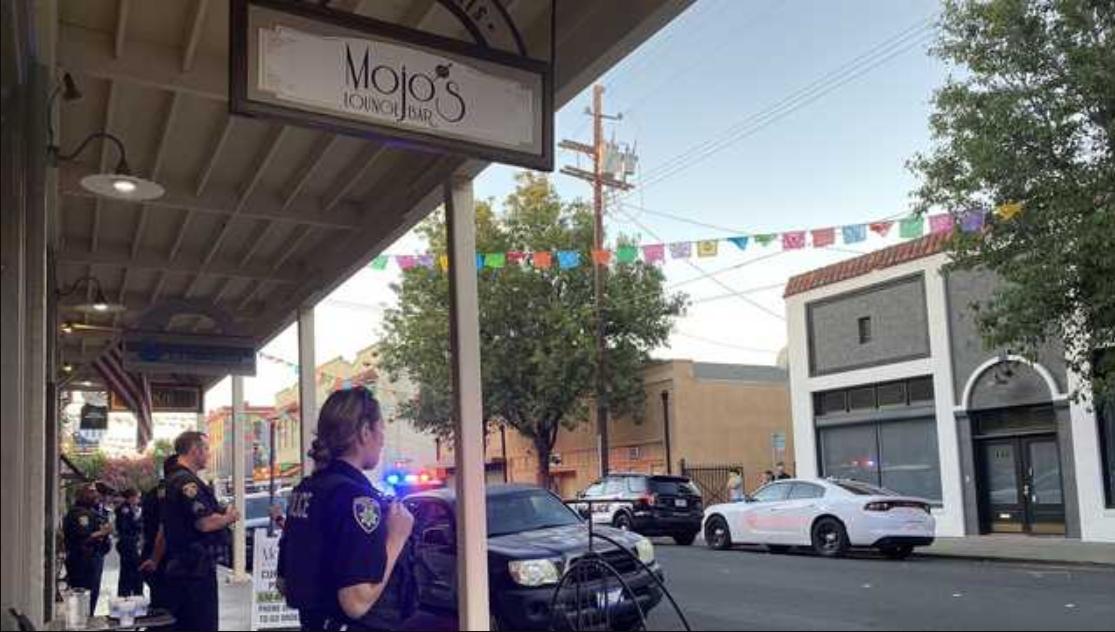 WOODLAND, Ca. – An end of Pride month drag show in this suburban city Northwest of Sacramento was disrupted by Proud Boys at the The Mojo Lounge bar and restaurant in the downtown business district.
As the group attempted to gain access to the establishment, a now viral video by local ABC10 television reporter Luke Cleary showed them and the near-by police officers getting pepper-sprayed by an unseen person inside the bar.
Screams of pain erupted along with one Proud Boy who can be heard shouting "fuck you podophile motherfuckers," after being sprayed. Woodland police officers can also be seen retreating wiping their eyes from the effects of the irritant self-defensive spray weapon.
Roughly a dozen people have gathered on the opposite sidewalk shouting insults to patrons and police pic.twitter.com/aCB7LSmzCm

— Luke Cleary (@LukeCleary) July 1, 2022
Another reporter, Lee Anne Denyer from NBC News Sacramento affiliate KCRA 3 noted that the event, which was initially advertised as an an all-ages Drag Show by the bar was at first postponed and then scaled back.
Denyer posted video that showed the heavy law enforcement presence after the Proud Boys attempted to storm the restaurant demanding to know how many children were in attendance at the show.
Our story tonight: https://t.co/lRLMWp3PGR

— KCRA Lee Anne Denyer (@KCRALeeAnne) July 1, 2022
"There was kind of rumors that things were brewing on main street but there was obviously a presence by the Woodland Police Department so that made us feel more comfortable. Then it escalated, it escalated pretty quickly," Julie Ramos, who attended the event, told KCRA. "This really was a positive event and everyone was having a great time. So I think most people were angry but I would say resilient."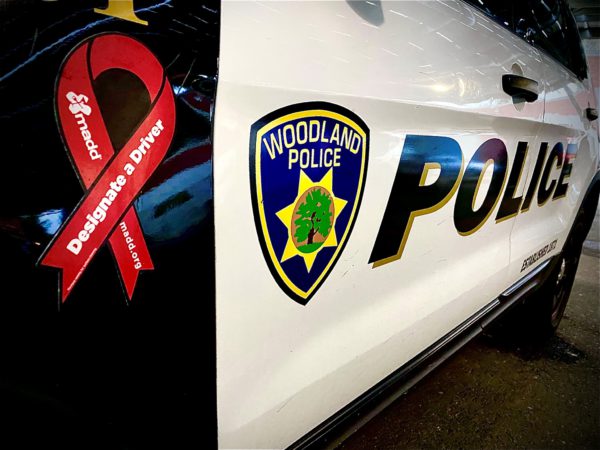 "There was an altercation, obviously people are here and are upset about the bar having their Pride event," Anthony Cucchi, the deputy chief of the Woodland Police Department told KCRA. "We tried to intervene as quickly as we could, it was a pretty chaotic scene. Our main priority was to get a safe scene and then make sure anybody that needed help got the help that they needed. We will work on the investigation."
Gun industry advertising to kids & restricting ghost guns Calif. laws signed
Latest nation-leading action to protect Californians from gun violence adds to decades of California leadership on gun safety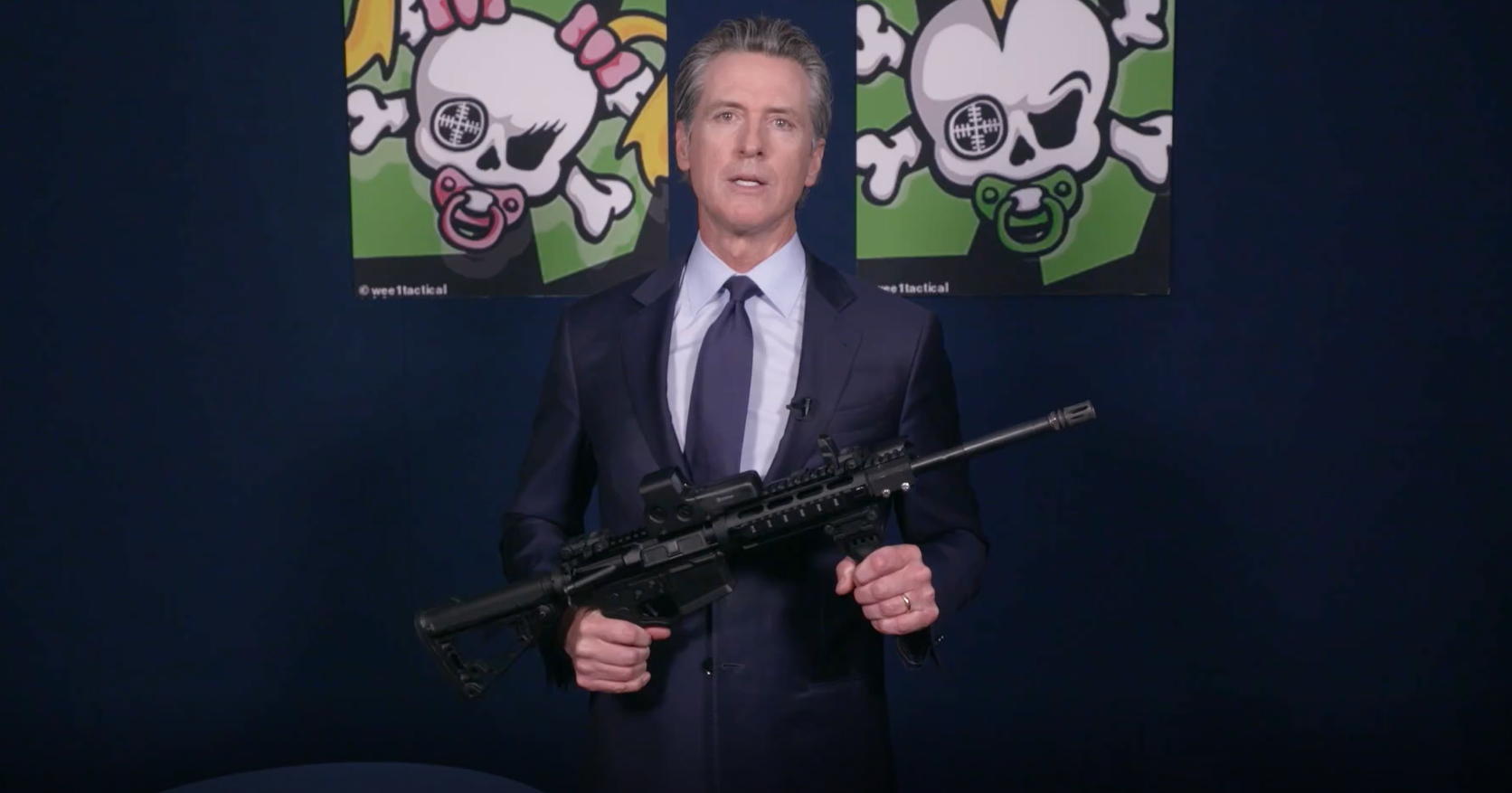 SACRAMENTO – Governor Gavin Newsom on Thursday signed legislation to take on the gun industry and get more guns off California streets. Gun violence is the leading cause of death among children in the U.S. 
"From our schools to our parks to our homes, our kids deserve to be safe – in California, we're making that a reality. As the Supreme Court rolls back important gun safety protections and states across the country treat gun violence as inevitable, California is doubling down on commonsense gun safety measures that save lives," said Newsom. "The lives of our kids are at stake and we're putting everything on the table to respond to this crisis."
The legislation signed Thursday directly targets the gun lobby and manufacturers.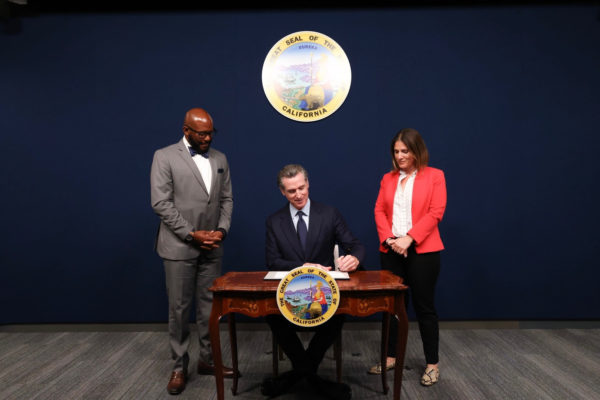 Governor Newsom signed AB 2571, prohibiting marketing of firearms to minors following recent efforts by the gun industry to appeal to minors, like Wee 1 Tactical advertising the sale of a JR-15, an AR-15 meant for kids, complete with cartoon child skulls with pacifiers.
"Guns are not toys – they are deadly weapons," said Assemblymember Rebecca Bauer-Kahan (D-Orinda). "California has some of the strongest gun laws in the country and it is unconscionable that we still allow advertising weapons of war to our children. Our kids have a right to live long, happy lives, free of gun violence."
Also Thursday, the Governor signed AB 1621, which further restricts ghost guns – firearms that are intentionally made untraceable – as well as the parts used to build them. Ghost guns have been called an "epidemic" by the Los Angeles Police Department, contributing to more than 100 violent crimes in the City of Los Angeles last year alone.
"Alarmingly, we are finding that more and more, no region or demographic is exempt from gun violence – our hospitals, grocery stores, schools, and even places of worship, are no longer safe. The proliferation of ghost guns, which are intentionally untraceable weapons to evade law enforcement, has only worsened the issue," said Assemblymember Mike Gipson (D-Carson). "Following the signing of AB 1621 into law, I applaud Governor Gavin Newsom for his leadership and unwavering commitment to eradicate the rampant wildfire of gun violence currently ravaging our streets and safe-havens."
Earlier this month, Newsom announced a record $156 million in gun violence prevention grants provided as part of the California Violence Intervention and Prevention Grant Program (CalVIP). The funding will support 79 cities and nonprofit organizations that are implementing anti-violence programs suited to the unique needs of their local communities.
California's gun safety policies save lives and provide a national model for other states to follow. According to the Giffords Law Center, in 2021, California was ranked as the top state in the nation for gun safety. As California strengthened its gun laws, the state saw a gun death rate 37 percent lower than the national average. Meanwhile, other states such as Florida and Texas, with lax gun regulations, saw double-digit increases in the rate of gun deaths. As a result of the actions taken by California, the state has cut its gun death rate in half and Californians are 25 percent less likely to die in a mass shooting compared to people in other states.  
A recent study from the Violence Prevention Research Program at the University of California, Davis found that California's red flag law was used to stop 58 threatened mass shootings.
Weapons of war don't belong on our streets or in the hands of our children.

With @BauerKahan & @AsmMikeGipson's bills, CA is
blocking the marketing of guns to kids & restricts ghost guns & their parts.

We're doubling down on commonsense gun safety measures that save lives. pic.twitter.com/ba6rcpeBgj

— Office of the Governor of California (@CAgovernor) July 1, 2022
Newsom signs state budget gives tax refunds to millions of taxpayers
Provides direct tax refunds for 23 million Californians to address rising costs and tackles the state's most pressing needs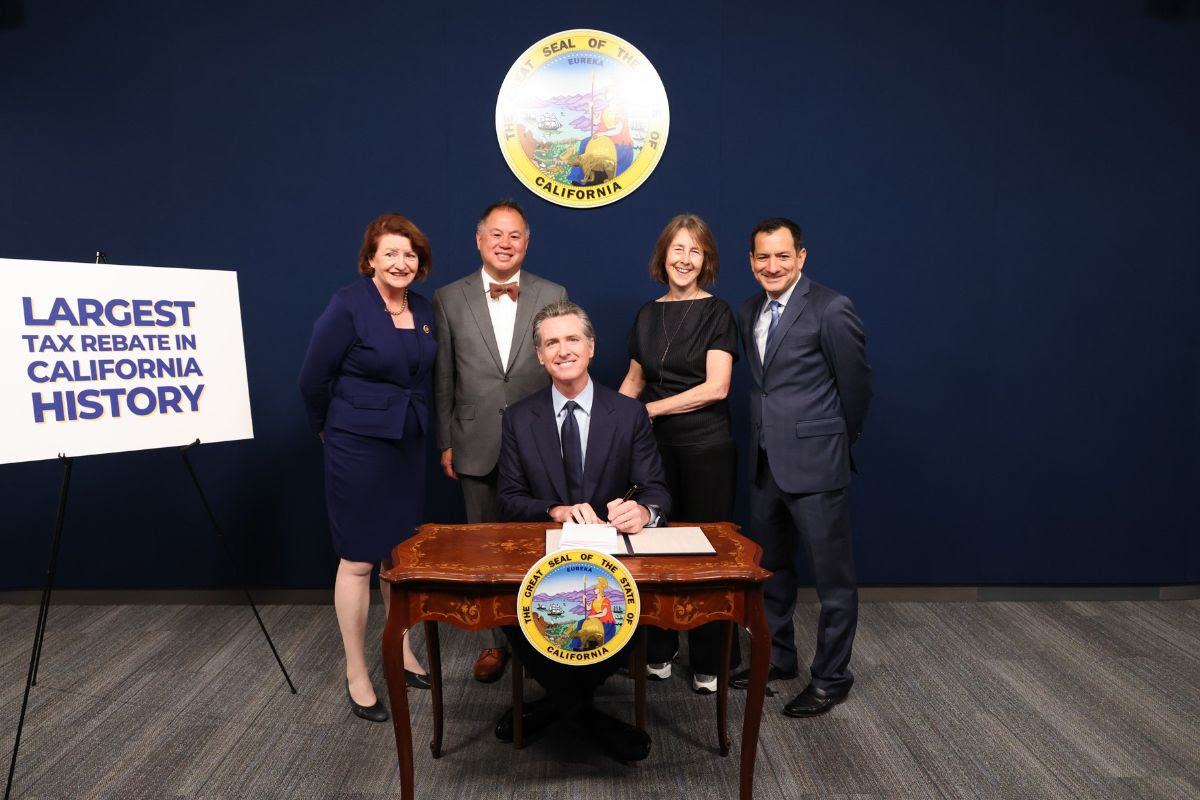 SACRAMENTO – Governor Gavin Newsom today signed a $308 billion state budget that provides direct tax refunds for 23 million Californians to help address rising costs, tackles the state's most pressing needs, builds state reserves, and invests in California's future.
The new budget is the product of a windfall of tax revenues from California's highest earners and is aimed at softening the sting of high fuel prices and the cost of living. It includes $9.5 billion in gas refunds, $1.4 billion in utility payment assistance, expanded tax credits and $1.5 billion for unemployment insurance.
The Los Angeles Times reported that economists warn of an economic downturn that could diminish future state tax revenues, meaning that next year's budget could be far less generous to Californians struggling with the state's high housing prices and other day-to-day expenses.
In a press release, Newson's office outlined the details of the budgetary legislative packages:
Here are the top 10 things you need to know about the budget:
1. "Cha-ching! You just received a deposit."
Global inflation. Rising costs. It's hard out there and we know it. So, we're giving you $9.5 billion back. MILLIONS of Californians– 23 million to be exact – will benefit from up to $1,050, as soon as October! See if you qualify on the new Middle-Class Tax Refund calculator here.
2. Don't go into crippling debt over a hospital visit
Want health care? We're now the FIRST and ONLY state in the nation that offers universal access to health care coverage, regardless of your immigration status. Want insulin? California will be producing our own insulin to make it cheaper and more affordable for everyone.
3. A real "Pro-life" agenda
Fun fact – California is actually a pro-life state. We're protecting reproductive freedoms and supporting Californians throughout their lives. In this budget, we're investing over $200 million in reproductive care. We're making a company's willingness to move OUT of anti-choice states and TO the reproductive freedom state of California a factor in awarding state business tax credits. But we're not stopping at reproductive care. We're investing in a child's entire lifespan. From birth to college and beyond. That means universal preschool, free school meals, expanded before and after school programs, more counselors for our schools, free community college, the list goes on.
4. Climate change is real y'all
While SCOTUS is kneecapping the federal EPA's ability to fight climate change, California is making a climate commitment on the scale of what other countries are spending. Our $53.9 billion in new investments will better protect Californians from the extreme weather that has been impacting our bills, our livelihoods, our farms and our families. We're investing in fire protection and drought response while forging an oil-free future away from big polluters, and more. Later is too late and we will act now so our kids and grandkids have a brighter, cleaner future.
5. Getting people into housing & shelter and off the streets
We are making major investments to address California's homelessness crisis by getting people into housing & shelter. We have $2.2 billion for encampment resolutions around the state and new bridge housing to support people going through CARE Court – tens of thousands of people with a safe roof over their head and the mental health and substance use help many desperately need.
6. Keeping the lights on
California has an energy plan. Drought is causing lower energy production. Extreme heat is causing increased energy demand. Wildfires threaten energy infrastructure. So, we're investing $4.3 BILLION to help keep the lights on this summer, invest in clean and reliable energy infrastructure, help with your energy bills, accelerate our transition to clean energy and so much more. We're building the energy system of the future.
7. A real public safety plan
Californians should always feel safe — whether that's at home, at the park, or at work. California is tackling the root causes of crime and getting guns and drugs off our streets. The state is launching the largest gun buyback program in the nation, funding a permanent Smash and Grab Enforcement Unit to fight retail theft, and investing $30 million to support the National Guard's drug interdiction efforts, targeting transnational criminal organizations.
8. Literally transforming education in our state
It's no longer K-12, it's Pre-K -16. We are investing a – truly – historic $170 billion to continue our transformation of education in California. From our master plan for early learning to free community college, education has never been more accessible in our state. NEW this year, we have $7.9 billion to help with learning recovery, more investments in higher education, an additional $2 billion for affordable student housing (on top of last year's $2 billion), and $3.5 billion that schools can use on arts, music, and more.
9. Getting our kids help with mental health
After these last few years, everyone knows we are experiencing a mental health crisis and California is taking it seriously. We're investing big in behavioral health for adults and our kids. This year, there's new urgent funding for wellness support programs, funding for youth suicide reporting and prevention, and more.
10. Rebuilding California
Railroads. Highways. Streets. We're investing in infrastructure! This budget includes a $14.8 BILLION transportation infrastructure investment. That means money for rail and transit projects, climate adaptation projects, walking and bicycling projects, high-speed rail, our ports, and more. AND we're investing to speed up our transition to zero-emission vehicles. Beep beep!
"In the face of new challenges and uncertainties, we're providing over $17 billion in relief to help families make ends meet, and doubling down on our investments to keep building the California Dream on a strong fiscal foundation," said Governor Newsom. "This budget invests in our core values at a pivotal moment, safeguarding women's right to choose, expanding health care access to all and supporting the most vulnerable among us while shoring up our future with funds to combat the climate crisis, bolster our energy grid, transform our schools and protect communities. Building a better future for all, we'll continue to model what progressive and responsible governance can look like, the California way."
Amid record rates of inflation and economic uncertainty on the horizon, the budget continues to build resiliency with $37.2 billion in budgetary reserves and 93 percent of the discretionary surplus allocated for one-time projects.
Additional details include:
$17 Billion Inflation Relief Package
$9.5 Billion for Tax Refunds to Help Address Inflation: The budget provides tax refunds of up to $1,050 for 23 million Californians to help offset rising prices.
$1.95 Billion for Emergency Rental Assistance: The budget provides additional funds to ensure qualified low-income tenants who requested rental assistance before March 31 get the support they need.
$1.4 Billion to Help Californians Pay Past-Due Utility Bills: Expanding on last year's utility relief program, the budget provides funds to continue covering past-due electricity and water bills.
$439 Million to Pause the State Sales Tax on Diesel for 12 Months: Bringing relief to the commercial sector and drivers, the budget includes a pause of the General Fund (3.9375 percent rate) portion of the sales tax rate on diesel fuel that will provide an estimated $439 million in relief.
$53.9 Billion California Climate Commitment
New investments in this year's budget bring California's multi-year climate commitment to $53.9 billion to protect Californians from the impacts of climate change, help forge an oil-free future and tackle pollution.
Drought and Water Resilience: Building on last year's $5.2 billion commitment to ensure water security for Californians, the budget invests another $2.8 billion for near- and long-term actions to build water resilience, promote conservation and more.
Fighting Wildfires: $2.7 billion investment to reduce the risk of catastrophic wildfires and bolster forest health. These projects include forest thinning, prescribed burns, grazing, reforestation, and fuel breaks.
Accelerating the Zero-Emission Vehicle (ZEV) Transition: Building on last year's unprecedented ZEV package, the budget invests an additional $6.1 billion to create a total $10 billion package to expand ZEV access and affordability and support the build-out of infrastructure across the state.
Bolstering our Energy System: Allocates $4.3 billion to support energy reliability, provides relief to ratepayers, creates strategic energy reserves and accelerates clean energy projects. Allocates an additional $3.8 billion for clean energy projects to boost affordability and reliability.
$14.8 billion for regional transit, rail and ports projects to support the continued development of clean transportation projects, including California's first-in-the-nation high-speed rail system and bicycle and pedestrian projects.
Expanding Health Care Access
Health Care Access for All: With this budget, California becomes the first state in the nation to provide universal access to affordable health coverage for lower-income individuals by providing coverage for Californians ages 26 to 49, regardless of immigration status. It also establishes the Office of Health Care Affordability to develop cost targets for the health care industry and impose consequences if they are not met.
Reproductive Health Care: As other states restrict access to this critical care, California is providing more than $200 million for grants and services for reproductive health care providers in order to expand access, improve clinical infrastructure and more to prepare for the expected influx of women from out of state seeking care.
Transforming the Children's Behavioral Health System: Building on the $1.4 billion investment in last year's budget to transform California's behavioral health system for all children, the budget includes an additional $290 million over three years to address urgent needs, including funding for programs that promote well-being and grants to support children and youth at increased risk of suicide and a youth suicide crisis response pilot.
Affordable Insulin: The budget invests $100 million to develop and manufacture low-cost biosimilar insulin products to increase insulin availability and affordability in California.
Confronting Homelessness and the Mental Health Crisis
Additional $3.4 Billion General Fund over two years to build on last year's $12 billion multi-year investment by continuing progress on expanding behavioral health housing, encampment cleanup grants and support for local government efforts.
Supporting the CARE Court framework to assist people living with untreated mental health and substance abuse disorders, the budget includes funds for state department and Judicial Branch costs associated with the proposal.
Safer Communities
Combatting COVID-19: The budget adds $1.8 billion to continue implementing the state's SMARTER plan, including more funding to support school testing, increase vaccination rates and more. The budget also invests $300 million General Fund for CDPH and local health jurisdictions to permanently expand the state's capacity to protect public health and promote health equity.
Tackling Crime: The budget expands CHP's retail theft task force and includes funding for the Attorney General to prosecute organized retail theft crimes, lead anti-crime task forces throughout the state, and establish a new Fentanyl Enforcement Program. Additionally, the budget expands fentanyl drug interdiction efforts led by the California Military Department.
The inflation relief package builds on Governor Newsom's nation-leading stimulus package last year to accelerate California's economic recovery with Golden State Stimulus checks for two out of every three Californians, as well as the largest statewide renter and utility assistance program and small businesses relief program in the country.