March 16, 2020 at 10:14 am PDT | by Karen Ocamb and Brody Levesque
California coronavirus emergency: seniors self-isolate, restaurants & bars close; HIV Commission message (Updated)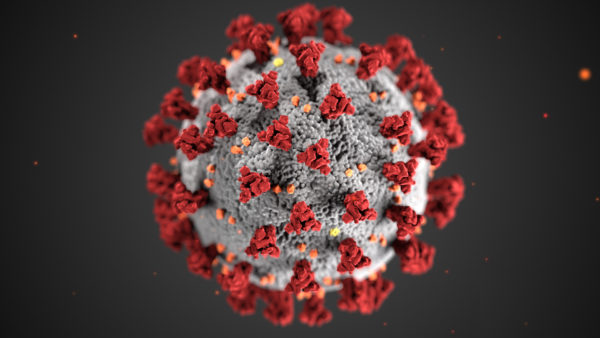 (UPDATED) As the new coronavirus spreads throughout California, Gov. Gavin Newsom is asking for people over the age of 65 and those with underlying chronic medical conditions, who are particularly at risk for contagion, to self-isolate and hunker down for at least two weeks, probably longer, to protect their own health and the health of some 40 million Californians. As of Sunday, the global pandemic has resulted in 335 confirmed cases and six deaths in the state.
Newsom noted in a Sunday news conference that with the rise in the numbers of people affected, it is prudent for Californians to take all necessary precautions to limit their exposure to each other – to practice "social distancing" by staying three-to-six feet apart to not spread or catch the new virus.
"We recognize that social isolation for millions of Californians is anxiety-inducing, but," Newsom said, "we need to meet this moment head-on and lean in."
Newsom's actions mirrored efforts by governors in Ohio, Illinois, Massachusetts, Washington and Maryland who have also ordered bars and restaurants in their respective states closed and limited public gatherings in an effort to slow the spread of coronavirus.
A spokesperson for the Centers for Disease Control and Prevention told the Los Angeles Blade Sunday that the agency recommended that events and gatherings of 50 people or more not be held for at least the next two months. The CDC advisory doesn't apply to the day-to-day operation of organizations such as public schools, universities, colleges or businesses. The spokesperson said that federal officials are working with state officials to set guidelines for those entities. UPDATE: As of Monday, the CDC says limit contact with gatherings of 10 people or more. 
Late Sunday evening, Los Angeles Mayor Eric Garcetti ordered nightclubs, bars, movie theaters, gyms and entertainment venues closed. Restaurants must halt dine-in service and limit their business to takeout orders until March 31 as part of LA's efforts to slow the spread of coronavirus.
The emergency actions ordered by LA Mayor Garcetti occurred hours after New York City's Mayor Bill de Blasio announced that the nation's largest public school system will close on Monday, sending over 1.1 million children home. "I have no words for how horrible it is, but it has become necessary," de Blasio said.
LA Unified School District, the nation's second largest district, has also closed and administrators are working to open resource centers for students.
As Los Angeles' significant hospitality industry prepares for at least a partial shut-down, in West Hollywood, David Cooley, the owner of the famed LGBTQ hot-spot The Abbey, announced in a Facebook post that he has temporarily closed operations: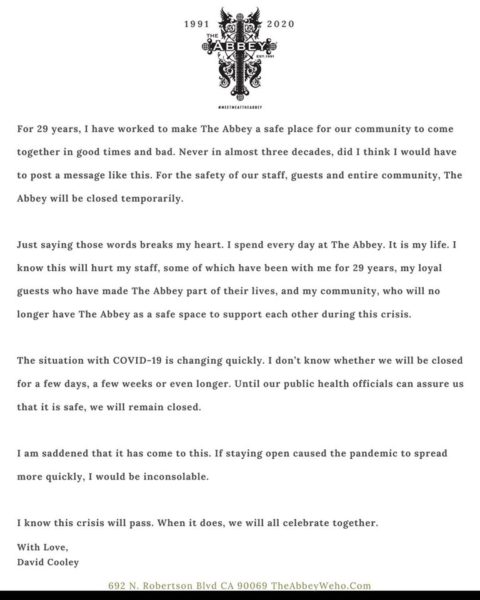 "For 29 years, I have worked to make @TheAbbeyWeho @TheChapelWeho @WithinWeho a safe place for our community to come together in good times and bad. Never in almost three decades, did I think I would have to post a message like this. For the safety of our staff, guests and entire community, The Abbey will be closed temporarily.

Just saying those words breaks my heart. I spend every day at The Abbey. It is my life. I know this will hurt my staff, some of which have been with me for 29 years, my loyal guests who have made The Abbey part of their lives, and my community, who will no longer have The Abbey as a safe space to support each other during this crisis.

The situation with COVID-19 is changing quickly. I don't know whether we will be closed for a few days, a few weeks or even longer. Until our public health officials can assure us that it is safe, we will remain closed.

I am saddened that it has come to this. If staying open caused the pandemic to spread more quickly, I would be inconsolable.

I know this crisis will pass. When it does, we will all celebrate together.

The Los Angeles Blade spoke to Lisa Belsanti, spokesperson for the City of  West Hollywood, about the city's efforts in reaction to the COVID-19 outbreak. She said the City Council will meet Monday evening to discuss actions to be taken and noted that while the public cannot participate in person, people can offer Public Comment online. Go to www.weho.org/councilagendas to complete the online form. If submitted before 8:00 p.m., the comments will be emailed to the City Clerk and Assistant City Clerk who will read them aloud into the record during the meeting.
"While we are still encouraging our community members not to gather and to practice social distancing, we also want to continue to encourage public input at City meetings, so staff will work on making this form available for Planning and Rent Stabilization Commission meetings, that need to occur, as well," Belsanti said.
UPDATE: Belsanti says that the council will address the crisis with an emergency declaration. "I think it's important that our residents know that their city government is proactively seeking solutions to protect them," she told the Los Angeles Blade. "I also need to point out that some callers to city offices were wondering why immediate action wasn't taken – such as those actions by LA's Mayor Garcetti. The two jurisdictions have different forms of government. Los Angeles is a Charter City with a strong executive who can act unilaterally. We are a General Law city, a City Council with a City Manager, which means the council must act — which is going to happen this evening."
Areas of focus include;
Health and Welfare issues for the city's citizens and residents
Monitoring all health bulletins from our County, State and Federal partners
Working closely with our partners at LA County Public Health Department
Communicating regularly with our Disaster Management Area A Cities
Participating in County EOC
Weekly calls with Westside Cities ' Leadership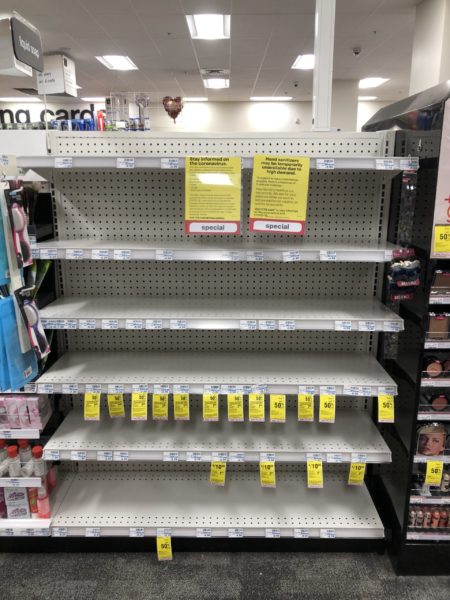 There has been a lot of panic buying, with grocery stores now limiting hours of operation.
Meanwhile, on Monday, Cheryl Barrit, Executive Director of the LA County Commission on HIV, also message "to help promote and protect the health and safety of people living with HIV in response to  the novel coronavirus pandemic."
Message from LA County HIV Commission:
Coronavirus Disease 2019 (COVID-19) is caused by SARS-CoV-2, a novel (new) coronavirus.  The novel coronavirus is understood to spread mainly from person-to-person through respiratory droplets when an infected person coughs or sneezes, or when a person touches a surface with these droplets and then touches their eyes, nose, or mouth. Common symptoms in a person with the novel coronavirus infection include fever, dry cough and shortness of breath or difficulty breathing.

Persons living with controlled HIV (i.e. normal CD4 count and undetectable viral load) do not appear to be at greater risk than the general public for either acquiring or becoming ill with the coronavirus.  Persons living with HIV, however, may be at increased risk for an adverse response to the infection if they have:

Low CD4 cell counts, particularly under 350 cells/ml (considered not virally suppressed and therefore at higher risk);
60 years of age and older;
Heart, lung, or kidney disease;
Other poorly managed health conditions, including hypertension and diabetes.

Public Health recommends that individuals at higher risk for serious illness associated with COVID-19 take the following actions and precautions:

Practice regular hand-washing (20 seconds with soap and hot water);
Cover your cough or sneeze with a tissue, then throw the tissue in the trash and wash your hands. If you do not have a tissue, cough or sneeze into your elbow;
Have a 30-day supply of all medications;
Remain fully adherent to all regularly prescribed medications;
Make sure all your vaccinations are current, including against influenza ("flu") and pneumonia;
Practice social distancing (this means limiting the time you spend in public and keeping a 6-foot distance between yourself and strangers when you are in public);
Stay home if you are even mildly sick;
Call your health care provider before seeking medical care so that appropriate precautions can be taken.

All clinical and non-clinical HIV service delivery providers can take steps to promote and protect health of Los Angeles County residents and in anticipation of a more severe epidemic.   Clinics should be preparing to 1) help respond to a broader coronavirus-related public health emergency and 2) maintain their capacity to provide critical HIV care and treatment services.  This includes establishing a plan for telemedicine or other mechanisms for providing patient care remotely.

Providers should continue to support patients with HIV to achieve and maintain viral suppression; ensure that patients have received recommended influenza and pneumococcal vaccinations; talk to patients about maintaining at least a 30-day supply of all prescribed medications; and encourage patients to practice social distancing and maintain social networks remotely.

We recognize that people experiencing homelessness are extremely vulnerable and not always in a position to adopt basic disease-prevention precautions. The Los Angeles Homeless Services Authority (LAHSA)  has launched an informational site to communicate their activities related to COVID-19.

Please find below, a list of links to additional information that may be useful during this difficult public health crisis.  As the COVID-19 situation evolves, we will disseminate additional information and updates.  Thank you.

Resources:
Here's a message from Dr. Hal Yee, Chief Medical Officer, LAC, Department of Health Services: