April 1, 2020 at 11:22 pm PDT | by Scott Stiffler
King of queens: April 4 'Werq the World Live Stream' benefit goes global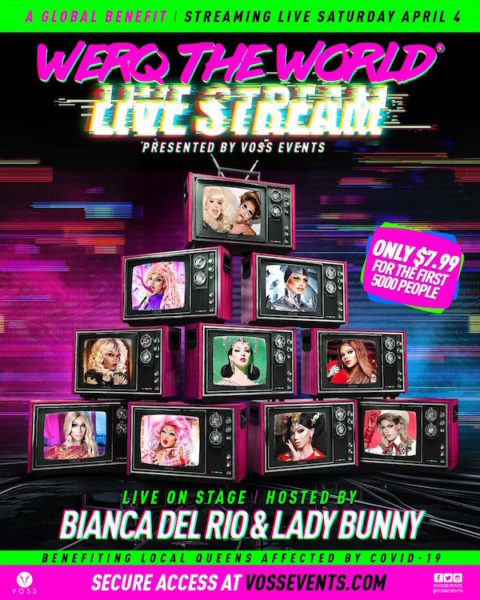 Queens may throw shade at each other faster and fiercer than anyone on this twitchy, troublesome planet—but when sh** gets real and fate finds them sheltering in place, bereft of the live performance income that puts coin in their purses, they circle their wagons, close ranks, and a bunch of other metaphors we just don't have the time to get into right now.
Now is the time for action—and sisterhood, and support, and a bunch of other overused phrases we just don't have the time to get into right now.
To that end, on Saturday, April 4, VOSS Events presents Werq the World Live Stream, a global benefit hosted by Bianca Del Rio in Los Angeles and Lady Bunny in New York. The participating queens will engage their global audience to help support drag entertainers who have lost their income due to the shutdown of bars and nightclubs, in response to COVID-19.
As the VOSS Events team notes, "The special will include performances from Aquaria, Asia O' Hara, Gigi Goode, Kameron Michaels, Kim Chi, Plastique Tiara, Vanessa 'Vanjie' Mateo, Violet Chachki and Yvie Oddly. Mirroring the production value of RuPaul's Drag Race: Werq The World tour, performances will take place in empty venues across the United States."
The special will air at 5 PM PDT / 8PM EDT / 12AM GMT on Saturday, April 4, and can be streamed worldwide from any device at VossEvents.com. The taped version will be available in the 48 hours following for those in other time zones. The first 5,000 fans who register will receive access for only $7.99, registered via VossEvents.com.
Tipping will also be available during the live stream, with 100% of proceeds going to the cause. To donate, you can text WERQ to 917-451-5250 (please note you must include the +1 when you dial).
In advance of this ballsy global benefit, The Blade spoke with three of the participating queens via the modern miracle of email, quizzing them as to how they're doing during lockdown, and what they intend to do once the all-clear is called, and the full force of their fierceness is unleashed, once again, upon the brick and mortar world.
Scott Stiffler, for The Blade: These Werq the World Live Stream performances will take place in empty venues across the United States. What are some of your favorite venues to perform in, and why? If you know the venue you'll be at for Live Stream, talk about that as well.
Kameron Michaels: Honestly, I miss doing shows in bar venues across the country/world. I'm usually on tour in large theater venues with Werq The World and I miss those of course… but there's something intimate about a smaller bar and being up close and personal with the audience. Of course I won't be getting that with this performance either, haha.
Aquaria: There's nothing that beats the NYC bar/club scene, but the energy in Dublin has always been amazing.
Asia O' Hara: Being in the Vegas show has been the best experience! The crowd is always so excited, and to be on the strip with Celine, Shania, Gwen, and Cher? You just can't beat it.
The Blade: Creatively and personally, what have you been doing, and plan to do, while sheltering in place?
Kameron Michaels: I've been desperately and exhaustingly trying to set up a filming space to upload some makeup work to YouTube. It's been a challenge trying to get the lighting and everything perfect, given the equipment I have to work with.
Aquaria: I haven't been home this much since before Drag Race, so I've been cooking so much—something I forgot I loved to do, because I haven't had time.
Asia O' Hara: I've been catching up on things that have fallen by the wayside since Drag Race. Spending time with my man and dog are great, tho!
The Blade: Let yourself go, or step up your game? Any fashion/lifestyle tips for the radical new realities of social distancing and self-quarantining?
Kameron Michaels: Make a schedule! Or at least try to follow one in your head throughout your day. I posted mine to my Instagram last week. Wake up. Make breakfast. Work out. Call friends and family. Do something creative with your hands. Go outside (if you can), and see the sun. Eat healthy… we all need a better immune system in general, but especially now.
Aquaria: Washing your hands is that latest fashion trend. Actually, that should always be in style, so just do it.
Asia O' Hara: I mean, you should always be stepping up your game! I think social distancing is the best tip and should remain in style, lol.
The Blade: The all-clear is called. Bars, clubs, theaters are open for business again. What's the first thing you're going to do?
Kameron Michaels: OMG, don't tease us like that! The gays are RESTLESS, hunny. Gay bars are a staple for us. We go out to see our chosen families… a lot of LGBTQIA folks don't have families of their own. It's our watering hole, our safe space, to gather. I don't even want to work when things open back up, I just want to go out and see HUMANS, haha.
Aquaria: Go out to dinner with friends!!!!!!!
Asia O' Hara: GET BACK TO WORK! I am a busybody, so I can't wait to be busy again.
The Blade: Please talk about anything on your mind not covered in the above questions, and thanks for your time.
Kameron Michaels: I don't know about y'all, but I feel like I am going to appreciate so many small things when all this is over. Hugs, hellos, handshakes… just having physical and emotional connections with other people again is going to feel so amazing. Be patient, be kind. We may do things different for a long time after this, but eventually we can reconnect and appreciate what it is to be human again.
Aquaria: I just want to remind everyone to be safe and that this will be over soon. We need to remain positive.
Additional comments, from participating queens:
I know this video of Werq The World will go VIRAL!—Lady Bunny
Tell the children to get ready, because I'm giving you Super Bowl Coronavirus halftime spectacular.—Vanjie
I've had way too much time on my hands to prepare for this—so be prepared for a DRAG SHOW—Gigi Goode
Never-before-seen performances direct to your living room. It's going to be cunt!—Plastique Tiara
Right now, everyone around the world is feeling the effects of a sudden uprooting of their daily lives. This show is so important to me, because it's benefitting people who have no means of making income right now—and more importantly, I believe it's going to bring so much joy to people who are in desperate need of having their days brightened. Plus, it's a gathering of some of the biggest and best queens across America for the purpose of expressing solidarity in our solitude, so it's truly unprecedented.—Yvie Oddly
The entire entertainment and nightlife industry has taken a huge hit due to COVID-19. Countess people have lost their gigs due the very necessary precautions we all must take. The Werq the World Live Stream is not only giving us a chance to do what we love again, but also a chance to help out our community. I'm very excited to reach audiences new and old with my performance, and provide a temporary distraction from these crazy times. Viewers can expect the same level of production value, with all the bells and whistles as they would seeing a regular Violet Chachki stage show! —Violet Chachki