May 6, 2020 at 11:33 am PDT | by Kazumi Yamaguchi
Trans people at great risk for COVID-19 but more resilient than ever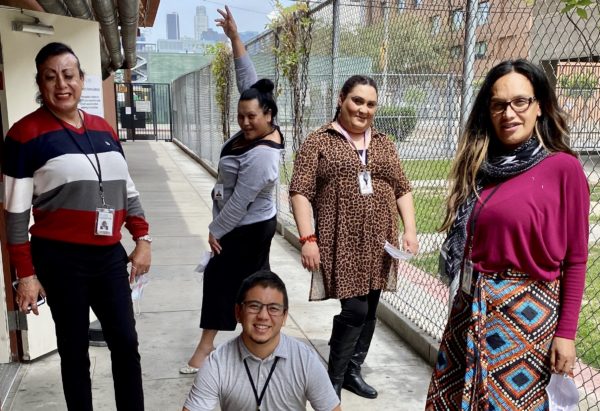 Transgender Health Program at St. John's Well Child & Family Center staff, from left to right: Teanna Herrera, Chloe De Guzman, Roberto Rodarte (kneeling), Jennifer Rodriguez, Leslie Monroy (Photo by Kazumi Yamaguchi, Associate Director, Transgender Health Program)
Recently, one of my patients at high risk of exposure told me: "COVID-19 doesn't discriminate, but the health care system and society sure does."
I haven't seen this patient since the novel coronavirus pandemic ramped up, as she represents a cross-section of the most vulnerable people we treat: she's a transgender, elderly, person of color on a fixed income.  While we were successful in getting her stably housed, she still faces much uncertainty in continuing to access transgender affirming services. And she's not alone.
Large swaths of the transgender population already have trouble accessing healthcare and the pandemic adds another layer of complication to an already difficult and stressful experience. Compound this with other challenges that many of our community members face — such as having asthma and cardiology issues, as well as social factors including an increased risk of homelessness and lack of employment and educational opportunities — this translates into more transgender people living in a constant state of compromised health.
During this pandemic, we are seeing the true resilience of our community, with LGBTQ+ folks coming together to support each other through this global crisis all over the world. Facebook, Instagram, and other social media outlets have become essential platforms for us to check in with each other and protect community members who have been most impacted by COVID-19.
To protect community members who have recently lost health care access, some people have created networks to share excess hormones, or information on where to get grey-market hormones as many medical visits have been canceled due to the threat of exposure to COVID-19.
Here in Los Angeles, organizing efforts on the ground are also helping keep our people safe. The Unique Women's Coalition, which primarily serves the black transgender community, which runs Tribe Chat and Melanin Magic online support groups, has started a COVID-19 Emergency Impact Fund that is available to all who are transgender identified and live in Los Angeles County.
The TransLatin@ Coalition, formed in 2009 to serve the needs of the transgender Latina immigrant community, is hosting a virtual town hall in May to address the immense and urgent need for funding by trans-led organizations that serve the transgender population.  They're leading the conversation on how we can increase funding for trans-led organizations and encourage funders to make an intentional increase in providing resources for the transgender community during this crisis.
Even with these efforts, there are still many issues facing the community as a result of COVID-19. Many work at food service or service industry jobs for businesses that have either temporarily shuttered or closed for good, and now cannot afford rent, food, or other necessities.
With the unemployment rate at over 50% in Los Angeles, these issues magnify the already difficult challenges faced by the community.
Plus, an even greater problem looms on the horizon. The Trump administration is moving forward with a proposal that would eliminate trans-inclusive protections from Section 1557 of the Patient Protection and Affordable Care Act. While the Trump administration has declined to comment, they have directed inquiries to Roger Severino, Director of the Office of Civil Rights for the U.S. Department of Health and Human Services. He is a well-known conservative activist and has stated that being LGBT is "against your biology" and transgender people serving in the military "dishonors the sacrifices" of military veterans.
This is almost certain to be a major setback for the transgender community.
At St. John's Well Child and Family Center, we continue to offer services to our patients on a daily basis. We have screening procedures in place for everyone entering the clinics and take every precaution to ensure the safety of both patients and staff. Appointments are available as tele-health visits for mental health and medical visits, and case managers for all supportive programs are available for consultation.
St. John's has also pledged to test at least 2,500 people per week throughout the pandemic, bringing much needed testing and triage services to South Los Angeles in an attempt to address the stark racial disparities in testing and treatment for COVID-19.
This is a ray of sunshine for South Los Angeles, where access to medical care and insurance is a challenge — not only for the transgender community but for the community at large. But bringing this testing has a cost, and as of the beginning of the month, St. John's only has approximately 3 weeks supply of PPE for staff performing the testing.
For those who are still employed and receiving stimulus checks, I encourage you to donate at least a portion of those stimulus payments to organizations serving the transgender community, especially trans-led organizations. I also ask that corporate funders make a commitment to donate to these organizations.
With pledges and donations to these organizations, we can ensure that the funds necessary to keep providing services that allow us to thrive and flourish — through COVID-19 and beyond.
List of organizations to donate to in Los Angeles:
St. John's Well Child & Family Center
Thank you!