May 21, 2020 at 3:15 pm PDT | by Karen Ocamb
Lee Badgett on the economic case for LGBT equality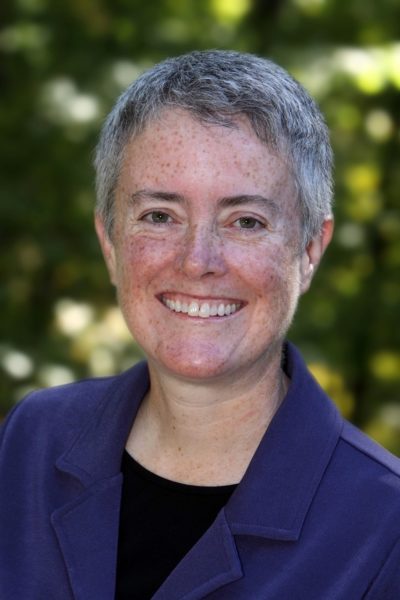 M.V. Lee Badgett is an accessible scholar. With a Ph.D. in economics from the University of California/ Berkeley, she practices her motto as a Professor of Economics at the University of Massachusetts/Amherst and as a Williams Distinguished Scholar at UCLA's Williams Institute, which she helped co-found and where she served as the first research director.
"I study LGBT inequality to learn how to end it," says Badgett.
Her latest book on the economic toll of LGBT discrimination, The Economic Case for LGBT Equality, is not only accessible to a general audience but educates smart economists, too. Janet Yellen, the popular former Chair and Vice Chair of the Federal Reserve during the Obama administration and now a Distinguished Fellow at the Brookings Institution, calls the book "eye-opening in its global scope…a must-read for all business leaders and policymakers."
In fact, Badgett's research at the Williams Institute on the tax disparity paid by same-sex and opposite-sex married couples has been acknowledged by companies and institutions as the reason they changed their employee benefits policies.
LGBTQ Californians perhaps remember Badgett best for her grueling hours of unflinching testimony during Day 6 of the federal Prop 8 trial in San Francisco in 2010. She told plaintiffs' attorney David Boies about the "substantial economic harm" done by Prop 8 to same-sex couples denied the right to marry and to  California's economy. Prop 8 attorney Charles Cooper tried to poke holes in her expert testimony by asking the searing question: "Would it be fair to call you a gay rights activist?"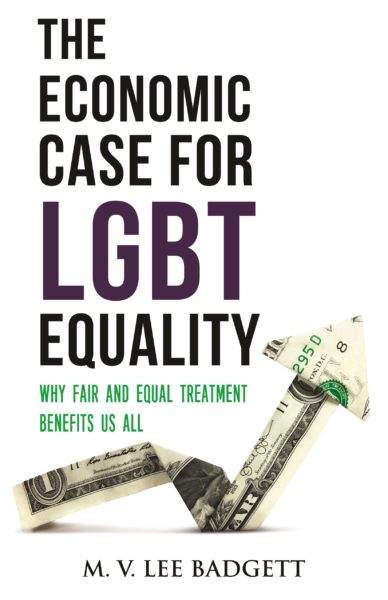 The Economic Case for LGBT Equality, Badgett tells the Los Angeles Blade, is an attempt to explain "why it's a good idea to have full inclusion for LGBT people in our societies — and the economic reasons are a big piece of that."
If countries want to improve economically, "then you have to take a good close look at how well you're treating LGBT people. And for that matter, other groups that are traditionally disadvantaged, women and people of color.  But I think people haven't heard it so much for LGBT people, except in that business context," she says. But "it's not just what's good for General Motors is good for the United States. It's really what's good for us all, for the whole economy, is also good for businesses."
Studies show that good LGBT policies make a difference for businesses and something similar holds true for countries.
"We see that the countries that have better policies, nondiscrimination laws, recognition of families, decriminalization of homosexuality," Badgett says, "are also the countries that do better economically."
So what about the United States, which has been rolling back LGBT policies and protections and now, because of the coronavirus pandemic, faces a deep economic recession, if not depression?
Even without specific health or economic data to prove the point, the LGBTQ community is going to get "hammered," Badgett says.
"Going into the pandemic and into this emerging recession, depression, whatever it turns out to be, our community was not in good shape," she says. "We have had decades of stigma and discrimination and it takes its toll on people's health. So, LGBT people went into this pandemic with preexisting conditions, with thinking that they may face discrimination in healthcare settings. Basically, you couldn't design it better to hit LGBT people harder."
On the economic side, Badgett says that one of her most recent studies with the Williams Institute "showed that LGBT people are more likely to be poor, transgender people in particular — 29% of them fall below the poverty level, according to that study. There's no clear safety net, in many cases, for these folks. They don't have savings to rely on, some of them don't have homes to live in. So they are going to be in an especially vulnerable position.
"And then on average, we know from lots of other measures, that there are economic challenges that LGBT people face, whether it's discrimination or wage gaps — these are all things that are going to make recessions and depressions even harder on our community."
The long-term question then becomes: "what do we want to build back up toward?" Badgett asks.
"If you're thinking about what does that mean for what we do, trying to go forward, I think it means that we have to look hard at our institutions," she says, "places where LGBT people are facing discrimination, other kinds of challenges in the healthcare settings and try to change those as we try to pull them all back into motion. So that's the long- term view — that we have to build equality into the new normal, whatever we're trying to get back to."
Though the book predates COVID, "it's very much about how everybody's fates are linked. In the case of COVID, it's global, it's local," Badgett says. "In the case of LGBT people, I think what people often don't think about is the fact that discrimination against a gay man or a transgender woman isn't just hurting them, but it's actually ultimately hurting our whole economy. So, we really have an interest in what happens to other people — that other people's lives matter to us, even when we don't realize it.
"And so," Badgett continues, "it's really in everyone's interest, in my view, to make sure we have a more equal, fair society because it will work better for everybody."
The Williams Institute is hosting a webinar conversation between Badgett and Ari Shaw, Director of International Programs, on May 26, 2 p.m. PT/5 p.m. ET to discuss The Economic Case for LGBT Equality. The event is free but an RSVP is required. Go to bit.ly/EcEqualityRSVP.