May 30, 2020 at 12:24 pm PDT | by Sean Strub
Sean Strub on Larry Kramer's indomitable spirit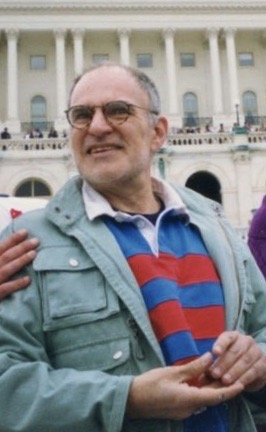 Larry Kramer's indomitable spirit was driven by a passionate and unlimited love for his community.  He was parent, mentor, teacher, scold all in one.
When he spoke of "my people," some accused him of being messianic, but others—including myself—knew just what he meant because we are indeed "his" people, just as he is one of our people.  He helped give many of us a sense of being part of "a people."
For so many years, Larry Kramer was the lodestar for many and even as the epidemic and activism evolved, there was comfort in knowing he was there watching.  While he hasn't been a significant force in AIDS advocacy in recent years, his death still feels like an unmooring.
Larry was an erudite tribal leader who expected and demanded much from those of us who were frightened, confused and unsure what we needed to do to survive and respond to the epidemic. He knew that every person, no matter their resources or station in life, had something important and powerful to contribute and it started with opening their mouths and being heard, which is what he demanded of everyone.
The "spawn of Larry Kramer," as someone once described a group of former ACT UP activists, were mostly gay white men and I wonder how many of them would have found their way to activism absent Larry's influence.
When I got the news of his death, I was on a call with a representative from Pennsylvania Governor Tom Wolf's office and Pennsylvania Secretary of Health Rachel Levine's office, as well as one of our County Commissioners and our Borough Council President.  I read the text and it immediately struck me that without Larry Kramer, I might not be as active and engaged in the coronavirus pandemic as I am.
The epidemic hijacked many lives; Larry helped some of those lives get redirected into activism that, for some, turned into a life's work.
The bellicose, belligerent and sometimes abusive public Larry Kramer persona never matched the private persona that was gentle, caring and wanted to make sure his friends were well-loved, employed and engaged in activism.  It was, to an extent, a character, something he stepped into strategically when he felt it was required.
When David Drake and I were working on producing his play and wanted to title it "The Night Larry Kramer Kissed Me," one prospective investor wouldn't commit until I got a note from Larry promising not to sue us for using his name.  I took Larry to see a workshop performance of the play at Dixon Place (then Ellie Kovan's living room!) and he got emotional and had tears, at times tightly gripping my hand.  As the room emptied, Larry and I sat there; I was waiting for him to say something.
"I'm not going to give you permission to use my name," he said.  I was surprised.  "But I won't sue you!" he continued, explaining that he didn't want anyone to think he had somehow facilitated the production. He was really proud of the play and he acknowledged that it contributed significantly to his growing fame.
Larry saw not just himself, but the broader queer community that emerged in the late 70s and early 80s in historical terms. When he discovered factoids that supported his hypotheses about famous historical figures being gay, he would get elated, it was almost like getting high.
When C.A. Tripp died, he was working on a book about Abraham Lincoln being gay.   (Tripp wrote the landmark The Homosexual Matrix, that helped lead the APA to declassify homosexuality as a mental disorder in the 1970s).  Tripp and Larry were in touch in the last weeks of Tripp's life and Larry was trying to fulfill what he said was a request of Tripp's, to get the Lincoln book published.
It's a long story, but I had occasion to visit Tripp's library in his home not long after he died. I was casually perusing his collection of hundreds of books about Lincoln. I had already read Tripp's mostly-finished manuscript, but I was pulling volumes off the shelves of his library and checking out the many scribbled notes Tripp wrote in the margins or on post-it notes.
One of the books was a copy of the autopsy report on the President and the doctor who performed the autopsy wrote, (paraphrased from memory), "The President has the face of an old man, but the body of a Greek God."  When I told Larry this, his eyes lit up. "Old Abe was a stud!" he said.
Another book was written by a one-time law partner of Lincoln's from the early 1850s, I think named Rankin.  In his book, written around 1910 if memory serves, he wrote about how obsessed Lincoln was with "Leaves of Grass" when it was self-published, I believe, by the then-unknown poet Walt Whitman. Rankin wrote that Lincoln took to reading aloud from Whitman's work, telling people to pay attention to Whitman, that he was a great talent from which more would be heard. Lincoln took the book home one night and brought it back the next day, telling Rankin if he left it at home, the "womenfolk would burn it." When I read that passage to Larry, he positively cackled with excitement.
Larry could gossip about hypothetically gay historical figures the same way he gossiped about contemporary friends.  When he called Alexander Hamilton the "prick-tease of the Revolution" and explained in detail how Washington arranged it so Hamilton shared his tent, he could just as easily have been talking about a group of friends at a house party on Fire Island.
One of Larry's warnings—he always was warning us of what was to come—over the last 25 years that I don't think has been heard clearly enough is how temporal our LGBT gains could be.  So much of what we have accomplished politically since Stonewall is fragile and at risk. We are seeing a systematic dismantling of equality protections around the globe.
It is great to admire Larry's legacy, but what he's said in recent years is just as or more important for us to hear.
Sean Strub is a longtime AIDS activist, founder of POZ Magazine, author of Body Counts,  hotelier, and Mayor of Milford, Pennsylvania. 
Photo of Larry Kramer in Washington DC by Karen Ocamb