Egyptian activist arrested for raising rainbow flag at concert dies by suicide
Sara Hegazy asked for asylum in Canada after 2017 incident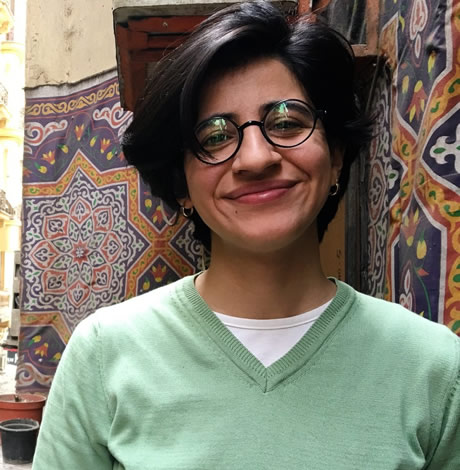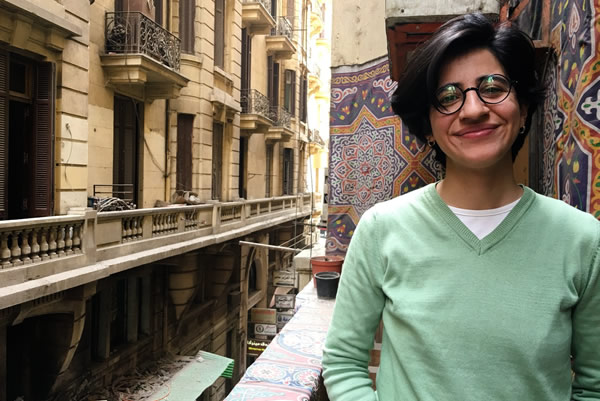 An LGBTQ rights activist from Egypt who was arrested for raising a rainbow flag during a 2017 concert died by suicide on Sunday.
Al-Jazeera reports Sara Hegazy, 30, died at her home in Canada.
Egyptian authorities in September 2017 arrested Hegazy after she raised a rainbow flag during a Cairo concert that featured Mashrou'Leila, a Lebanese rock band whose lead singer, Hamed Sinno, is openly gay.
Al-Jazeera reported Hegazy was charged with "promoting sexual deviancy and debauchery." Independent Egyptian media outlets noted Hegazy was charged with "joining outlawed groups that aim to disrupt the provisions of the constitution of law."
Hegazy was tortured in prison before an Egyptian court in January 2018 ordered her release on bail. Hegazy later asked for asylum in Canada.
Sinno on Monday posted a lengthy tribute to Hegazy on his Facebook page.
"We spend the first part of our lives demanding air in our homelands, and then we leave to countries where we are promised air, only to find out we were robbed of lungs," said Sinno. "Continuing to not address the structural inequality that produces this much suffering is a crime. We might not actively be contributing to it, but we actively benefit from it. That too is murder."
Ahmed Hafez, an Egyptian LGBTQ activist who now lives in D.C., also paid tribute to Hegazy.
"For your soul Sarah Hegazy, may you rest in power, a soul that was list (sic) on Pride month," wrote Hafez. "You will always be lived and one day, we will have a statue of you in the heart of Cairo."
Mona Eltahawy, an Egyptian-born feminist and author who lives in New York, also honored Hegazy on her social media networks.
Sara Hegazy, an #Egyptian activist who was jailed and tortured after she raised a rainbow #Pride flag at a concert in #Egypt, has died by suicide in #Canada where she was living in asylum. This is heartbreaking and tragic. Rest in power, Sara. Condolences to all who loved her. https://t.co/fBpLRWZ3ix

— Mona Eltahawy (@monaeltahawy) June 14, 2020
Ahmed el-Hady, an Egyptian queer activist who lives in the U.S., on Tuesday told the Los Angeles Blade during a telephone interview that Hegazy's "legacy will be as someone who fought for the rights of all Egyptians, not only the queers."
"She was inspiring in her life and after her death," said el-Hady.
Human Rights Campaign President Alphonso David on Tuesday in a statement said Hegazy "was living her truth in a country where LGBTQ people are routinely arrested and imprisoned." David also noted Hegazy fled Egypt after her arrest.
"But even after escaping from Egypt, the wounds of her persecution persisted and now she is gone," said David. "Sarah deserved more; we must demand accountability from all world leaders that place their LGBTQ communities in danger and work towards a world where it is never legal to imprison someone simply for being who they are. My thoughts are with Sarah's friends and family at this devastating time."
The Abbey raises $10,000 for Elizabeth Taylor AIDS Foundation
Schukraft took the opportunity to reassure the crowd that he intends to uphold The Abbey's central place in the West Hollywood community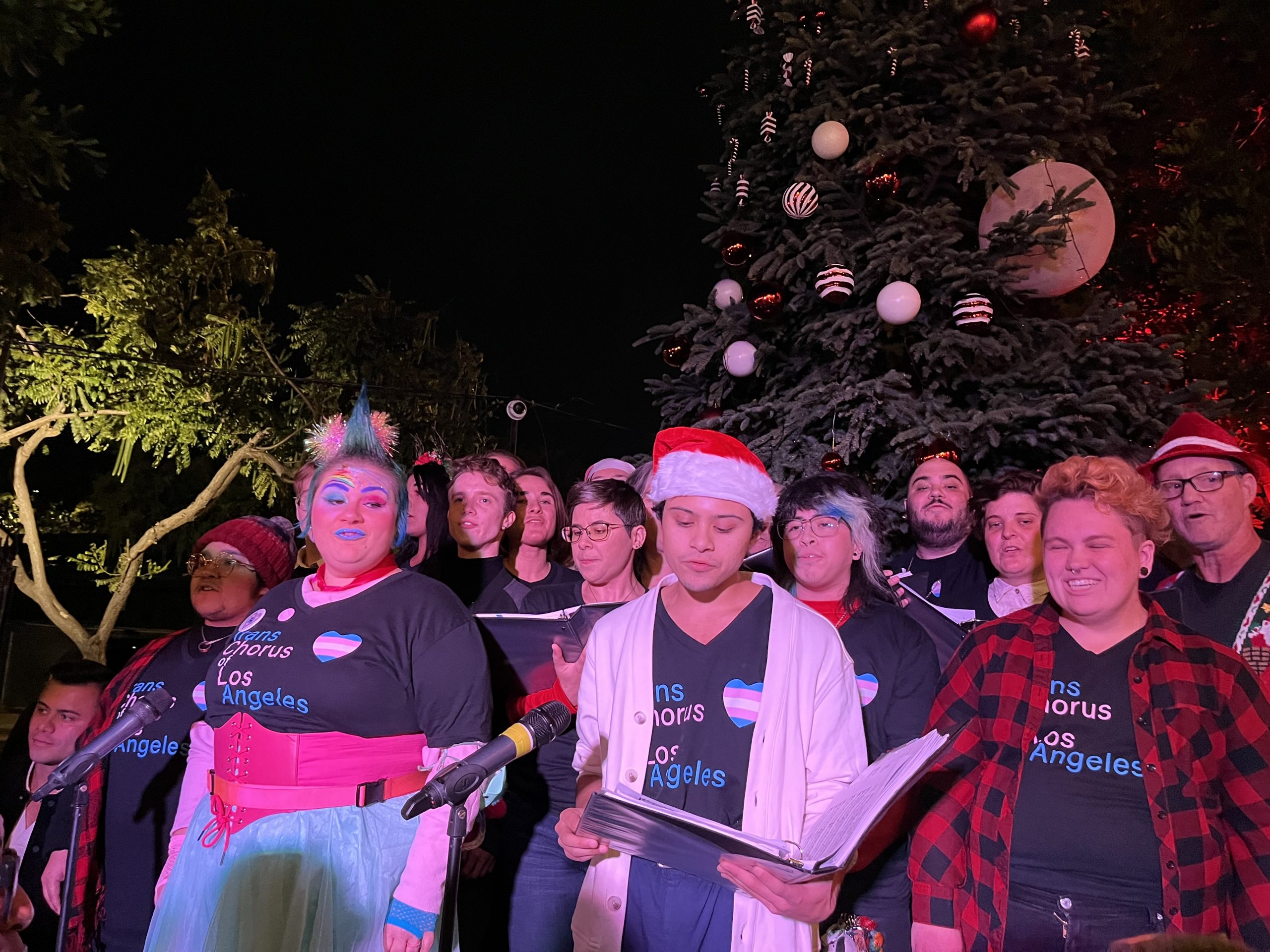 By Rob Salerno | WEST HOLLYWOOD – The Abbey raised more than $10,000 for the Elizabeth Taylor AIDS Foundation at its annual World AIDS Day tree-lighting ceremony Friday evening, an event that featured Sutton Stracke of The Real Housewives of Beverley Hills and the Trans Chorus of Los Angeles.
The ceremony was the last to be hosted by David Cooley, the founder of The Abbey who recently sold his business to Mistr CEO Tristan Schukraft. Cooley was visibly emotional when he told the crowd how his friendship with Elizabeth Taylor – struck up over drinks at the Abbey – inspired him to start the annual tradition.
"What this woman has done for our community and continues to do for our community – she wouldn't even mention how many people she has taken care of and continues to take care of," Cooley said. "It means a lot that we do this in her honor, for the Elizabeth Taylor AIDS Foundation."
The Elizabeth Taylor AIDS Foundation works to fight the ongoing HIV epidemic through direct care, prevention, advocacy, and education.
The moment clearly felt bittersweet for Cooley as he went off-script to talk about how he'd founded The Abbey 33 years ago.
"I had a dream coming from college that I wanted to open a gay bar in southern California and be open and proud and not behind closed doors. I started across the street there as a coffee house and expanded into this," he said. "When we give donations, it's not the Abbey, it's not David Cooley – it's all of us here. You have supported The Abbey and David Cooley for thirty years. Thank you very much."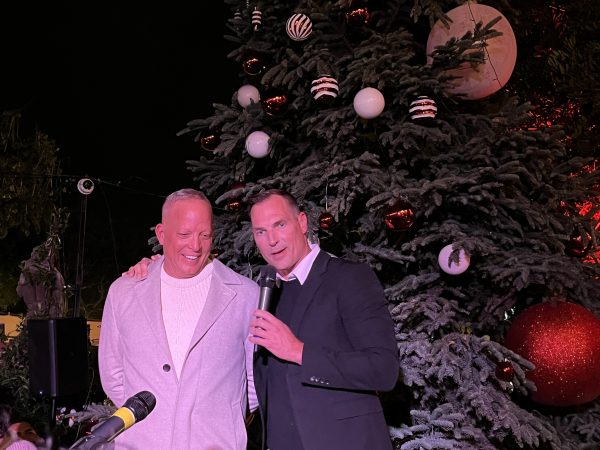 Cooley then became wry and wistful as he described his decision to walk away from the bar he built.
"It was a decision that was hard to make. I decided that maybe I should take a little time for myself. I've been very selfish with the business. I took time for the business always, and maybe not my friends, my family, building a relationship – that never worked out," he said to laughs from the crowd.
"I went back and forth seeing the offers and opportunities I had. I made a clear decision and the right decision on who I decided to pass the torch on to. He's part of our community," Cooley said of Schukraft. "It was a very tough decision but a very easy decision at the very end."
Schukraft took the opportunity to reassure the crowd that he intends to uphold The Abbey's central place in the West Hollywood community.
"I'm very excited. I know I have some big shoes to fill to continue your legacy, making sure that the Abbey and Chapel continue to be the cornerstone of the gay community here and beyond. These events make it even more special," Schukraft said.
"David's not going anywhere. He's going to be here. The only thing is he's not going to be asking for free drinks," Schukraft said to laughs from the crowd, and joking protests from Cooley that there's language about that in their contract.
When Sutton Stracke took the stage, she spoke about the toll that AIDS has continued to take on the community.
"AIDS does still exist. I know I have lost many friends to AIDS, as I know many of you have to, so this is very special to me," she said.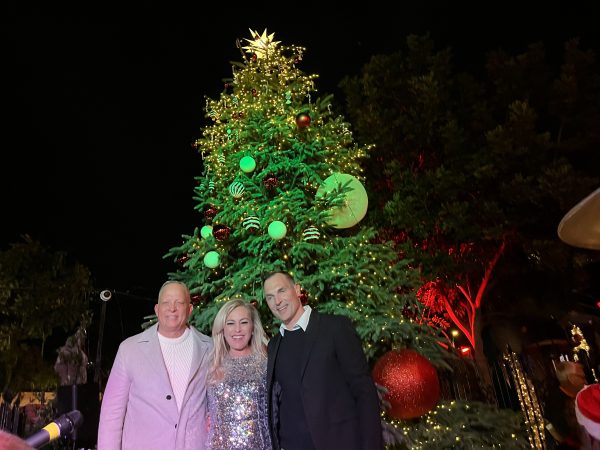 The crowd was then treated to a performance by the Trans Choir of Los Angeles, who sang "I'll Be Home For Christmas," as a reminder to the crowd that many in our community – especially the trans community – do not have families that welcome them home for the holidays.
A $10,000 check was then presented to the Elizabeth Taylor Foundation by Tito's Vodka, which was sponsoring the event, on behalf of the Abbey.
Stracke then announced she would write a check to the foundation herself after the ceremony, then began the countdown to the lighting of the enormous tree on the Abbey's front patio.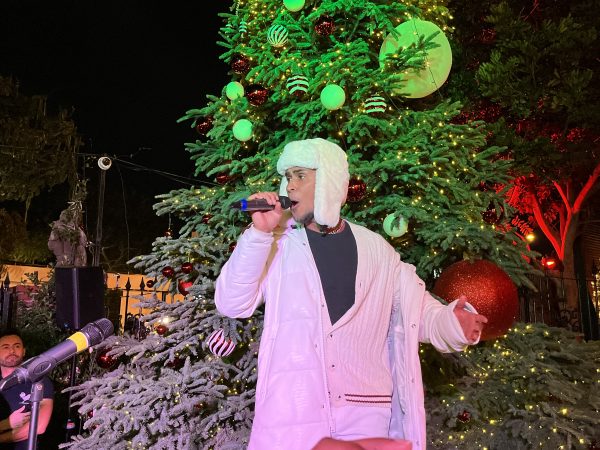 The event closed out with a performance by South African pop singer Lyle Anthony.