June 17, 2020 at 12:00 pm PDT | by John Paul King
'WeHo Live' to serve up virtual DJ sets with weekly happy hour series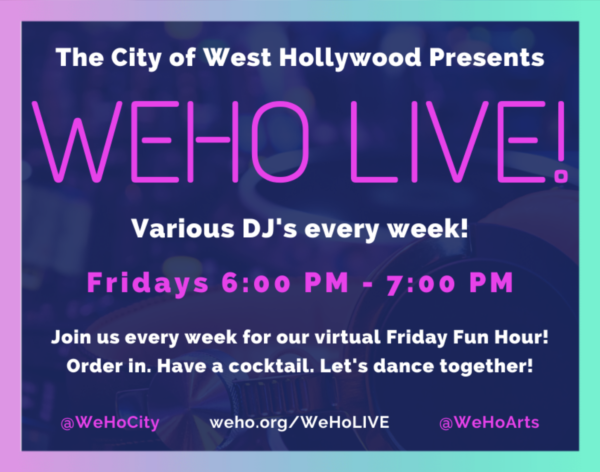 Are you one of the many who are not quite comfortable yet with the thought of heading out to a re-opened bar or nightclub while the Coronavirus Pandemic still goes on?
If so, WeHo has got you covered.
Beginning this Friday, the City of West Hollywood presents the "WeHo LIVE!" Virtual Friday Happy Hour 2020 music series, set to take place every Friday evening at 6 p.m. online at www.weho.org/WeHoLIVE.
The virtual series kicks off on June 19 with DJ Mateo Segade. Described in publicity material as a "dance music professor and social introvert," Segade is resident DJ for influential artist collective The House of Avalon, spinning for SNAP! at Micky's West Hollywood and Sugar Tank at Precinct DTLA. He will be playing a set of dance, house, and pop music.
"Staying Safer at Home during the coronavirus crisis has meant social isolation for many of us and the City of West Hollywood is home to many incredibly talented DJs and musicians," said City of West Hollywood Mayor Lindsey P. Horvath. "WeHo LIVE will bring the rhythm and melody of our vibrant community directly into our homes, and will connect us virtually on summer Friday evenings for an hour of musical entertainment each week to start the weekend!"
"Bring out your inner 'Dancing Queen' whether you were 'Born This Way' or simply want to 'Run the World (Girls)' — join us. 'You Should Be Dancing' to some 'Downtown Train' or 'Uptown Funk' spun by some of the best DJs in the business," said City of West Hollywood Councilmember John D'Amico.  "Join the City for this virtual club experience right in your own home — don't forget your '#Selfie.'"
Upcoming DJ sets include:
DJ ASHA (June 26).
DJ Noir D Costas (July 3)
DJ R-Tistic(July 10)
DJ KidCutUp (July 17)
DJ Spiñorita (July 24)
The Perry Twins (July 31)
Lady Sinclair & Ian Sloane (August 7)
painter (August 14)
DJ Casey Alva (August 21)
DJ JADABOO (August 28)
DJ Ivan Mariscal (September 4)
The City of West Hollywood's 2020 "WeHo LIVE!" series is organized by the City of West Hollywood's Arts Division. For additional information on DJs and to view the series, please visit www.weho.org/weholive.