June 26, 2020 at 4:15 pm PDT | by Karen Ocamb
Pelosi on National Pulse Memorial, Maloney on Pride (video)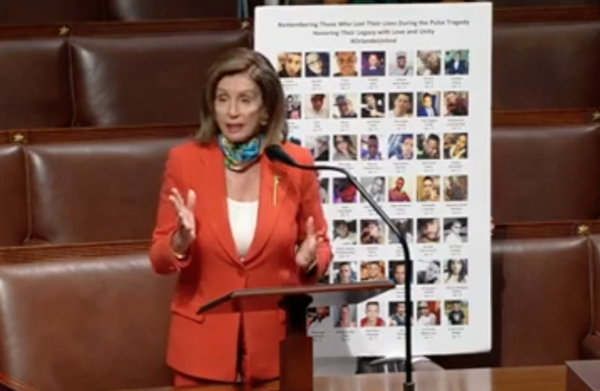 America is lurching into a new era. Though Donald Trump desperately clings to the racist confederate heritage he reveres, the pulse of a newly awakened generation, more empathic, more colorful and more demanding is coursing through the country.
And helping guide the transition to a more enlightened civilization is House Speaker Nancy Pelosi, who is also ensuring the inclusion of the LGBTQ community that is otherwise overshadowed by momentous events.
Friday, June 26, the fifth anniversary of marriage equality since the Supreme Court's ruling in Obergefell v. Hodges. The historic decision was noted by some, though most of the media focused on the coronavirus pandemic and the police reform and anti-racist revolution underway since the murder of George Floyd by a white Minneapolis police officer.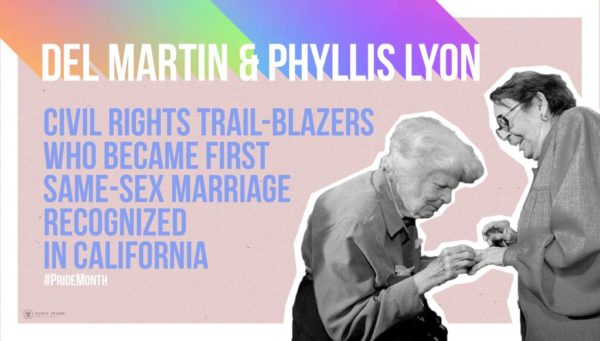 But Pelosi, a decades-long LGBTQ ally, remembered on Twitter and though a House statement, noting the work that still remains:
"Five years ago, our nation made a historic step toward fulfilling the promise of equality and justice for all when the Supreme Court unequivocally declared that marriage is right of all people, regardless of who you are or whom you love.  Today, the love and commitment of countless LGBTQ couples and families enriches and strengthens our communities and honors our nation's most fundamental values.

"As we mark this momentous anniversary, we also celebrate the recent Supreme Court victory, affirming the right of all LGBTQ individuals to live free from discrimination in the workplace.  Despite this great progress, the LGBTQ community still endures a relentless assault on their rights from the Trump Administration and widespread discrimination and violence throughout the country, particularly trans women of color who are face disproportionately high rates of homelessness, sexual assault, HIV and murder.

That is why, over a year ago, House Democrats took bold action to pass the landmark Equality Act to finally and fully end discrimination against the LGBTQ community, not just in the workplace but in every place.  Now, Leader Mitch McConnell must abandon his outrageous, partisan obstruction and allow the Senate to vote on this critical legislation.

"In honor of this important day, we must remain vigilant in defense of the rights and dignity of the LGBTQ community.  Together, we can confront the discrimination that continues to undermine our democracy as we work to build a brighter, more just and equal future for the LGBTQ community and all Americans."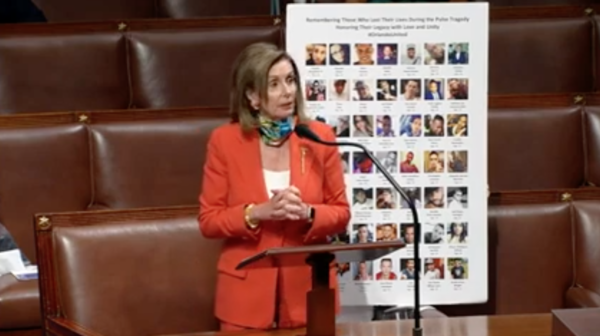 But more solemnly, House Speaker Nancy Pelosi took to the House Floor to deliver remarks in support of H.R. 3094, legislation to designate the National Pulse Memorial, four years after the mass shooting at the gay nightclub in Orlando, Florida.
"Pulse was a peaceful haven where young LGBTQ Americans could enjoy music, dancing, celebration knowing they were in a sanctuary of safety and solidarity.  Pulse was a monument to joy, a tribute to resilience and pride born out of the grief that Barbara Poma experienced after losing her brother, John, to AIDS.  That was her motivation for starting this.  May the grief that we experience now, at the loss of 49 who were murdered, move us to turn our pain into purpose," Pelosi said.
"Shortly after the horrific act of hatred at Pulse, I had the solemn privilege of traveling to Orlando and meeting with survivors and families who had lost loved ones.  Their message to the Congress was – to a person that I met with there – was: 'Please, do something to stop gun violence,'" she continued.  "Yet, painfully, since that tragic night, the horror that we saw in Orlando has been replicated in countless other communities across the country.  In too many places the epidemic of gun violence has killed too many innocent people and left too many families suffering unimaginable pain and loss."
"Four years later, four years after Pulse, our grief remains raw, but our resolve to end the deadly scourge of gun violence and hatred – discrimination, that's what it was about too – remains unwavering, strengthened by the memories of those who are lost to gun violence: 49 souls here, so many others," Pelosi said. "Inspired by the spirit of hope that we celebrate during Pride month, especially this weekend, let us never relent in our mission to end the horror of gun violence once and for all, and end discrimination against anyone in our community." (See her full remarks and video below)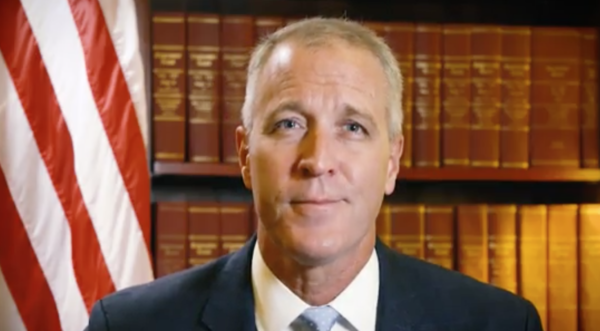 Rep. Sean Patrick Maloney of New York took the occasion of delivering the Weekly Democratic Address to discuss and celebrate Pride Month "and the critical legislation passed by House Democrats to ensure equality for the LGBTQ community, people of color and all Americans, including the George Floyd Justice in Policing Act and the Equality Act." (See his full remarks below)
"Remember, we celebrate Pride in June to commemorate the Stonewall Inn riots from June 1969, which happened when police raided that Greenwich Village hangout, a normal thing back then, and brutalized the peaceful patrons for no other reason than they were Lesbian, Gay, Bisexual and Transgender.  But that night was different.  The people fought back, and that changed everything," said Maloney. "Every year since, even in the darkest days of the AIDS crisis, LGBTQ people and our allies have grown stronger and marched on.  Now, 51 years after Stonewall, the riots and marches have become parades and parties, but at its core, Pride Month commemorates a moment when brave men and women said enough and demanded equality.  People like me stand on the shoulders of those pioneers, and we must pick up their torch and carry it forward for ourselves and for all oppressed communities."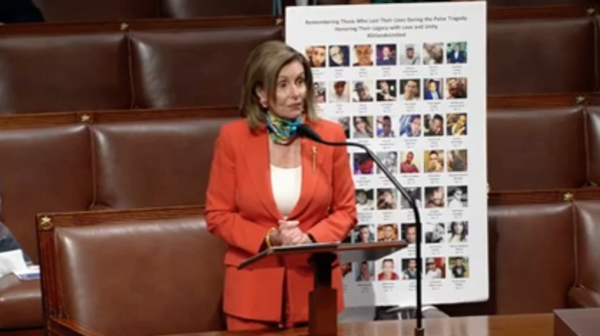 Below are the Speaker's remarks:
"Thank you, Madam Speaker.  I thank the gentleman for yielding.  And I thank you and him for making this important memorial possible for us today.

Can I have the photos?  Set the photos?

I rise to solemnly join my colleagues to honor the 49 beautiful souls murdered four years ago in an unfathomable act of hatred and bloodshed at the Pulse nightclub in Orlando.

Thank you, Congressman Soto.  Thank you, Madam Speaker, for giving us this opportunity of observing, and for being a voice for peace and healing for all those affected.

Pulse was a peaceful haven where young LGBTQ Americans could enjoy music, dancing, celebration knowing they were in a sanctuary of safety and solidarity.  Pulse was a monument to joy, a tribute to resilience and pride born out of the grief that Barbara Poma experienced after losing her brother, John, to AIDS.  That was her motivation for starting this.  May the grief that we experience now, at the loss of 49 who were murdered, move us to turn our pain into purpose.

This poster is all of them, but sometime after the terrible tragedy we stood on the steps of the Capitol holding individual – their individual pictures.  And, at that time, we said we will never forget.  And thank you for giving us the opportunity to keep that promise, to turn pain into purpose.

Shortly after the horrific act of hatred at Pulse, I had the solemn privilege of traveling to Orlando and meeting with survivors and families who had lost loved ones.  Their message to the Congress was – to a person that I met with there – was: 'Please, do something to stop gun violence.'

Yet, painfully, since that tragic night, the horror that we saw in Orlando has been replicated in countless other communities across the country.  In too many places the epidemic of gun violence has killed too many innocent people and left too many families suffering unimaginable pain and loss.

As one of the first actions of our Majority, last year, the House took action to end the bloodshed by passing H.R. 8 and H.R. 1112.  H.R. 8, so designated because it had been eight years since the assault on the life of our colleague, Gabby Giffords.  She survived.  She is doing remarkable things in terms of trying to end gun violence.  But other people died, including a 9-year-old child.  Hence H.R. 8, because it was eight years since.  And then, H.R. 1112, Mr. Clyburn's legislation to address what happened in South Carolina.

485 days, nearly 500 days later, we continue to urge the Senate to take up this legislation, supported broadly: Democrats, Independents, Republicans, gun owners, hunters, many of whom have had to pass background checks in order to have their guns and to enjoy their sport and protect themselves.  They are not against background checks.

Across the country, this has broad support, nonpartisan support.  And yet, in the Congress of the United States, there is resistance to that safety of simply commonsense background checks.  And it isn't – it isn't as if we were starting something new.  This is just an expansion of the background checks that already exist to include gun shows and online sales, etcetera, just an extension.

I remind my colleagues that, on average, 100 people die every day from gun violence.  And let me restate: it has been almost 500 days since the House passed those bills and the Senate has failed to take them up.  Almost 500 times 100 a day, you see the consequences.  Not that all of them would have been saved, but many would have.  And many have been saved since the original background check legislation passed.

Four years later, four years after Pulse, our grief remains raw, but our resolve to end the deadly scourge of gun violence and hatred – discrimination, that's what it was about too – remains unwavering, strengthened by the memories of those who are lost to gun violence: 49 souls here, so many others.

Inspired by the spirit of hope that we celebrate during Pride month, especially this weekend, let us never relent in our mission to end the horror of gun violence once and for all, and end discrimination against anyone in our community.

With that I, again, commend Mr. Soto, you, Madam Speaker, and urge a yes vote, and yield back the balance of my time.  Thank you."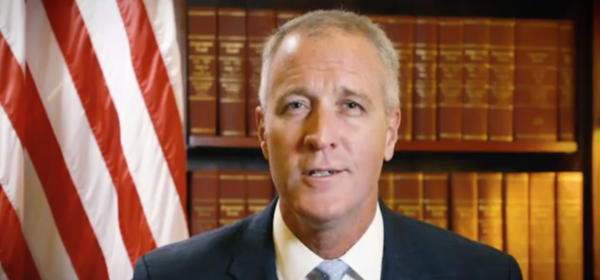 Below is a full transcript of Sean Patrick Maloney the address:
"Hello, I'm Congressman Sean Patrick Maloney, and it is my honor to represent New York's 18th Congressional District in the Hudson Valley.  I am also proud to be New York's first openly gay Member of Congress.

"Each June, the LGBTQ community and our allies come together to celebrate Pride Month.  Pride is different this year, but its fundamental promise has never been more important.

"Remember, we celebrate Pride in June to commemorate the Stonewall Inn riots from June 1969, which happened when police raided that Greenwich Village hangout, a normal thing back then, and brutalized the peaceful patrons for no other reason than they were Lesbian, Gay, Bisexual and Transgender.  But that night was different.  The people fought back, and that changed everything.

"Every year since, even in the darkest days of the AIDS crisis, LGBTQ people and our allies have grown stronger and marched on.  Now, 51 years after Stonewall, the riots and marches have become parades and parties, but at its core, Pride Month commemorates a moment when brave men and women said enough and demanded equality.  People like me stand on the shoulders of those pioneers, and we must pick up their torch and carry it forward for ourselves and for all oppressed communities.

"Just a few days ago the Supreme Court ruled that Americans cannot be fired simply because of sexual orientation or gender identity.  Millions of Americans in dozens of states where no protection existed can now legally fight back if they are fired because of who they are or who they love.  That's reason to celebrate.

"Last year, the Democrats in the House, under the leadership of Speaker Pelosi, passed the Equality Act.  This landmark bill would finally protect LGBTQ people in the same way we protect all other minority groups in employment, education, access to credit, jury service, federal funding, housing and public accommodations.  No more, no less.  Simple equality.  But like so many other important bills passed by the Democratic House, this legislation is still sitting on Mitch McConnell's desk.

"So, we still have work to do.  We must keep pushing and marching until all vulnerable LGBTQ people – our youth who've been rejected, our international brothers and sisters who face brutal persecution, our transgender neighbors, particularly trans women of color who face an epidemic of violence – until all of us are equal and free.

"Yes, this Pride is different.  There are few parades or parties, but we are still marching.  This time we're protesting police brutality against people of color.  That's the spirit of Stonewall.

"You know, my husband Randy and I celebrated our wedding anniversary this week.  We could legally marry just a few years ago, of course, but we've been together for 28 years.  Today, we celebrate the fifth anniversary of Obergefell v. Hodges, the historic ruling that delivered marriage equality to the United States.  It's a beautiful thing when your country catches up to you.  Randy and I have raised three kids together, Reiniel, Daley and Essie.  We all joined the vigils and protests following the murder of George Floyd this month because, for us, demanding that Black Lives Matter is a powerful way to celebrate Pride Month.

"And this week, those of us in the LGBT Equality Caucus joined our colleagues in the Congressional Black Caucus in casting our votes for the George Floyd Justice in Policing Act.  This is the living embodiment of what Pride Month truly means.  You see, Pride Month isn't something disease or violence can diminish or defeat.  Pride is the strength of people who come together across all our lines of difference to say, enough.  We want better – we want the promise of America for ourselves, for our families and for everyone.

"Thanks for listening, and Happy Pride!"