Israel lawmakers move to ban conversion therapy
Knesset late last month approved bill that targets psychologists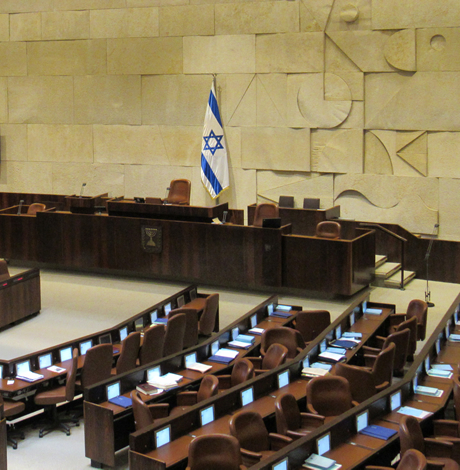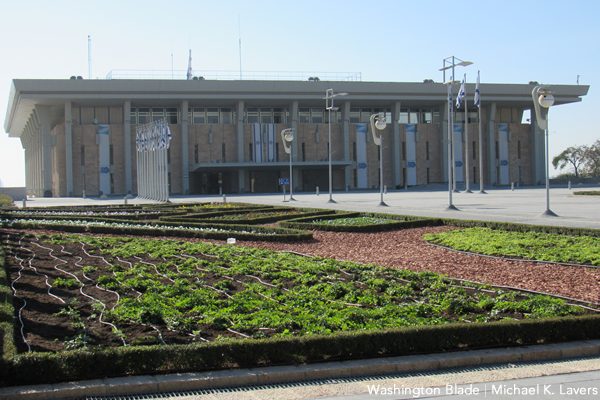 The Israeli Knesset in late July approved a preliminary bill that would criminalize so-called conversion therapy practices.
The measure targets psychologists who administer conversion therapy and would suspend their licenses for at least five years. This move follows the U.N.'s formal call in early July to ban the practices as outlined by Victor Madrigal-Borloz, the independent U.N. expert on LGBTQ issues.
Nitzan Horowitz, head of the left-wing Meretz party, introduced the bill and the Knesset approved it by a 42-36 vote margin. Horowitz said the measure would be a "historic change" for Israel, the BBC reported.
Alternate Prime Minister Benny Gantz, who chairs the centrist Blue and White party, welcomed the result.
"Conversion therapy was born in sin and its place is outside of the law and the public norm," he tweeted, according to the BBC.
Despite the step towards the ban, LGBTQ advocates in Israel are hesitant to call the movement a success. Conservative and Orthodox Jewish groups remain vehemently opposed to the bill.
The BBC reported United Torah Judaism, an ultra-Orthodox group, has threatened to introduce bills that centrist and left-wing lawmakers "would find objectionable." Rafael Peretz, an Orthodox rabbi who is the head of the ultranationalist United Right party, last year condoned the use of conversion therapy when he was Israel's education minister.
Hila Peer, chair with Aguda, the Israeli LGBT Task Force, said she is being a "realistic optimist" about the preliminary vote. Aguda and several other organizations that include Havruta and Shoval, two religious organizations in the country, helped draft the bill.
Peer said while many in the Knesset believe conversion therapy should be banned in the country, the decision comes down to politics because many right-wing and Orthodox parties control it.
The bill as it stands only includes a ban on psychologists using conversion therapy, and does not address religious leaders or schools. This was a tactic by lawmakers, Peer said, because an outright ban would most likely not pass. Taking religion out of the conversation improved the likelihood of moving the law forward, she said.
As the bill moves to committee review in the Knesset, it is possible that a ban on religious leaders using conversion therapy can be tacked onto the legislation, Peer said. In order to pass, the bill must be approved in two more Knesset readings.
Five members of Prime Minister Benjamin Netanyahu's right-wing Likud party voted in favor of the bill, going against their colleagues. Amir Ohana, the country's first openly gay Cabinet minister, crossed party lines and voted for the measure.
Peer and other advocates attempted to ban the practice five years ago. She said conversion therapy bans and other pro-LGBTQ laws have been difficult to pass because of Orthodox and conservative control over the Knesset.
The preliminary bill has yet to go to committee.
Peer said the ban could take a long time to come to fruition because of Israel's ongoing budget crisis and election turmoil. She is now advocating for the bill to continue through the legal process.
"It's our job to just keep on the pressure on it," said Peer. "It just doesn't make any sense that in 2020 conversion therapy is considered a viable option."
Ethan Felson, executive director of A Wider Bridge, an LGBTQ organization that provides education and grants to advocates in Israel, said this ban is necessary to save lives in Israel.
"This is a practice that can take a vulnerable young person and put them into a downward spiral at a time when they need nurturing and support," he said.
This ban would be first of its kind in the Middle East.
Israel has also the most progressive attitude towards LGBTQ people in the region, despite conservative ideologies. LGBTQ individuals are able to serve in the military, are protected by anti-discrimination laws and have adoption and same-sex inheritance rights.
The Israeli government also continues to face accusations of "pinkwashing," the promotion of LGBTQ rights in an attempt to divert attention away from its policies towards the Palestinians.
Germany, Brazil, Ecuador, Malta and Taiwan have already banned conversion therapy. Maryland, Virginia and D.C. are among the U.S. jurisdictions that ban the highly discredited policy for minors.
Editor's note: International News Editor Michael K. Lavers traveled to Israel in 2016 with A Wider Bridge.
Newsom highlights state & local action to combat drought
At a Los Angeles County Water Recycling Facility, Newsom called on Californians to take immediate action to avoid a crisis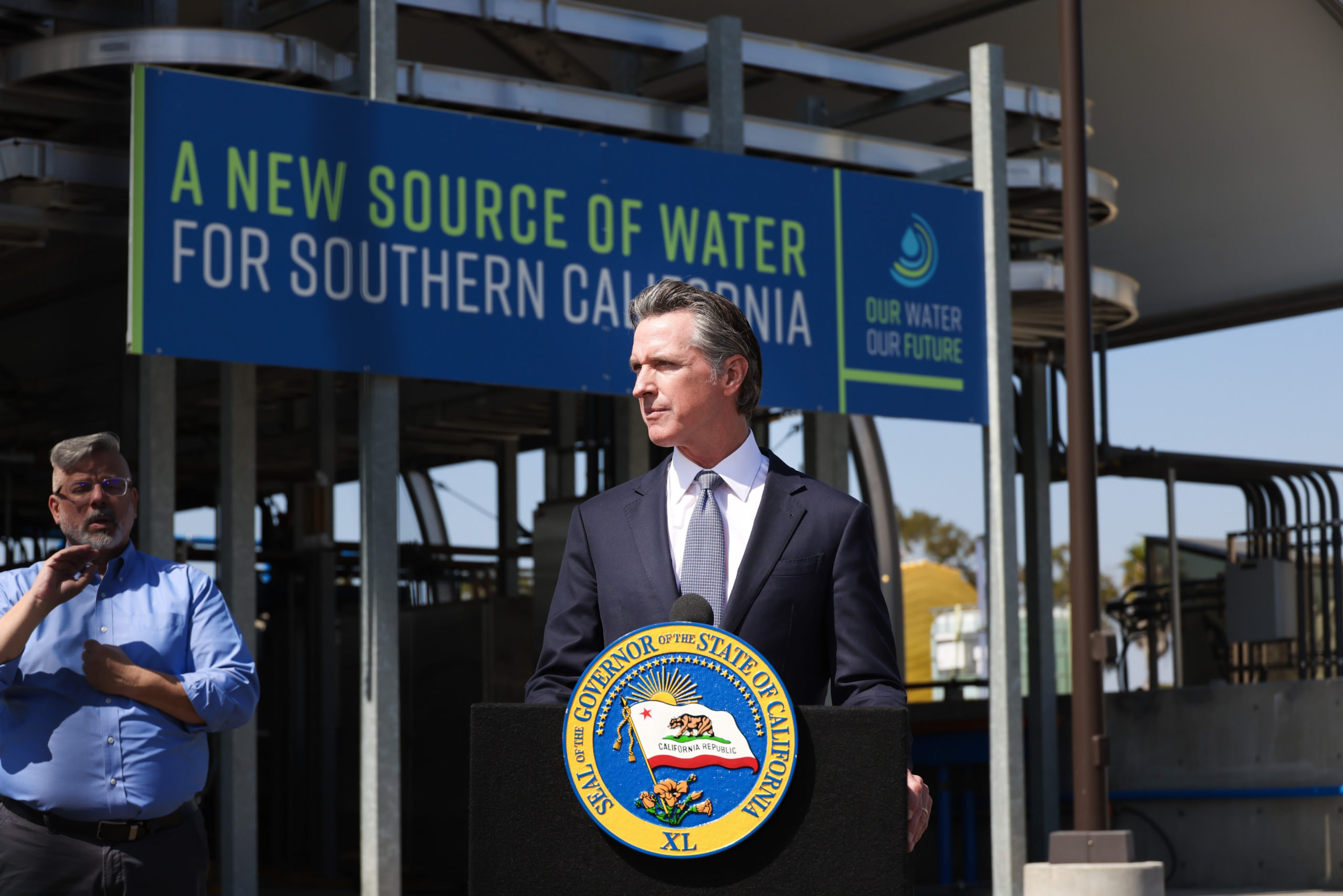 CARSON – Governor Gavin Newsom visited a Metropolitan Water District of Southern California water recycling facility Tuesday to discuss the administration's response to the ongoing megadrought affecting the western United States.
January through March were the driest first three months in the state's recorded history, the state's largest reservoirs are currently at half of their historical averages, and the state's snowpack is just 17 percent of average. Governor Newsom called on local water agencies and Californians to step up and take action to conserve water.
"California will need to use every tool in its toolbox to safeguard our communities, businesses and ecosystems from the severe, climate-driven drought being felt throughout the West," said Newsom. "The state is taking urgent action to tackle drought impacts, drive water savings, and empower local water agencies to step up conservation measures across the state. All of us must take aggressive action to meet these challenges head-on while we work to build a climate-resilient water system."
Governor Newsom has taken swift action to combat the drought conditions, including extending the drought emergency statewide last October and in March, issuing an executive order calling on water agencies to implement, at a minimum, Level 2 of their drought contingency plans to achieve water use reductions in response to a supply shortage of up to 20 percent.
In addition, under proposed emergency regulations by the State Water Resources Control Board (SWRCB), the local agencies that have not yet adopted conservation plans, covering just 8 percent of the state's population, will be compelled to take steps to achieve water use reduction with steps like limiting outdoor water use.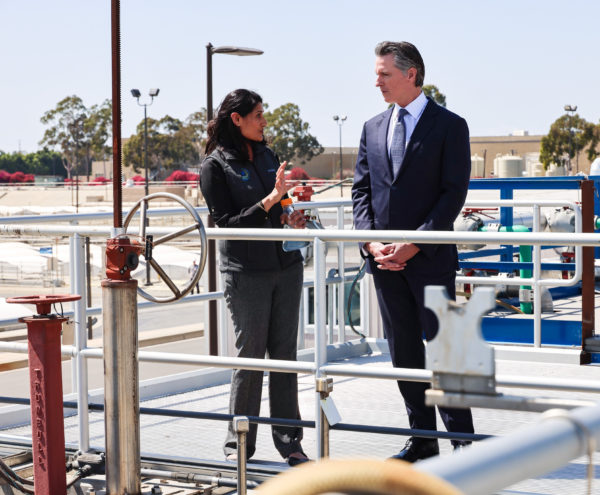 The Governor's March order was based on lessons learned from the last drought including that conservation actions are most impactful when imposed at the local level, based on regional needs and behaviors, and can be an effective means to achieve statewide conservation goals.
 
In response to the Governor's direction, many local water agencies, including the Metropolitan Water District of Southern California (MWD), have taken aggressive action to combat the drought. While an overwhelming majority of the state's water agencies have drought plans at the ready, plans covering about 50 percent of California residents have not yet been activated at the level urged by the Governor.
 
On May 13, the SWRCB released draft regulations that will require all local water suppliers to implement Level 2 of their Water Shortage Contingency Plans, and compel those that have not developed their own plan to take the following steps:   
Limit outdoor water use to two days per week.
Ban watering during the hottest parts of the day.
Ban irrigating ornamental grass at business and commercial sites.
Enforce fines of up to $500 a day for districts and corporations not in compliance.
The draft regulations will be considered by SWRCB at their May 24 meeting and, if adopted and then approved by the Office of Administrative Law, will ensure all local plans are in effect by June 10. The SWRCB also will consider regulations banning the watering of decorative grass at business and institutions, which the Governor's March order directed the Board to consider.
The state is calling on Californians to take immediate action to avoid a crisis, including:
Limiting outdoor watering – on average, each time you water your yard equals about 240 flushes or 13 full laundry loads (for a washer that uses 30 gallons per load).
Taking shorter showers. Going to a 5 minute shower to save up to 12.5 gallons per shower when using a water-efficient shower head.
Taking showers instead of baths – a bath uses up to 2.5 times the amount of water as a shower.
Using a broom instead of a hose to clean outdoor areas to save 6 gallons of water every minute.
Washing full loads of clothes to save 15-45 gallons of water per load.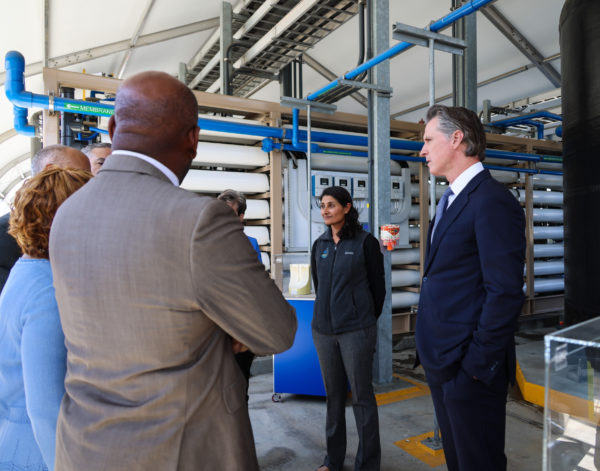 The Governor's California Blueprint proposed this year would invest an additional $2 billion for drought response, which includes $100 million in addition to a previous investment of $16 million this fiscal year for a statewide education and communications effort on drought. These investments build on the previous $5.2 billion three-year investment in the state's drought response and water resilience through the California Comeback Plan (2021).
Minnesota teachers fear retaliation over support of LGBTQ+ students
According to staff, teachers are afraid the move is intended as "a fishing expedition to prove that teachers encouraged students to protest"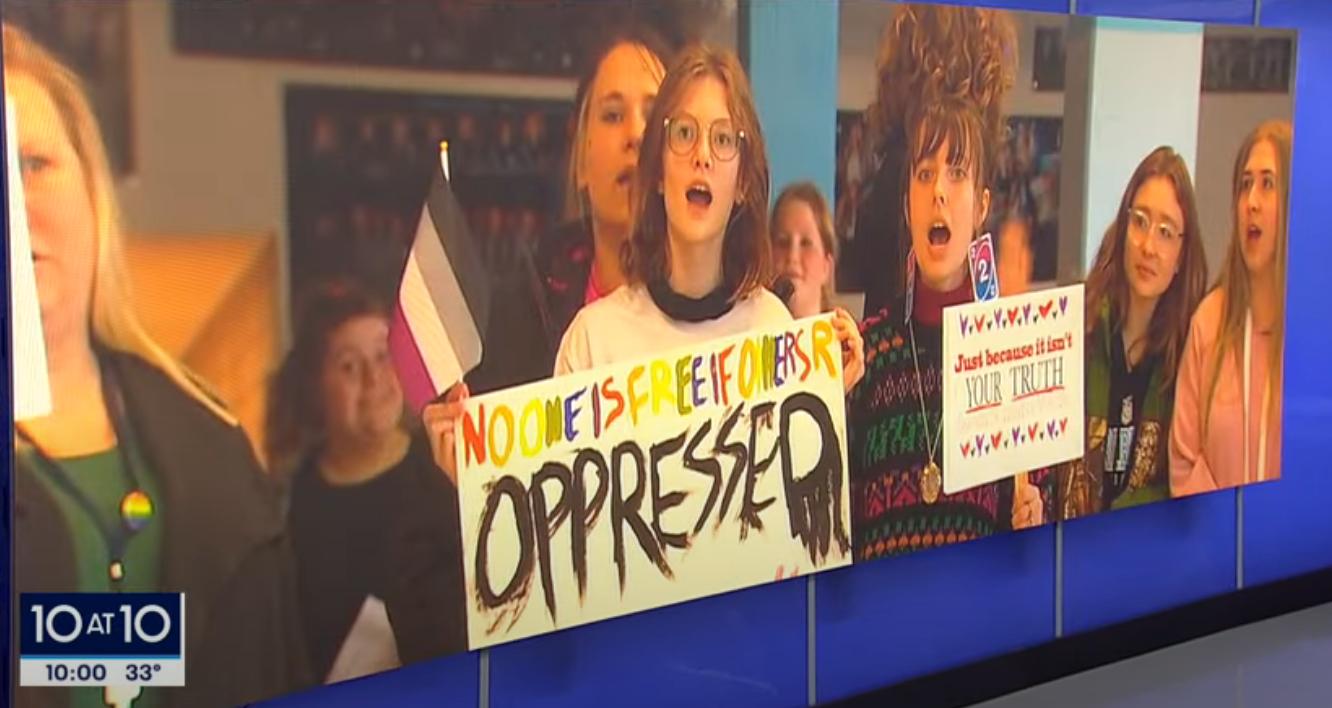 BECKER, Mn. – Following protests over the anti-LGBTQ+ Minnesota Child Protection League's (MNCPL) March 14 presentation to the Becker County School Board, staff in all the district's public schools will be required to turn over a trove of documents related to that event, The Los Angeles Blade has learned.
According to a staff member at Becker High School, teachers are afraid the move is intended as "a fishing expedition to prove that teachers encouraged students to protest" in a bid to "get the Board to fire" them.
The mandatory request was filed by Chris Klippen, a local attorney who addressed the School Board on March 14 ahead of the representative from MNCPL, echoing many of the group's lies about LGBTQ+ people and objections to measures designed to protect the community's youth.
As the Los Angeles Blade reported, controversy over the School Board's decision to hear a presentation from the MNCPL was the latest in a series of events that have escalated tensions between area schools and LGBTQ youth, along with their families and allies.
Last year, a Facebook post that falsely claimed classrooms were replacing the American flag with the Pride flag invited comments that included homophobic and transphobic remarks. When students shared screen shots of the post on their social media pages, the Becker County chief of police demanded they remove them, earning a rebuke from the ACLU of Minnesota.


The Becker High School staff member and a student at the school say LGBTQ+ students regularly face harassment. Trans students are dead-named by teachers and administrators who refuse to use their correct pronouns and often discourage or prohibit students from displaying pro-LGBTQ forms of free expression such as Pride buttons, they said.
While the state's legislature has successfully passed some protections for LGBTQ+ youth in schools, proponents of additional measures face virulent opposition from anti-LGBTQ+ groups whose influence has increasingly been felt in schools across the country amid a corresponding rise in legislation targeting the rights of LGBTQ+ students and their families.
MNCPL is among the organizations currently advocating against Minnesotan Democrats' proposed bill that would outlaw conversion therapy for minors and vulnerable adults.
In the months since the group's presentation to the School Board, according to the Becker High School staff member and student, participants in the protest felt targeted with veiled threats that left them fearing they would face retaliation from administrators and county officials.
An email Tuesday from Becker Superintendent Jeremy Schmidt instructs all recipients to collect and share, by the end of the month, electronic documents as well as "personal notes, post-it notes and handwritten notes" from February 1 to "the events on March 14, 2022."
Statutorily, interested parties are permitted to file mandatory requests for documents from Minnesota's public schools, and in this case it will apply to communications between staff and a breadth of different parties, from the media and advocacy groups to individuals and law enforcement.
LGBT students protest controversial presentation at Becker school board:
"Don't Say Gay" student walk-out leader is barred from student government
Jack Petocz organized a state-wide student protest against Florida's "Don't Say Gay" bill & annoyed administrators suspended him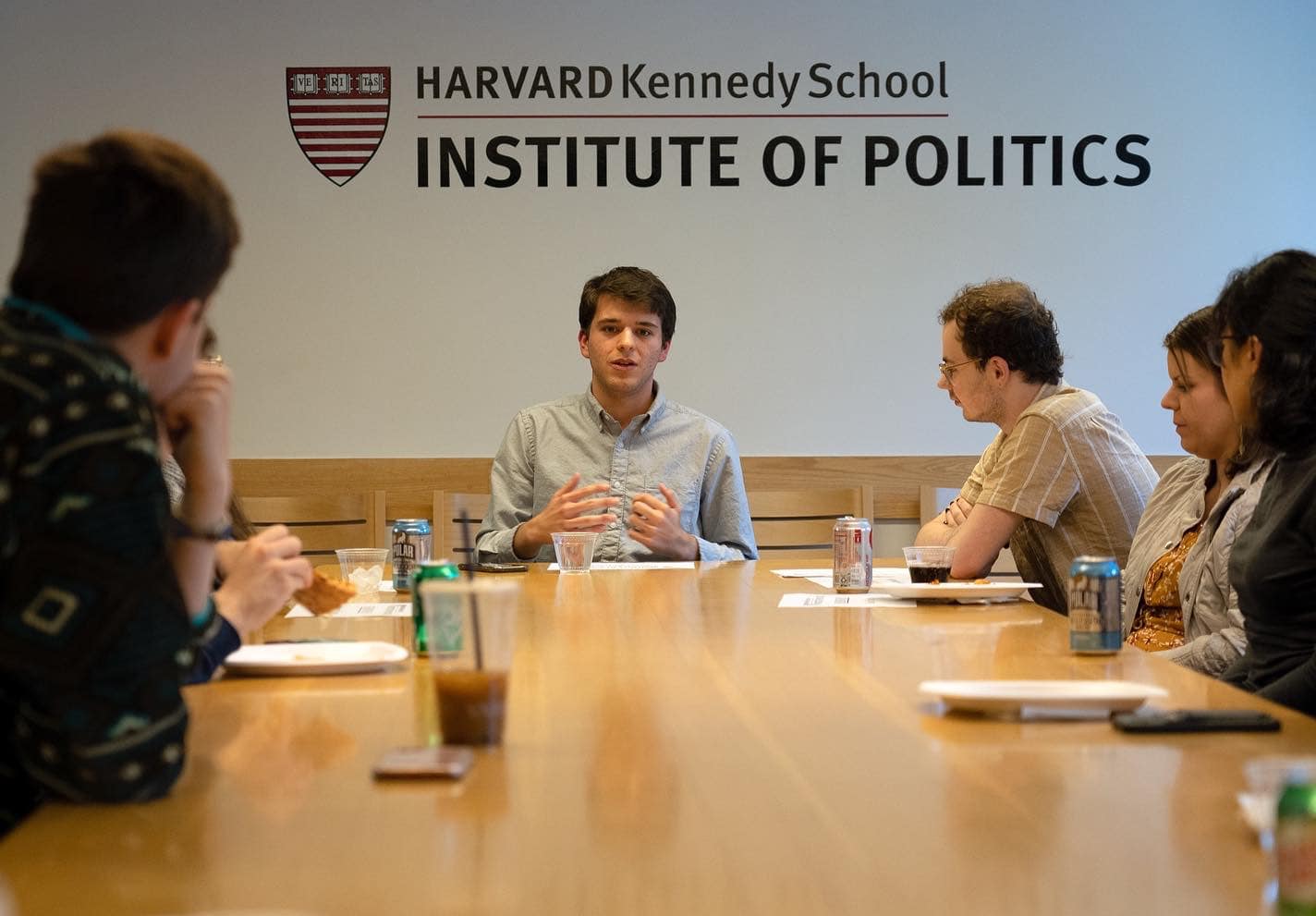 PALM COAST, Fl. – Jack Petocz, a Flagler Palm Coast High School junior, organized a state-wide student protest against Florida's "Don't Say Gay" bill this past March, and at his school, annoyed administrators suspended him.
On Tuesday, Petocz said that the school's disciplinary action is now preventing him from running for senior class president.
"When I returned, the administration assured me that no further disciplinary action would be taken. A month later, they broke this verbal agreement and placed a level 3 referral on my record. Now, due to this high level of discipline, I am being prevented from running for senior class president. I am continuing to be punished for standing up for my identity and against widespread hatred."
The suspension over the student walkout became a viral moment that propelled the 17-year-old into the national spotlight and into the national discourse over a spate of harsh laws targeting the LGBTQ+ community.
17-year-old Cameron Driggers, a student LGBTQ+ activist-organizer of the group Recall Flagler County School Board and co-leader of the walk-out, his friend's suspension inspired him to create a petition on Change.org to pressure Flagler Palm Coast High School Principal Greg Schwartz to rescind his seemingly arbitrary decision to suspend Petocz.
One protest at the school over its suspension of Petocz brought together a grizzled and proud Out gay U.S. Marine Corps veteran accompanied by his fellow vets, who alongside with Driggers and the other young adolescent activists protested in a rally in front of the school at the same time Petocz and his father were inside meeting with Flagler Palm Coast High School Principal Greg Schwartz, hoping to get him to rescind his seemingly arbitrary decision to suspend Petocz.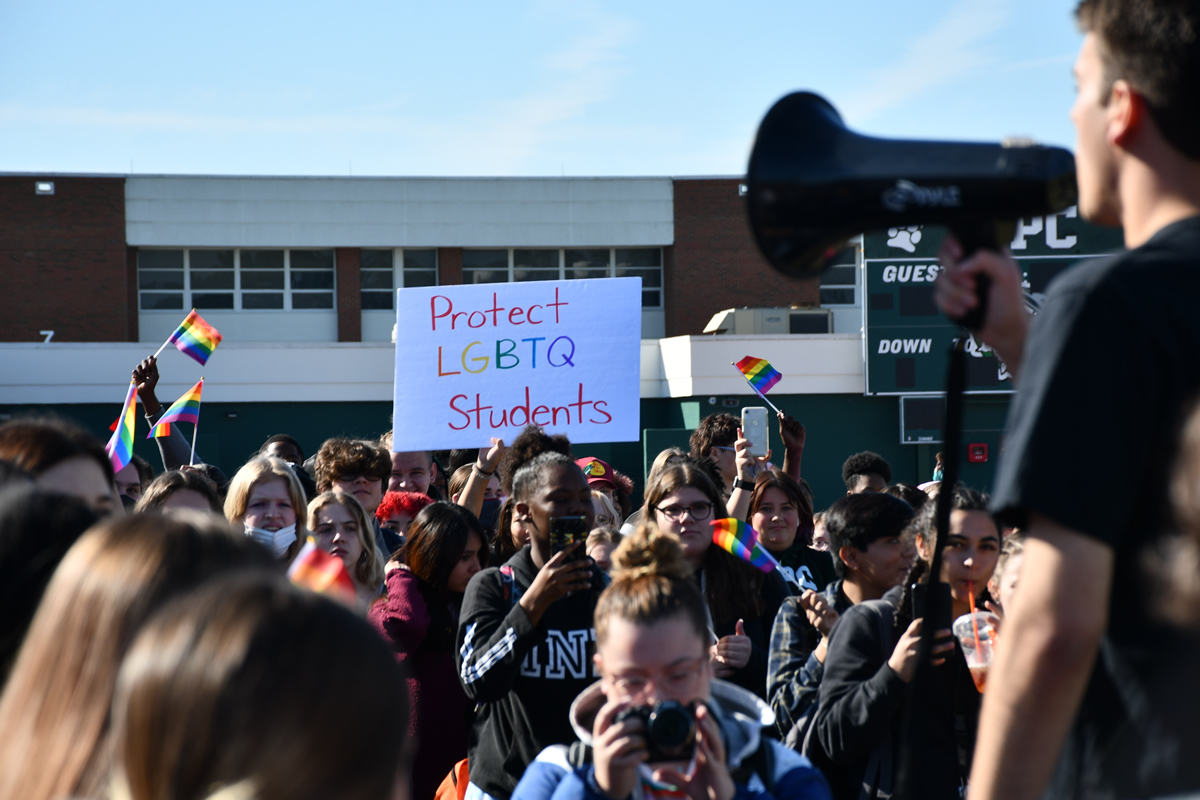 Later on during the day Driggers posted to the Change.org petition the news that Principal Schwartz had backed off.
"Recall FCSB is pleased to announce that Jack's suspension has ended and he is back on-campus. We are grateful for the thousands of people around the globe that shared, tweeted and protested in support of Jack, the organizer behind the state-wide Don't Say Gay Walkout. Over 7500 signatures were collected on a condemnation of Principal Greg Schwartz' conduct last Thursday. With Jack back on campus, Recall FCSB will continue to empower student leaders in and out of school," Driggers wrote.
Principal Schwartz also committed to removing the 'disciplinary action' from Petocz's school record.
On Tuesday, Petocz announced that Principal Schwartz and other school officials are barring him from running for an elected student office.
My name is Jack Petocz. I am the high school junior who led walkouts in opposition to the "Don't Say Gay" bill and was suspended for passing out pride flags. Now, I'm being prevented from running for senior class president. No matter what, I won't stop fighting for my community. pic.twitter.com/5lG6EYIXo2

— Jack Petocz (@Jack_Petocz) May 17, 2022
In response to the news, PEN America issued the following statement from Jonathan Friedman, director of the Free Expression and Education program:
"By going back on their word and imposing a red mark on Jack Petocz's disciplinary record, the Flagler Palm Coast High School administration appears bent on retaliating against him for organizing the walkout against the 'Don't Say Gay' bill. This is unconscionable. Jack exercised his right to protest as a citizen, and he led the walkout with the school's approval. No student ought to be intimidated or punished by school authorities for their political speech, and the school already told him he would not be disciplined. This is especially troubling alongside news of other efforts to censor or intimidate students raising their voices for LGBTQ+ rights across Florida. The leaders of Flagler Palm Coast High School should remove this infraction from his record so that he can run for class president just like any other student."
On Twitter, Petocz urged people to contact his school to get officials to reverse this latest decision.
If you want to help me fight, click the link below to send an email to administrators and the superintendent of my district. It's ridiculous queer kids have to be punished while fighting for our rights. https://t.co/oBOKZDLavb

— Jack Petocz (@Jack_Petocz) May 17, 2022