Takano 'aghast' at proposed UC affiliation with restrictive Catholic hospitals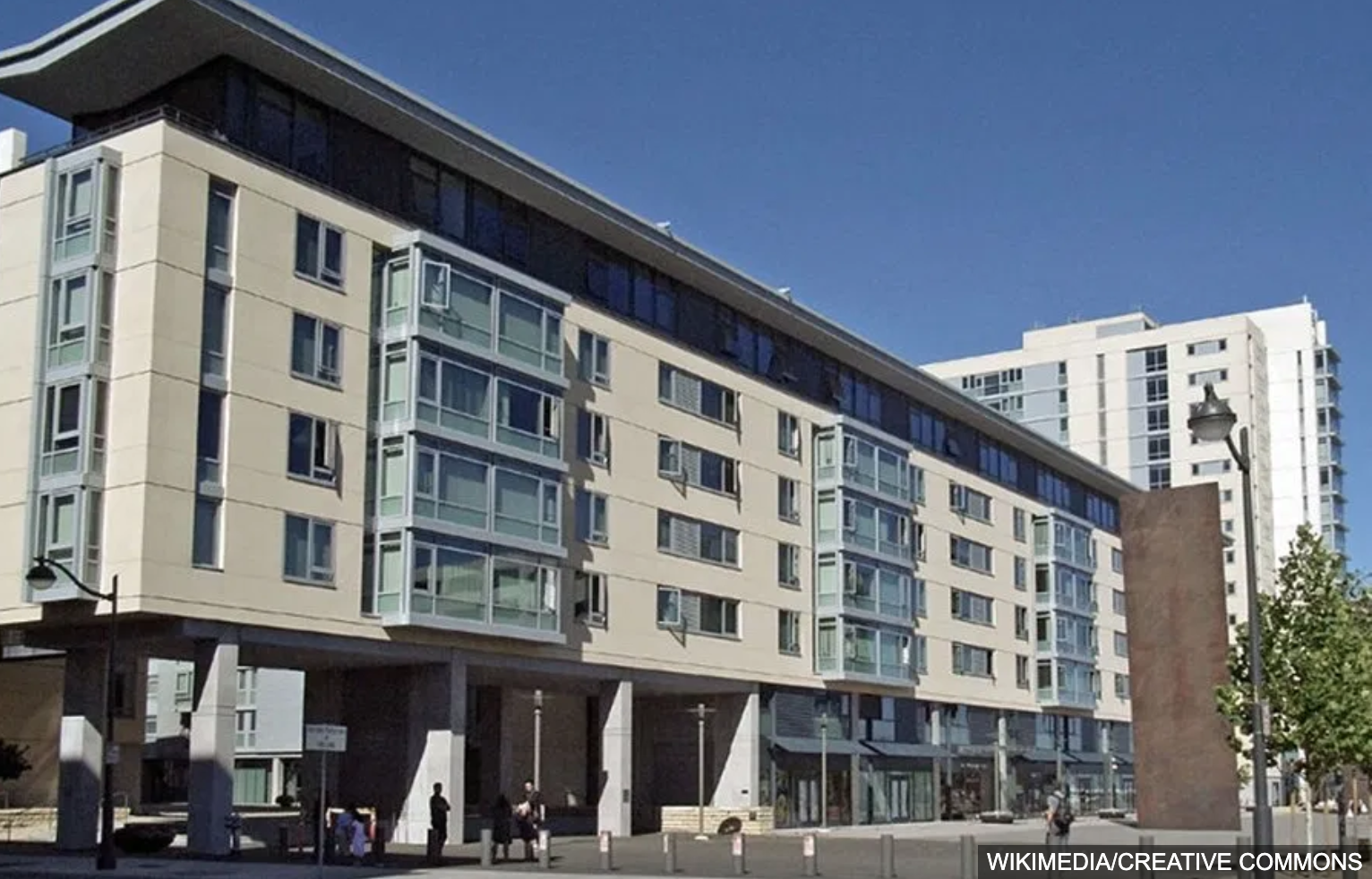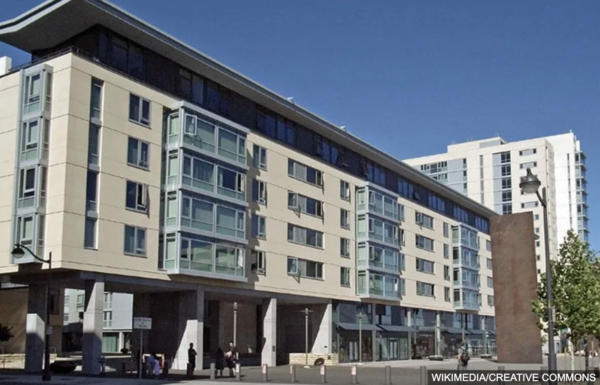 Dignity Health (Wikimedia photo via dailycal.org)
The California congressional delegation is "deeply alarmed" by proposed new healthcare rules governing the affiliation between the University of California and Catholic hospital systems that operate under religious restrictions.
Hospitals such as Dignity Health and St. Joseph Health adhere to the Ethical and Religious Directives (ERDs) set by the U.S. Conference of Catholic Bishops, not by medical professionals, New Ways Ministry reported last June. "Dignity Health operates by the ERDs at 17 out of 31 of their hospitals."
According to the ACLU, NCLR, and National Health Law,  "Contract language explicitly states that students and providers are restricted by Catholic Directives."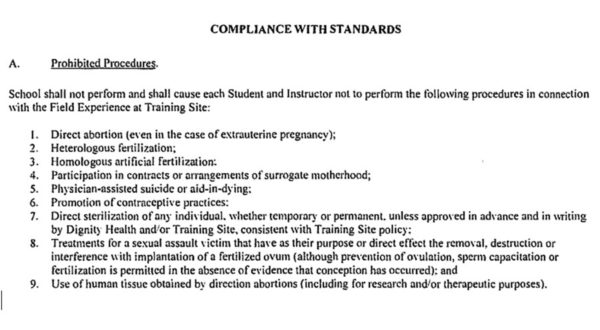 "The ERDs do not allow the prescription of any FDA-approved methods for preventing pregnancy including sterilization, elective abortion; assistive reproductive technology such as in-vitro fertilization (IVF) or the use of a surrogate for pregnancy; gender-affirming care such as hormone replacement therapy or surgery or physician-assisted aid in dying," The California Aggie reported June 5. "Some argue that partnering with Dignity restrict care to LGBTQ+ people, women, others argue more are harmed by not partnering."
A previous attempt to expand Dignity Health's affiliation with UC San Francisco (UCSF) was called off last year after 1,500 UCSF doctors and hospital staff signed a petition opposing the  proposed expansion. The UC Working Group on Comprehensive Access (WGCA) was formed to find a way forward but failed to reach a consensus.
In August 2019, the WGCA presented two options: UC Health-backed Option 1 would allow existing affiliations to continue, understanding that some people might be denied care because of the hospital's adherence to religious doctrine. Option 2 would discourage the continued affiliation.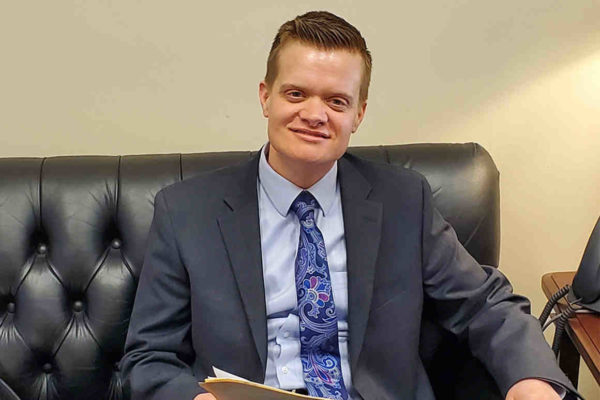 Evan Minton (Photo courtesy ACLU)
Evan Minton, a longtime California politico chair of the California Democratic Party LGBT caucus, was among the LGBTQ advocates who argued against the expanded relationship between UCSF and Dignity. He sued Dignity Health after his hysterectomy was cancelled because they learned he is a transgender man, about which he testified before Congress. The ACLU, which is representing him, argues that hospitals should not be able to "pick and choose" the care they provide to individual patients.
According to the student-run The Daily Californian, Dignity Health spokesperson Dan Loeterman said Dignity Health provides specialized services such as pediatric trauma programs, cancer treatment programs and behavioral health units that would not otherwise be available without the partnerships between UC Health and Dignity Health. "We are deeply committed to providing care to everyone, regardless of who they are," said Loeterman.
UCSF noted in a statement that about half of the state's doctors are trained through the UC system and without training at outside entities such as Dignity Health, UC would have to reduce its health-training enrollment, DailyCal.org reported.
Meanwhile, there is some concern the coronavirus pandemic may impact the Regents' decision. After all, "Catholic health systems control one in six hospital beds and are often the only location for treatment in some rural areas," New Ways Ministry reported last June 17.
The California congressional delegation wanted to register their disapproval.
In their Aug. 5 letter to UC President Dr. Michael Drake and the UC Regents, 39 out of 45 members of the Democratic delegation expressed "serious concerns" over UC's affiliations with hospitals and providers "that impose religious restrictions" limiting medically necessary care. "The consequences of denying this care are serious and can even be life-threatening," they wrote. (See the letter below)
Led by U.S. Reps. Barbara Lee (D-Oakland), Julia Brownley (D-Westlake Village), and Mark Takano (D-Riverside), the letter, issued with the backing of a coalition that includes NARAL Pro-Choice California, Equality California, and the ACLU of California, noted that many of the signers strongly oppose the Trump administration's Refusal of Care Rule, which they describe as a "dangerous, discriminatory regulation…designed to allow health care institutions and providers to deny patients information and treatment based on personal religious or moral beliefs."
Given the Trump administration's repeated attacks on "access to evidence-based health care," the members wrote, "it is deeply alarming that the University of California, which has long been a national leader in comprehensive reproductive and LGBTQ-inclusive care, would be willing to involve its providers and patients in arrangements that subject them to religious rules that hold that basic reproductive health care is impermissible, and that directly exclude LGBTQ patients. Reproductive and LGBTQ-inclusive care is fundamental, basic health care, and we in California should stand strong in protecting it."
They "strongly urge" the Board to vote against Option 1. "'Option 1' does not require that contracts with outside health systems affirmatively state that religious directives will not apply to UC providers and students. It also does not state that hospital policies prohibiting gender-affirming services for transgender people or reproductive health services violate UC's non-discrimination policy," they wrote.
The delegation also rejected the proposition that the affiliation is necessary "to expand health care access to underserved communities. In fact, hospitals with Catholic religious directives often prohibit many types of medical services that communities of color critically rely upon, particularly in the areas of reproductive and LGBTQ-inclusive health, where some of the deepest racial health inequities exist. Indeed, patients of color, low-income patients, people living with HIV and AIDS, and others who experience health disparities and systemic barriers to health care access are most in need of science-based, comprehensive care that is not limited by religious restrictions."
Moving forward with Option 1, "will send a message to the nation that it is permissible to impose such limits on care, just as the Trump administration has sought to do with the Refusal of Care Rule," the delegation wrote, urging the Regents to vote to reject 'Option 1' and "contracts that impose religious restrictions on UC providers and patients."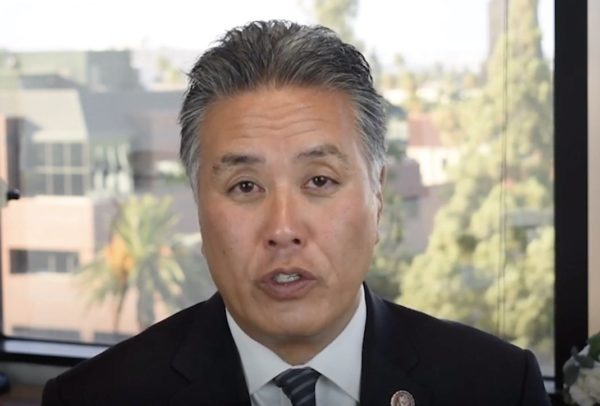 Rep. Mark Takano (screen grab of Takano online statement on Trump impeachment)
"We, as members of the California delegation, are fighting against members of the Trump administration but we're really aghast at the idea that within California, which should be using all of its muscle to ensure that discrimination does not occur in healthcare," Takano told the Los Angeles Blade. "The way they push back on this is they're saying they need to reach more people of color and low-income people."
Takano also noted that the LGBTQ community in Riverside County and all over low income areas – Latinos and African Americans, in particular — don't have access to HIV counseling and healthcare services.
"This is still one of the most significant healthcare challenges – the continued spread of HIV among low income people and people of color" who may not have access to or may not have even heard about PrEP, Takano said. "And this cannot be solved by entering into discriminatory contracts that will inhibit the ability to reach out to these populations. So, I reject the notion that they're going to reach more low-income people and people of color who need healthcare."
Takano challenged UC Health to come up with alternatives. "We should not be stuck with providers who insist on discrimination," he said.
"This really got brought to the Regents' attention because UC San Francisco was trying to get into a four- hospital agreement with Dignity Healthcare. But we blocked them," UC Board of Regents Chair John A. Perez told the Los Angeles Blade. "It was clearly the pattern of discrimination against LGBT folks, in particular transgender folks, but also the limitations on reproductive healthcare."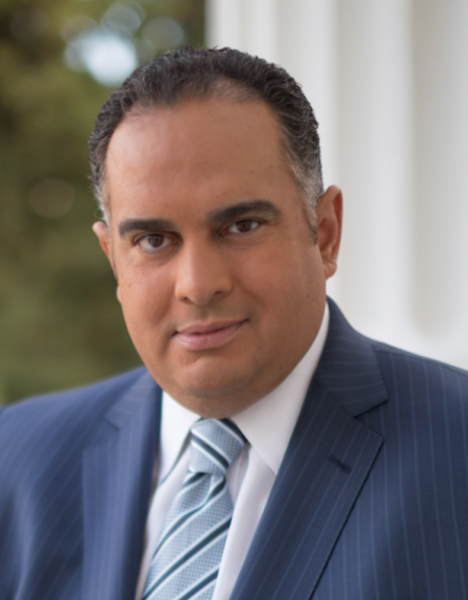 UC Board of Regents Chair John A. Perez, California Assembly Speaker Emeritus (Photo via Regents)
The issue is personal for Perez. "I have a friend who went into emergency labor and was refused a medically necessary tubal ligation, which put her in very dangerous circumstances," said Perez, an issue he addressed in open session.  "If you got an emergency room open to obstetrics and somebody comes in, in emergency labor, for you to put these constraints that are not based on science or medical best practice is fundamentally at odds with our obligation and our standards and our values as a public university hospital system."
Perez, who notes that he is one of three out LGBTQ Regents, is adamantly opposed to Option 1.
"I will do everything in my power to make sure Option 1 is never adopted," Perez said. "I believe that running a hospital or a health system and making decisions based on anything other than science — the medical best interest of the patient — is tantamount to the corporate practice of medicine, which California expressly prohibited by law."
Perez notes that the "thorny issue" raised by Option 1 has not yet been put forward. Meanwhile UC Health is focused on fighting the COVID-19 crisis. He disputes the notion of temporarily disregarding state and UC non-discrimination laws and core values to expand healthcare to low income people of color.
"We're serving not only our patients, but we're providing broader assistance to folks in other communities that aren't part of our hospitals," Perez said. "So, for example, Imperial County is about the most significantly impacted County in the state and we're taking patients from Imperial County — not only in San Diego and Irvine, but as far away as Davis. We're right now focused on direct patient care and direct research and helping turn the corner on COVID. And I think that really does speak to why nobody within the health operations has put this forward at this point."
More comments and the congressional letter:
"University of California clinicians should not have their hands tied from providing reproductive and LGBTQ inclusive care because of religious directives," said Rep. Lee. "While it is critically important to expand care to underserved communities, it should be comprehensive, not restricted care that is provided."
"It is imperative that all Californians have access to quality and affordable healthcare, regardless of their gender or sexual orientation," said Rep. Brownley. "The personal belief of healthcare providers should not be used to provide substandard care to classes of individuals. The University of California needs to make sure its actions do not narrow or restrict necessary healthcare, particularly for women and LGBTQ+ individuals, who have long faced roadblocks to getting the full healthcare they need and have a right to."
"The University of California should not be limiting access to healthcare for LGBTQ+ people, women or other marginalized people who already face tremendous barriers to treatment —but proposing to do so during a public health crisis is particularly offensive," said Equality California Executive Director Rick Chavez Zbur. "The UC is toeing a dangerous line by entertaining affiliations with hospitals that have long records of refusing LGBTQ+ inclusive and reproductive care. As Californians, we must — as we always have — set the example that everyone deserves care, regardless of religious belief, sexual orientation, the color of your skin or your gender identity."
"California is a national leader when it comes to safeguarding and expanding reproductive freedom and LGBTQ-inclusive care — which makes affiliations between the University of California and hospitals like Dignity Health, that categorically refuse to provide basic reproductive and gender-affirming care, all the more troubling," said Shannon Hovis, Director of NARAL Pro-Choice California. "Discriminatory restrictions imposed by Catholic health systems are an affront to California values, plain and simple. As the fourth-largest healthcare provider in the state, the UC has a public and moral responsibility to provide high-quality, evidence-based care, free from discrimination. With so much at stake for reproductive freedom and equality in 2020, we demand that the UC Regents take action to ensure that every body is able to access the care they need."
[pdf-embedder url="https://www.losangelesblade.com/content/files/2020/08/20.08.05.-Congressional-Letter-to-UC-Regents-on-UC-Healthcare-and-Dignity-1.pdf" title="20.08.05.-Congressional-Letter-to-UC-Regents-on-UC-Healthcare-and-Dignity"]
LA Public Health emphasizes vaccinations as pandemic guidelines relax
The County will also follow the State on lifting current travel restrictions on June 15 to align with CDC travel recommendations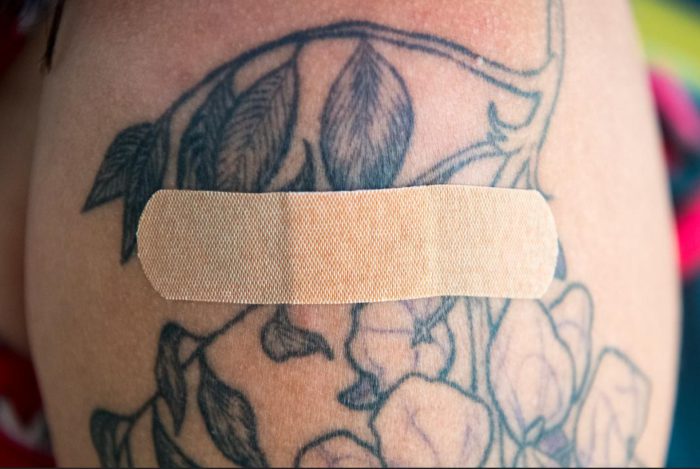 LOS ANGELES – On June 15, the state of California will be lifting most capacity limits and distancing restrictions at businesses, and Los Angeles County will align with the State in order to allow businesses to fully re-open. Specific requirements will continue for large capacity events, schools, day cares, day camps, high-risk congregant settings and health care facilities.
The County remains in the least restrictive yellow tier in the State's Blueprint for a Safer Economy framework.
The County will also follow the State on lifting current travel restrictions on June 15 to align with CDC travel recommendations. Businesses must comply with all Cal/OSHA requirements at worksites past the June 15 reopening.
Tuesday, the State released the final blueprint tier numbers before the Blueprint for a Safer Economy program is retired next week; L.A. County's adjusted case rate remains at 0.7 new cases per 100,000 people, and the overall test positivity rate remains at 0.4% across the county and in areas with the fewest health affirming resources.
The Los Angeles County Department of Public Health will host a Virtual Town Hall on Reopening on Thursday, June 10, at 6:00 p.m. Join the town hall to get the latest updates on the June 15 reopening of Los Angeles County. The town hall will be streamed live on Twitter, Facebook, and YouTube @lapublichealth. For more information and to submit a question, visit: tinyurl.com/AskReopeningTownHall
Public Health confirmed 13 new deaths and 186 new cases of COVID-19. Of the 13 new deaths reported Tuesday, three people that passed away were over the age of 80, six people who died were between the ages of 65 and 79 and four people who died were between the ages of 50 and 64.
To date, Public Health identified 1,245,412 positive cases of COVID-19 across all areas of L.A. County and a total of 24,404 deaths. There are 232 people with COVID-19 currently hospitalized and 16% of these people are in the ICU.
"As California reopens and most physical distancing requirements and capacity limits are lifted a week from today, it's very important that those not vaccinated continue to take precautions," said Barbara Ferrer, Director of Public Health.
"While we are making great progress with vaccinations in the County with 54% of L.A. County residents 16 and over fully vaccinated and 65 percent having received one dose of the vaccine, there are millions of residents who do not have protection from COVID-19. For those not yet vaccinated, and the over 1.3 million children under 12 years old, wearing a face covering remains important for preventing transmission."
Free COVID-19 vaccines are available for everyone age 12 and older. You do not need to have health insurance and you will not be asked about your immigration status. Vaccines are offered at hundreds of locations across L.A. County. These include clinics, hospitals, pharmacies, places of worship, and mobile clinics. Many sites are open late and on weekends and no appointment needed at many locations.
To find a vaccination site near you, to make an appointment at vaccination sites, and much more, visit: www.VaccinateLACounty.com (English) and www.VacunateLosAngeles.com (Spanish). If you don't have internet access, can't use a computer, or you're over 65, you can call 1-833-540-0473 for help finding an appointment, connecting to free transportation to and from a vaccination site, or scheduling a home-visit if you are homebound. Vaccinations are always free and open to eligible residents and workers regardless of immigration status.
With 12-17 year olds now eligible to receive the COVID-19 vaccine, providing accurate and important information to teens is critical. Public Health participated in a COVID Vaccine Teen Forum and helped answer some of the most popular questions from Los Angeles County teens themselves, ranging from vaccine safety to how they can talk to their parents about getting the vaccine. The forum can be seen at the following link: https://youtu.be/U7U5VnckkP0.
Through Thursday, June 10, everyone 18 and older coming to get their first vaccine or who brings a first-time vaccine recipient with them to their second dose appointment at County-run vaccination sites, L.A. City and St. John's Well Child and Family Center sites, will have an opportunity to win a pair of season tickets to the 2021-2022 home season of either the LA Football Club soccer team or the LA Dodgers. Official rules and participating site locations can be found on the Los Angeles County Vaccination Sweepstakes page online.
AIDS @40: Gay men terrified, stigmatized by mysterious new fatal disease
"If this article doesn't rouse you to anger, fury, rage, and action, gay men may have no future on this earth…"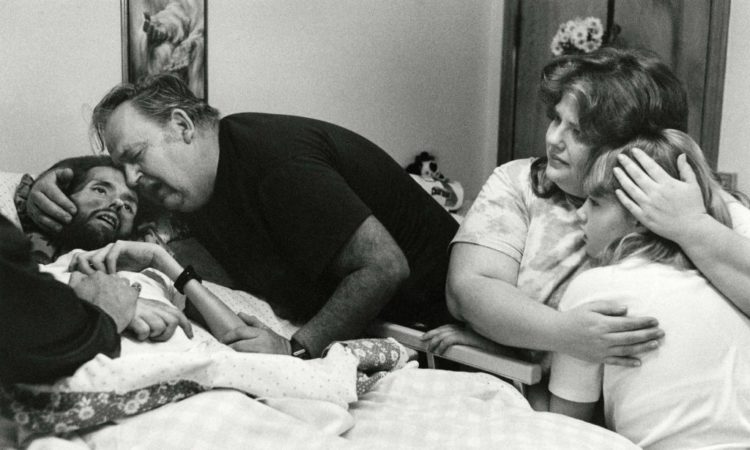 By Karen Ocamb | LOS ANGELES – Before the CDC's first report on AIDS, there was news from the New York Native, a biweekly gay newspaper published in New York City from December 1980 until January 13, 1997. It was the only gay paper in the City during the early part of the AIDS epidemic and it pioneered reporting on AIDS.
On May 18, 1981, the newspaper's medical writer Lawrence D. Mass wrote an article entitled "Disease Rumors Largely Unfounded," based on information from the Centers for Disease Control and Prevention scotching rumors of a "gay cancer."
"Last week there were rumors that an exotic new disease had hit the gay community in New York. Here are the facts. From the New York City Department of Health, Dr. Steve Phillips explained that the rumors are for the most part unfounded. Each year, approximately 12 to 24 cases of infection with a protozoa-like organism, Pneumocystis carinii, are reported in New York City area. The organism is not exotic; in fact, it's ubiquitous. But most of us have a natural or easily acquired immunity," Mass wrote. He added: "Regarding the inference that a slew of recent victims have been gay men. . . . Of the 11 cases . . . only five or six have been gay."
Eighteen days later, on June 5, 1981, the world turned when the CDC published an article by Dr. Michael Gottlieb in Morbidity and Mortality Weekly Report (MMWR) on AIDS symptoms, including cytomegalovirus (CMV) infection and candidal mucosal infection, found in five gay men in Los Angeles. By then, 250,000 Americans were already infected, according to later reports.
Gottlieb's CDC report was picked up that same day by the Los Angeles Times, which published a story entitled "Outbreaks of Pneumonia Among Gay Males Studied." A slew of similar reports followed and on June 8 the CDC set up the Task Force on Kaposi's Sarcoma and Opportunistic Infections to figure out how to identify and define cases for national surveillance. On July 3, the CDC published another MMWR on pneumocystis carinii pneumonia (PCP) and Kaposi's Sarcoma (KS) among 26 identified gay men in California and New York. The New York Times' story that day — "Rare Cancer Seen in 41 Homosexuals" – stamped the disease as the "gay cancer." GRID (Gay-Related Immune Deficiency) came next. In the new Reagan/Bush Administration, dominated by homophobic evangelical advisors such as Gary Bauer, funding to investigate the new disease was scarce.
Two years later, the New York Times finally put AIDS on the front page, below the fold, with a May 25,1983 headline that read: "HEALTH CHIEF CALLS AIDS BATTLE 'NO. 1 PRIORITY.'" By then 1,450 cases of AIDS had been reported, with 558 AIDS deaths in the United States; 71 percent of the cases were among gay and bisexual men; 17 percent were injection drug users; 5 percent were Haitian immigrants; 1 percent accounted for people with hemophilia; and 6 percent were unidentified.
But Health and Human Services Assistant Secretary Dr. Edward N. Brandt Jr. told reporters that no supplemental budget request had been made to Congress. "We have seen no evidence that [AIDS] is breaking out from the originally defined high-risk groups. I personally do not think there is any reason for panic among the general population," he said.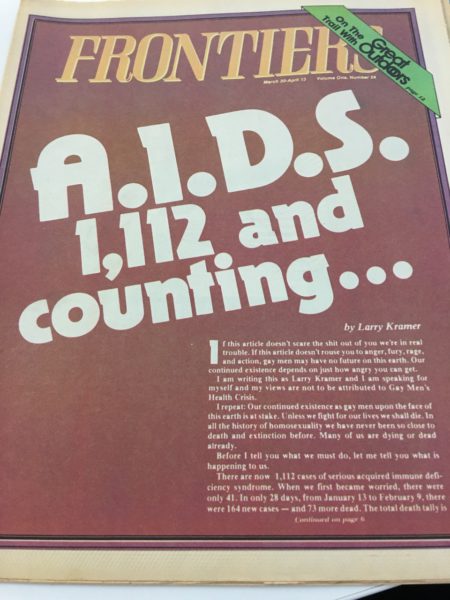 Gays in denial seemed to accept feigned governmental concern. Others were deathly afraid. The HHS news conference was just 10 weeks – and 338 more cases – after the March 14 publication of playwright Larry Kramer's infamous screed on the cover of the New York Native: "1,112 and Counting…"
"If this article doesn't scare the shit out of you, we're in real trouble. If this article doesn't rouse you to anger, fury, rage, and action, gay men may have no future on this earth. Our continued existence depends on just how angry you can get," Kramer wrote. "I repeat: Our continued existence as gay men upon the face of this earth is at stake. Unless we fight for our lives, we shall die. In all the history of homosexuality we have never before been so close to death and extinction. Many of us are dying or already dead."
Too many gay men were not scared shitless. When LA gay Frontiers News Magazine re-published Kramer's article as their March 30 cover story, bar owners threw the publication out, lest it unnerve patrons. Meanwhile, gay men wasted away and died, often alone, sometimes stranded on a gurney in a hospital hallway; sometimes – if lucky – with family or friends crying at their bedside as in the intimate photo taken by Therese Frare as her friend AIDS activist David Kirby died.  
None of this was new or startling to Gottlieb or fellow AIDS researcher and co-author, Dr. Joel Weisman.
Gay San Francisco Chronicle reporter Randy Shilts dubbed Weisman "the dean of Southern California gay doctors" in his AIDS opus, "And the Band Played On." In 1978, as a general practitioner in a North Hollywood medical group, Weisman treated a number of patients with strange diseases, including a gay man in his 30s who presented with an old Mediterranean man's cancer, Kaposi's sarcoma.
In 1980, Weisman opened his own Sherman Oaks practice with Dr. Eugene Rogolsky and identified three seriously ill gay patients with strange fevers, dramatic weight loss from persistent diarrhea, odd rashes, and swollen lymph nodes, all seemingly related to their immune systems. He sent two of those patients to Gottlieb, a young UCLA Medical Center immunologist studying a gay male patient with pneumocystis pneumonia and other similar mysterious symptoms, including fungal infections and low white blood cell counts.
"On top of these two cases," Shilts wrote, "'another 20 men had appeared at Weisman's office that year with strange abnormalities of their lymph nodes,' the very condition that had triggered the spiral of ailments besetting Weisman and Rogolsky's other two, very sick patients."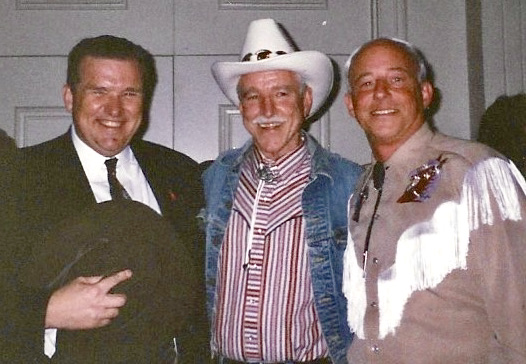 Weisman later recalled to the Washington Post that "what this represented was the tip of the iceberg. My sense was that these people were sick and we had a lot of people that were potentially right behind them."
There were other missed signs, such as the CDC getting increasing requests for pentamidine, used to treat pneumocystis pneumonia. Gottlieb says that after his first report, the CDC's Sandra Ford confirmed that she was sending increasing shipments of Pentamidine around the country. "But I'm not sure any infectious disease doctor there knew or investigated why they were seeing a run on pentamidine or asked what that meant," Gottlieb told the Los Angeles Blade. Later pentamidine became "the second line therapy for pneumocystis," after Bactrim. 
Pentamidine "caused kidney problems, so we didn't like it. Eventually, aerosolized Pentamidine became one of the preventatives. We didn't realize at first that pneumocystis would happen in multiple episodes. Like a patient would have pneumocystis, we treated, it would clear and they'd go home for a month and then they'd get it again. We didn't learn until later that we had to do something to prevent recurrences. And that's where aerosolized Pentamidine came in doing a monthly breathing treatment."
Though being gay was highlighted as a high-risk factor, race was largely left out of reports until 1983, despite the fact that Gottlieb's fifth patient in his June 5, 1981 CDC article was Black. Gottlieb remembers him as a previously healthy 36-year-old gay Black balding man named Randy, referred to him in April by a West Side internist.
But Randy's race was not included in that first report, nor was the omission caught by the MMWR editors, probably, Gottlieb speculates, because they were focused on collecting disease data while they struggled to save their dying patients. Gottlieb views the absence of race "as an omission and as an error" because demographic data is "good form as a doctor because it is important." If race was not included in the MMWR, it was an unconscious omission."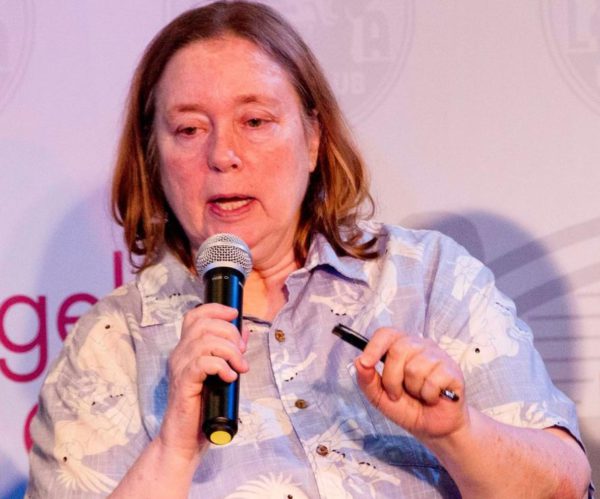 Karen Ocamb is the Director of Media Relations for Public Justice, a national nonprofit legal organization that advocates and litigates in the public interest.
The former News Editor of the Los Angeles Blade, Ocamb is a longtime chronicler of the lives of the LGBTQ community in Southern California.
Editor's note; The photo of a dying David Kirby in Ohio in 1990 by photographer Therese Fare was labeled by LIFE Magazine as the photo that changed the face of AIDS. To read the story and to see a gallery of addition photos visit here; (LINK)
This is Part 2 of a series on AIDS @40. Part 3 looks at Rep. Henry Waxman's congressional hearing in LA and the creation of AIDS Project Los Angeles.
40 years later, activism, resilience, hope and remembrance
Speaker Pelosi & Congresswoman Lee laid a wreath at the Memorial, joined by San Francisco Mayor Breed & National AIDS Memorial CEO Cunningham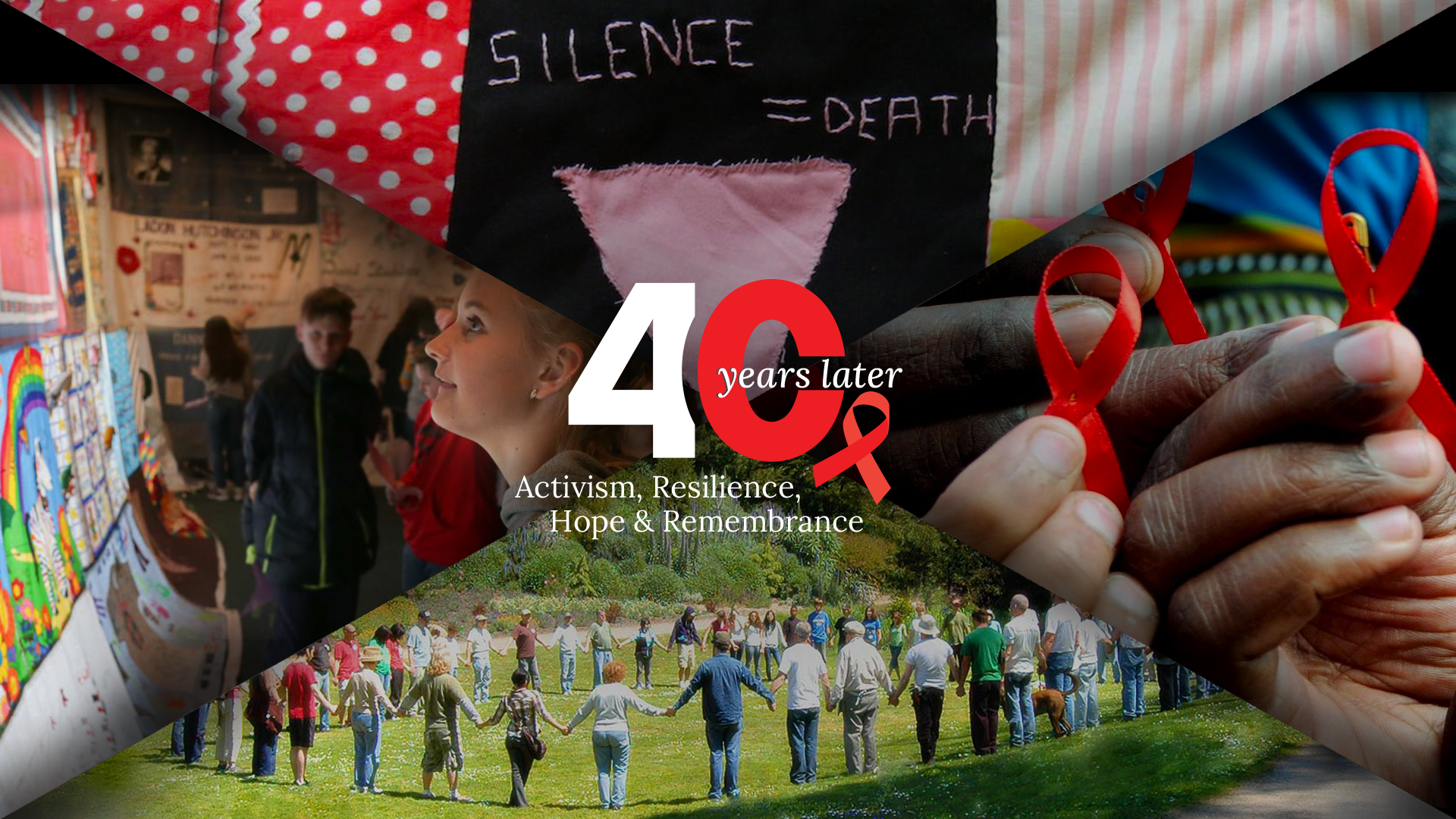 SAN FRANCISCO – Leaders of the AIDS movement came together in the National AIDS Memorial – the nation's federally-designated memorial to AIDS – to mark forty years since the first cases of AIDS were reported in the United States.
Surrounded by the power of 40 blocks of the AIDS Memorial Quilt and the beauty of the 10-acre Memorial Grove where thousands of names lost to AIDS are engraved, the leaders paid tribute to the more than 700,000 lives lost, the survivors, and the heroes during the past four decades. They also called for renewed action to provide care for long-term survivors, young people living with HIV today, and finding a cure that will finally end the epidemic.
"On this solemn day, forty years since the discovery of HIV/AIDS, Americans pay tribute to the hundreds of thousands of Americans we have lost to this vicious disease and draw strength from the more than one million courageous survivors living with HIV today," said Speaker Nancy Pelosi. "Moved by the beauty of the Grove and power of the Quilt, this morning we again renewed our vow to finally defeat the scourge of AIDS and bring hope and healing to all those affected. Thanks to the tireless leadership of activists, survivors, scientists and the LGBTQ community, we will not relent until we banish HIV to the dustbin of history and achieve an AIDS-free generation."
Speaker Pelosi and Congresswoman Barbara Lee laid a wreath at the Memorial, joined by San Francisco Mayor London Breed, former U.S. Ambassador James Hormel, and other AIDS leaders to honor loved ones lost with prayer and a moment of silence. During a formal program that followed, two generations of advocates spoke of the activism, resilience, hope and remembrance that has defined the AIDS movement and helped shape other health and social justice movements during the past four decades.
The commemoration, which was streamed to a national audience, raised greater awareness about the plight of HIV/AIDS today, the progress made, and the continued fight against stigma and discrimination. The observance also honored long-term survivors and served as a call to action to finally find a cure, four decades later. HIV rates continue to rise in the U.S., with 1.2 million people living with HIV today, particularly impacting young people and communities of color.
"Forty years later we stand on the shoulders of trailblazers who understood that every person deserves empathy and care regardless of their health conditions or sexuality," said California Governor Gavin Newsom in a video message. "This current pandemic has shown us that health inequities still exist and it's up to each and every one of us to continue the fight and to never, ever accept the status quo."
Dr. Anthony Fauci, who introduced a tribute video to long-term survivors, said, "the accomplishments (over the past 40 years) are a direct result of the unique, long-standing partnerships that were forged and continue today between scientists, healthcare providers, industry and the HIV-affected community. The HIV/AIDS pandemic is not over. Ending the HIV pandemic is an achievable goal, one that will require that we collectively work together. As we honor the long-term HIV/AIDS survivors today and remember all that we've lost, we must rededicate our commitment and continue to advance our efforts to ending the HIV pandemic."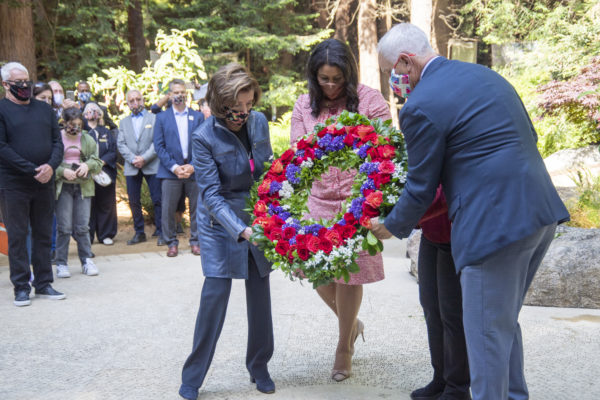 The day of public tributes and remembrance included a powerful 40 block outdoor public display of the AIDS Memorial Quilt that included more than 300 hand-sewn Quilt panels with nearly 1,200 names stitched into them. A group of young children whose parents serve on the Board of the National AIDS Memorial presented and helped unveil block 6,000of the Quilt to Quilt Co-Founders Cleve Jones and Gert McMullin, a reminder that four decades later, Quilt panels are still being sewn, to honor those lost to HIV/AIDS, then and now.
"These stories and this important observance highlight the issues our nation faced in the past year — a raging pandemic with hundreds of thousands of lives lost, social injustice, health inequity, stigma, bigotry and fear," said National AIDS Memorial Chief Executive John Cunningham. "However, these are also the same issues faced throughout four decades of the AIDS pandemic. They are reasons why today, we have a National AIDS Memorial, and why, as a nation, we have much more work to do in the fight for a just future, where HIV/AIDS no longer exists."
"The Quilt is a poignant and important reminder of why we must work with a sense of urgency to help end the epidemic," said Daniel O'Day, Chairman and CEO of Gilead Sciences. "It will take the ongoing collaborative efforts of many groups working together, including activists, advocates, scientists and the LGBTQ+ community, to ensure that in another 40 years from now, the HIV epidemic is part of history. Gilead partners with allies like the National AIDS Memorial to remember those we've lost and raise greater awareness about the root causes driving the HIV epidemic, such as stigma, racism, homophobia and transphobia."
Gilead Sciences is the presenting partner for the commemoration, joining together with Quest Diagnostics, Chevron, Vivent Health, Equality California and the San Francisco AIDS Foundation in supporting the day-long public observance.
Along with being invited to experience the 40 Quilt block display, the public was able to participate in the reading aloud the names of loved ones lost to AIDS, softly amplified in the Memorial. Throughout the day, visitors laid hundreds of roses in the Memorial Grove and left personal tributes. Touching musical performances from the San Francisco Gay Men's Chorus and the Messengers of Hope Gospel Choir, led by Earnest Larkins and featuring artists Ja Ronn and Flow, provided special inspirational moments.
A powerful spoken word performance, written and produced by Mary Bowman Arts in Activism awardee Ima Diawara and Pedro Zamora Young Leaders Scholar Antwan Matthews, highlighted the role of young people today in the fight against HIV/AIDS. They expressed, "the time has come for us to elevate. The time has come for us to watch out for everybody on the block, even the people that do not own the real estate. it's time to connect the wisdom of our elders with the wisdom of our youth and make life livable again, for all of us. It's time for us to slow down and most importantly – it's time to breathe."
The 40th anniversary commemoration observance can be viewed in its entirety at www.aidsmemorial.org. The National AIDS Memorial has also created a storytelling series, sharing a collection of heroes, survivors and lost loved ones to AIDS during the last four decades.
In West Hollywood, the Foundation for The AIDS Monument held a private groundbreaking event to commemorate the 40th Anniversary of the first CDC report related to AIDS. The event was held at the future site of STORIES: The AIDS Monument in West Hollywood Park.