Takano 'aghast' at proposed UC affiliation with restrictive Catholic hospitals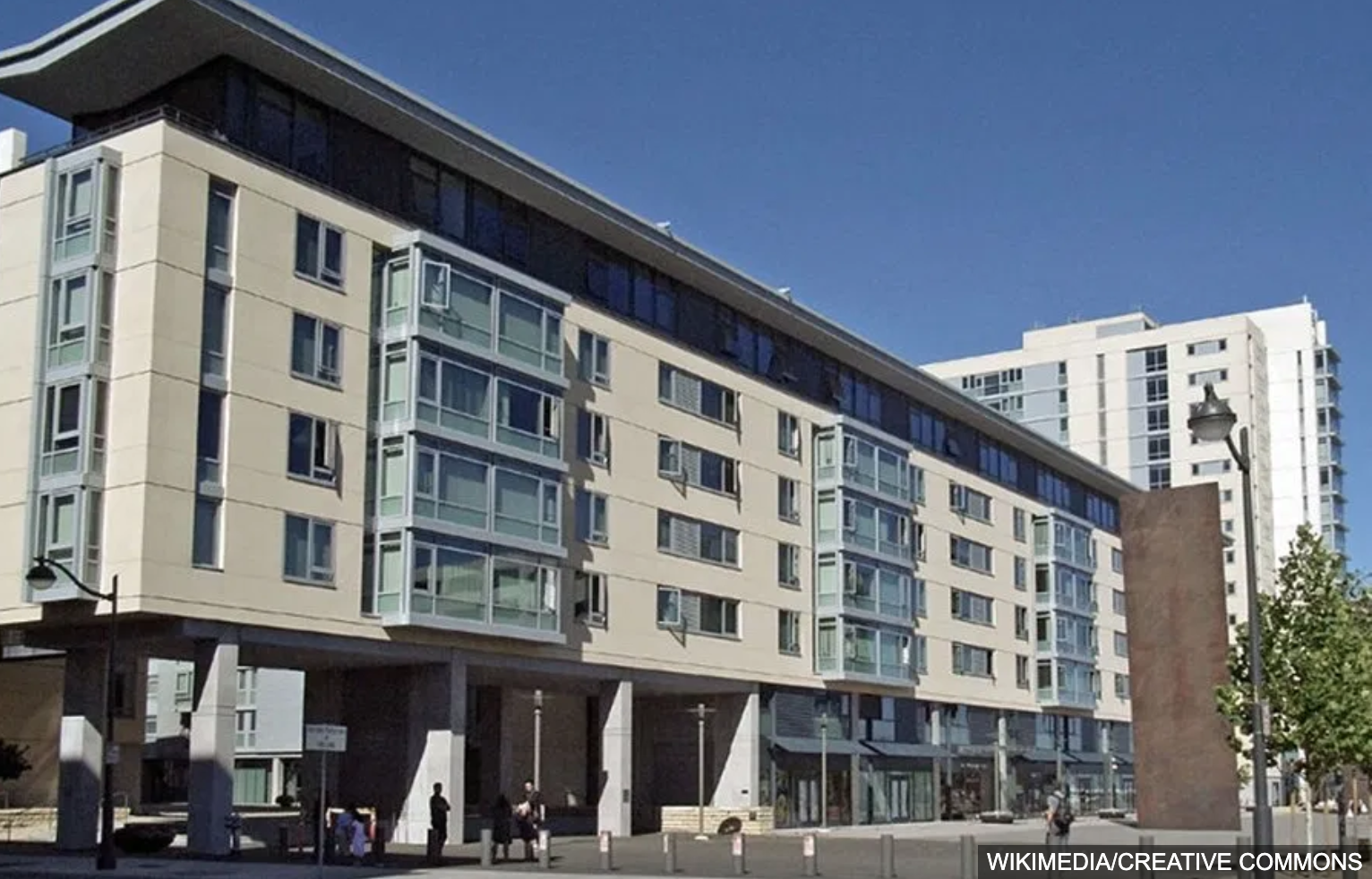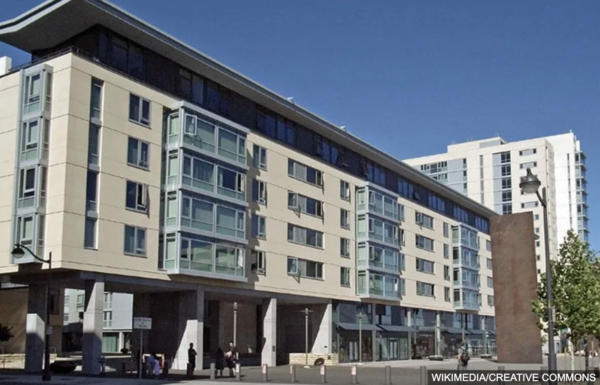 Dignity Health (Wikimedia photo via dailycal.org)
The California congressional delegation is "deeply alarmed" by proposed new healthcare rules governing the affiliation between the University of California and Catholic hospital systems that operate under religious restrictions.
Hospitals such as Dignity Health and St. Joseph Health adhere to the Ethical and Religious Directives (ERDs) set by the U.S. Conference of Catholic Bishops, not by medical professionals, New Ways Ministry reported last June. "Dignity Health operates by the ERDs at 17 out of 31 of their hospitals."
According to the ACLU, NCLR, and National Health Law,  "Contract language explicitly states that students and providers are restricted by Catholic Directives."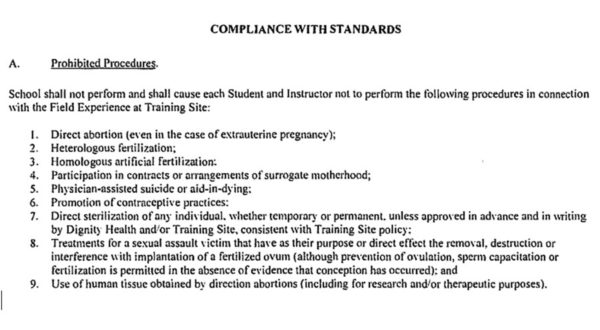 "The ERDs do not allow the prescription of any FDA-approved methods for preventing pregnancy including sterilization, elective abortion; assistive reproductive technology such as in-vitro fertilization (IVF) or the use of a surrogate for pregnancy; gender-affirming care such as hormone replacement therapy or surgery or physician-assisted aid in dying," The California Aggie reported June 5. "Some argue that partnering with Dignity restrict care to LGBTQ+ people, women, others argue more are harmed by not partnering."
A previous attempt to expand Dignity Health's affiliation with UC San Francisco (UCSF) was called off last year after 1,500 UCSF doctors and hospital staff signed a petition opposing the  proposed expansion. The UC Working Group on Comprehensive Access (WGCA) was formed to find a way forward but failed to reach a consensus.
In August 2019, the WGCA presented two options: UC Health-backed Option 1 would allow existing affiliations to continue, understanding that some people might be denied care because of the hospital's adherence to religious doctrine. Option 2 would discourage the continued affiliation.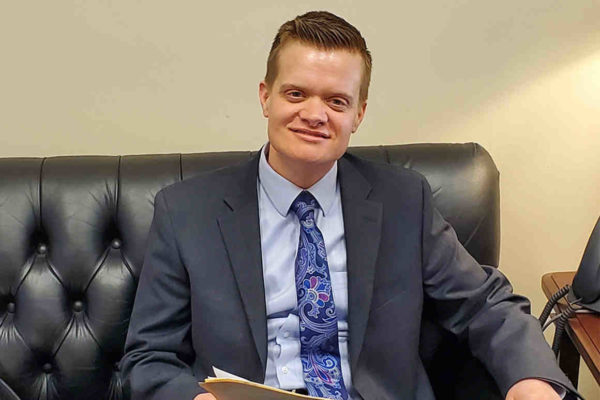 Evan Minton (Photo courtesy ACLU)
Evan Minton, a longtime California politico chair of the California Democratic Party LGBT caucus, was among the LGBTQ advocates who argued against the expanded relationship between UCSF and Dignity. He sued Dignity Health after his hysterectomy was cancelled because they learned he is a transgender man, about which he testified before Congress. The ACLU, which is representing him, argues that hospitals should not be able to "pick and choose" the care they provide to individual patients.
According to the student-run The Daily Californian, Dignity Health spokesperson Dan Loeterman said Dignity Health provides specialized services such as pediatric trauma programs, cancer treatment programs and behavioral health units that would not otherwise be available without the partnerships between UC Health and Dignity Health. "We are deeply committed to providing care to everyone, regardless of who they are," said Loeterman.
UCSF noted in a statement that about half of the state's doctors are trained through the UC system and without training at outside entities such as Dignity Health, UC would have to reduce its health-training enrollment, DailyCal.org reported.
Meanwhile, there is some concern the coronavirus pandemic may impact the Regents' decision. After all, "Catholic health systems control one in six hospital beds and are often the only location for treatment in some rural areas," New Ways Ministry reported last June 17.
The California congressional delegation wanted to register their disapproval.
In their Aug. 5 letter to UC President Dr. Michael Drake and the UC Regents, 39 out of 45 members of the Democratic delegation expressed "serious concerns" over UC's affiliations with hospitals and providers "that impose religious restrictions" limiting medically necessary care. "The consequences of denying this care are serious and can even be life-threatening," they wrote. (See the letter below)
Led by U.S. Reps. Barbara Lee (D-Oakland), Julia Brownley (D-Westlake Village), and Mark Takano (D-Riverside), the letter, issued with the backing of a coalition that includes NARAL Pro-Choice California, Equality California, and the ACLU of California, noted that many of the signers strongly oppose the Trump administration's Refusal of Care Rule, which they describe as a "dangerous, discriminatory regulation…designed to allow health care institutions and providers to deny patients information and treatment based on personal religious or moral beliefs."
Given the Trump administration's repeated attacks on "access to evidence-based health care," the members wrote, "it is deeply alarming that the University of California, which has long been a national leader in comprehensive reproductive and LGBTQ-inclusive care, would be willing to involve its providers and patients in arrangements that subject them to religious rules that hold that basic reproductive health care is impermissible, and that directly exclude LGBTQ patients. Reproductive and LGBTQ-inclusive care is fundamental, basic health care, and we in California should stand strong in protecting it."
They "strongly urge" the Board to vote against Option 1. "'Option 1' does not require that contracts with outside health systems affirmatively state that religious directives will not apply to UC providers and students. It also does not state that hospital policies prohibiting gender-affirming services for transgender people or reproductive health services violate UC's non-discrimination policy," they wrote.
The delegation also rejected the proposition that the affiliation is necessary "to expand health care access to underserved communities. In fact, hospitals with Catholic religious directives often prohibit many types of medical services that communities of color critically rely upon, particularly in the areas of reproductive and LGBTQ-inclusive health, where some of the deepest racial health inequities exist. Indeed, patients of color, low-income patients, people living with HIV and AIDS, and others who experience health disparities and systemic barriers to health care access are most in need of science-based, comprehensive care that is not limited by religious restrictions."
Moving forward with Option 1, "will send a message to the nation that it is permissible to impose such limits on care, just as the Trump administration has sought to do with the Refusal of Care Rule," the delegation wrote, urging the Regents to vote to reject 'Option 1' and "contracts that impose religious restrictions on UC providers and patients."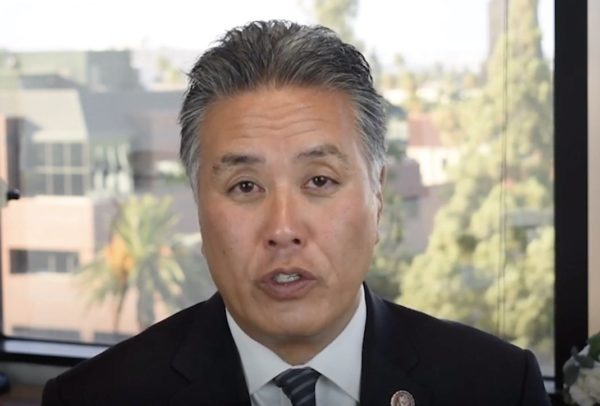 Rep. Mark Takano (screen grab of Takano online statement on Trump impeachment)
"We, as members of the California delegation, are fighting against members of the Trump administration but we're really aghast at the idea that within California, which should be using all of its muscle to ensure that discrimination does not occur in healthcare," Takano told the Los Angeles Blade. "The way they push back on this is they're saying they need to reach more people of color and low-income people."
Takano also noted that the LGBTQ community in Riverside County and all over low income areas – Latinos and African Americans, in particular — don't have access to HIV counseling and healthcare services.
"This is still one of the most significant healthcare challenges – the continued spread of HIV among low income people and people of color" who may not have access to or may not have even heard about PrEP, Takano said. "And this cannot be solved by entering into discriminatory contracts that will inhibit the ability to reach out to these populations. So, I reject the notion that they're going to reach more low-income people and people of color who need healthcare."
Takano challenged UC Health to come up with alternatives. "We should not be stuck with providers who insist on discrimination," he said.
"This really got brought to the Regents' attention because UC San Francisco was trying to get into a four- hospital agreement with Dignity Healthcare. But we blocked them," UC Board of Regents Chair John A. Perez told the Los Angeles Blade. "It was clearly the pattern of discrimination against LGBT folks, in particular transgender folks, but also the limitations on reproductive healthcare."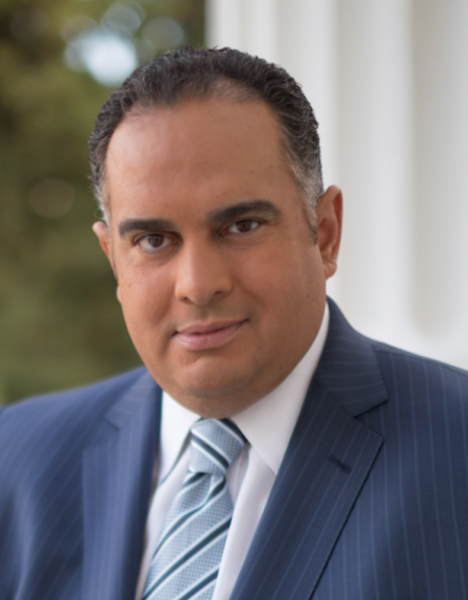 UC Board of Regents Chair John A. Perez, California Assembly Speaker Emeritus (Photo via Regents)
The issue is personal for Perez. "I have a friend who went into emergency labor and was refused a medically necessary tubal ligation, which put her in very dangerous circumstances," said Perez, an issue he addressed in open session.  "If you got an emergency room open to obstetrics and somebody comes in, in emergency labor, for you to put these constraints that are not based on science or medical best practice is fundamentally at odds with our obligation and our standards and our values as a public university hospital system."
Perez, who notes that he is one of three out LGBTQ Regents, is adamantly opposed to Option 1.
"I will do everything in my power to make sure Option 1 is never adopted," Perez said. "I believe that running a hospital or a health system and making decisions based on anything other than science — the medical best interest of the patient — is tantamount to the corporate practice of medicine, which California expressly prohibited by law."
Perez notes that the "thorny issue" raised by Option 1 has not yet been put forward. Meanwhile UC Health is focused on fighting the COVID-19 crisis. He disputes the notion of temporarily disregarding state and UC non-discrimination laws and core values to expand healthcare to low income people of color.
"We're serving not only our patients, but we're providing broader assistance to folks in other communities that aren't part of our hospitals," Perez said. "So, for example, Imperial County is about the most significantly impacted County in the state and we're taking patients from Imperial County — not only in San Diego and Irvine, but as far away as Davis. We're right now focused on direct patient care and direct research and helping turn the corner on COVID. And I think that really does speak to why nobody within the health operations has put this forward at this point."
More comments and the congressional letter:
"University of California clinicians should not have their hands tied from providing reproductive and LGBTQ inclusive care because of religious directives," said Rep. Lee. "While it is critically important to expand care to underserved communities, it should be comprehensive, not restricted care that is provided."
"It is imperative that all Californians have access to quality and affordable healthcare, regardless of their gender or sexual orientation," said Rep. Brownley. "The personal belief of healthcare providers should not be used to provide substandard care to classes of individuals. The University of California needs to make sure its actions do not narrow or restrict necessary healthcare, particularly for women and LGBTQ+ individuals, who have long faced roadblocks to getting the full healthcare they need and have a right to."
"The University of California should not be limiting access to healthcare for LGBTQ+ people, women or other marginalized people who already face tremendous barriers to treatment —but proposing to do so during a public health crisis is particularly offensive," said Equality California Executive Director Rick Chavez Zbur. "The UC is toeing a dangerous line by entertaining affiliations with hospitals that have long records of refusing LGBTQ+ inclusive and reproductive care. As Californians, we must — as we always have — set the example that everyone deserves care, regardless of religious belief, sexual orientation, the color of your skin or your gender identity."
"California is a national leader when it comes to safeguarding and expanding reproductive freedom and LGBTQ-inclusive care — which makes affiliations between the University of California and hospitals like Dignity Health, that categorically refuse to provide basic reproductive and gender-affirming care, all the more troubling," said Shannon Hovis, Director of NARAL Pro-Choice California. "Discriminatory restrictions imposed by Catholic health systems are an affront to California values, plain and simple. As the fourth-largest healthcare provider in the state, the UC has a public and moral responsibility to provide high-quality, evidence-based care, free from discrimination. With so much at stake for reproductive freedom and equality in 2020, we demand that the UC Regents take action to ensure that every body is able to access the care they need."
[pdf-embedder url="https://www.losangelesblade.com/content/files/2020/08/20.08.05.-Congressional-Letter-to-UC-Regents-on-UC-Healthcare-and-Dignity-1.pdf" title="20.08.05.-Congressional-Letter-to-UC-Regents-on-UC-Healthcare-and-Dignity"]
State employees & health care workers must show proof of vaccination
Newsom blasts 'right-wing echo chamber' for vaccine misinformation & claimed individuals refusing the vaccine are similar to drunk drivers.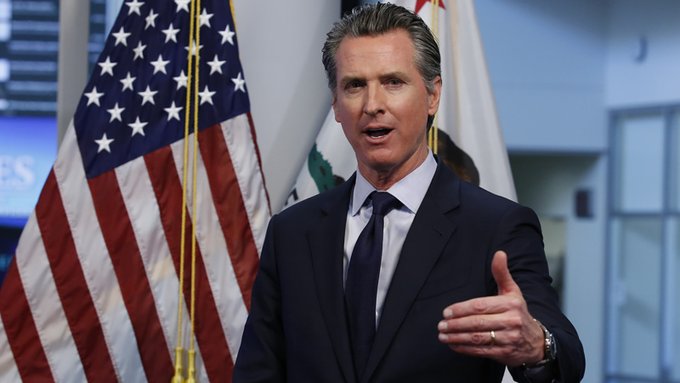 SACRAMENTO – As the Delta variant continues to surge driving coronavirus case numbers higher, Governor Gavin Newsom in a press conference Monday announced California is implementing a first-in-the-nation standard to require all state workers and workers in health care and high-risk congregate settings to either show proof of full vaccination or be tested at least once per week.
"We are now dealing with a pandemic of the unvaccinated, and it's going to take renewed efforts to protect Californians from the dangerous Delta variant," said Newsom. "As the state's largest employer, we are leading by example and requiring all state and health care workers to show proof of vaccination or be tested regularly, and we are encouraging local governments and businesses to do the same. Vaccines are safe – they protect our family, those who truly can't get vaccinated, our children and our economy. Vaccines are the way we end this pandemic."
The new policy for state workers will take effect August 2 and testing will be phased in over the next few weeks. The new policy for health care workers and congregate facilities will take effect on August 9, and health care facilities will have until August 23 to come into full compliance.
"Why now? It's pretty self evident. We went from 0.7%, the lowest positivity rate in America, just a handful of weeks ago, now to 5.3% positivity," Gov. Newsom says.

"We're seeing the number of people in hospitals increase from 900 to 3,000 today." pic.twitter.com/GO8MyiFwy2

— MSNBC (@MSNBC) July 26, 2021
Despite California leading the nation in vaccinations, with more than 44 million doses administered and 75 percent of the eligible population having received at least one dose, . This increase is heavily due to the Delta variant, which is more contagious and kills people faster:
As of last week, California's statewide case rate more than quadrupled from a low in May of 1.9 cases/100,000/day to at least 9.5 cases/100,000.
The testing positivity was at a low of 0.7 percent in June, now it has risen to 5.2 percent.
Hospitalizations were at a low in June of under 900, and the state numbers are now approaching 3,000.
The vast majority of new cases are among the unvaccinated, with 600 percent higher case rates among the unvaccinated than for those who are vaccinated.
"California has administered more vaccines than any other state, with 75 percent of those eligible having gotten at least one dose, and we were weeks ahead of meeting President Biden's 70 percent goal. But we must do more to fight disinformation and encourage vaccine-hesitant communities and individuals," said California's Health and Human Services Secretary Dr. Mark Ghaly. "The Delta variant is up to 60 percent more infectious than the Alpha strain but many times more infectious than the original COVID-19 strain. If you have been waiting to get vaccinated, now is the time."
Appearing on MSNBC, Newsom aggressively lashed out at some conservatives after being asked what the governor attributed to those 25% of Californians who remain unvaccinated. Newsom responded by saying he credited "[an] overwhelming majority of misinformation by right-wing pundits.
California to require vaccinations or frequent testing of state workers:
Appearing on MSNBC and CNN, Newsom claimed that individuals who refused to take the vaccine posed a risk to the public similar to drunk driving.
"It's like drunk drivers, you don't have the right to go out and drink and drive and put everybody else at risk including your own life," the governor said.
Newsom also denounced high-profile conservatives, including Fox News host Tucker Carlson. In a harsh exchange on Twitter, Newsom aggressively put down an attack by Georgia Rep. Marjorie Taylor Greene (R) a noted QAnon and conspiracy afficando:
Disgraceful? Here's a word — murderous.

Your anti-vaccine lies are literally killing Americans. Your own supporters are following you off a cliff and into the ICU.

Come clean about vaccines — they save lives. https://t.co/pJjlzJ3TVJ

— Gavin Newsom (@GavinNewsom) July 26, 2021
.@AymanM: What do you attribute those 25% that have remain unvaccinated? What do you attribute that to in your state?

California Gov. Newsom: Overwhelming majority of misinformation by right-wing pundits. pic.twitter.com/GLPQNnSop9

— MSNBC (@MSNBC) July 26, 2021
In addition to these new measures, the state continues its efforts to vaccinate Californians. Last week, California surpassed 2 million newly vaccinated individuals since launching its incentive program, Vax for the Win. The program increased HPI Q1 vaccinations, and increased doses administered to the Latinx population by 10 percent. It also successfully slowed the rate of decline that California was experiencing in vaccination rates.
The program's peak showed a 33 percent increase in vaccinations, "outpacing the inoculation trends in much of the country," including more recently a 4.4 percent increase for the week ending July 14 – a promising sign in California, as vaccination rates declined nationwide.
Governor Newsom signs HIV & Aging Act authored by Sen. John Laird
Sponsors of SB 258 include Equality California, AIDS Project Los Angeles (APLA) Health, Services & Advocacy for GLBT Elders (SAGE)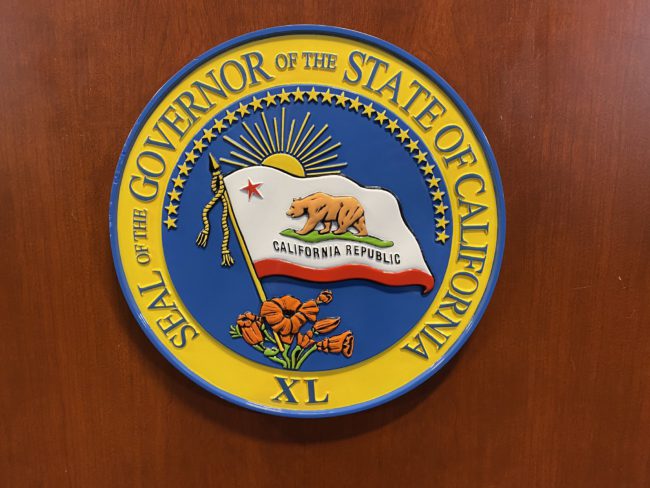 SACRAMENTO – On Friday Governor Gavin Newsom announced the signing of Senate Bill 258, the HIV & Aging Act, authored by Senator John Laird (D – Santa Cruz). Senate Bill 258 will ensure HIV+ seniors are included in the definition of "greatest social need".
"When I was the Santa Cruz AIDS Agency Director in the 1980's, it was our dream to have people living with HIV live into old age," said Senator Laird. "To be very clear, this group was not supposed to age. Governor Newsom signing the HIV & Aging Act is a historic moment for the LGBTQ community, and all those who have been affected by the HIV crisis."
With the recent advancements in HIV treatment, people with HIV can keep the virus suppressed and live long and healthy lives. For this reason, the number of HIV positive older people is increasing. According to a 2018 California HIV Surveillance Report published by the California Department of Public Health, over half of the people living with the virus in California are now aged 50 years or older. This same report shows that 15 percent of newly diagnosed patients were age 50 and older in that same year.
Sponsors of SB 258 include Equality California, AIDS Project Los Angeles (APLA) Health, Services & Advocacy for GLBT Elders (SAGE), and the Los Angeles LGBT Center.

Equality California Legislative Director Tami A. Martin notes, "After surviving the darkest days of the AIDS epidemic, many Californians living with HIV are now over the age of 50, but in dire need of support. Thanks to Governor Newsom, Senator Laird and HIV advocates, the Golden State will now make sure that our elders living with HIV have access to food assistance, job training, transportation or any other vital services. We applaud Governor Gavin Newsom for signing the HIV & Aging Act into law, making California just the second state to ensure older Californians living with HIV don't just continue to survive, but thrive."
"Thanks to effective treatments, people with HIV are living longer than we could have ever imagined just a few decades ago and now a majority of people with HIV in California are over 50 years old. Unfortunately, our current health and social service systems are not yet prepared to address the unique needs of this population," APLA Health Chief Executive Officer Craig E. Thompson said adding; "Many older people with HIV are long term survivors of the AIDS epidemic. They have lost countless loved ones and entire networks of social support. They also continue to face discrimination and alarming levels of stigma. We thank Senator Laird for his leadership on this historic bill to ensure that people aging with HIV have the resources and support they need to thrive and age with dignity."
"We must ensure that LGBTQ seniors have the affirming care and support so they can age in peace with dignity," stated Laird. "It's incumbent upon us to not force individuals back into the closet for them to access adequate care. Once again, I'd like to applaud the Governor for his continued support of the LBGTQ community and to my colleagues for making this a priority bill."
The HIV & Aging Act received unanimous bipartisan support through both chambers of the Legislature and is a legislative priority for the California Legislative LGBTQ Caucus.
Senate Bill 258 will go into effect January 1, 2022.
Fauci says CDC may now back masks as Delta variant explodes
Caused by the Delta variant, 40% of all cases reported in the United States occurred in three states, Texas, Missouri and Florida.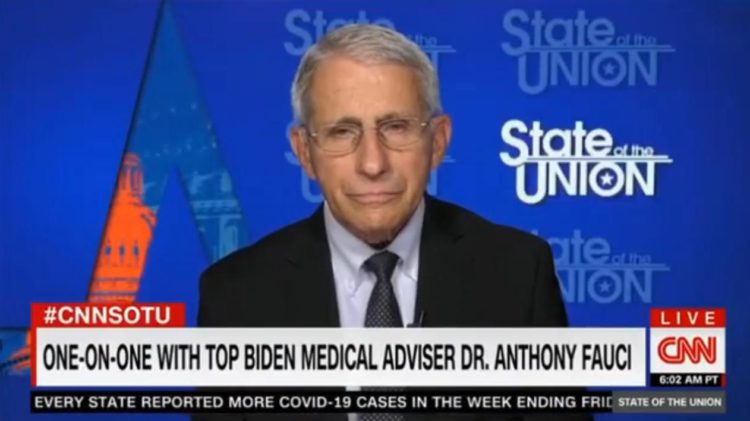 WASHINGTON – Dr. Anthony Fauci told CNN's Sunday morning political talk show "State of the Union" that he's taken part in conversations about the U.S. Centers for Disease Control and Prevention altering its masking guidelines, which he described as being "under active consideration."
Fauci, the chief medical advisor to President Joe Biden, also acknowledged that in some jurisdictions where infection rates are surging are already mandating individuals to wear masks in public regardless of their vaccination status. He added those mandates are not incompatible with the CDC's recommendation that the vaccinated don't need to wear masks in public.
CNN's Jake Tapper pointed out that in the most recent surge caused by the Delta variant, 40% of all coronavirus cases reported in the United States occurred in three states, Texas, Missouri and Florida. Tapper and Fauci both noted that the sudden explosion in COVID-19 was primarily caused by those Americans, 12-years-old and older who remained unvaccinated.
Politico reported that the Republican governor of Arkansas on Sunday said resistance to the coronavirus vaccine "has hardened" in some areas of the state, blaming the hesitancy on "false information" and "myths."
"I don't know if I underestimated it, but, certainly, the resistance has hardened in certain elements, and is simply false information," Gov. Asa Hutchinson said in an interview on CNN's "State of the Union."
"It is myths. As I go into these town hall meetings, someone said: Don't call it a vaccine. Call it a bioweapon. And they talk about mind control," Hutchinson said. "Well, those are obviously erroneous. Other members of the community correct that."
Arkansas governor blames 'myths' for 'hardened' vaccine resistance https://t.co/IfuC32sGkr

— POLITICO Pro (@POLITICOPro) July 25, 2021
Delta Variant Fuels Surge Of New Cases Across U.S.