August 13, 2020 at 9:21 am PDT | by Karen Ocamb
Takano 'aghast' at proposed UC affiliation with restrictive Catholic hospitals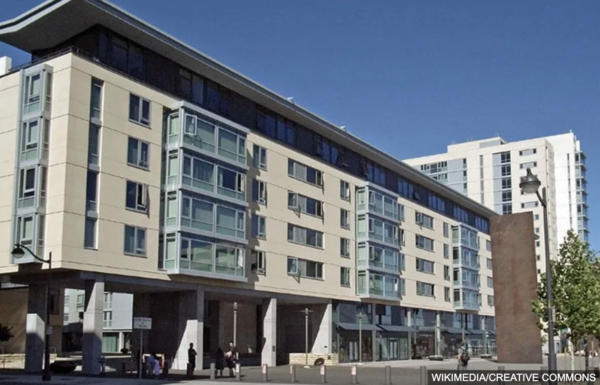 Dignity Health (Wikimedia photo via dailycal.org)
The California congressional delegation is "deeply alarmed" by proposed new healthcare rules governing the affiliation between the University of California and Catholic hospital systems that operate under religious restrictions.
Hospitals such as Dignity Health and St. Joseph Health adhere to the Ethical and Religious Directives (ERDs) set by the U.S. Conference of Catholic Bishops, not by medical professionals, New Ways Ministry reported last June. "Dignity Health operates by the ERDs at 17 out of 31 of their hospitals."
According to the ACLU, NCLR, and National Health Law,  "Contract language explicitly states that students and providers are restricted by Catholic Directives."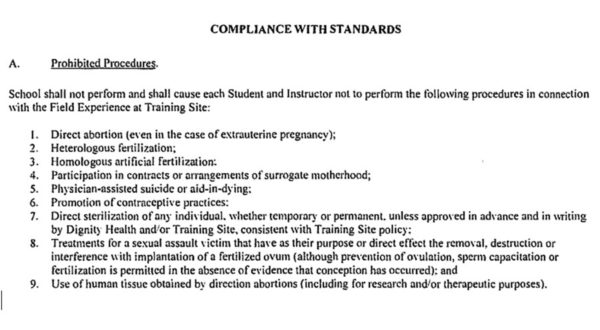 "The ERDs do not allow the prescription of any FDA-approved methods for preventing pregnancy including sterilization, elective abortion; assistive reproductive technology such as in-vitro fertilization (IVF) or the use of a surrogate for pregnancy; gender-affirming care such as hormone replacement therapy or surgery or physician-assisted aid in dying," The California Aggie reported June 5. "Some argue that partnering with Dignity restrict care to LGBTQ+ people, women, others argue more are harmed by not partnering."
A previous attempt to expand Dignity Health's affiliation with UC San Francisco (UCSF) was called off last year after 1,500 UCSF doctors and hospital staff signed a petition opposing the  proposed expansion. The UC Working Group on Comprehensive Access (WGCA) was formed to find a way forward but failed to reach a consensus.
In August 2019, the WGCA presented two options: UC Health-backed Option 1 would allow existing affiliations to continue, understanding that some people might be denied care because of the hospital's adherence to religious doctrine. Option 2 would discourage the continued affiliation.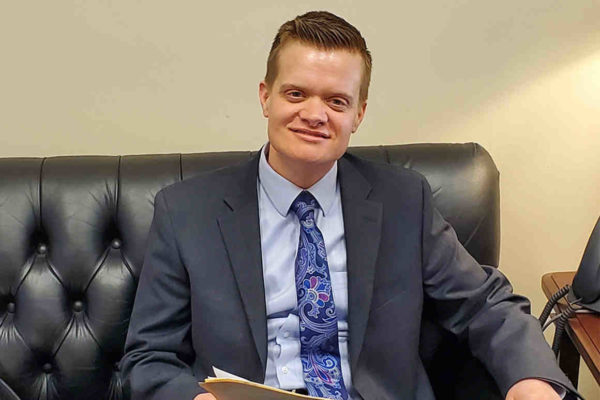 Evan Minton (Photo courtesy ACLU)
Evan Minton, a longtime California politico chair of the California Democratic Party LGBT caucus, was among the LGBTQ advocates who argued against the expanded relationship between UCSF and Dignity. He sued Dignity Health after his hysterectomy was cancelled because they learned he is a transgender man, about which he testified before Congress. The ACLU, which is representing him, argues that hospitals should not be able to "pick and choose" the care they provide to individual patients.
According to the student-run The Daily Californian, Dignity Health spokesperson Dan Loeterman said Dignity Health provides specialized services such as pediatric trauma programs, cancer treatment programs and behavioral health units that would not otherwise be available without the partnerships between UC Health and Dignity Health. "We are deeply committed to providing care to everyone, regardless of who they are," said Loeterman.
UCSF noted in a statement that about half of the state's doctors are trained through the UC system and without training at outside entities such as Dignity Health, UC would have to reduce its health-training enrollment, DailyCal.org reported.
Meanwhile, there is some concern the coronavirus pandemic may impact the Regents' decision. After all, "Catholic health systems control one in six hospital beds and are often the only location for treatment in some rural areas," New Ways Ministry reported last June 17.
The California congressional delegation wanted to register their disapproval.
In their Aug. 5 letter to UC President Dr. Michael Drake and the UC Regents, 39 out of 45 members of the Democratic delegation expressed "serious concerns" over UC's affiliations with hospitals and providers "that impose religious restrictions" limiting medically necessary care. "The consequences of denying this care are serious and can even be life-threatening," they wrote. (See the letter below)
Led by U.S. Reps. Barbara Lee (D-Oakland), Julia Brownley (D-Westlake Village), and Mark Takano (D-Riverside), the letter, issued with the backing of a coalition that includes NARAL Pro-Choice California, Equality California, and the ACLU of California, noted that many of the signers strongly oppose the Trump administration's Refusal of Care Rule, which they describe as a "dangerous, discriminatory regulation…designed to allow health care institutions and providers to deny patients information and treatment based on personal religious or moral beliefs."
Given the Trump administration's repeated attacks on "access to evidence-based health care," the members wrote, "it is deeply alarming that the University of California, which has long been a national leader in comprehensive reproductive and LGBTQ-inclusive care, would be willing to involve its providers and patients in arrangements that subject them to religious rules that hold that basic reproductive health care is impermissible, and that directly exclude LGBTQ patients. Reproductive and LGBTQ-inclusive care is fundamental, basic health care, and we in California should stand strong in protecting it."
They "strongly urge" the Board to vote against Option 1. "'Option 1' does not require that contracts with outside health systems affirmatively state that religious directives will not apply to UC providers and students. It also does not state that hospital policies prohibiting gender-affirming services for transgender people or reproductive health services violate UC's non-discrimination policy," they wrote.
The delegation also rejected the proposition that the affiliation is necessary "to expand health care access to underserved communities. In fact, hospitals with Catholic religious directives often prohibit many types of medical services that communities of color critically rely upon, particularly in the areas of reproductive and LGBTQ-inclusive health, where some of the deepest racial health inequities exist. Indeed, patients of color, low-income patients, people living with HIV and AIDS, and others who experience health disparities and systemic barriers to health care access are most in need of science-based, comprehensive care that is not limited by religious restrictions."
Moving forward with Option 1, "will send a message to the nation that it is permissible to impose such limits on care, just as the Trump administration has sought to do with the Refusal of Care Rule," the delegation wrote, urging the Regents to vote to reject 'Option 1' and "contracts that impose religious restrictions on UC providers and patients."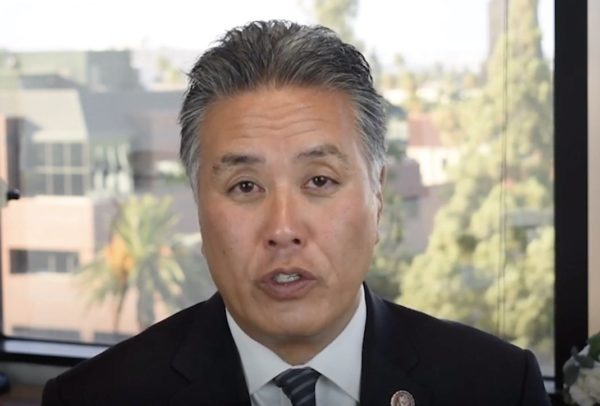 Rep. Mark Takano (screen grab of Takano online statement on Trump impeachment)
"We, as members of the California delegation, are fighting against members of the Trump administration but we're really aghast at the idea that within California, which should be using all of its muscle to ensure that discrimination does not occur in healthcare," Takano told the Los Angeles Blade. "The way they push back on this is they're saying they need to reach more people of color and low-income people."
Takano also noted that the LGBTQ community in Riverside County and all over low income areas – Latinos and African Americans, in particular — don't have access to HIV counseling and healthcare services.
"This is still one of the most significant healthcare challenges – the continued spread of HIV among low income people and people of color" who may not have access to or may not have even heard about PrEP, Takano said. "And this cannot be solved by entering into discriminatory contracts that will inhibit the ability to reach out to these populations. So, I reject the notion that they're going to reach more low-income people and people of color who need healthcare."
Takano challenged UC Health to come up with alternatives. "We should not be stuck with providers who insist on discrimination," he said.
"This really got brought to the Regents' attention because UC San Francisco was trying to get into a four- hospital agreement with Dignity Healthcare. But we blocked them," UC Board of Regents Chair John A. Perez told the Los Angeles Blade. "It was clearly the pattern of discrimination against LGBT folks, in particular transgender folks, but also the limitations on reproductive healthcare."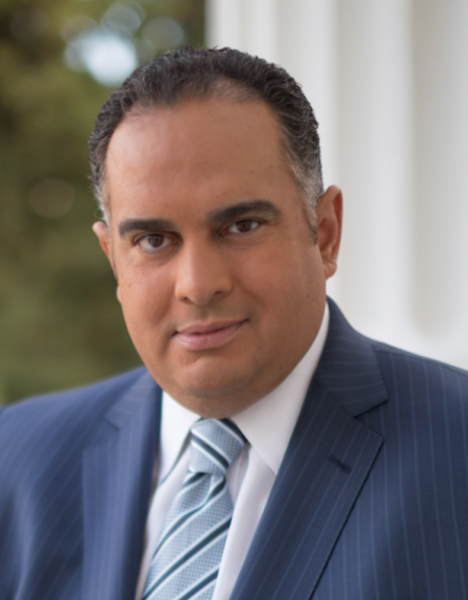 UC Board of Regents Chair John A. Perez, California Assembly Speaker Emeritus (Photo via Regents)
The issue is personal for Perez. "I have a friend who went into emergency labor and was refused a medically necessary tubal ligation, which put her in very dangerous circumstances," said Perez, an issue he addressed in open session.  "If you got an emergency room open to obstetrics and somebody comes in, in emergency labor, for you to put these constraints that are not based on science or medical best practice is fundamentally at odds with our obligation and our standards and our values as a public university hospital system."
Perez, who notes that he is one of three out LGBTQ Regents, is adamantly opposed to Option 1.
"I will do everything in my power to make sure Option 1 is never adopted," Perez said. "I believe that running a hospital or a health system and making decisions based on anything other than science — the medical best interest of the patient — is tantamount to the corporate practice of medicine, which California expressly prohibited by law."
Perez notes that the "thorny issue" raised by Option 1 has not yet been put forward. Meanwhile UC Health is focused on fighting the COVID-19 crisis. He disputes the notion of temporarily disregarding state and UC non-discrimination laws and core values to expand healthcare to low income people of color.
"We're serving not only our patients, but we're providing broader assistance to folks in other communities that aren't part of our hospitals," Perez said. "So, for example, Imperial County is about the most significantly impacted County in the state and we're taking patients from Imperial County — not only in San Diego and Irvine, but as far away as Davis. We're right now focused on direct patient care and direct research and helping turn the corner on COVID. And I think that really does speak to why nobody within the health operations has put this forward at this point."
More comments and the congressional letter:
"University of California clinicians should not have their hands tied from providing reproductive and LGBTQ inclusive care because of religious directives," said Rep. Lee. "While it is critically important to expand care to underserved communities, it should be comprehensive, not restricted care that is provided."
"It is imperative that all Californians have access to quality and affordable healthcare, regardless of their gender or sexual orientation," said Rep. Brownley. "The personal belief of healthcare providers should not be used to provide substandard care to classes of individuals. The University of California needs to make sure its actions do not narrow or restrict necessary healthcare, particularly for women and LGBTQ+ individuals, who have long faced roadblocks to getting the full healthcare they need and have a right to."
"The University of California should not be limiting access to healthcare for LGBTQ+ people, women or other marginalized people who already face tremendous barriers to treatment —but proposing to do so during a public health crisis is particularly offensive," said Equality California Executive Director Rick Chavez Zbur. "The UC is toeing a dangerous line by entertaining affiliations with hospitals that have long records of refusing LGBTQ+ inclusive and reproductive care. As Californians, we must — as we always have — set the example that everyone deserves care, regardless of religious belief, sexual orientation, the color of your skin or your gender identity."
"California is a national leader when it comes to safeguarding and expanding reproductive freedom and LGBTQ-inclusive care — which makes affiliations between the University of California and hospitals like Dignity Health, that categorically refuse to provide basic reproductive and gender-affirming care, all the more troubling," said Shannon Hovis, Director of NARAL Pro-Choice California. "Discriminatory restrictions imposed by Catholic health systems are an affront to California values, plain and simple. As the fourth-largest healthcare provider in the state, the UC has a public and moral responsibility to provide high-quality, evidence-based care, free from discrimination. With so much at stake for reproductive freedom and equality in 2020, we demand that the UC Regents take action to ensure that every body is able to access the care they need."
20.08.05.-Congressional-Letter-to-UC-Regents-on-UC-Healthcare-and-Dignity