August 18, 2020 at 10:00 pm PDT | by Roman Navarrette
AOC — an ally for LGBTQ+ Latino community
"What am I supposed to be? According to you – What am I supposed to be?"
In a book of essays on AOC-Alexandria Ocasio – Cortez which dropped last week, Editor Lynda Lopez reflects on a moment growing up in which she was stereotyped and put in a box which she connects with a similar moment revolving around AOC when the then 28-year old was running for Congress.
It's something we as Gay Latinos also have had to overcome growing up even amongst our own traditional families. What am I supposed to be? Macho? We understand firsthand, stereotypical archetypes so when we see a Young Latina from The Bronx beat her 10-term incumbent opponent, Joe Crowley in 2018, to become the youngest woman in Congress, we take notice and we rally around her. An ally to no end and someone who built their platform on the idea that marginalized communities deserve better.
Gay men appreciate female beauty. Arguably it can be noted that the highest compliment a woman can get is from a Gay man. Combine Beauty with brains and amazing public speaking skills and you have gold. This is AOC.
The red lipstick. AOC's trademark and a symbol all its own for Gay Latinos. Was it our Mom rocking it while we were growing up or another Latina, Lynda Carter as Wonder Woman, who ignited our love for it and taught us that Latinas who chose to go bold with red lips were fearless?
When I was an undergrad at UC Berkeley in the 90's, many Latinas on campus had a signature look. For some it varied – great style, full long hair, hoop earrings, boots in the winter. One staple never deviated – freshly applied red lipstick. It was a look. It was a sense of power and many times it could be viewed as a piece of armor. Another Latina back then also used it as her signature look as she was climbing the Latin music charts – Tejana, Selena Quintanilla. Gay Latinos revere Selena.
In her book introduction, Lopez (the younger sister of Jennifer, another Icon of the Gay community) gives a nod to other Latinas who have also applied that red lipstick in small bathroom mirrors as they prepare to leave their apartments to conquer the world.
It's no secret that Gay men love our female allies and they love us right back. AOC showed us just how much when she joined the judge's panel earlier this year of RuPaul's Drag Race. Que…Que? Could a member of Congress actually guest judge on a show that has become a part of our DNA?
AOC made no secret of the fact that she is a huge fan of the show. While the Queens were in awe of the fact that she was there front and center for the Madonna themed episode, she in turn gave them that respect right back acknowledging she was on their turf and praised them for their fearlessness – bucket list, checked.
Our community relishes its ties to AOC. When we see her expressing how Rep. Yoho, called her a "F***ing Bitch" and then tried to give a half-ass apology after the fact, we not only feel the urge to rally around her, but we acknowledge our own mothers in this struggle. We think of our nieces or our daughters. We also thank people like Gabrielle Union and Janelle Monae for doing publicly what our community also does in a time like this – have AOC's back.
Like AOC, we know firsthand what it's like to demand respect from our peers. We want to see ourselves as leaders. For a community that is very influential we've yet to reach many heights. We are happy to enjoy this ride with one of our biggest allies and find it amusing knowing that she is garnering support from the likes of Cardi B. and Ava Duvernay, with the former encouraging AOC to run for President in 2024.
Certainly not out of the question. And we certainly want to see more of this Bronx born, Latina on the rise.
"AOC is a new force of change for America's next phase as a democracy and the idea of our social fabric, values and identity as a country and global leader", expressed HONOR PAC's President, Mario Ceballos.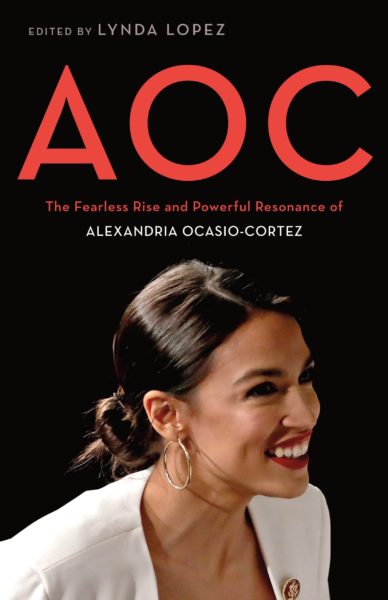 Originating in 2005, HONOR PAC quickly became an authority on Latinx LGBTQ+ political action and whose Board of Directors is comprised of professionals committed to giving the LGBTQ+ Latinx community a voice in government affairs.
"The Latinx community, especially our young generations, embrace AOC's vision because it is akin to our own idea of our culture's collective strength, success, family and community.
I have no doubt that under an AOC vision, America will return to being a strong, respected nation but it will need, more than ever, to find its role in a new world order that is more diverse, inclusive, and complex given the geopolitical, economic and climate change disparities and issues impacting our, nation, global community and planet," added Ceballos.
Ceballos is correct and the idea of inclusiveness across the board is the very fabric that AOC's rise was conceived on as best exemplified in the popular Netflix documentary, Knock the House Down. It is here we learn the very core of AOC's being. Beating the odds, advocating for the everyday people tired of feeling like the "other" and tired of being unheard – LGBTQ+ community amongst them.
At the end of the documentary after she defeats Crowley, she takes a stroll with her long-term boyfriend, Riley Roberts, just outside the nation's capital. A good-looking white male jogger passes her by and screams, "I love you". To which she simply responds, "Aww…thank you". In my mind there is no question – that is yet another Gay man, proving her allure crosses all ethnicities within the LGBTQ+ community.
When it comes to AOC, our community, doesn't need to wonder who "she is supposed to be". The answer is simple and who she has always been – one of our biggest allies, fighting for our rights, amongst everyone else's.
Pick up a copy of The Fearless Rise and Powerful Resonance of Alexandria Ocasio Cortez, now at your local bookstore or buy it here.