August 26, 2020 at 4:13 pm PDT | by Ebony Ava Harper
UK 'detransition' advocate opposes California trans legislation
Growing up in South Central Los Angeles in the '80s was traumatic for a Black trans kid. I have vivid flashbacks of being in the Black church having the "gay demon" prayed out of me. I was rejected and beat relentlessly until I had welts all over my body.  Those that were supposed to protect me brought me great harm, to my core.
Finally, at 13 years old, I hopped on the 212 bus to Hollywood and found my tribe. Most Black trans women I know have similar stories. We know hardship, but we also know resilience.
Thanks to California legislators, a few of us can live somewhat healthy lives. It wasn't like that even five years ago.
However, a growing campaign of hostility and manipulation is in our midst. Amid a global health crisis, the continued murder of Black trans women, civil unrest due to racism, and the Trump administration continually attacking the civil rights of transgender Americans, we are witnessing a different kind of British invasion.
No, it's not the pleasant tunes of Sade, The Beatles, The Rolling Stones, Estelle, Adele, or George Michael. It's a separatist culture threatening the rights and advancements of transgender, gender-nonconforming, and intersex Americans. Unsurprisingly, it harms Black trans women the most.
UK's Exclusionary Feminism is harmful to Black trans women This invasion is called the "Gender Critical Movement."
One of the movement leaders, Charlie Evans, has positioned herself as the authority on "detransitioning," or as they call it, "detrans" for short. Evans is frolicking with what is known colloquially as Trans Exclusionary Radical Feminists, or "TERF" for short, taking their radical exclusionary stances on trans women and practicing their deceptive moves right here in our California politics to fuel her organization's development.
The Gender Critical Movement is partnering with fringe-right Christian groups including the California Family Council to attack our vulnerable, yet resilient, trans community. The founder of the British organization, Detransition Advocacy Network, Evans, is now an international manipulator, a grifter roaming to feed off the vulnerable.
What's also troubling is Evans and her newly formed British organization is in California opposing Assembly Bill 2218 (AB2218), a bill supported by Bamby Salcedo, The TransLatina Coalition, California TRANScends, Gender Health Center, and a coalition of trans-led organizations throughout the state.
AB2218 would support trans-led organizations and programs through this global health pandemic. We're not seen as a priority, and we need support to help our community members. We're already under-resourced. The California trans community has a high percentage of trans people of color living in despair. COVID-19 has exacerbated disparities among an already vulnerable population.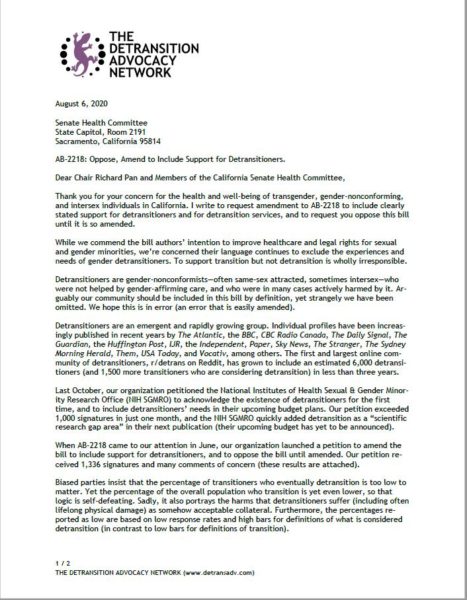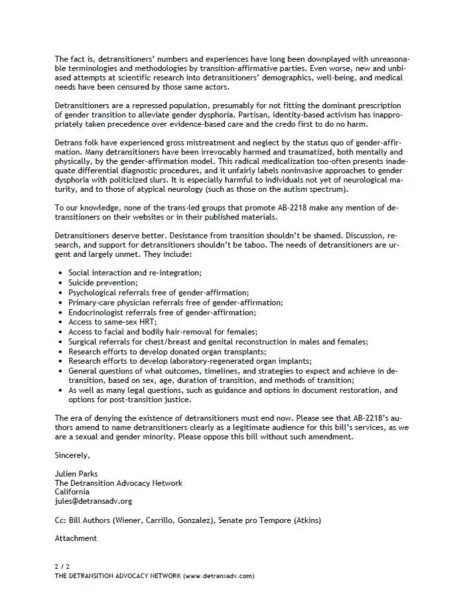 The Detransition Advocacy Network has been harassing our state legislators on Twitter for weeks. You know why? Because Evans sees an easy path to getting money from our state. When you delve into Charlie's background (with a simple Twitter search), you find out Charlie is quite the polarizing personality when it comes to treatment and behavior toward trans populations.
One can even argue that Charlie doesn't care about trans people at all; they're a provocateur and indeed anti-trans while pushing a TERF agenda, supported by religious fanatics no less. And look at the attention Charlie is enjoying, what with the queen of anti-trans rhetoric herself, J.K. Rowling tweeting about Charlie and her article' "Inventing Transgender Children." That must feel like incredible validation.
California's Black trans community isn't going back to pump parties in hotel rooms and relying on painful underground transition "medicine" as our primary source of transition-related care. I have silicone pumped all over my face because that's all I could afford 20 years ago. Now, half of my face is disfigured.
No, I will fight anyone that stands between a trans person getting quality care. Especially if they don't even live in our country, let alone in California.
While I have no judgment about people who may choose to transition and then feel that it's not right for them, transitioning may not be for everyone, for whatever reason. What I cannot stay silent about is these individuals falling into the trap of a harmful organization that will further isolate them. Similar to crisis pregnancy centers, with their own manipulative motivations trying to catch those in most need, that's what this movement does. In Black communities in America, we say, "don't fall for the Okie Doke or the ole one-two." They want you to pay attention to one fist while they're coming over with that right hook.
Yes, we need to find a better way to support the various ways that transitioning shows up, medically and socially. We don't need a separatist movement to do so. We need better language around this that doesn't sound violent or hasn't been co-opted by TERF and anti-LGBTQI fringe religious groups. I can't support the language, but I support the journey.
Ebony Ava Harper, based in Sacramento, California, is a Human Rights Activist and Founder of The National Alliance for Trans Liberation and Advancement.