Extreme High Temperatures Forecast Starting Friday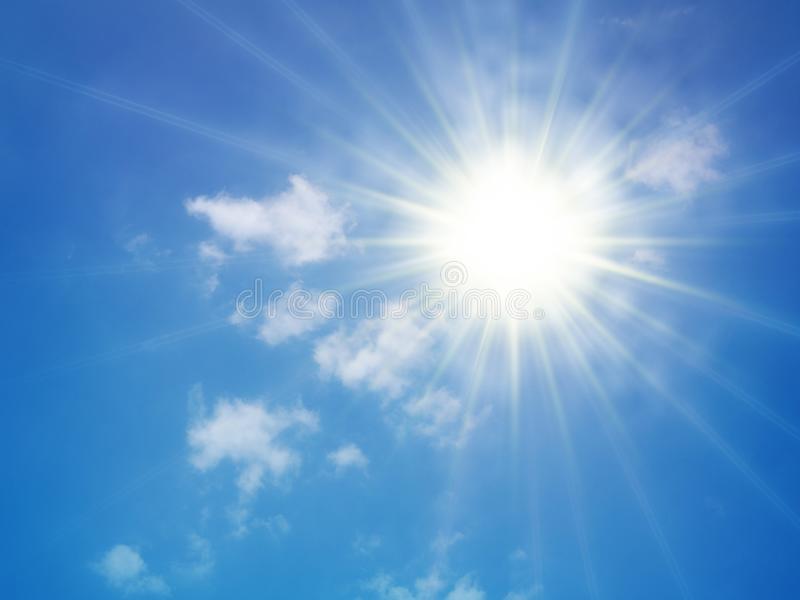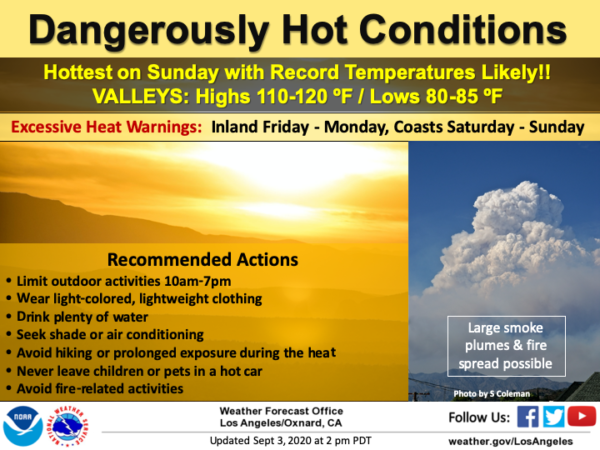 LOS ANGELES – Record heat is expected Fri-Mon with hottest temps on Sunday. All-time records could be broken with highs 110-120 degrees for valleys w/ very warm lows 75-85 in urban & foothill areas. Heat stress or risk of stroke is a major concern for outdoor activities. #CAwx #LAweather
With temperatures in parts of Los Angeles County expected to rise into the triple digits, various public facilities located throughout Los Angeles County will serve as Emergency Cooling Centers starting on Wednesday, September 2nd. These centers provide members of the public who lack air conditioning at home with relief from the heat, free of charge.
"Offering free emergency heat relief is an important service to help keep vulnerable members of the public safe and healthy during heat waves," stated Kevin McGowan, Director of the Los Angeles County Office of Emergency Management. "The County is collaborating with various communities, such as Azusa, Burbank, El Monte, Glendale, Glendora, Lancaster, La Puente, Los Angeles, Palmdale, Pasadena, Quartz Hill, San Dimas, San Fernando, Stevenson Ranch and Torrance to bring this support service to all residents at no cost. We jointly stand ready to provide anyone who needs to get out of the heat with a safe place to cool down."
All Centers will operate in compliance with physical distancing and other COVID-19 safety criteria from the current Health Officer Order. They will be located in areas selected based on heat forecasts provided by the National Weather Service and impact to regions identified by the Los Angeles County Department of Public Health. More locations may be added or hours extended based on weather conditions. To obtain a list of the County's Emergency Cooling Centers or view a map of these sites, visit ready.lacounty.gov/heat or dial 2-1-1.
The City of West Hollywood is unable to open its Plummer Park Cooling Center due to Covid-19 restrictions, however they are getting the word out about the importance of following basic safety tips for coping with heat:
Location Information, Dates and Hours of Operation:
Valleydale Park
5525 North Lark Ellen Avenue
Azusa, CA 91702
Friday, September 4 through Sunday, September 6
12:00 p.m. – 6:00 p.m.
Buena Vista Library
300 North Buena Vista Street
Burbank, CA 91505
Friday, September 4 through Monday, September 7
12:00 p.m. – 6:00 p.m.
El Monte Community Center
3130 Tyler Avenue
El Monte, CA 91731
Saturday, September 5 through Sunday, September 6
12:00 p.m. – 6:00 p.m.
Griffith Manor Park
1551 Flower Street
Glendale, CA 91201
Friday, September 4 AND Tuesday, September 8
10:00 a.m. – 6:00 p.m.
Pacific Community Center (entrance near pickleball court)
501 South Pacific Avenue
Glendale, CA 91204
Saturday, September 5 through Monday, September 7
10:00 a.m. – 6:00 p.m.
Crowther Teen & Family Center
241 West Dawson Avenue
Glendora, CA 91740
Friday, September 4 through Monday, September 7
10:00 a.m. – 6:00 p.m.
Museum of Art and History
665 West Lancaster Boulevard
Lancaster, CA 93534
ONGOING
10:00 a.m. – 5:00 p.m.
Sunshine Park
515 Deepmead Avenue
La Puente, CA 91744
Friday, September 4 through Sunday, September 6
12:00 p.m. – 6:00 p.m.
Salazar Park
3864 Whittier Boulevard
Los Angeles, CA 90023
Friday, September 4 through Sunday, September 6
12:00 p.m. – 6:00 p.m.
Chimbole Cultural Center
38350 Sierra Highway
Palmdale, CA 93550
Wednesday, September 2 through Tuesday, September 8
12:00 p.m. – 6:00 p.m.
Robinson Park
1081 North Fair Oaks Avenue
Pasadena, CA 91003
Friday, September 4 through Monday, September 7
9:00 a.m. – 6:00 p.m.
Quartz Hill Library
5040 West Avenue M-2
Quartz Hill, CA 93356
Wednesday, September 2 through Sunday, September 6
12:00 p.m. – 6:00 p.m.
Senior Center / Community Center
201 East Bonita Avenue
San Dimas, CA 91773
Thursday, September 3 through Thursday, September 10
10:00 a.m. – 6:00 p.m.
Las Palmas Park
505 South Huntington Street
San Fernando, CA 91340
Friday, September 4 through Tuesday, September 8
10:00 a.m. – 7:00 p.m.
Stevenson Ranch Library
25950 The Old Road
Stevenson Ranch, CA 91381
Wednesday, September 2 through Sunday, September 6
12:00 p.m. – 6:00 p.m.
Ken Miller Recreational Center
3341 Torrance Boulevard
Torrance, CA 90503
Saturday, September 5 through Sunday, September 6
12:00 p.m. – 6:00 p.m.
The County also reminds all members of the public to take the following extra precautions during hot weather:
Avoid the sun– stay indoors from 10:00 a.m. to 3:00 p.m. when the burning rays are strongest.

Drink plenty of fluids– 2 to 4 glasses of water every hour during times of extreme heat.

Replace salt and minerals– sweating removes salt and minerals from your body, so replenish these nutrients with low sugar fruit juices or sports drinks during exercise or when working outside.

Avoid alcohol.

Pace yourself – reduce physical activity and avoid exercising outdoors during peak heat hours.

Wear appropriate clothing – wear a wide-brimmed hat and light-colored lightweight, loose-fitting clothes when you are outdoors.

Stay cool indoors during peak hours – set your air conditioner between 75° to 80°. If you don't have air conditioning, take a cool shower twice a day and/or visit a County Emergency Cooling Center. Find a local emergency cooling center at lacounty.gov/heat.

Monitor those at high risk – check on elderly neighbors, family members and friends who do not have air conditioning. Infants and children up to 4 years old, people who overexert during work (e.g. construction workers) and people 65 years and older are at the highest risk of heat-related illnesses.

Use sunscreen with a sun protection factor (SPF) of at least 15 if you need to be in the sun.

Keep pets indoors – heat also affects your pets, so please keep them indoors. If they will be outside, make sure they have plenty of water and a shaded area to help them keep cool.
Risk of monkeypox infection not high, but 'numbers may increase'
Fauci said the current outbreak is predominantly among men who have sex with men among individuals who have had sexual contact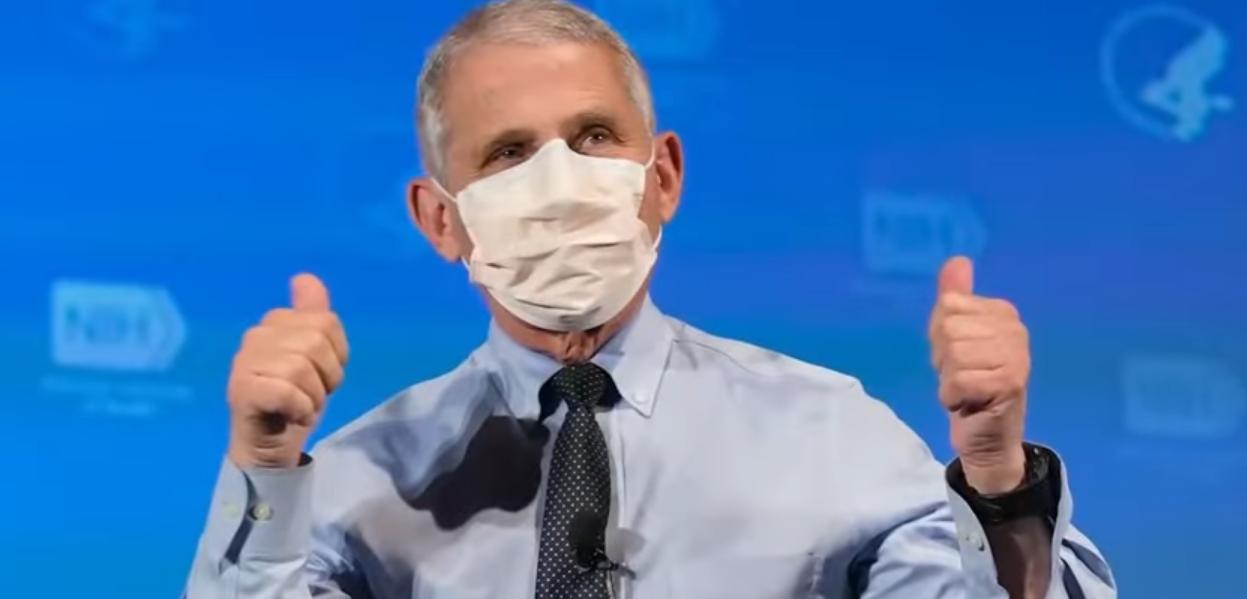 WASHINGTON – Dr. Anthony Fauci, the director of the National Institute of Allergy and Infectious Diseases and the Chief Medical Advisor to the President, who has been at the forefront of the battles against the HIV/AIDS and COVID-19 epidemics, downplayed Wednesday the idea gay and bisexual men are at high risk of contracting monkeypox as the outbreak begins to spread, but cautioned "the numbers may increase."
"Given the numbers I would not say right now at this particular point, that it is a quote, high risk, but the numbers may increase, which means we just have got to be careful and pay attention," Fauci said.
Fauci made the remarks in a conference call with reporters from LGBTQ news outlets on the heels of the Biden administration's announcement that it would ramp up efforts to confront the emerging spread of monkeypox.
On Monday, the Department of Health & Human Services, announced a nationwide vaccination strategy against monkeypox, which consists of providing nearly 300,000 vaccines with priorities for individuals at risk and areas with high rates of infection. An estimated 750,000 vaccines are expected for delivery by the end of summer, according to HHS.
In response to a Blade question about the risk of gay and bisexual men contracting monkeypox, Fauci said that was difficult to quantify and he "wouldn't say low, because then…that can be taken out of context," but went on to express there's a minimal risk of infection if precautions are taken.
"What we're seeing given the number of cases and the rate in which they've accelerated, it's clearly out there," Fauci said. "But when you talk about the large number of gay and bisexual men who have sex with men, that on any given individual contact I think if one is careful, and make sure that both parties in a sexual interaction are aware of lesions that might go unnoticed, then you can go a long way in pure prevention to prevent that from happening, but I think it would be risky to classify it as low, medium or high."
The U.S. has confirmed 306 monkeypox cases across 27 states and Washington, D.C., the Centers for Disease Control announced Tuesday. That represents a surge of 63 cases from the previous week.
Fauci said the current outbreak is predominantly among men who have sex with men among individuals who have had sexual contact. Monkeypox is technically not a sexually transmitted disease, Fauci said, because it's spread through skin-to-skin contact, but "because of the close skin to skin interaction that occurs in sexual contact, that appears to be the modality spread." Monkeypox, Fauci said, is "not fundamentally a lethal infection."
Raj Panjabi, senior director for global health security and biodefense on the White House National Security Council, was also on the call and said the Biden administration's monkeypox plan consists of "three pillars" of testing, vaccines, and outreach.
"In terms of outreach, there is no effective response to an outbreak without a community based response," Panjabi said. "And so we've worked to ensure an open dialogue with leaders and stakeholders in the LGBTQIA+ community. What we've been doing is to try to understand from those most affected by this outbreak, learn from them, help them stay vigilant within the community to protect themselves from the disease and try to adjust our response according to the gaps that they've raised."
The rise in monkeypox infections comes during Pride month, a time when LGBTQ community is engaged in celebrations and oftentimes in close contract and intimate settings, including sexual activity.
Asked by a reporter with NBC News whether this weekend's Pride celebrations may have fueled the spread, Fauci said in theory "the risk is probably increased" in Pride activities "because people tend to get involved in sexual networking there," but precautions at the end of the day would mitigate new infections.
"You don't want to panic people but you want to get people to appreciate, particularly with the Pride activities that are going on now, to be aware and to just be careful," Fauci said. "And being careful can be very practical, but making sure that you're aware of things like skin lesions or lesions around areas of the body, particularly when you're having a sexual encounter. Those are the things we're trying to do."
LA County Public Health confirms community transmission of Monkeypox 
Public Health is offering the JYNNEOS vaccine in a targeted manner to reach individuals at higher risk of monkeypox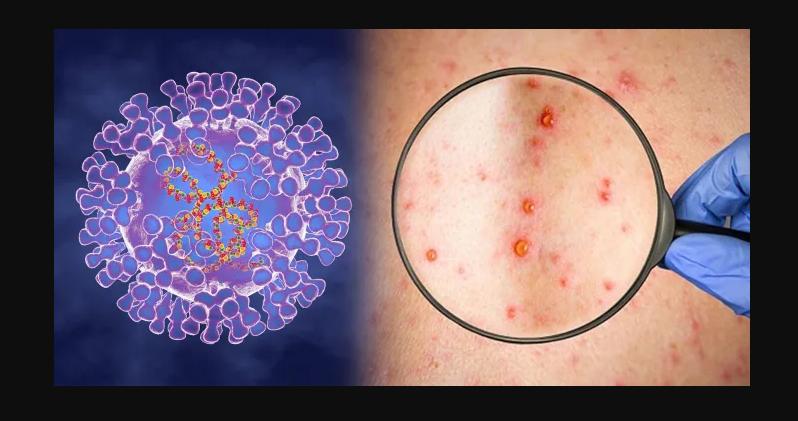 LOS ANGELES – Los Angeles County Department of Public Health has confirmed local transmission of monkeypox in LA County, as some of the more recent of the 22 cases of monkeypox in LA County thus far have no history of international or out-of-state travel. There have been no hospitalizations or deaths.
Anyone can get and spread monkeypox, but some of the recent cases identified have been among gay, bisexual, and other men who have sex with men who attended large events where the exposure to monkeypox may have occurred. Public Health is working with event organizers to notify attendees of potential exposure.
While supplies of monkeypox vaccine are limited, Public Health is offering the JYNNEOS vaccine in a targeted manner to reach individuals at higher risk of monkeypox. This includes people who are known close contacts to someone diagnosed with monkeypox and individuals who attended an event where they may have had skin-to-skin contact with someone who later tested positive for monkeypox virus. The vaccine is being used in these cases to reduce the risk of developing monkeypox.
As vaccine supply increases, Public Health will focus on making the monkeypox vaccine available for other high-risk groups in efforts to prevent widespread community transmission.
Monkeypox does not spread easily between people. The spread of monkeypox from person to person can occur through contact with body fluids, monkeypox sores, items that have been contaminated with fluids or sores (like clothing or linens), or through prolonged exposure to respiratory droplets. Because of this, transmission may also occur during sex through skin-to-skin and other intimate contact.
LA County encourages persons who experience symptoms consistent with monkeypox (such as characteristic rashes or lesions), persons who traveled to countries where monkeypox cases have been reported or persons who have had close contact, including sexual contact, with someone who has a similar rash or received a diagnosis of suspected or confirmed monkeypox, to contact their health care provider for a risk assessment. Those who do not have a regular provider should call 2-1-1 for assistance.
AHF urges community outreach & education around monkeypox
"Our hope is this [monkeypox outbreak] is a passing issue, not something that's ultimately a great cause for alarm and concern"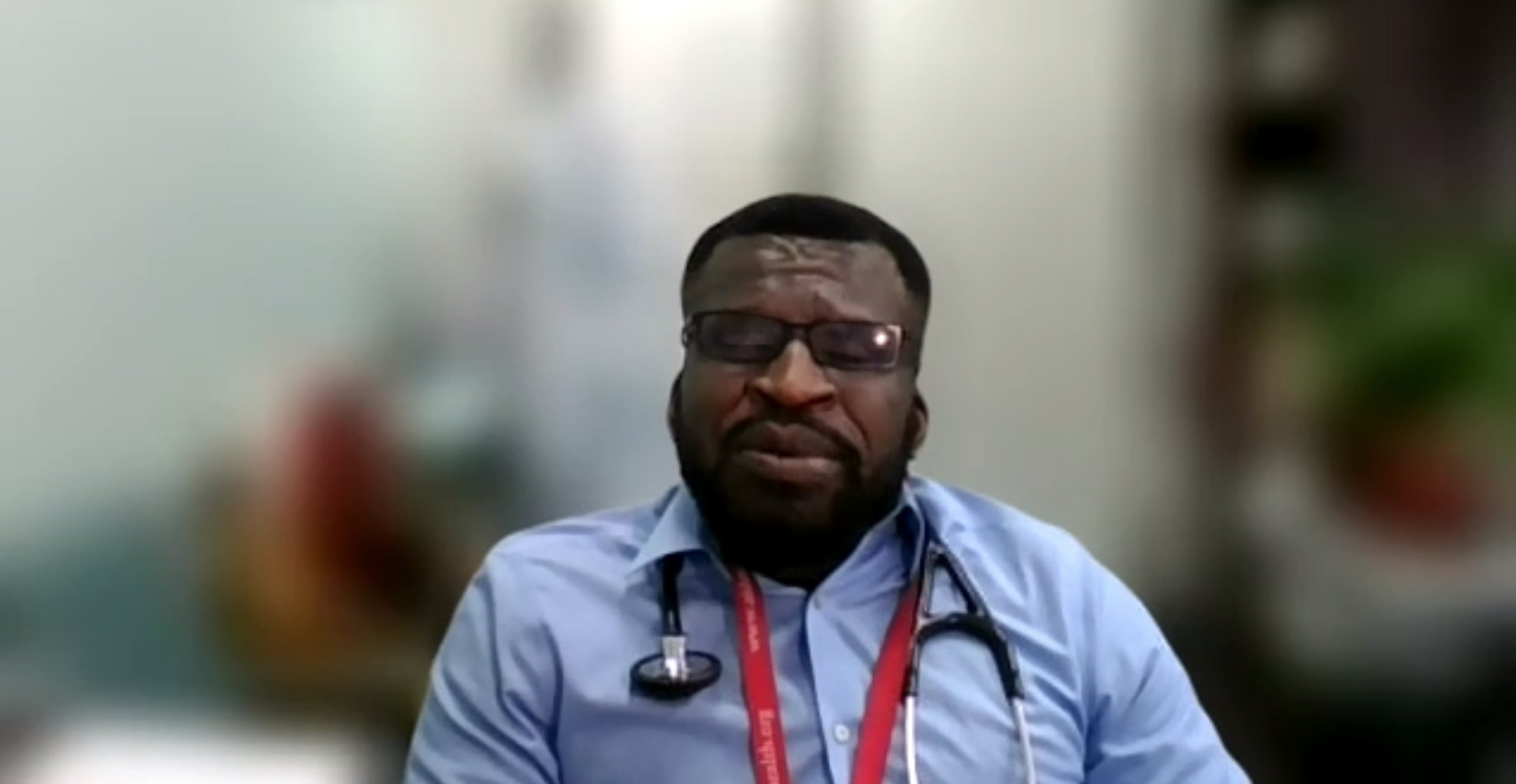 LOS ANGELES – During a press conference Monday, representatives from the AIDS Healthcare Foundation (AHF) urged public health officials and other healthcare stakeholders to ramp up educational and outreach efforts to slow the current rates of the monkeypox virus transmission.
"Our hope is this [monkeypox outbreak] is a passing issue, not something that's ultimately a great cause for alarm and concern," AHF President Michael Weinstein said. "But it's better [to be] safe than sorry."
Weinstein, joined by the organization's Interim National Director of Infectious Diseases, Dr. Stuart Burstin, and its West Coast Regional Director of Internal Medicine, Dr. Carl Millner, stressed the importance of minimizing community spread through measures that can reduce the likelihood of exposure to monkeypox.
These measures, they said, include avoiding skin-to-skin contact with individuals who are known to have an active infection or who were previously infected but may still carry a risk of transmitting the virus.
Weinstein and Burstin both pointed to public health experts' calls for patients who are recovering from monkeypox to use condoms during all sexual activity for at least 12 weeks, pursuant to guidelines from the World Health Organization's (WHO) that were last updated June 17.
As the virus can also be spread by exposure to bedding and clothing that has been contaminated by infected persons, contact with these items should also be avoided wherever possible, Burstin said.
"We can reduce [the risk of transmission] by behavioral means," Burstin said. "What we have to do is to educate people so that the risk remains low to zero," he said. "If that fails, there's vaccination and therapy."
Infections are currently concentrated in Europe: the U.K. has reported 524 cases, and Spain, Germany, Portugal, and France have reported 313,303, 241, and 183 cases respectively. Many of the infections in Europe and the Americas can be traced back to LGBTQ+ events where men gathered — specifically a LGBTQ+ fetish festival in Belgium and a gay pride event in the Canary Islands.
No deaths have been reported, and most monkeypox cases are mild — symptoms include rashes, initial flu-like symptoms, and lesions or sores.
Men, particularly gay men, and men who have sex with men (MSM), have been disproportionately represented in the clusters of cases documented.
The Centers for Disease Control and Prevention (CDC) reports there have been 113 confirmed cases in the U.S., of which 24 have been reported in California. Burstin said that figure is probably far lower than the number of actual cases, as the significant overlap in symptoms caused by monkeypox with those caused by other illnesses, including COVID-19, raises the likelihood of underreporting and misdiagnoses.
Millner said it can even be easy to miss the prototypical rash that develops with monkeypox infections, which he described as a lesion or multiple lesions that usually appear on the hands, mouth, feet and genitals. These are often, and reasonably, misidentified as pimples, infected hair follicles, or – especially when located on or near the genitals – blisters caused by sexually transmitted diseases like herpes or syphilis.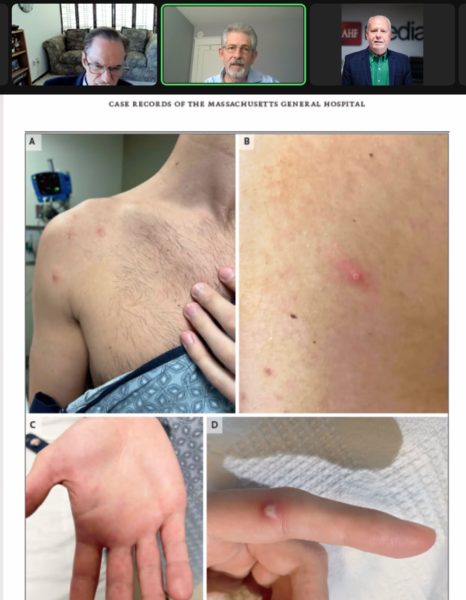 Burstin said that while monkeypox can, in rare cases, cause serious and even life-threatening symptoms, the disease has a low case fatality rate, around one percent. Plus, he said, the possibility that future variants may be deadlier or more contagious appears to be slim, given what epidemiologists have learned about the widely studied and now eradicated but closely related smallpox virus.
There are vaccinations and treatments available for monkeypox, Burstin said, which are reserved for cases of serious illness and for populations deemed high-risk, which include pregnant women, young children, the elderly and the immunocompromised.
Instead of mass vaccination campaigns, public health experts say immunizations should be administered based on assessments of patients' risk of becoming seriously ill. For those deemed eligible, if given within the first four days after contracting the virus, vaccines can reduce the number and severity of symptoms, Burstin said.