Tijuana authorities criticized over handling of transgender woman's murder
Jeanine Huerta López's body was found on Aug. 28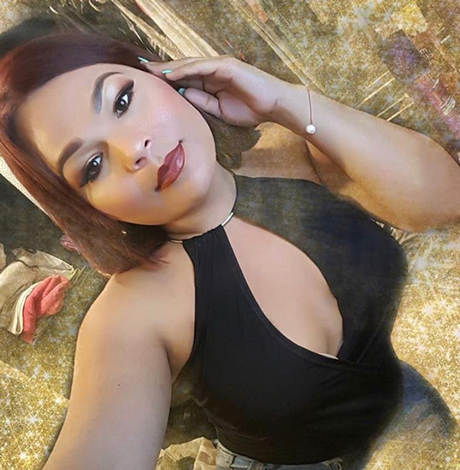 TIJUANA, Mexico — The family of a transgender woman who was murdered in Tijuana last month has sharply criticized the way that local authorities have handled the case.
Local media reports indicate Jeanine Huerta López's best friend found her dead in her apartment in Tijuana's Francisco Villa neighborhood on Aug. 28. Her sister, Diana Jiménez López, on Tuesday told the Los Angeles Blade during a telephone interview from California that Huerta had stab wounds throughout her body.
Huerta was reportedly last seen at a Birthday party on Aug. 24.
Jiménez told the Blade her sister was born in Puerto Vallarta, but grew up in San Bernardino County. Jiménez said she moved to Tijuana around 12 years ago after she graduated from high school.
Huerta worked for Centro de Servicios Ser A.C., a group that provides health care and other services to the LGBTQ community and people with HIV/AIDS in Tijuana. Jiménez told the Blade her sister was also a sex worker.
"She was a kind-hearted soul," said Jiménez. "She really helped others whenever she could."
Huerta's mother, Dolores López, told the Blade that Huerta bought food for people during the coronavirus lockdown in Tijuana. López also said her daughter previously worked as an interpreter for a Mexican telephone company.
"She was an activist," López told the Blade. "She was a very, very hard worker."
Body not properly stored in morgue
Jiménez said it took a week for her to claim her sister's body because authorities identified her by her birth name, even though the friend who found her provided them with the correct spelling of her name.
Jiménez said she had to identify her sister's "decomposed body" twice "just so they would release the body to me." Jiménez also told the Blade the morgue did not properly store her sister's body.
"When I had to see my sister, it was a horrific smell," she said. "There were worms crawling on her. She had no hair. It was just the worst thing that anybody should have to see."
"I'm not sure why I had to see my sister's body twice in order for them to release her to me," added Jiménez.
López echoed Jiménez's anguish.
"It's been hard because of all the things that Diana had to go through to recover her body," said López. "[It's been] very painful."
The morgue released Huerta's body to Jiménez on Sept. 2. She was buried in Puerto Vallarta the next day.
López told the Blade her mother and Huerta's brothers were able to attend the funeral. López said she could not travel to Mexico because she is undocumented.
U.S. Embassy condemns murder, urges thorough investigation
Authorities have not made any arrests in connection with Huerta's murder. The U.S. Embassy in Mexico in a Sept. 1 tweet urged them to thoroughly investigate it.
"We are shocked by the murder of Jeanine, an activist for the rights of the LGBT community, in Baja California," reads the tweet. "Authorities should carry out a thorough investigation to find those responsible and give justice to Jeanine."
Centro de Servicios Ser A.C. in a lengthy statement echoed the embassy's call for a thorough investigation. The group also urged Baja California lawmakers to add a formal recognition of murder based on gender identity to the state's Penal Code.
"I don't feel like the authorities are putting much effort into her case because she was trans," Jiménez told the Blade. "They started off the investigation, trying to brush it off as maybe it's just another case. It's just not another case. She was my sister and just because she was trans doesn't mean she should be treated unequally."
The Blade has reached out to the Tijuana Municipal Police Department and the Baja California Attorney General's office for comment.
'We seek justice for Jeanine'
Centro de Servicios Ser A.C. on Aug. 30 held a memorial service for Huerta at their Tijuana offices. Many of the activists who attended wore t-shirts that read, "we seek justice for Jeanine."
Centro de Servicios Ser A.C. in the statement it issued after Huerta's death also noted Mexico is the second most dangerous country in Latin America for LGBTQ people. It cited statistics that indicate more than half of the 473 reported victims of anti-LGBTQ hate crimes in the country between 2012-2018 were trans women.
"Jeanine, we promise you that we are going to keep your fighting spirit and fervent conviction that our lives must be respected and lived with dignity alive," reads the Centro de Servicios Ser A.C. statement. "We are in pain. We are sad, but we are also angry and not powerless because we will fight to ensure that no other transgender woman has to suffer the agony that you suffered and that deprived you of your hopeful smile."
Visalia's city council proclaims October 'LGBTQ history month'
"Thank you to the council for doing this […] When we started this work five years ago, we didn't know how we would be received in the city"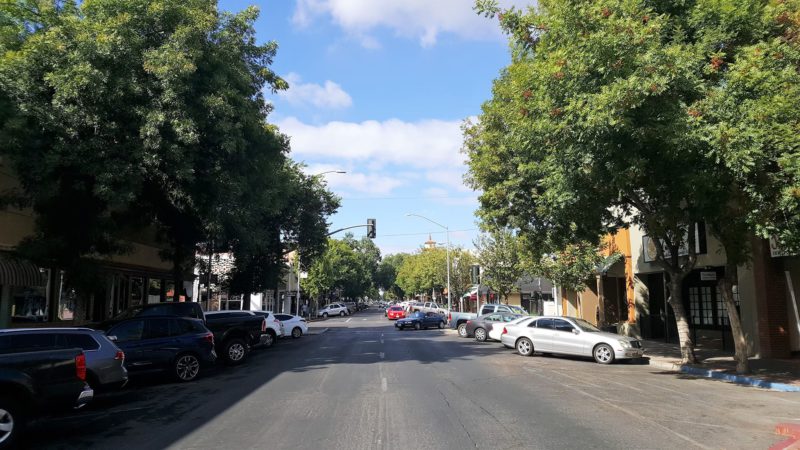 VISALIA, Ca. – In a proclamation this past Monday, the city council paid tribute to The Source LGBTQ+ Center's work in the Visalia LGBTQ+ community, including Tulare and Kings Counties over the past five years. The council also proclaimed October as LGBTQ+ history month presenting 'The Source' a plaque noting the nonprofit's recent expansion.
"In 5 years, The Source has become the largest LGBT center between Los Angeles and Sacramento," the plaque reads in part, The Visalia Times-Delta newspaper reported.
"We started with just an idea that we came up with on Main Street – back when it had antique stores," said Nick Vargas, director of development and cofounder of The Source. "From that idea, other people have joined us and I have been able to do the best work of my life, helping the citizens of Visalia, particularly the LGBTQ youth, those living with HIV, and their families."
On Saturday, the fifth annual Pride Visalia organized by 'The Source' was held at a different time of year and in a brand new location, Valley Strong Ballpark, supported by communications giant T-Mobile. The center's annual Halloween Gala was also held Saturday night at the Bello Vita Venue.
"Thank you to the council for doing this, it means a lot to us. When we started this work five years ago, we didn't know how we would be received in the city," Vargas said. "It means a lot to be here today, I would love it if you all showed up to PRIDE Visalia… but just knowing we have the support of the council and the city, is a lot."
On its website, 'The Source' specifies that the center's mission is to "provide spaces within our communities for the LGBT+ population to Learn, Grow, Belong, Transform, Question + Support."
Visalia, the Tulare County seat, is the gateway to Sequoia National Park, and only forty-one miles south of Fresno located in the conservative San Joaquin Valley region of central California. In Congress, the area, California's 22nd congressional district, is represented by Republican Devin Nunes, who has been unresponsive to LGBTQ+ concerns, having been labeled anti-LGBTQ+ by the Human Rights Campaign and Equality California.
The Times-Delta also reported that The Source is also hosting its first-ever AIDS Walk to raise awareness as well as funds. The walk is scheduled at 11 a.m. on Oct. 30 on NW 2nd Avenue.
Pride Visalia 2021 sponsored by T-Mobile:
Los Angeles City Council bans homeless camps in 54 locations
Sitting, sleeping & storing property near fire hydrants, building entrances, driveways, libraries, parks, elementary schools banned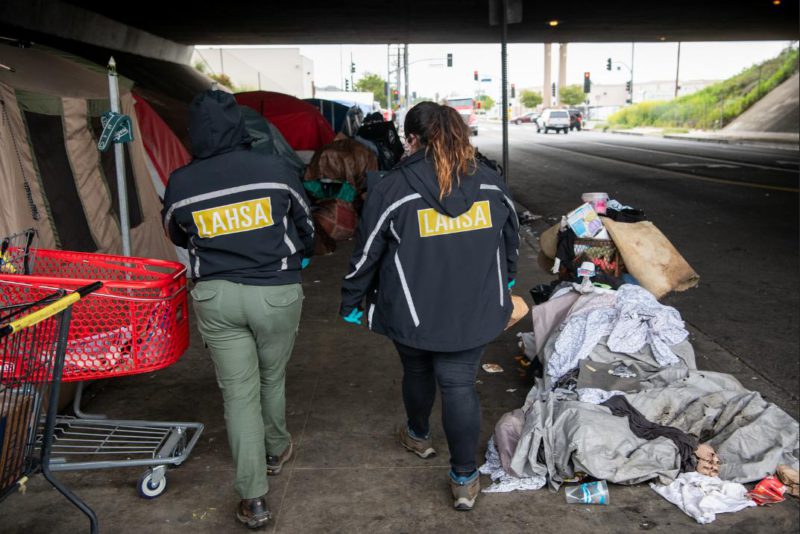 LOS ANGELES – Setting up or creating encampments by homeless persons in 54 select locations across the city is now banned after the LA City Council voted 12-2 Wednesday to outlaw sitting, sleeping and lying in those places.
Utilizing new laws passed over the summer after contentious and at times acrimonious debate, the council enacted new rules regulating sitting, sleeping and storing property near fire hydrants, building entrances, driveways, libraries, parks, elementary schools and several other locations.
The council also directed city staff to ensure that the homeless were given proper notifications prior to action and that all departments expand staff and make available resources to help those affected by the new ban.
On Wednesday, U.S. Veterans Affairs Secretary Denis McDonough announced that the VA is going to place more than 500 unhoused veterans living in Los Angeles into permanent housing.
According to McDonough, the efforts will be in two steps, the first to assist approximately 40 veterans living on the street in what is colloquially referred to as the 'Veteran's Row' encampment, located adjacent to the VA campus in Brentwood on San Vincente Boulevard.
Today, the VA has committed to quickly housing the Angelenos encamped on the federal land near the West LA campus — a big step in the right direction.

Deeply grateful to @SecVetAffairs, @LAHomeless, and @POTUS for their partnership.https://t.co/qiHNMvLm8j pic.twitter.com/R4q246RQFs

— MayorOfLA (@MayorOfLA) October 20, 2021
That encampment has been highlighted by mayoral candidates visiting it frequently including last week by U.S. Representative Karen Bass, (D) who was accompanied by the VA Secretary.
The next step is move another 500 veterans into permanent or transitional housing by December 31, the VA Secretary said.
In the last census count of homeless people conducted by the County of Los Angeles, of the nearly 66,000 people experiencing homelessness, roughly 3,900 are homeless veterans.
LA City Council votes to suspend Ridley-Thomas over corruption charges
The 11-to-3 vote to suspend vote came two days after Ridley-Thomas announced that he would "step back" from his duties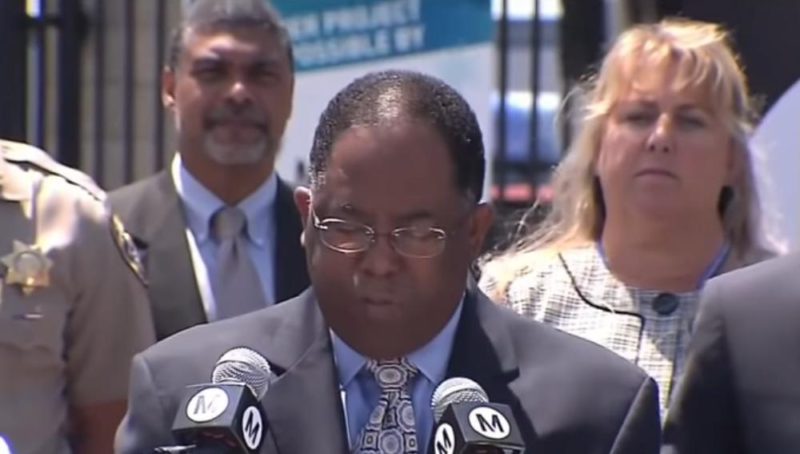 LOS ANGELES – The city council voted Wednesday to suspend Councilman Mark Ridley-Thomas, 66, who was was indicted a week ago by a federal grand jury on 20 federal counts of conspiracy, bribery, mail and wire fraud.
The 11-to-3 vote to suspend vote came two days after Ridley-Thomas announced that he would "step back" from participation in City Council meetings and committees. Ridley-Thomas, who has denied any wrongdoing, has said he will not resign and will fight the federal charges against him, KTLA and the Los Angeles Times reported.
The federal grand jury's indictment alleged that Ridley-Thomas took bribes from a former dean at the University of Southern California, (USC) when he was a member of the County Board of Supervisors.
In a letter sent to fellow councilmembers Monday, he indicated that he would step back from his duties but he declined to resign from his seat. He said that he planned to fight the "outrageous allegations" and would resume participation on the legislative body "at the earliest appropriate time."
The Los Angeles Times reported that in exchange for the payoffs, Ridley-Thomas allegedly supported awarding county contracts worth millions of dollars to USC.
In the indictment Ridley-Thomas is charged with conspiring with Marilyn Louise Flynn, 83, then dean of USC's School of Social Work, to steer county money to the university in return for admitting his son Sebastian into graduate school with a full-tuition scholarship and a paid professorship, the Times reported.