September 26, 2020 at 7:05 am PDT | by Kathi Wolfe
'I Have Something to Tell You' not typical, political puff piece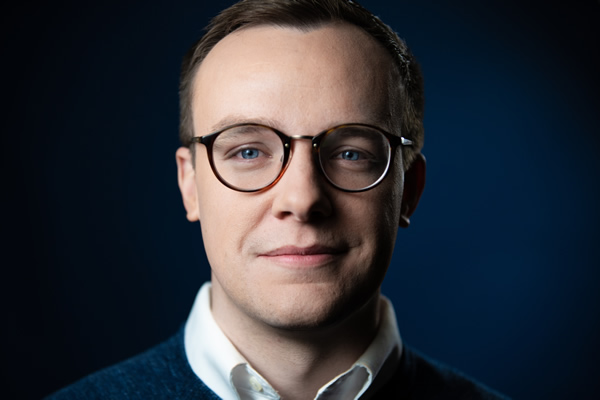 As a tween, if you'd said that one day a gay man, with his husband as First Man, could be president of the United States, I'd have thought you were nuts.
I'm glad Pete Buttigieg, 38, the former mayor of South Bend, Ind., proved me wrong! In April 2019, he became the first openly gay major presidential candidate. Buttigieg dropped out after losing badly in the South Carolina primary due to his failure to connect with Black voters.
You may or may not like Buttigieg's politics. But I'd bet that if you're queer, you were awed by the history he made by entering the presidential race!
One of the most moving parts of the campaign was Buttigieg's marriage to Chasten Glezman Buttigieg. "Nothing in my life, from shaking hands with a president to experiencing my first rocket attack," Pete Buttigieg wrote in his memoir "Shortest Way Home," "matched the thrill of holding Chasten's hand for the first time."
Chasten Buttigieg, 31, who has more than 400,000 Twitter followers, was a major asset to Pete Buttigieg's campaign. Chasten, who was raised in Traverse City, Mich. and calls Pete Buttigieg "Peter," has written a funny, touching memoir.
Often, memoirs of political campaigns are merely pablum. "I Have Something to Tell You," released on Sept. 1, is far from a hard-nosed take on the Buttigieg campaign. How could Chasten be objective about his husband? From the moment when Chasten and Pete eat Scotch eggs on their first date, Chasten is totally smitten with Peter. Peter is intelligent, unflappable and caring. "The only thing that's annoying about Peter's lifestyle is how reasonable and laid back he is about, well, everything," Chasten writes.
It's clear that since the campaign ended, Pete Buttigieg has been working to extend his brand. His 20-episode podcast "The Deciding Decade" premiered on Sept. 9, and his new book "Trust: America's Best Chance" comes out on Oct. 6. Chasten's memoir fits into the effort to build Pete Buttigieg's political future.
Yet, "I Have Something to Tell You" isn't your typical, political puff piece. It's often refreshingly candid. It gives us a ringside seat to what it was life to be the first spouse of the first gay presidential candidate.
Chasten realized how important he and Pete Buttigieg (as a presidential candidate and spouse) were to the LGBTQ community two weeks before Buttigieg officially announced he was running. An older woman, recognizing the political couple, stopped them as they walked down 14th Street in Washington, D.C. "I'm the mother of two gay children," she told them, "and what you're doing for this country and for them … I am just so proud of you and so happy you're getting out there."
Life during the campaign was, in some ways, the same for Chasten as it was for the spouses of the other candidates. As was the case for them, Chasten knew that there was "only one star" in his campaign—and it was his husband Peter—not him. Along with the other spouses, he sat in the front row, watching the candidates' debates. Sometimes, the spouses exchanged small talk.
In other ways, being a gay candidate's spouse was different for Chasten. After the Buttigieges kissed at the campaign launch, a commentator said, "something like 'Of course, I don't mind if they kiss in public' … ," Chasten writes, "but … 'real Americans' elsewhere wouldn't stand for it.'"
It isn't Chasten's job to be a political analyst. Yet, his failure to acknowledge Pete Buttigieg's disconnect with Black and Latinx people is a glaring omission. Especially, after the George Floyd protests.
This being said, "I Have Something to Tell You" is well-worth reading. The Buttigieg campaign is the main point of historical interest. Yet, the memoir is, also, a riveting account of Chasten's life. Chasten movingly describes his experiences of sexual assault and domestic violence (issues seldom talked about in the queer community) as well as his struggle to go to college while holding several jobs and acquiring student debt.
For a frank, inside look at a campaign that made history, check out "I Have Something to Tell You."