September 26, 2020 at 4:05 pm PDT | by Brody Levesque
Trump nominates Amy Coney Barrett to replace Justice Ginsburg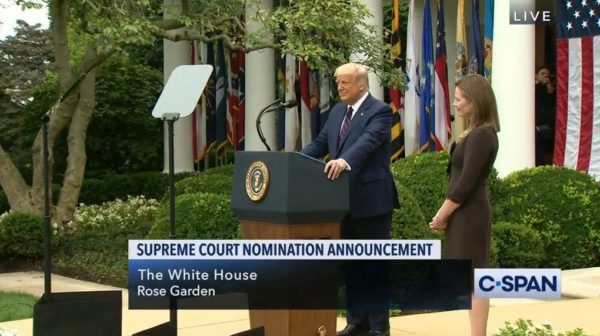 WASHINGTON – In the flag filled White House Rose Garden courtyard Saturday evening, President Donald Trump announced that he had nominated Judge Amy Coney Barrett to fill the current vacancy on the nation's highest court left by the death of former Associate Justice of the Supreme Court of the United States, Ruth Bader Ginsburg.
Trump praised Barrett as a person who will uphold 'American Values' in the ceremony that was attended by invited guests which included a majority of Republican Senators, Senate Major Leader Mitch McConnell, U.S. Attorney General William Barr, Vice-President Mike Pence, Karen Pence, the First Lady Melania Trump along with Judge Barrett's husband Jesse, and their seven children.
The 48-year-old Barrett, currently serving as a Judge on the U.S. Seventh Circuit Court of Appeals, was nominated by Trump in 2017 to that position and confirmed by the Senate, is a well-regarded legal scholar in conservative circles. She is a Catholic mother of seven who clerked for the late Associate Justice of the Supreme Court Antonin Scalia. Once confirmed, Barrett will be the fifth woman in history to serve on the Supreme Court.
Asked by the president to come to the podium Barrett thanked Trump and then vowed to discharge her duties if confirmed to the best of her abilities. In acknowledgment Judge Barrett also noted the recently deceased Justice Ginsburg telling the assembled guests,
"I will be mindful of who came before me. The flag of the United States is still flying at half staff in memory of Justice Ruth Bader Ginsburg to mark the end of a great American life. Justice Ginsberg began her career at a time when women were not welcome in the legal profession.
"But, she not only broke glass ceilings, she smashed them. For that she has won the admiration of women across the country and indeed all over the world. She was a woman of enormous talent and consequence in her life as a public servant and serves as an example to us all, […]"
She then went on to note her clerking under Justice Scalia where she highlighted that although Justice Ginsburg and Justice Scalia had serious differences in their professional world they had remained good friends. Barrett also thanked her husband and family for their support.
Trump's nomination of Barrett with less than a month and a few days before the president elections in November has stirred up massive political opposition. Coupled with Majority Leader McConnell's announcement that he intends to bring her nomination to the floor of the Senate for a confirmation vote prior to the election has angered the Democrats, who have decried Republican hypocrisy over the deliberate delay of the nomination process of D.C. Circuit Court of Appeals Judge Merrick Garland, who was nominated to replace Justice Scalia after his death in 2016 by then President Barack Obama.
McConnell had said then that no justice should be confirmed in a presidential election year. Republicans have scheduled Barrett's confirmation hearings to start October 12. Senate Democrats concede that there is little likelihood of preventing her from being seated before the election.
Barrett's confirmation is also opposed by LGBTQ rights and advocacy groups, women's reproductive rights activists, and progressive organizations who view her work and statements while working with the anti-LGBTQ Alliance Defending Freedom as a threat to full equality under law for the LGBTQ communities. She has also publicly stated her opposition to Roe v Wade which gives American women the right to chose in reproductive matters.
"With today's announced nomination of Amy Coney Barrett to fill the seat on the U.S. Supreme Court left open by the death of Justice Ruth Bader Ginsburg just one week ago, President Trump is rushing forward with a process that will only create more polarization and division in our country and damage the credibility of the Court," GLBTQ Legal Advocates & Defenders Executive Director Janson Wu said.
"While it is the purview of the president to nominate a justice, and of the Senate to confirm, it is also the design of our democracy that the American people have a say in that choice through the regular election of the president and the members of the Senate. Voting is already under way in this election and the nomination of a new Supreme Court justice should be made by the next President.," Wu added.
Defending Barrett in a statement released after the Rose Garden announcement, Alliance Defending Freedom President and CEO Michael Farris said:
"Any nominee should be an originalist with a public record demonstrating deep commitment to protecting Americans' constitutional freedoms, including religious freedom and free speech for all. Judge Barrett has an encouraging record of advocating for constitutional freedoms, and she deserves a fair and respectful confirmation process in the Senate.
"Unfortunately, critics have wasted little time in criticizing her Catholic faith and suggesting that her convictions disqualify her from public service. Like Justice Ginsburg, she has deep convictions. Judge Barrett has repeatedly stated her commitment to decide cases based on law and not on personal opinion. It's religious bigotry to suggest that any judge would do otherwise simply because she is a person of strong faith. If that bigotry becomes part of the confirmation process, it will violate the Constitution."
Alphonso David, president of the Human Rights Campaign, said in a statement that the nomination is a slap in the face to Ginsburg's legacy.
"If she is nominated and confirmed, Coney Barrett would work to dismantle all that Ruth Bader Ginsburg fought for during her extraordinary career," David said. "An appointment of this magnitude must be made by the president inaugurated in January. The Human Rights Campaign fervently opposes Coney Barrett's nomination, and this sham process."
Rick Zbur the Executive Director of Equality California told the Los Angeles Blade in an emailed statement:
"In over three decades as a lawyer and LGBTQ+ civil rights advocate, I've never been this fearful for our courts, our civil rights and our democracy," Zbur noted.
"Trump's decision to fill a vacancy on the U.S. Supreme Court just weeks before the presidential election is a heinous power grab in and of itself, but to nominate an anti-LGBTQ+, anti-choice extremist like Amy Coney Barrett is a broadside attack on decades of progress and on Justice Ginsburg's legacy. Coney Barrett on the bench of the nation's highest court would be a nightmare for LGBTQ+ civil rights for decades to come and her opposition to Roe v. Wade, voting rights, the ACA and other progressive decisions are simply disqualifying.
"The Supreme Court belongs to America — to all of us — not just one party or one politician. We urge the U.S. Senate to honor Justice Ginsburg's final wish and block any nomination until after the inauguration," Zbur added.