Civilian Oversight Commission to Sheriff: Resign!
The problem when dealing with removing a Sheriff, in fact any of the Sheriff's across California's 58 counties, is that they cannot be fired.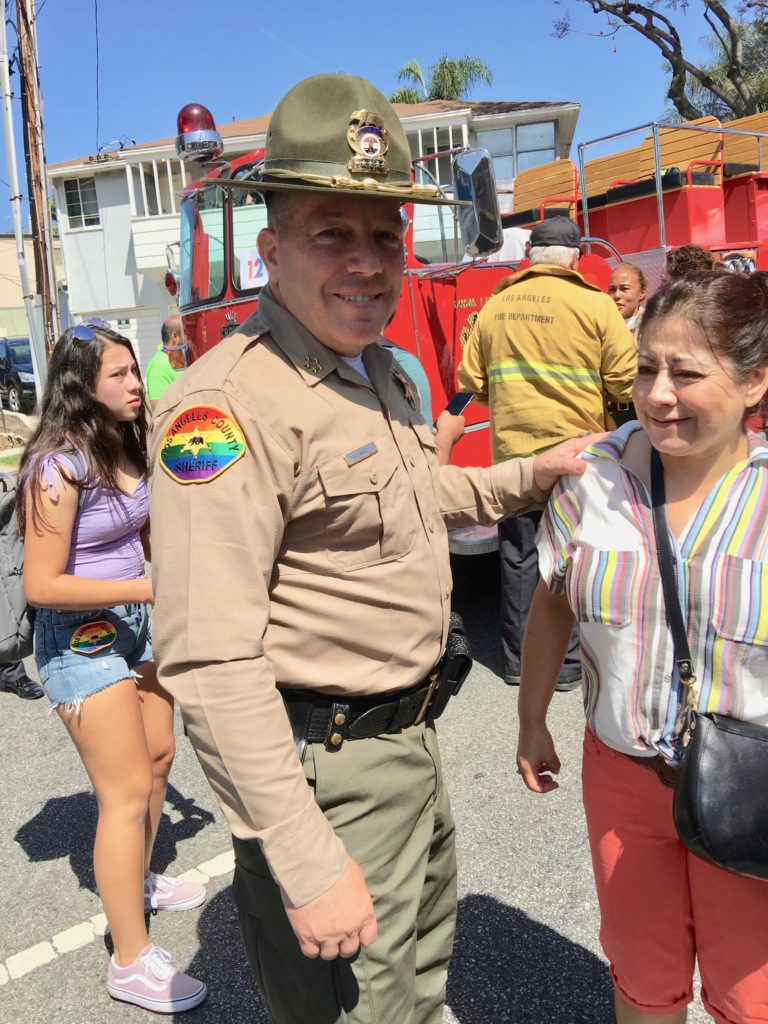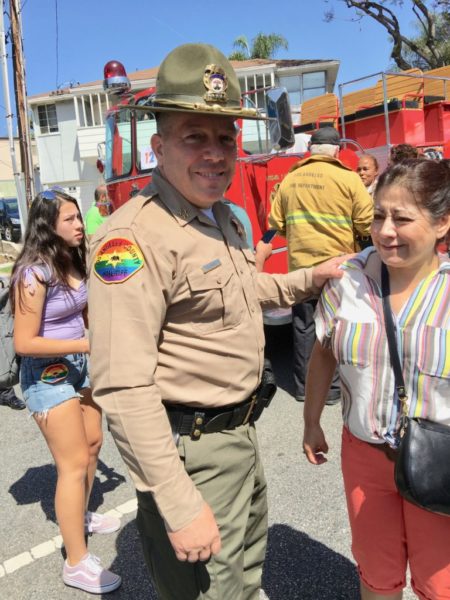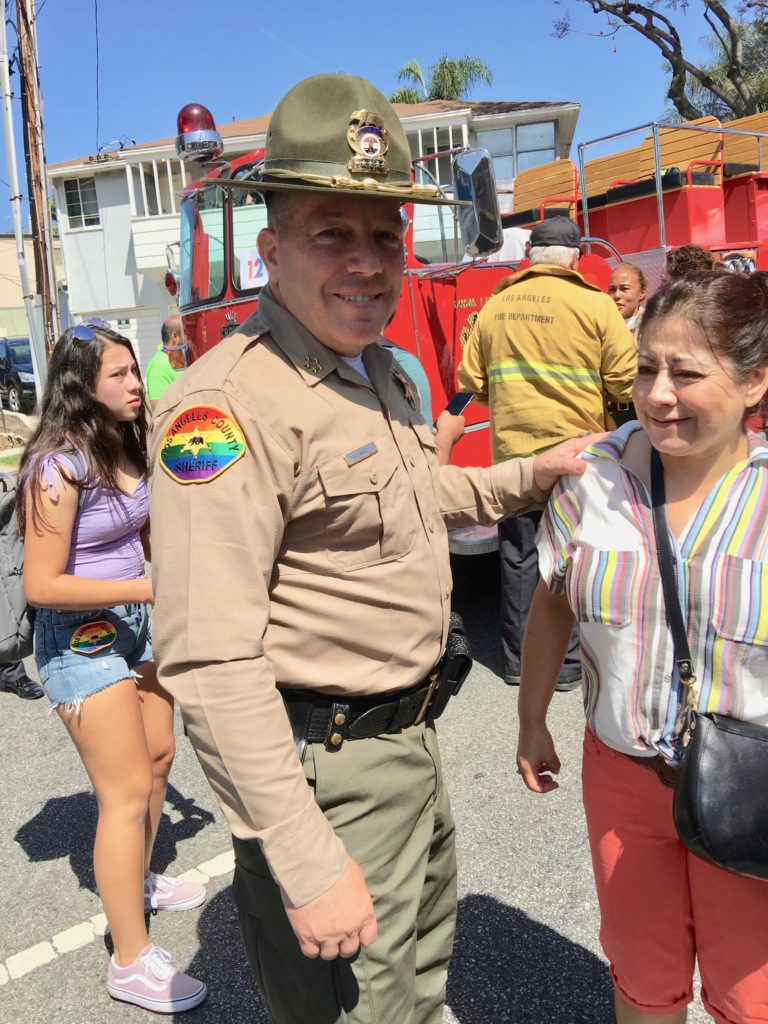 LOS ANGELES – The Los Angeles County Civilian Oversight Commission on the LA County Sheriff's department delivered a resolution Thursday afternoon calling on L.A. County Sheriff Alex Villanueva to resign his office.
The Commission unanimously voted (8-0) to approve a Resolution expressing 'No Confidence' in Sheriff Villanueva's leadership and condemning his failure to cooperate with the Civilian Oversight commission asking for him to step down.
"The ad hoc committee spent a lot of time trying to come up with a resolution that would signal to the Sheriff that we're serious and the ball would be in his court to make things better," said Commission Chair Lael Rubin. "I don't think he has any intention of making anything better."
Rubin added, "The Sheriff responded with a letter addressing the proposed resolution that was demeaning to the Commission and members of the community. It really gave a sense that he has no intention of working with us. I will join the colleagues of mine in calling for his resignation."
The problem when dealing with removing a Sheriff, in fact any of the Sheriff's across California's 58 counties, is that they cannot be fired. Joe Mathews, a syndicated columnist and California editor at Zócalo Public Square, pointed out when problems with Villanueva's leadership of the department first surfaced;
"Once elected, sheriffs in all 58 counties have power over jails and policing, and act pretty much as they please. When sheriffs do wrong, there is little that Californians can do to stop them. Under our state's structure, a sheriff in California can't really be fired. And those most liable to complain about a sheriff—inmates and those accused of crimes—have trouble gaining the public's ear, let alone its sympathy.," Matthews wrote.
"In theory, sheriffs should be accountable precisely because they are elected. Indeed, the California state constitution requires every county to have an elected sheriff for that reason. But in practice, sheriffs' elections are not healthy contests," Matthews continued. "They draw little media attention compared to other races, so voters know little about the contenders or the issues. Sheriffs often run unopposed, since it's a scary prospect to challenge an official who holds such virtually unchecked control over who goes to jail."
After discussion, Commissioners agreed on updated language to the resolution that underscored that they have no confidence in the Sheriff's ability to effectively govern the Los Angeles County Sheriff's Department (LASD) and ultimately concluding that he should resign immediately.
"The resolution highlights that L.A. County residents deserve a Sheriff's Department that is cooperative, respectful, transparent, accountable, trustworthy, and amenable to change," said Brian K. Williams, Executive Director of the Sheriff Civilian Oversight Commission.
Matthews in his analysis of the LA County Sheriff's Department scandals in 2019 noted: "In his first few weeks in office, Villanueva, who has no experience running a large organization, sowed chaos by removing 18 high-ranking officials from their posts and reevaluating the ranks of 500 other commanders. Some deputies say it's no longer clear who is in charge.
When the media questioned these moves, Villanueva's response was classic California sheriff: "The state constitution lays out that the oversight of the sheriff is the voters." In other words, you'll have to wait four years before you can do anything to me, no matter what I do."
This past year the department has been plagued with personnel problems, allegations of police abuse during the Black Lives Matters protests, and then the high profile scandal over unauthorized crime scene photographs taken by department personnel on their personal mobile phones of the January 26 helicopter crash near Calabasas, which killed Lakers superstar player Kobe Bryant, his 13-year old daughter Gianna, and seven others.
In a lawsuit filed in LA Superior Court last month, Bryant's widow Vanessa, alleged; "The gratuitous images soon became talked about within the department, as deputies displayed them to colleagues in settings that had nothing to do with investigating the accident. […] One deputy even used his photos of the victims to try to impress a woman at a bar, bragging about how he had been at the crash site."
Angered by the disclosure of the existence of the photographs, "Mrs. Bryant feels ill at the thought of strangers gawking at images of her deceased husband and child, and she lives in fear that she or her children will one day confront horrific images of their loved ones online," the lawsuit stated.
Villanueva acknowledged on March 2 that he ordered deputies to delete photos taken at the site of the crash. Villanueva told NBC4 in Los Angeles that the intent was to halt distribution of the images.
The department, Sheriff Villanueva, and LA County are named as co-defendants.
After the most recent flare-up of protests after the shooting of two Sheriff's deputies last month the Commission alleged in the resolution; "the Sheriff's Department has violated the First Amendment rights of residents engaging in protest activity as well as journalists covering. protests. During the unprecedented protests against police violence this summer, at a time when it was incumbent upon law enforcement to exercise restraint, deputies were recorded abusing residents and harassing journalists covering the protests.
In one instance, KPPC reporter Josie Huang was arrested after identifying herself as a member of the press. In defending the arrest, Sheriff Villanueva cited inaccurate and misleading information that was contradicted by contemporaneous video footage."
The Los Angeles Blade has requested comment from the Sheriff's department Thursday evening regarding the Commission's actions.
Visalia's city council proclaims October 'LGBTQ history month'
"Thank you to the council for doing this […] When we started this work five years ago, we didn't know how we would be received in the city"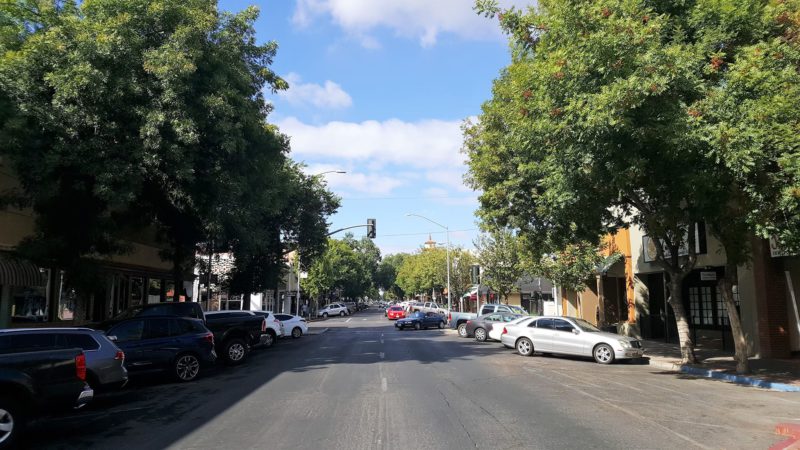 VISALIA, Ca. – In a proclamation this past Monday, the city council paid tribute to The Source LGBTQ+ Center's work in the Visalia LGBTQ+ community, including Tulare and Kings Counties over the past five years. The council also proclaimed October as LGBTQ+ history month presenting 'The Source' a plaque noting the nonprofit's recent expansion.
"In 5 years, The Source has become the largest LGBT center between Los Angeles and Sacramento," the plaque reads in part, The Visalia Times-Delta newspaper reported.
"We started with just an idea that we came up with on Main Street – back when it had antique stores," said Nick Vargas, director of development and cofounder of The Source. "From that idea, other people have joined us and I have been able to do the best work of my life, helping the citizens of Visalia, particularly the LGBTQ youth, those living with HIV, and their families."
On Saturday, the fifth annual Pride Visalia organized by 'The Source' was held at a different time of year and in a brand new location, Valley Strong Ballpark, supported by communications giant T-Mobile. The center's annual Halloween Gala was also held Saturday night at the Bello Vita Venue.
"Thank you to the council for doing this, it means a lot to us. When we started this work five years ago, we didn't know how we would be received in the city," Vargas said. "It means a lot to be here today, I would love it if you all showed up to PRIDE Visalia… but just knowing we have the support of the council and the city, is a lot."
On its website, 'The Source' specifies that the center's mission is to "provide spaces within our communities for the LGBT+ population to Learn, Grow, Belong, Transform, Question + Support."
Visalia, the Tulare County seat, is the gateway to Sequoia National Park, and only forty-one miles south of Fresno located in the conservative San Joaquin Valley region of central California. In Congress, the area, California's 22nd congressional district, is represented by Republican Devin Nunes, who has been unresponsive to LGBTQ+ concerns, having been labeled anti-LGBTQ+ by the Human Rights Campaign and Equality California.
The Times-Delta also reported that The Source is also hosting its first-ever AIDS Walk to raise awareness as well as funds. The walk is scheduled at 11 a.m. on Oct. 30 on NW 2nd Avenue.
Pride Visalia 2021 sponsored by T-Mobile:
Los Angeles City Council bans homeless camps in 54 locations
Sitting, sleeping & storing property near fire hydrants, building entrances, driveways, libraries, parks, elementary schools banned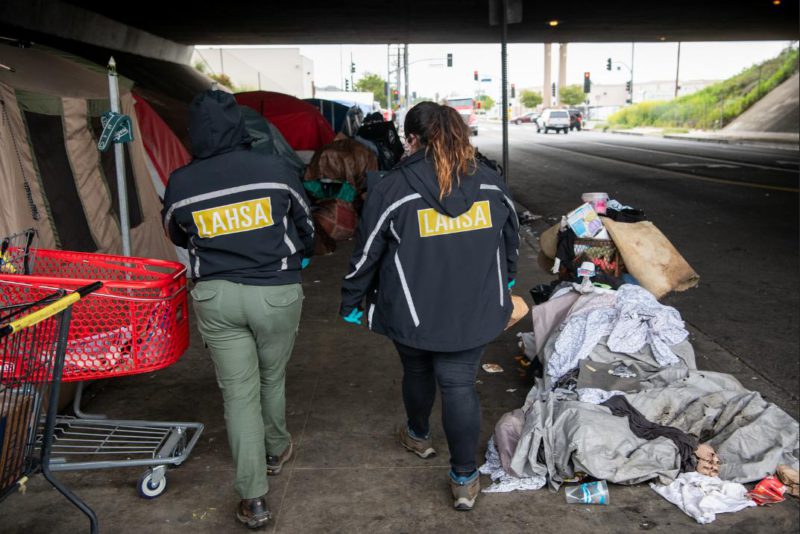 LOS ANGELES – Setting up or creating encampments by homeless persons in 54 select locations across the city is now banned after the LA City Council voted 12-2 Wednesday to outlaw sitting, sleeping and lying in those places.
Utilizing new laws passed over the summer after contentious and at times acrimonious debate, the council enacted new rules regulating sitting, sleeping and storing property near fire hydrants, building entrances, driveways, libraries, parks, elementary schools and several other locations.
The council also directed city staff to ensure that the homeless were given proper notifications prior to action and that all departments expand staff and make available resources to help those affected by the new ban.
On Wednesday, U.S. Veterans Affairs Secretary Denis McDonough announced that the VA is going to place more than 500 unhoused veterans living in Los Angeles into permanent housing.
According to McDonough, the efforts will be in two steps, the first to assist approximately 40 veterans living on the street in what is colloquially referred to as the 'Veteran's Row' encampment, located adjacent to the VA campus in Brentwood on San Vincente Boulevard.
Today, the VA has committed to quickly housing the Angelenos encamped on the federal land near the West LA campus — a big step in the right direction.

Deeply grateful to @SecVetAffairs, @LAHomeless, and @POTUS for their partnership.https://t.co/qiHNMvLm8j pic.twitter.com/R4q246RQFs

— MayorOfLA (@MayorOfLA) October 20, 2021
That encampment has been highlighted by mayoral candidates visiting it frequently including last week by U.S. Representative Karen Bass, (D) who was accompanied by the VA Secretary.
The next step is move another 500 veterans into permanent or transitional housing by December 31, the VA Secretary said.
In the last census count of homeless people conducted by the County of Los Angeles, of the nearly 66,000 people experiencing homelessness, roughly 3,900 are homeless veterans.
LA City Council votes to suspend Ridley-Thomas over corruption charges
The 11-to-3 vote to suspend vote came two days after Ridley-Thomas announced that he would "step back" from his duties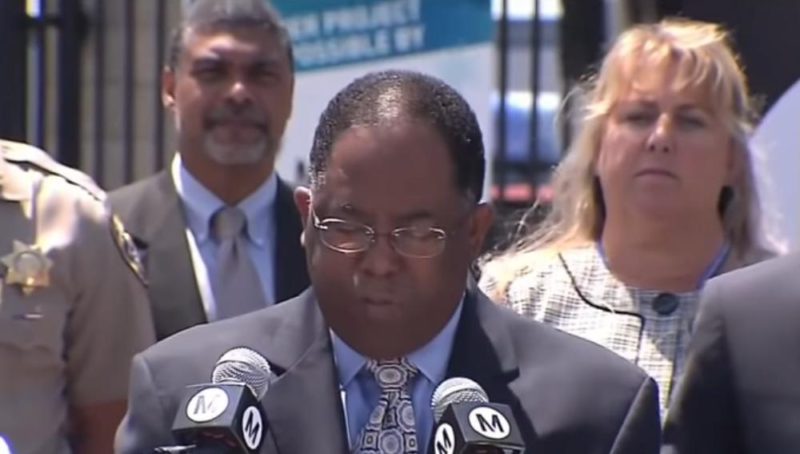 LOS ANGELES – The city council voted Wednesday to suspend Councilman Mark Ridley-Thomas, 66, who was was indicted a week ago by a federal grand jury on 20 federal counts of conspiracy, bribery, mail and wire fraud.
The 11-to-3 vote to suspend vote came two days after Ridley-Thomas announced that he would "step back" from participation in City Council meetings and committees. Ridley-Thomas, who has denied any wrongdoing, has said he will not resign and will fight the federal charges against him, KTLA and the Los Angeles Times reported.
The federal grand jury's indictment alleged that Ridley-Thomas took bribes from a former dean at the University of Southern California, (USC) when he was a member of the County Board of Supervisors.
In a letter sent to fellow councilmembers Monday, he indicated that he would step back from his duties but he declined to resign from his seat. He said that he planned to fight the "outrageous allegations" and would resume participation on the legislative body "at the earliest appropriate time."
The Los Angeles Times reported that in exchange for the payoffs, Ridley-Thomas allegedly supported awarding county contracts worth millions of dollars to USC.
In the indictment Ridley-Thomas is charged with conspiring with Marilyn Louise Flynn, 83, then dean of USC's School of Social Work, to steer county money to the university in return for admitting his son Sebastian into graduate school with a full-tuition scholarship and a paid professorship, the Times reported.