October 15, 2020 at 5:36 pm PDT | by John Paul King
WeHo's beloved Drag Queen Story Hour moves online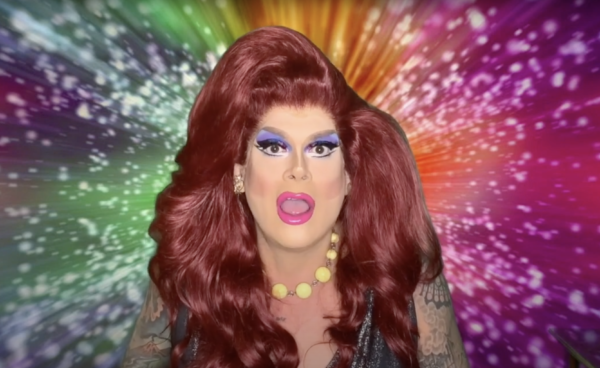 WEST HOLLYWOOD – If you are one of the many residents of WeHo that looks forward to the city's ongoing Drag Queen Story Hours, there's good news.
Despite the cancellation of all its live in-person events, The City of West Hollywood is happy to let you know that the show still goes on, even in the age of coronavirus. While the pandemic might prevent kids of all ages from sharing the fun firsthand, Drag Queen Story Hour has temporarily moved from its home at the West Hollywood Library and will now cover viewers with the sparkle they crave from the safety of an online setting.

The City invites children to ask their parents and guardians for help in logging on to the City of West Hollywood's Arts Division YouTube Channel, where Drag Queen Story Hour continues to offer stories as read by the likes of such local drag celebrities as Amber Crane, Pickle the Drag Queen, and Tony Soto.
Anyone who has been to one of these magical events needs no explanation of what it's all about, but for those who might be new to the concept, the City's official publicity offers the following:
"Drag Queen Story Hour is exactly what it sounds like: glittering magical drag queens capturing the imagination, playfulness, and gender fluidity of childhood, while giving kids glamorous, positive, and unabashedly queer role models to look up to (way up to — have you seen those heels?!). At Drag Queen Story Hour, children are able to see people who defy rigid gender restrictions and imagine a world where people present as they wish — a world where dress up is real."
The City plans to continue its Drag Queen Story Hour productions online until December 31, 2020 – "because reading is fundamental."
While it may not be the same experience as basking in the actual presence of a fabulous queen, there are definitely some upsides to this alternative plan. Most obvious, perhaps, is that while the events have normally taken place only on the fourth Saturdays of even numbered months from 11-11:45am in the West Hollywood Library Community Meeting Room, you can now enjoy them any time, at your own convenience, from the socially-distanced safety of your living room.

Maybe even better than that, though, is that you won't be cleaning glitter off your skin and clothes for weeks afterward.

Check out the most recent episode below, and make sure you subscribe to WeHo Arts on YouTube to make sure you won't miss any of the fun in future installments.