Puerto Rico LGBTQ activist blocked from Facebook accounts for two months
Platform restored Pedro Julio Serrano's access after emails, messages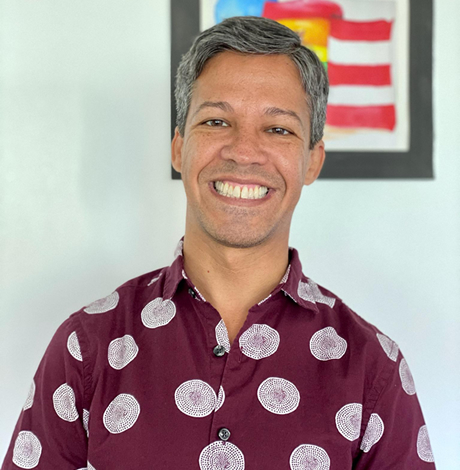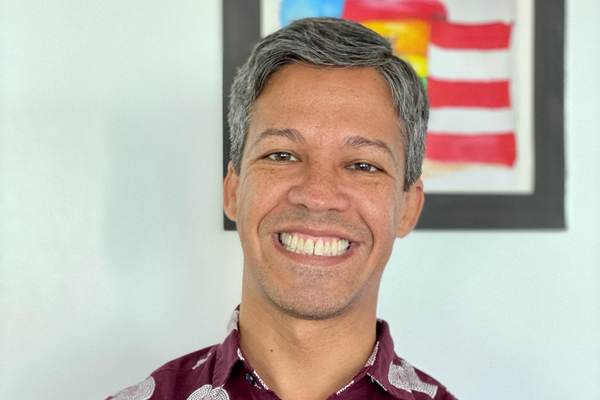 SAN JUAN, Puerto Rico — An LGBTQ activist in Puerto Rico regained access to his verified and personal Facebook pages on Wednesday after being banned for more than two months.
Pedro Julio Serrano was unable to access his Facebook pages since late August, both platforms comprising of more than 140,000 followers in total. He was alerted he violated community guidelines and "pretending to be a well-known person or public figure."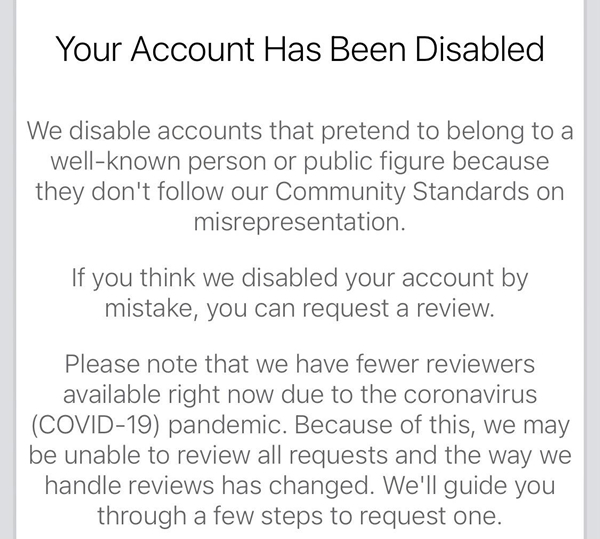 Serrano is not aware of violating any guidelines and wasn't pretending to be a public figure. At the time, he was the sole administrator of his pages but added two users on Wednesday to act as administrators in case another ban occurs.
Serrano since August emailed Facebook weekly, directly messaged the platform's accounts on Twitter and Instagram and submitted multiple forms of identification to regain access.
"(My) platform is critical for me to continue to lead a movement in Puerto Rico to make sure that LGBTQ people are treated fairly," he told the Los Angeles Blade.
Facebook is heavily used in Puerto Rico, he said, and Statista reported Facebook accounted for 80 percent of social media site visits on the island thus far in 2020.
In a message sent to Serrano from Facebook, the platform wrote the suspension was a "mistake."
"We rely on automation that detects violations of Community Standards as well as 15,000 human content reviewers, but occasionally content is flagged or removed in error," said a Facebook company spokesperson in an emailed statement when asked why Serrano was unable to access to his account for two months.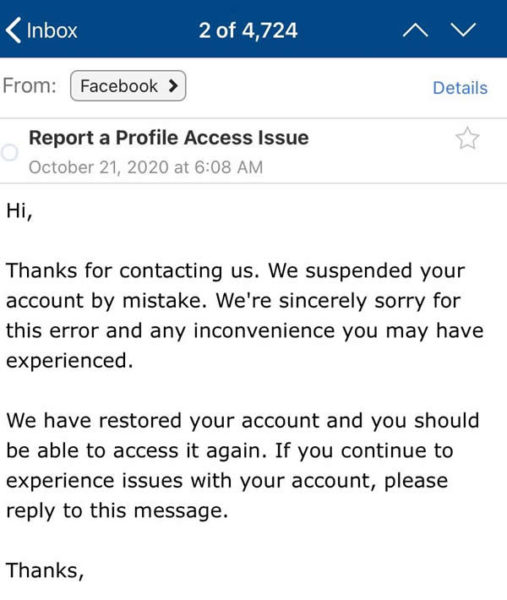 Serrano, a vocal LGBTQ rights advocate who regularly criticizes outgoing Gov. Wanda Vázquez Garced and other members of her pro-statehood New Progressive Party, is unsure what caused this prolonged ban. He's speculative the initial ban on his pages were due to mass reporting by anti-LGBTQ groups and individuals because of his work with San Juan Mayor Carmen Yulín Cruz, who lost in August's gubernatorial primary.
Serrano has also been outspoken on violence against transgender Puerto Ricans.
Six trans Puerto Ricans have been reported killed on the island this year. Five of them were trans women.
Serrano said his advocacy and in particular his demands that the government make changes to protect trans people may have factored into him being blocked from his Facebook accounts.
"I know that when you are in a position of leveraging your voice, these things happen because they want to silence you," he said. "But it shouldn't happen. I'm hopeful that it doesn't happen again, and I can continue using this resource that is so vital."
In addition to his work in politics, Serrano is a founder and executive director of Puerto Rico Para Tod@s, a Puerto Rican LGBTQ advocacy organization, and runs clinics in San Juan for trans people and people with HIV.
Serrano said he has never had a problem with Facebook to this magnitude in the past.
Kathleen Ruane, senior legislative counsel with the American Civil Liberties Union, said platforms like Serrano's are integral to marginalized groups that seek to foster community. Ruane said they also assist in spreading messages in ways traditional media outlets cannot in terms of content and reach.
"Social media has been, even in spite of some of the challenges that queer communities and communities of color face, a democratizing force," she said.
C Rivera, a trans activist from Puerto Rico has also experienced bans on their personal page, with six alone this year so far, all with varying time limits.
Rivera also helps lead "Boicot La Comay," a Facebook page with more than 100,000 likes and followers that advocates for the cancellation of "La Comay," a Puerto Rican gossip show that promotes racist, homophobic and misogynist stereotypes.
Vázquez and other members of her party are regular guests on the program that a life-sized puppet hosts. Serrano is among those who called for "La Comay" to be cancelled in June after it mocked Ana Irma Rivera Lassén, a lesbian woman of African descent who is running for the Puerto Rico Senate.
Authorities a few weeks after the segment aired arrested Serrano and charged him with two counts of marital sexual assault against his former partner. A judge last month dismissed the charges on grounds there was no probable cause to prosecute him.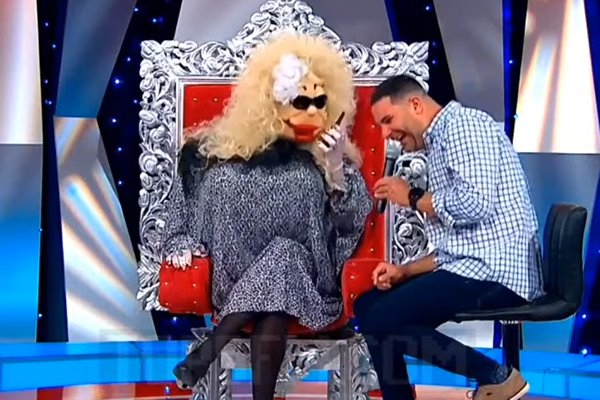 Rivera said they experience more censorship because of their identity. They often write back against hate speech directed to them and trans people, which has been the cause of most of the bans. Rivera once posted a screenshot of a transphobic message directed to them and was promptly banned, they said.
"Basically, about four months of the year I'm banned from Facebook for responding to some sort of attack, for being sarcastic," they said. "And then the person that was attacking trans people doesn't get banned, but I get banned."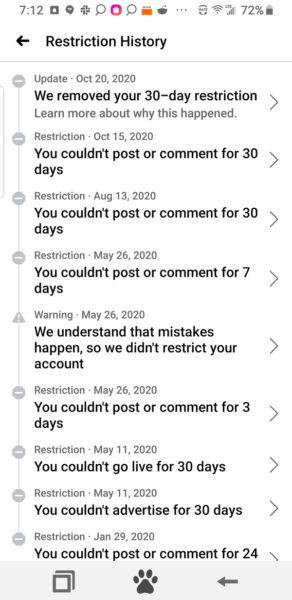 Ruane said Facebook has disproportionately silenced LGBTQ content for years.
Rivera is also forced to use their legal name and hasn't been able to change it due to policy standards. Ruane said this is another instance of anti-LGBTQ regulations on Facebook's part.
Ruane added Serrano's lack of clarity on why his page was banned is also an issue.
"You can't really contest Facebook's decision if they are not providing clarity as to why they made it in the first place," she said.
Ruane said social media is also a platform for advocacy and community. Limiting this outlet by banning pages and rejecting ads can cause loss of income and even risk lives, she said.
"De-platforming or censoring people from Facebook, or from any platform, may seem like this isn't so much of a big deal, but it could have real-world consequences," she said.
Ruane said Facebook needs to take steps to improve its regulation of content in building transparency when creating guidelines and enforcing them. Conducting meaningful review and having particularity in citing violations is also necessary, she said.
The platform, along with Instagram, said they would ban conversion therapy content on their sites in June, following a block on ads promoting the practice earlier this year.
Facebook recently refused to approve an ad containing a photo of a lesbian couple. The band Unsung Lilly submitted an ad of the duo, including a picture of the pair touching foreheads, to promote their new album and Patreon page in efforts to keep the band afloat financially. Facebook had labeled the video as containing "adult sexually explicit content," according to the band and ACLU.
The ad was repeatedly rejected, and the couple decided to re-submit the ad but replaced the picture of them with a photo of a heterosexual couple. The ad was then approved.
Harms of waiving anti-discrimination rules for religious universities
"Once the money stops flowing, they will almost all instantly change their policies and start protecting queer students"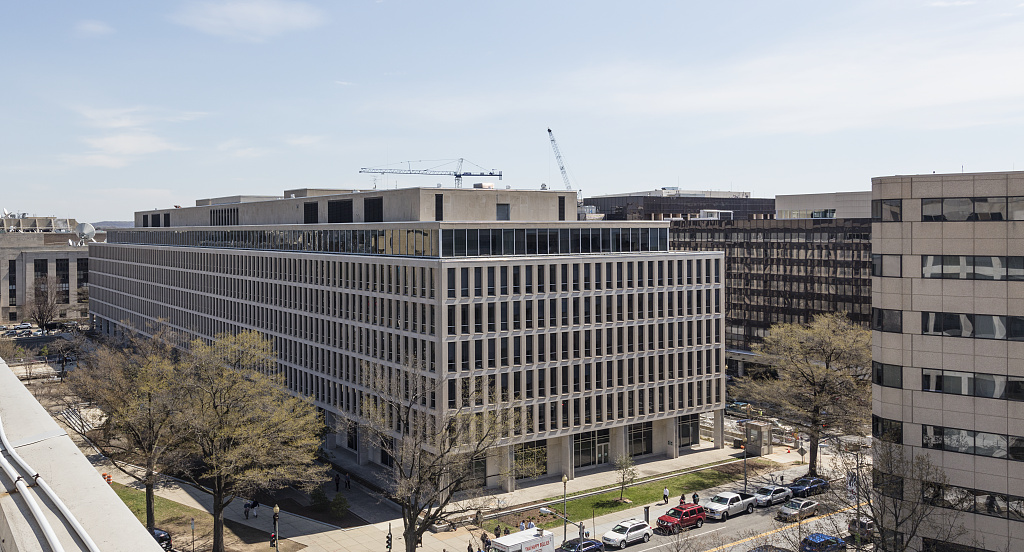 WASHINGTON – Democratic lawmakers re-introduced the Tyler Clementi Higher Education Anti-Harassment Act on Friday, which marked the 13th anniversary of the 18-year-old New Jersey college student's death by suicide after he was targeted with homophobic harassment by his peers.
The bill, which establishes cyberbullying as a form of harassment, directing colleges and universities to share anti-harassment policies to current and prospective students and employees, was introduced by U.S. Senators Tammy Baldwin (Wis.) and Patty Murray (Wash.), along with U.S. Rep. Mark Pocan (Wis.), Chair of the Congressional Equality Caucus.
Advocacy groups including the Tyler Clementi Foundation, the American Foundation for Suicide Prevention, and The Trevor Project have endorsed the legislation, which comes as issues concerning anti-LGBTQ+ harassment in institutions of higher education have earned renewed scrutiny on Capitol Hill and beyond.
Earlier this month, the Washington Blade connected with an expert to discuss these and other subjects: Paul Southwick, a Portland, Oregon-based litigation attorney who leads a legal advocacy group focused on religious institutions of higher education and their treatment of LGBTQ+ and other marginalized communities.
On Tuesday, he shared a statement responding to Friday's reintroduction of the Tyler Clementi bill, stressing the need for equal enforcement of its provisions in light of efforts by conservative Christian schools to avoid oversight and legal liability for certain federal civil rights regulations:
"We are still evaluating the bill regarding how the bill would interact with the religious exemption in Title IX," Southwick said. "We fully support the expansion of anti-harassment protections for students and corresponding requirements for educational institutions."
He added, "We also believe that such protections and requirements should extend to students at taxpayer funded, religiously affiliated educational institutions, regardless of whether those institutions claim, or receive, an assurance of religious exemption from Title IX regulations" through the U.S. Department of Education's Office of Civil Rights.
Baylor University's unprecedented Title IX exemption
In response to a request from Baylor University, a conservative Baptist college located in Waco, Texas, the Education Department in July granted a first of its kind religious-based exemption from federal regulations governing harassment, a form of sex-based discrimination proscribed under Title IX.
Southwick explained that during the Obama administration, the federal government began to understand and recognize discrimination based on sexual orientation and gender identity as forms of sex-based discrimination covered by the statute. The Biden-Harris administration issued a directive for the Education Department to formalize the LGBTQ+ inclusive definitions under Title IX, with a Notice of Proposed Rulemaking that is now underway at the agency.
Beginning with the Department's 2010 "dear colleague" letter clarifying the administration's view that discrimination against LGBTQ+ people constitutes sex-based discrimination under the law, Southwick said the pushback from religious schools was immediate. In the years since, many have successfully petitioned the Education Department for "exemptions so they can discriminate against queer, trans and non-binary people," but these carveouts were limited "to things like admissions, housing, athletics."
No one had argued that "federally funded educational institutions [should] have no regulation by the federal government as to whether they're protecting their students from harassment," he remarked – at least not until the Baylor case.
Addressing the unprecedented move in a letter to the Department on September 5, U.S. Reps. Mark Takano (D-Calif.), Adam Schiff (D-Calif.), Greg Casar (D-Texas), Joaquin Castro (D-Texas), and Veronica Escobar (D-Texas) urged the agency to "clarify the narrow scope of this exemption and assure students at religious institutions that they continue to have protections against sex-based harassment."
Southwick told the Blade other members of Congress have expressed an interest in the matter, as have some progressive nonprofit groups.
Asked for comment, a spokesperson for the Department confirmed receipt of the lawmakers' letter and said the agency will respond to the members.
The Department's issuance of the exemption to Baylor came despite an open investigation into the university by its Office of Civil Rights over a Title IX complaint brought in 2021 by Southwick's organization, the Religious Exemption Accountability Project (REAP), on behalf of a queer student who claimed she was subjected to homophobic abuse from other students while university officials to whom she reported the harassment failed to intervene.
It is not yet clear whether the agency will close its investigation as a result of its decision to exempt Baylor from Title IX's harassment rules.
Veronica Bonifacio Penales, the student behind the complaint against Baylor, is also a plaintiff in REAP's separate class action lawsuit challenging the Education Department's practice of waving Title IX rules for faith-based colleges and universities – which, the plaintiffs argue, facilitates anti-LGBTQ+ discrimination in violation of the 14th Amendment's equal protection clause.
The case, Hunter v. U.S. Department of Education, is on appeal before the U.S. Court of Appeals for the 9th Circuit.
Other religious schools are likely to follow Baylor's lead
Southwick said the agency's decision in the Baylor case "puts students at risk of harassment without a civil remedy against their school's failures to properly address harassment," adding, "Taxpayer funded educational institutions, whether religious or secular, should never be permitted to escape oversight from OCR in how they handle anti-harassment claims from LGBTQIA+ or other students protected by federal non-discrimination law."
Buoyed by Baylor's successful effort, requesting exemptions to Title IX rules for purposes of allowing the harassment of LGBTQ+ students, faculty, and staff is likely to become routine practice for many of America's conservative institutions of higher education, Southwick said.
The nonprofit group Campus Pride maintains a list of America's "absolute worst, most unsafe campuses for LGBTQ+ youth," schools that "received and/or applied for a Title IX exemption to discriminate against LGBTQ+ youth, and/or demonstrated past history and track record of anti-LGBTQ+ actions, programs and practices."
193 colleges and universities have met the criteria.
Many of the thousands of LGBTQ+ students enrolled in these institutions often have insufficient support, Southwick said, in part because "a lot of the larger civil rights organizations and queer rights organizations are very occupied, and rightly so, with pushing back against anti-trans legislation in the public sphere."
Regardless, even in America's most conservative schools like Bob Jones University in Greenville, South Carolina, Liberty University in Lynchburg, Virginia, and Hillsdale College in Hillsdale, Michigan, Southwick noted that pro-equality students, faculty, and staff have pushed for change.
He added that while there are, no doubt, young people who harbor anti-LGBTQ+ views, "they often become much more progressive the longer they're in school, because there's just queer people coming out everywhere, you know, and it's hard to hate people who are your friends."
The powerful influence and role of financial incentives
Southwick said meaningful reform at the institutional level is made more difficult by the reality that "financial incentives from the government and from the market are aligned to favor the continuation of discrimination."
"Once the money stops flowing, they will almost all instantly change their policies and start protecting queer students," he said, but added that colleges and universities have little reason to change without the risk that discriminatory policies and practices will incur meaningful consequences, like the loss of government funding and accreditation.
Another challenge, Southwick said, is the tendency of institutions of higher education to often prioritize the wishes and interests of moneyed alumni networks, boards of trustees, and donors, groups that generally skew older and tend to be more conservative.
Southwick said when he and his colleagues at REAP discuss proposed pro-LGBTQ+ reforms with contacts at conservative religious universities, they are warned "over and over again," that "donors will be angry."
Following the establishment of nationwide prohibitions against segregation and other forms of racial discrimination with passage of the federal 1964 Civil Rights Act and the U.S. Supreme Court's decisions in Brown v. Board of Education (1954), which applied to public schools, and Runyon v. McCrary (1976), which covered private schools, Southwick noted that "A lot of Christian schools and college colleges continued to deny admission to black students."
One by one, however, the so-called "segregation academies" would permanently close their doors or agree to racial integration, Southwick said – buckling under pressure from the U.S. government's categorical denial of federal funding to these institutions, coupled with other factors like the decision of many professional associations to deny membership to their professors and academics.
Another important distinction, Southwick added: unlike Title IX, the Civil Rights Act of 1964 "does not have a religious exemption."