November 10, 2020 at 9:10 pm PST | by Rick Zbur
A Pro-Equality Agenda for Joe Biden and Kamala Harris's First 100 Days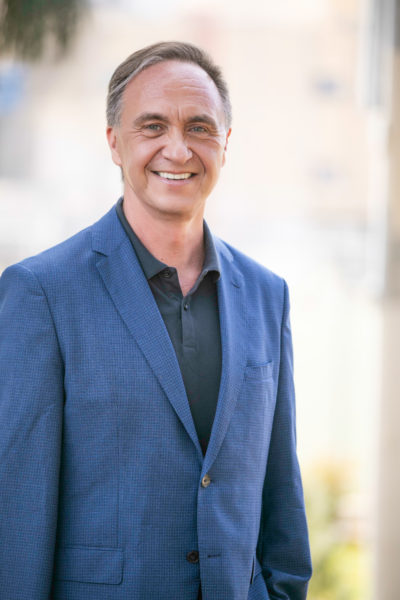 Unwinding the devastating and compounding impacts of the Trump-Pence Administration and, as the president-elect would say, "building back better" will take far longer than 100 days, but I'm confident that the Biden-Harris Administration will have accomplished a great deal before spring wildflowers carpet California's rolling hills.
Given both President-elect Biden and Vice President-elect Harris's longstanding commitments to LGBTQ+ equality, our community has a lot to look forward to.
First on their agenda will be regaining control of the COVID-19 pandemic, which has disproportionately devastated the LGBTQ+ community and claimed over a quarter of a million American lives, and the corresponding economic crisis.
But the next administration will need to walk and chew gum at the same time — something the president-elect and vice-president elect have repeatedly highlighted during the campaign. And we expect the new administration to waste no time in jump-starting the process of rolling back dozens of anti-LGBTQ+ executive orders and regulations enacted by the Trump-Pence Administration across the federal government.
From rescinding the transgender military ban to reinstating guidance to protect LGBTQ+ students in our schools to safeguarding healthcare nondiscrimination protections for LGBTQ+ patients and fully restoring the DACA (Deferred Action for Childhood Arrivals) program, we expect the new Administration to undo the current one's hateful attacks against LGBTQ+ people and vulnerable communities to which we belong — communities of color, immigrants and mixed-status families, women and religious minorities, people with disabilities and those living with HIV.
Low-income people who rely on federally subsidized assistance programs, such as Title X-funded health clinics, public housing and shelters, and Supplemental Nutrition Assistance Program (sometimes referred to as "food stamps") were particularly hurt by the Trump-Pence Administration's policies — a list of which the Biden-Harris transition team is currently assembling for urgent action. All of these need to be reversed as soon as possible.
But undoing the damage done by President Trump and his allies over the last four years will be just the first component of the first 100 days of a Biden-Harris Administration. On the campaign trail, the president-elect outlined the boldest, most comprehensive plan to advance LGBTQ+ equality of any major party nominee in history.
And while some of the legislative priorities may be put out of reach if Democrats fail to regain control of the U.S. Senate in two Georgia runoff elections on January 5, don't expect the new administration to walk away from any policy goals.
Senate Democratic Leader Chuck Schumer and Senator Elizabeth Warren have already floated a proposal to cancel federal student loan debt through executive action.
If the self-proclaimed "Grim Reaper" of the Senate Mitch McConnell is still setting the chamber's agenda on January 20, expect the Biden-Harris Administration to pursue equally creative strategies to expand access to HIV prevention medications, support and protect LGBTQ+ youth and protect LGBTQ+ Dreamers without Congressional action.
Regardless of which party controls the U.S. Senate, we know that the incoming administration will champion the Equality Act, which would amend existing federal civil rights laws to prohibit discrimination on the basis of sexual orientation and gender identity.
President-elect Biden repeatedly identified the bill as a top legislative priority We know that a majority of members in both chambers of Congress support the bill. But a Majority Leader Schumer would be far more helpful getting the bill to the president's desk than McConnell, who has to date refused to allow a vote on it.
In addition to tackling COVID-19 and investing in a bold economic recovery, the Biden-Harris transition team has already highlighted racial equity and climate change as two priority policy areas for the first 100 days. Dismantling systemic racism and solving our impending climate crisis are both essential steps toward achieving full, lived equality for all LGBTQ+ people.
And while we recognize that neither goal will be fully realized in a single presidential term — let alone 100 days — we share the president-elect and vice president-elect's commitment to taking bold, concrete actions to advance racial equity and address our climate emergency.
Before Biden and Harris are sworn in, we expect them to begin assembling a cabinet that looks far more like the United States than the current president's team of mostly straight white men.
A Biden-Harris Administration will almost certainly include highly qualified and accomplished LGBTQ+ people at all levels of the federal government, including the first openly LGBTQ+ Senate-confirmed cabinet member and the first openly LGBTQ+ women, LGBTQ+ people of color and transgender people to serve as U.S. ambassadors.
James Baldwin said, "Not everything that is faced can be changed, but nothing can be changed until it is faced." After four dark years under President Trump, there is no shortage of work ahead for the incoming administration. But we know they're up for the task.
Rick Chavez Zbur is the executive director of Equality California, the nation's largest statewide LGBTQ+ civil rights organization. Zbur is a candidate for Los Angeles City Attorney in 2022.