November 23, 2020 at 9:53 pm PST | by Karen Ocamb
Strong at the broken places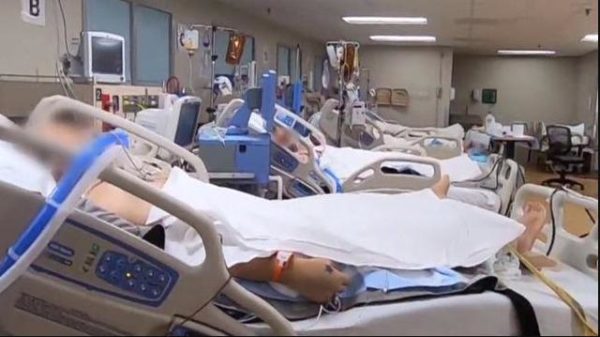 Essay on AIDS for World AIDS Day
"The world breaks everyone and afterward many are strong at the broken places. But those that will not break it kills. It kills the very good and the very gentle and the very brave impartially. If you are none of these you can be sure it will kill you too but there will be no special hurry," Ernest Hemingway wrote in Farewell to Arms, a novel about love, death and grief during World War 1. It sounds like the war people confronting COVID are dealing with now. It sounds like the war gays first faced fighting AIDS.
America is at war with herself, again. It's as if monarch-loving Tory cult loyalists and Confederate White Supremacists handed down their bigoted traditions to anxious racists who devised and extended an existential Southern Strategy to keep minorities subservient. Even the lowest of the low white man could feel superior to any Black, Brown or Asian individual, tribe or country of origin. And men were inherently superior to women, because the Bible said so. LGBTQ people didn't exist and if one emerged, they were arrested as criminals, wantonly beaten as perverts who deserved it, lobotomized to be cured, or murdered and disposed of with no need for justification.
But unlike other minorities, LGBTQ people were often at war within themselves. However, many found courage when they chose authenticity, seeking each other out while risking arrest, hate and death to love and create community. The secretive Mattachine Society burst into the open through the Stonewall Rebellion, which flourished during the anti-Vietnam War and Liberation movements of the late 60s and early 70s. San Francisco-based Harvey Milk and other gays in politics started demanding respected representation. But Milk was assassinated, disco died and religious zealots won over by Florida Orange Juice flak Anita Bryant and her partner in the national anti-gay evangelical crusade, Jerry Falwell and his Moral Majority, seduced enough legacy bigots to put biased Hollywood B actor Ronald Reagan in the White House.
So America didn't care when gays started dying of AIDS. It was God's punishment for homosexuality. The Bible said so: "If any man lie with a man as with a woman, both have committed an abomination, let them be put to death: their blood be upon them." Leviticus 20:13.
But there were Tories and Confederates in the gay community, too. The rich and elite didn't really feel the sting of racism or sexism or homophobia unless they were outed and pursued and demeaned and couldn't buy their way out of a predicament.
AIDS helped changed that. In the beginning, AIDS cut down almost everyone from the poorest to the richest gay man oozing white privilege. The rich man may have had greater access to healthcare in the Betty Ford wing of Cedars Sinai Hospital while the poorest languished in the dank hallways of LA County & USC Medical Center — but escaping death before 1996 was a rare exception.
Many of us lost many friends. The grief was constant and unbearable. The grief was so unbearable, it sometimes broke through the numbness of producing or attending memorials twice, sometimes three times a week. The numbness was so crazy, mourners would laugh at macabre jokes – gallows humors – and flirt and flirt and flirt with each other as if this moment was the only moment that mattered. It's an old instinctive mythology – Eros and Thanatos rolling in the sheets.
AIDS survivors had a quiet kinship, much like veterans nod with discreet understanding after spotting insignias or tattoos or 12 Steppers let slip a program phrase like "Let go, let God." There was racial and societal crossover there. And in the rooms, it was genuine.
But then, after the meeting, survivors and hoping-to-survive people with AIDS separated into their closeted lives or divided LGBTQ communities. Sometimes, if they met in the outside world, a smile, a warm glance, a quick hug would convey a whole secret world of love and well-wishes. Or if the smile was misconstrued, "oppression sickness" – as Morris Kight used to call it – would ensue. Even as ACT UP and Queer Nation made their mark, the shame-infused closet dominated. People were afraid to come out lest they be abandoned by their friends and family – which happened too often with the double stigmas of homosexuality and AIDS. Everything was simultaneously heightened and numbing.
But every now and then there were moments when the whole world seemed brilliantly clear and people would come together in love and support and soul-exploding celebration. Nov. 18, 1992 was just such a night.
For a decade since its founding in Oct. 1982, AIDS Project Los Angeles had been fighting to save lives of people impacted by HIV/AIDS. Willfully taking the advice of anti-gay evangelical and rabid right-wing advisors, President Ronald Reagan ignored the cries of the gay community and even members of his own Centers for Disease Control who warned that the communicable virus would cause an unrelenting epidemic, which it did. By 1992, when Democratic Arkansas Gov. Bill Clinton defeated Republican President Herbert Walker Bush, AIDS had become the leading cause of death in America for men ages 25-44.
APLA had its ups and downs, several times facing financial collapse. But fundraisers like the annual Commitment to Life ceremony brought out Hollywood A-listers for the money and offered people with AIDS an opportunity to enjoy a lavish show they might not otherwise get to see.
That night, Wednesday, Nov. 18, 1992, the Universal Amphitheatre was packed and throbbing with excitement as APLA honored mega-star and gay obsession Barbra Streisand and music and movie mogul David Geffen, who had given $1 million to APLA that year. Additionally, 6,500 people got to celebrate Bill Clinton's victory. The lobby of the Amphitheatre displayed 80 AIDS Quilts as a reminder to the non-directly impacted that 160,000 Americans had died. Everyone dared to hope that an AIDS cure and vaccine was right around the corner.
This CTL fundraiser was chaired by former Fox Inc. Chair Barry Diller and Creative Artists Agency President Ron Meyer with the show itself conceived by producer Bernie Taupin, staged by Vincent Paterson, emceed by Shirley MacLaine and Warren Beatty with David Foster as music director. APLA chair Steve Tisch read a telegram from Clinton before a slew of stars sang duets and songs from gay composers Leonard Bernstein and Stephen Sondheim's "West Side Story." Picture this: "America" done by Natalie Cole, Patti LaBelle and Sheila E; Elton John prancing around singing "I Feel Pretty;" Streisand and Johnny Mathis singing "One Hand, One Heart" and Streisand closing the show with "Somewhere." The evening netted $3.3 million.
The entertainment didn't produce the biggest jaw-dropping moments, however. Those came from Streisand and Geffen.
"I will never forgive my fellow actor, Ronald Reagan, for the genocidal denial of the illness's existence; for his refusal to even utter the word 'AIDS' for seven years and for blocking adequate funding," said Streisand, whose gay son Jason was outted in 1991. "Then came George Bush, once the moderate, who in a Faustian bargain, allied himself with the same primitive, gay-bashing immoral minority….I keep pinching myself. Finally, a President who is committed to finding a cure for AIDS." She also called for a boycott of Colorado for passing Amendment 2, an initiative that eliminated protections and equal rights for gays and lesbians. The media talked about that for days.
But perhaps the most poignant and heart-enhancing moment came when a nervous David Geffen took the stage and referred to stacks of 341 Rolodex cards placed on top of a stool. He had expected to test HIV positive after his first friend died in 1985 but he was lucky. "When the first person I knew died, I couldn't bring myself to throw his Rolodex card away, so I saved it. I now have a rubber band around three hundred forty-one cards," Geffen said, referring to his friend Michael Bennett, director of "The Chorus Line," which Geffen financed. The Jim Parsons/Tommy Boatwright scene in the film "The Normal Heart" is based on that Geffen practice.
Geffen spoke about the need to "nurture and protect young gays who look up to us for hope that they, too, can lead a life uninhibited by fear and guilt and shame."
And then the bombshell that shook the rafters with cheers: "As a gay man, I've come a long way to be here tonight." He wasn't just an elite mogul anymore. He shared their heart – the gay men with KS lesions and medical humpbacks and shriveled skin hanging off a skeleton. He was hugging them now from afar.
"And in different places and by different paths, we've all come a long way," Geffen said. "And yet there is an equally long way to go. If I have learned anything, I have learned this – that we must walk this path together."
160,000 Americans died from AIDS in the decade between 1982 and 1992. But in the face of intentional government neglect and obfuscation, societal cruelty, and internalized shame, gay people forged bonds with their brothers and sisters and created a community that survivors today recognize with a smile and a tear.
As of Nov. 23, COVID-19 has killed more than 250,000 people since last February. And just as gays rejoiced when Clinton was elected, now there are huge expectations for Joe Biden to end the coronavirus pandemic after Donald Trump unforgivable failure. There are so many similarities between our experience then and the grief of COVID survivors today. Where is the communal sharing of grief, the agony of losing family, friends and a "normal" life that only COVID survivors understand? Perhaps, in some way, AIDS survivors can be of help. We are stronger now in many broken places.
Karen Ocamb is an award winning LGBTQ media journalist and the former News Editor of the Los Angeles Blade. She is currently writing a book on friends who died of AIDS.