December 1, 2020 at 10:45 pm PST | by Noah Christiansen
'It's Not Over' WeHo Pop-Up exhibit to honor early AIDS fight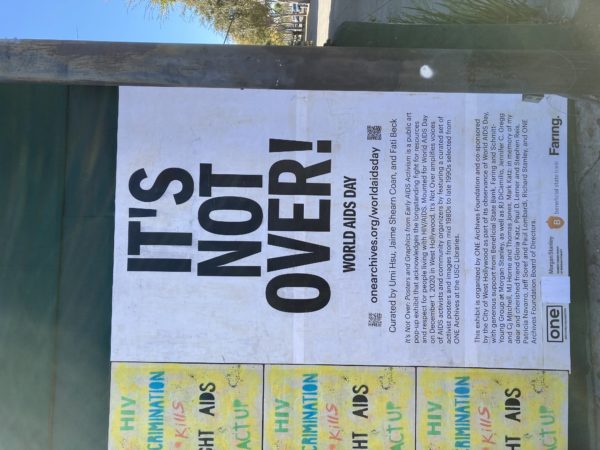 WEST HOLLYWOOD – Every year we have the privilege of being able to celebrate, remember, and mourn those who lost their lives to AIDS. December 1st marks World AIDS Day where people come together to remember the shared history of the fight against AIDS, but more broadly, oppression against members of the LGTBQ+ community.
This year, in particular, is unique due to the fact that we are currently in a global pandemic which makes it difficult for people to come together. More than 700,000 people have died of HIV/AIDS in the U.S. since the beginning of the HIV epidemic in the 1980's and nearly 13,000 people with AIDS in the United States die each year.
The ONE National Gay and Lesbian Archives at the University of Southern California Libraries put together an exhibit in the heart of West Hollywood which contains LGBTQ+ artwork and messages from organizations like ACT-UP who were pivotal in challenging homophobia and stigma against the LGBTQ+ community. The exhibit is titled "It's Not Over" in an effort to show the population that the fight against AIDS and homophobia is a battle that needs to be continued and is something that shouldn't be forgotten.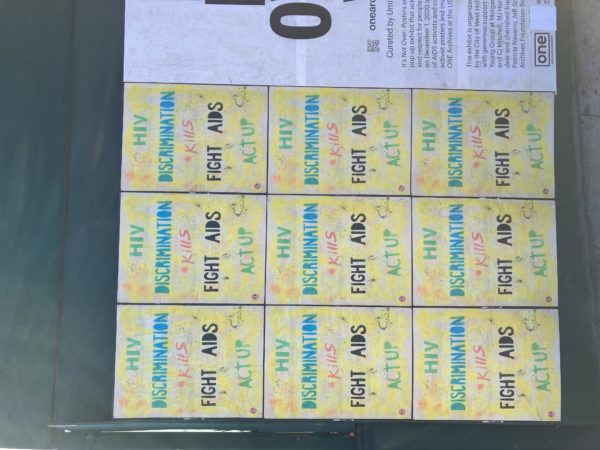 According to the ONE Archives Foundation, "It's Not Over" amplifies voices of AIDS activists and community organizers by featuring a curated set of activist posters and images from mid 1980s to late 1990s selected from the ONE Archives.
One of the main artists that was featured at the exhibit was Keith Haring who was a leader in the fight against the AIDS epidemic. There were many posters that had a picture of Keith Haring with the statement "STOP THE CHURCH" which was a statement against certain churches homophobic practices.
One of Keith Haring's pieces was a great reminder of how policy-making has/had the power to reinforce homophobia. The piece with the "No on 64" writing on it was a direct response to Proposition 64 which, if passed, would have classified AIDS as a communicable disease which would have led to further persecution of LGBTQ+ individuals.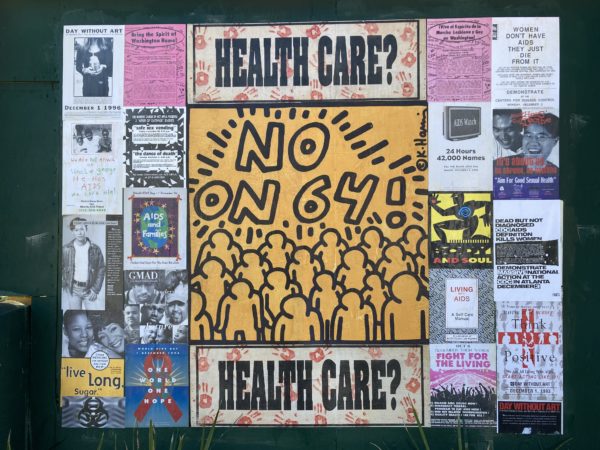 California Proposition 64, or the Acquired Immune Deficiency Syndrome Act of 1986, would have declared that Acquired Immune Deficiency Syndrome (AIDS) and the "condition of being a carrier" of the virus that causes AIDS are communicable diseases. It would have required the State Department of Health Services to add these conditions to the list of diseases that must be reported.
Because AIDS cases are already being reported, the main impact of Proposition 64 would have been to require of public health officials that they were mandatorily required to report to health authorities about those who are "carriers of the AIDS virus." The measure was defeated in part due to the activists like Haring.
Artwork and messages like these serve as a perfect reminder that this fight isn't over and that we should recognize all of the effort put into decreasing stigma.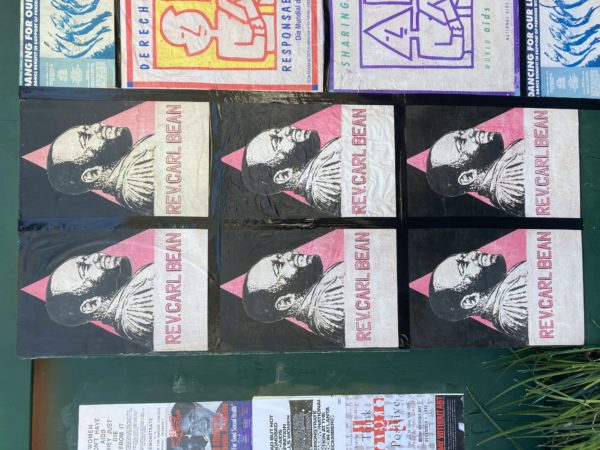 Another noticeable part of the exhibit were posters of Rev. Carl Bean with a pink triangle behind him. For those that don't know, Rev. Carl Bean was one of the first pastors of a church to openly accept LGBTQ+ people. The strides that Rev. Carl Bean made in the LGBTQ+ community were immeasurable. Unity Fellowship Church, Los Angeles (UFCLA) was founded in 1982 by Bean for openly gay and lesbian African Americans.
The city of West Hollywood remembers the AIDS crisis of the 80's all too well because of its hard work and effort for decades trying to eradicate HIV/AIDS as well as the stigma associated with it. Historically, West Hollywood was "one of the first government entities to provide social services grants to local HIV/AIDS organizations" West Hollywood's Mayor, Lindsey P. Horvath, recognizes this telling the Blade in an emailed statement;
"The City's annual recognition of World AIDS Day is a chance for us each to stop and take note of the extraordinary loss that our community has experienced during nearly four decades, as well as our remarkable resiliency in the face of that loss." She went on to say, "So many of our friends, neighbors, and loved ones have been taken due to HIV and AIDS; yet we continue our fight to end their transmission through education, access to medical care, and resources for ALL people. Our reflection and commemoration is an occasion to deepen our resolve to our City's vision of ending HIV and AIDS."
Now, although exhibits like these are important to challenge stereotypes and stigmas used against the LGBTQ+ community, many might ask what next?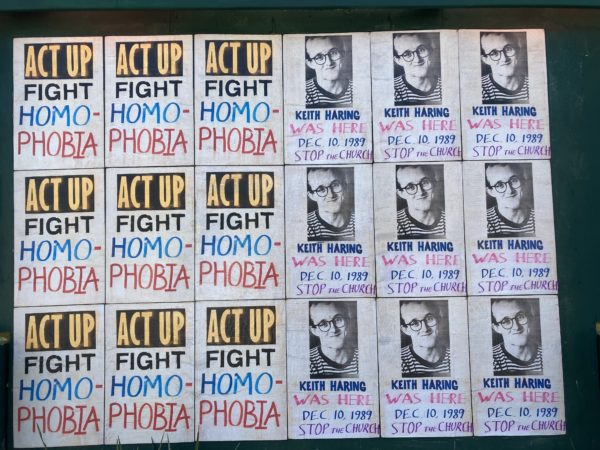 The City of West Hollywood has special plans to eradicate HIV/AIDS in their city. According to the City of West Hollywood, "The City of West Hollywood actively participates in the development of programs that can bring awareness about the HIV/AIDS epidemic and services to people living with HIV/AIDS. In January 2015, the City announced its vision to become an 'HIV Zero' city. The City is currently implementing its HIV Zero Initiative."
Exhibits and initiatives show remembrance and efforts to eradicate HIV/AIDS and the stigma associated with it. The "It's Not Over" exhibit is located on 8954 Santa Monica Blvd. in WeHo.
Whether it be an AIDS quilt or a pop-up exhibit– remembering those who stood with the LGBTQI+ community in the ongoing fight against AIDS is important.