December 10, 2020 at 10:53 pm PST | by Noah Christiansen
Trans Youth Acting Challenge- Bringing awareness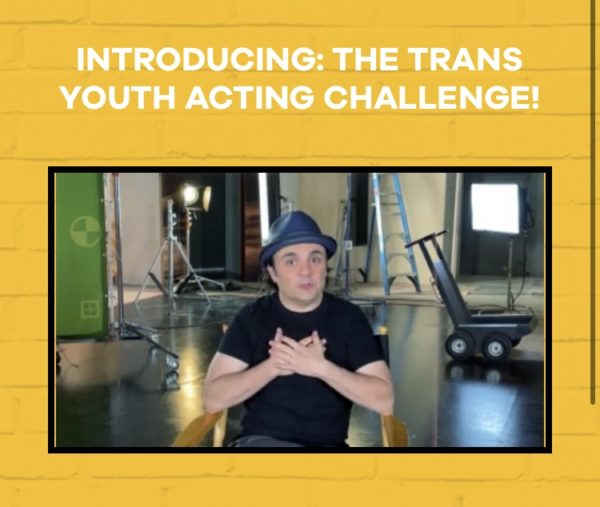 BURBANK – When examining queer people in the media, it's easy to see a lack of representation especially for trans and non-binary people. Although actor Michael D. Cohen does not necessarily call himself- "trans", last year he came out in a story in Time Magazine about his personal journey – his gender transition.
"I was misgendered at birth," Cohen says. "I identify as male, and I am proud that I have had a transgender experience — a transgender journey. [..] I have worked so hard to get to the truth and I've taken on labels in the past that didn't feel true for the sake of convenience at that moment," he told the magazine.
For many, they probably can not name many actors and actresses who have transitioned, so Cohen is making waves. Yet, even though this is fantastic for accurate representation, some ask who he is. Cohen's a Canadian actor who has appeared in a litany of shows and movies with some of the most memorable roles being Schwoz Schwartz in Henry Danger and all of its spin offs such as Danger Force. He has also appeared in shows that aren't strictly Nickelodeon such as Disney's Wizards of Waverly Place and ABC's Modern Family.
Although he's making a name for himself, it does not mean that his journey was easy. Cohen talks about the process of coming out in an industry surrounded by children. It is not hard to understand that those parents who hold extreme values regarding the nature of gender identity are usually upset when confronting the fact that there is a person who transitioned on a children's show.
Cohen has faced this backlash and he commented; "People don't understand. They think this has to do with sexuality and it doesn't. They think this has to do with pushing an agenda on kids and it doesn't," he says. "What it does is send a message to kids that whoever they are, however they identify, that's celebrated and valued and okay."
But, what about his current gig on Nickelodeon? Their response to one of their employees coming out should not be one that bashes a person's identity. When Cohen was asked by the Blade how Nickelodeon responded, he replied, "They handled it the way they should've. They stood behind their values and backed me up." Now, one of the television shows that Cohen appears as a cast member on Nickelodeon has more than 750,000 children watching each week.
He understands the issues that trans and non-binary youth face in today's entertainment industry, which is why he launched the "Trans Youth Acting Challenge." According to Cohen, "It's a casting call for Nickelodeon to see trans and non-binary youth in consideration for roles for show." His background of being an actor in a field which greatly underrepresents trans and non-binary people, especially youth- shows that he has a clear goal to trying to transform the industry writ large.
"The reason I did it is because I wanted to create more opportunities for trans and non-binary youth," Cohen said adding, "It's already changed the landscape just by having this initiative."
Posted on the website is a video of Cohen calling upon trans and non-binary youth to submit video audition submissions to have an opportunity to be potentially cast in one of Nickelodeon's shows. Cohen has made the process incredibly simple; Upload a video of yourself acting with lines provided. On the website, there is a list of different scenes that an actor is able to choose from.
Is there accurate representation for trans and non-binary youth? According to Cohen, currently, no. "Representation in the media is a breach in familiarity. The more that we are represented and represented accurately in the media, the more people who can gain awareness that's based in truth, love, connection, and community."
This opportunity for trans and non-binary youth is based off of the experience of an actor who has successfully transitioned and is now paying it forward by reaching out to youth who aren't afforded many opportunities to express their true selves in this industry.
"There's nothing more important than providing support to young people. That's what we're here for. Regardless of anybody's identity, that's what adults are here to do," Cohen says. "We have to support young people coming up and letting them shine – letting them be their authentic self." In this regard, Cohen understands the necessity of reaching out to trans and non-binary youth in particular.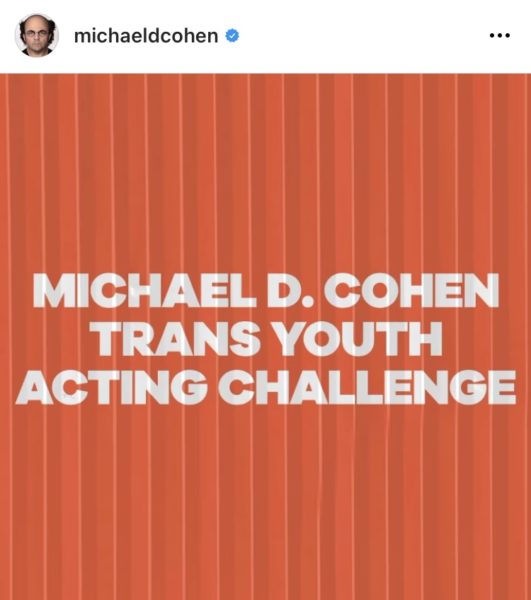 Cohen ended his interview with the Blade with a note of positivity telling children to come out when they are ready because even though he felt comfortable coming out – not everyone has that comfortability. "We're keeping the finalists confidential and anonymous… It's up to them and their family to decide if they will be public about [coming out]." Approaching the auditions in this way will allow the youth to feel comfortable in their own skin.
Cohen tells people to be themselves; "We have to bring awareness to the areas in which we have these false beliefs about who we are,"… and maybe a way in which we can bring awareness would be through the Trans Youth Acting Challenge.