December 23, 2020 at 8:01 pm PST | by Staff reports
WeHo approves Trans flag & updated Pride flag crosswalk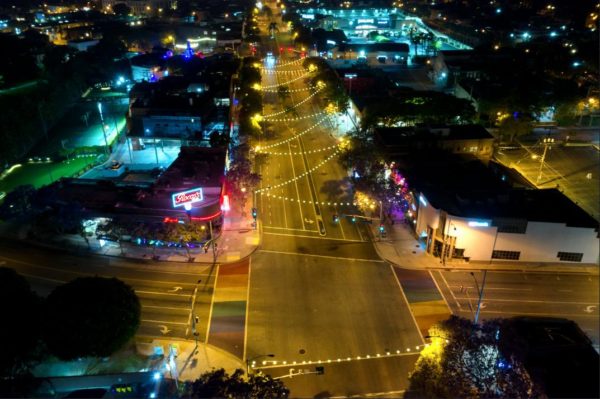 WEST HOLLYWOOD – During the course of routine city business conducted Monday, the WeHo City Council signed off on a 'council's consent calendar' item introduced by Councilmember John Erickson, regarding installing a Trans flag crosswalk and then adding black and brown stripes to revamp the current Pride flag crosswalks at Santa Monica and San Vicente boulevards.
The matter was unanimously approved without discussion, however council members and members of the public weighed in during the public comment period.
Councilmember, Sepi Shyne, on the subject of adding the stripes to the existing crosswalks Pride flag noted; "The reality is, during this pandemic, the mortality rate for Black and Brown lives is absolutely higher than every other person and it is incumbent upon us as the progressive city that we are to do everything that we can to recognize Black and Brown lives."
"As a gay white male of a certain age in this city, I do strongly support this effort to bring new life and new awareness to all the kinds of ways in which we want to make sure people are represented and have a place in our community whether its spoken or painted or written," former Mayor and Councilmember John D'Amico said.
The inclusive of all people within the LGBTQ communities Pride flag was designed by Amber Hikes, the Chief Equity and Inclusion Officer for the American Civil Liberties Union, (ACLU). Hikes is a longtime social justice advocate, community organizer, and in her words, 'unapologetic queer black woman.'
Hikes had designed the inclusive Pride flag during her tenure as the Executive Director of the Philadelphia Mayor's Office of LGBTQ Affairs.
In a statement read to the WeHo City Council by her personal friend and city resident Marquita Thomas – Hikes said;
"The symbols we use, the representations we highlight, matters. It matters to people who have not always seen themselves in West Hollywood and it matters people who would prefer to keep it that way,"

"Your city and your leaders have for decades been role modeling that its possible that we embrace equity, demand justice and celebrate all of us," Hikes' statement continued.

"Updating your flag proclaims with everything that black lives more than matter. You're saying that queer black and brown representation is who we are, that black and brown trans lives are precious and ought to be celebrated, that centering the leadership and voices of those who are impacted is the only way we will arrive at collective liberation."
During the public comment period, several expressed opposition to adding the additional stripes- noting that the Pride flag already encompassed all people within the LGBTQ community as a whole. A few others questioned the wisdom of the council committing public funds to the project in the midst of the coronavirus pandemic.
West Hollywood was the first city in the nation to install a Pride Flag crosswalk design in 2012. First regarded as a temporary feature for the Pride celebrations that year it was later approved as a permanent fixture after positive input from residents and visitors alike.