Buttigieg makes history- First openly LGBTQ, Senate confirmed, cabinet member
Buttigieg brings diversity to the Cabinet. There hasn't been an out gay Cabinet secretary before.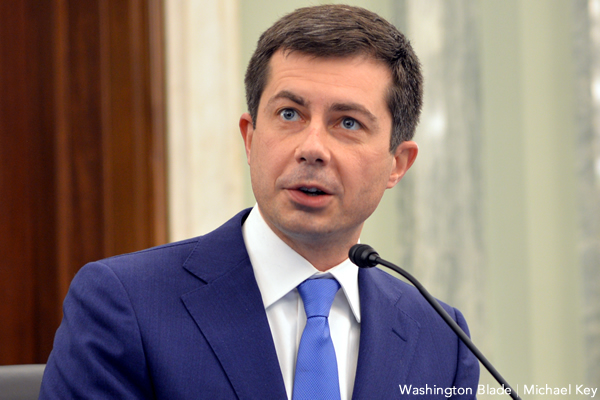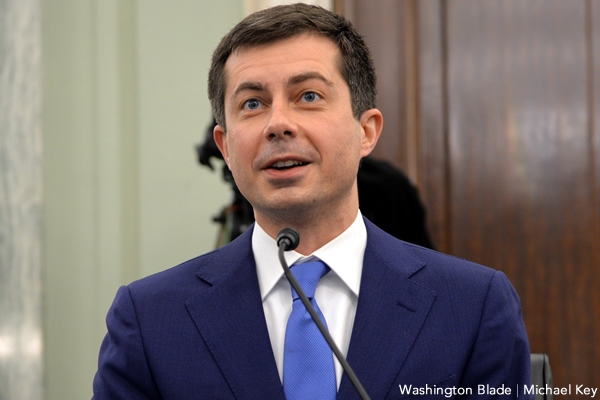 WASHINGTON – The U.S. Senate in a historic and overwhelmingly bipartisan vote of 86-13, confirmed former South Bend, Indiana, Mayor Pete Buttigieg to be the nineteenth U. S. Secretary of Transportation.
Buttigieg is the first Senate confirmed openly LGBTQ+ presidential cabinet secretary and at age 39, the youngest person to serve as secretary of transportation.
On Twitter Secretary Buttigieg wrote: "I'm honored and humbled by today's vote in the Senate—and ready to get to work."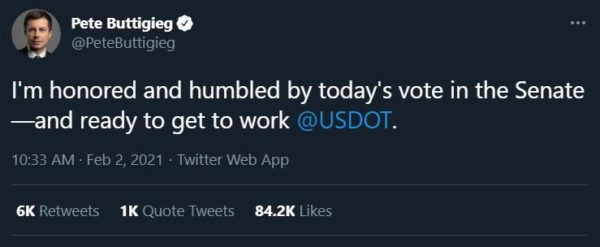 "Congratulations to Secretary Pete Buttigieg on his historic confirmation," Alphonso David, president of Human Rights Campaign, said after the vote. "This confirmation breaks through a barrier that has existed for too long, where LGBTQ identity served as an impediment to nomination or confirmation at the highest level of government."
Buttigieg brings diversity to the Cabinet. There hasn't been an out gay Cabinet secretary before. Under President Trump, Richard Grenell, who is gay, served as acting director of national intelligence, but did not have to face Senate confirmation as an acting director.
In the late 1990s, Senate Majority Leader Trent Lott blocked a confirmation vote on President Clinton's pick for ambassador to Luxembourg, James Hormel, over his sexual orientation; Clinton ultimately installed Hormel with a recess appointment, the Los Angeles Times noted.
In early 2019, Pete Buttigieg was the first openly gay candidate to run for a Democratic presidential nomination, where he became the first openly LGBTQ person of any party to earn a delegate and win a state caucus or primary.
He became a serious contender after initial critique of being too young and as a mayor untested and inexperienced was mitigated by his virtual tie with Senator Bernie Sanders, (D-VT) in the outcome of the first-in-the-nation Iowa caucuses.
Buttigieg struggled to gain support from Black voters, a critical must have in Democratic party politics and ultimately dropped out of the race after a crushing loss to Joe Biden in the South Carolina primary.
After his withdrawal, he chose to quickly endorse Biden, helping him solidify unified support in the challenge to become the Democratic party nominee and later he was a critical component of the campaign against former President Donald Trump.
In his opening statement before the Senate Committee on Commerce, Science & Transportation confirmation hearing last week, Buttigieg stated that he felt ensuring investment in infrastructure would be key to addressing economic and climate issues.
"By creating millions of good paying jobs revitalizing communities that have been left behind, enabling American small business workers, families and farmers to compete and win in the global economy and tackling the climate crisis," Buttigieg said.
Consistent with Biden's stated plan to address systemic racism, Buttigieg also stated his plan for transportation is ensuring marginalized communities can benefit.
"Getting people and goods to where they need to be directly and indirectly creating good paying jobs, but I also recognize that at their worst misguided policies and missed opportunities in transportation can reinforce racial and economic inequality by dividing or isolating neighborhoods and undermining government's basic role of empowering Americans to thrive," Buttigieg said.
Former Houston, Texas Mayor Annise Parker, the President & CEO of LGBTQ Victory Institute noted in an emailed statement;
"Pete shattered a centuries-old political barrier with overwhelming bipartisan support and that paves the way for more LGBTQ Americans to pursue high-profile appointments. Pete testifying at his confirmation hearing, with his husband looking on, will be among the powerful images that define this unprecedented political moment and will be remembered as a milestone in America's move toward social justice."

"While his confirmation is historic, Pete is focused on the difficult task ahead. America is in desperate need of a revitalized transportation effort and his two terms as mayor provide the experience and perspective needed to propose bold solutions. Americans are fortunate to have Pete as their Secretary of Transportation."
Praised by President Joe Biden as bringing a "new voice" to his administration, Buttigieg takes over a Transportation Department with 55,000 employees and a budget of tens of billions of dollars, the Los Angeles Times reported noting that Buttigieg has pledged to quickly get to work promoting safety and restoring consumer trust in America's transportation networks as airlines, buses, city subway systems and Amtrak reel from plummeting ridership in the COVID-19 pandemic.
"The Los Angeles LGBT Center congratulates Pete Buttigieg on the historic occasion of becoming the first openly LGBTQ person to be appointed to a permanent Cabinet position. From presidential candidate to Secretary of Transportation, Buttigieg has broken down longstanding barriers that have excluded members of the LGBTQ community from the highest positions in government," the Center wrote in an emailed statement.
Equality California, the nation's largest statewide LGBTQ+ civil rights organization, released the following statement from Executive Director Rick Chavez Zbur:
"Today is an historic day for our LGBTQ+ community and our nation. The confirmation of Pete Buttigieg signals to millions of LGBTQ+ kids across our country that anything is possible and that LGBTQ+ people belong in every seat of power.

"I'll never forget watching Pete Buttigieg during his trailblazing run for the White House help 9-year-old Zachary find the courage to come out as gay. It's this kind of bravery and strength that Pete inspires in our entire country, but especially our LGBTQ+ young people.

"Equality California applauds President Joe Biden and Vice President Kamala Harris for this historic nomination and their commitment to creating a diverse administration. We also thank California Senators Dianne Feinstein and Alex Padilla for their votes to confirm Secretary Buttigieg today.

"We're ready to roll up our sleeves and get to work with Secretary Buttigieg and the Biden-Harris Administration to build back an America that is better and more inclusive for everyone."
Additional reporting from Chris Johnson
Out U.S. Rep. introduces bill to create U.S. LGBTQ history museum
"It is vital to remember our collective past when certain states seek to constrain & repeal existing rights by passing laws that harm LGBTQ+"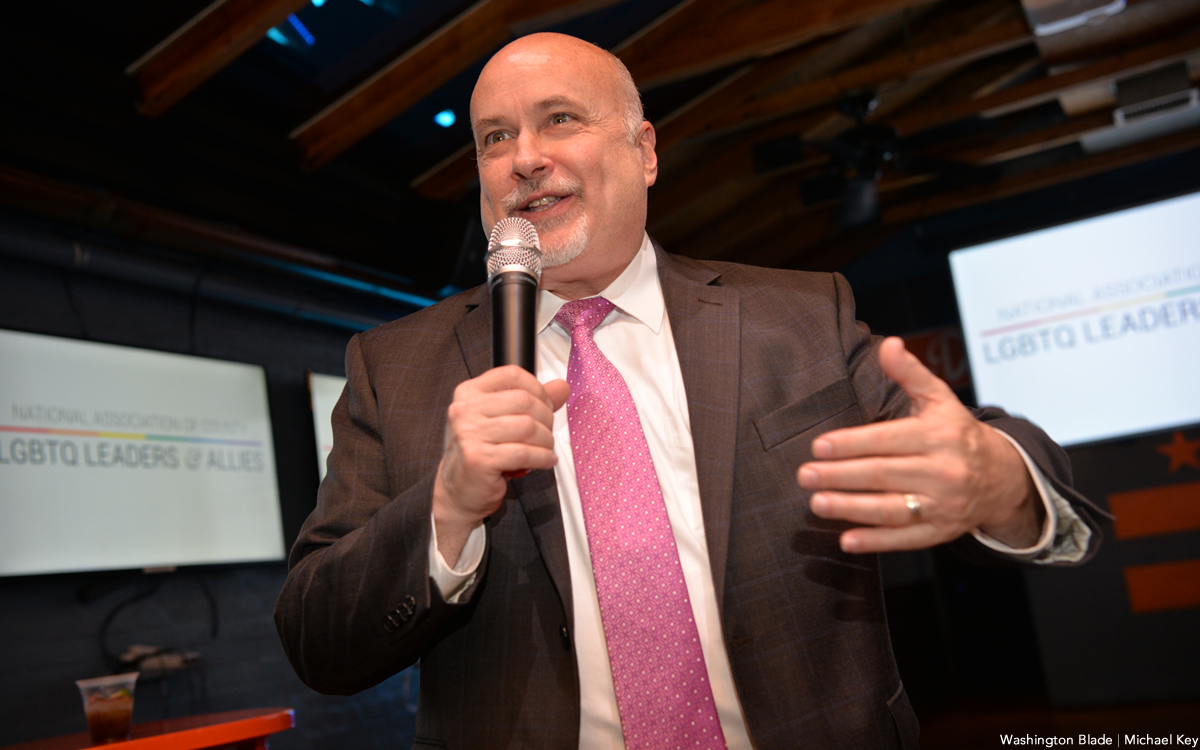 WASHINGTON – U.S. Rep. Mark Pocan (D-Wis.) has introduced legislation that would set up the process to create a National Museum of American LGBTQ+ History & Culture, potentially as an official site within the Smithsonian Institution in Washington, D.C.
Pocan, one of nine openly gay members of the U.S. House and co-chair of the LGBTQ+ Equality Caucus, said in a statement Thursday the measures would are effort to preserve LGBTQ history "as our community faces unprecedented attacks and attempts to erase our history." The pair of bills is H.R.9070 and H.R.9071.
"It is vital to remember our collective past – particularly when certain states seek to constrain and repeal existing rights by passing bills that harm LGBTQ+ youth and our community at large," Pocan said. "Let's tell these stories, and honor the many contributions the LGBTQ+ community has made to this nation with a museum in Washington, D.C."
The first bill, according to a news statement, would creates an eight-member commission of individuals with expertise in museum planning or LGBTQ+ research and culture "to look into the viability of establishing such a facility in the nation's Capital."
Among other things, the commission would be charged with recommending a plan on action for museum, including fundraising for the museum, and submitting to Congress a plan for construction of the museum, the statement says.
The bill would also instruct the commission to address whether the museum should be part of the Smithsonian Institution, based in the nation's capital and the world's largest museum and research complex, per the news statement. The full study, the statement says, would have to be completed in 18 months.
If the Smithsonian were to adopt the a museum on LGBTQ history and culture, it would be similar to other museums under its jurisdiction focused on minority populations in the United States, including the National Museum of African American History & Culture and the National Museum of the American Indian.
The second bill, according to a news statement, would be eligible for consideration by Congress after the commission completes its work and issues its recommendations and allow for formal creation of the museum. More than 50 lawmakers, including all nine openly gay members of the U.S. House, co-sponsor the legislation.
New survey shows 72% of Utah residents back same-sex marriage
Troy Williams, executive director of Equality Utah said he's not surprised to see that a majority of Utahns now support marriage equality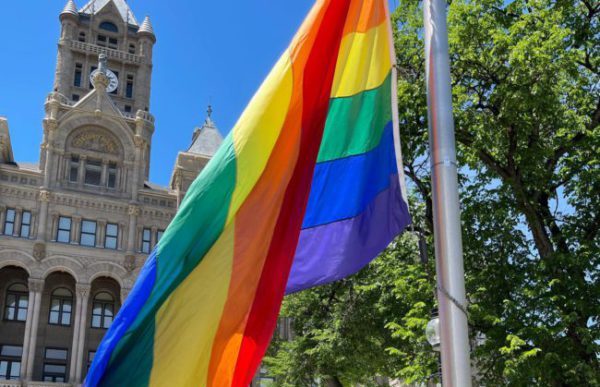 SALT LAKE CITY – The results of a poll run by the Hinckley Institute of Politics and the Desert News found 72% of Utah's residents agree that marriages between same-sex couples should be recognized by law as valid, with the same rights as cis-gender marriages.
"For a state that less than 20 years ago passed laws and a constitutional amendment prohibiting same-sex marriage, there has been a seismic shift in opinion," said Jason Perry, director of the Hinckley Institute of Politics at the University of Utah.
The Deseret News/Hinckley Institute of Politics survey also found that 23% of those surveyed disagreed, while 5% expressed that they don't know.
The poll shows Utahns are aligned with the nation as a whole on the issue. A Gallup poll in May found 71% of Americans say they support legal same-sex marriage, a new high.
Troy Williams, executive director of Equality Utah, told the Desert News that he's not surprised to see that a majority of Utahns now support marriage equality.
"Utah is a pro-family state, and we recognize that families come in all shapes and sizes. When we see loving, committed couples joining in matrimony, our natural impulse is to support and encourage that love. This gives me great hope for the future," he said.
A new poll shows nearly three-fourths of Utahns support legal same-sex marriage. | By @dennisromboy #utpolhttps://t.co/DBJHHNgmnJ

— Deseret News (@Deseret) September 30, 2022
Art spotlights people of color lost to AIDS in the South
The conference was attended by LGBTQ activists from the South, featured 100 quilt panels. Attendees participated in quilt-making workshops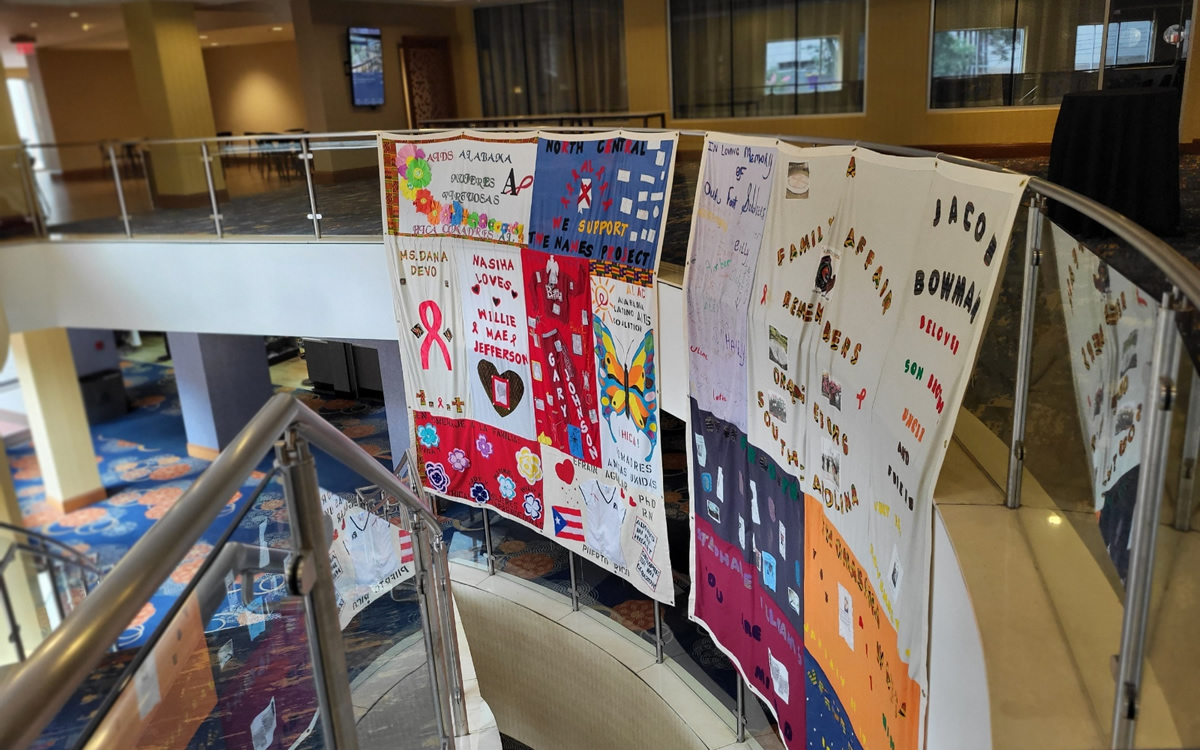 JACKSON – The National AIDS Memorial has joined forces with the Southern AIDS Coalition to stage a series of art exhibitions and educational forums to honor Black and Brown people in the South who have been lost to HIV/AIDS.
The initiative, titled Change the Pattern, began in Jackson, Miss., on Wednesday with curated quilt exhibitions, displays, educational forums, advocacy, storytelling and quilt-making, according to a press release from the National AIDS Memorial. A $2.4 million grant from the biopharmaceutical company Gilead Sciences, Inc., funded Change the Pattern.
More than 500 hand-stitched quilt panels from the area were featured in what the National AIDS Memorial says is "the largest display of the AIDS Memorial Quilt ever" in Mississippi.
"By creating an empowering message and safe spaces for conversation, we can uplift, inspire and make progress toward ending the HIV epidemic, challenge cultural stigmas and continue the legacy of advocacy that the quilt represents," said National AIDS Memorial CEO John Cunningham in the release.
Change the Pattern was announced in honor of Southern HIV/AIDS Awareness Day during the Southern AIDS Coalition's annual Saving Ourselves Symposium that took place in August.
The conference, which was heavily attended by LGBTQ activists from the South, featured 100 quilt panels, and attendees participated in quilt-making workshops to make new quilt panels representing their loved ones.
Interested LGBTQ advocacy organizations in the South were invited to apply for funding to support local quilt-making workshops in their communities so as to ensure that the legacies of Black and Brown people are captured through newly-sewn panels on the quilt through the Memorial's Call My Name program, according to the National AIDS Memorial press release.
The application process opened on Sept. 15 with up to 35 eligible organizations receiving as much as $5,000 to support hosting local workshops.
The first major Change the Pattern Quilt was founded 35 years ago as a visual representation of the need to end stigma and provide equitable resources to communities most impacted by HIV/AIDS, according to Southern AIDS Coalition Executive Director Dafina Ward.
"Change the Pattern is a call to action and change in the South," said Ward. "Quilt-making has such a deep cultural connection in the Black community and in the South. The sharing and telling of these powerful stories through the quilt, coupled with advocacy and open dialogue, can help end HIV-related stigma and bring the stories of those we've lost to light."
As the Change the Pattern initiative occurs, conversations about how to handle health epidemics within LGBTQ communities of color have become national topics, especially with the prevalence of monkeypox cases amongst Black gay men.
Despite earlier panic about the disease, the Centers for Diseases Control and Prevention in a report released on Wednesday said that individuals who were vaccinated against the disease were less likely to be affected over the summer compared to those who weren't.
The effectiveness and duration of immunity after a single dose, however, is not known, and few individuals in the current outbreak have completed the recommended two-dose series, according to the report.
The most recent CDC data reports that 25,509 monkeypox cases have thus far been confirmed in the U.S. Only one death has been reported.