Buttigieg makes history- First openly LGBTQ, Senate confirmed, cabinet member
Buttigieg brings diversity to the Cabinet. There hasn't been an out gay Cabinet secretary before.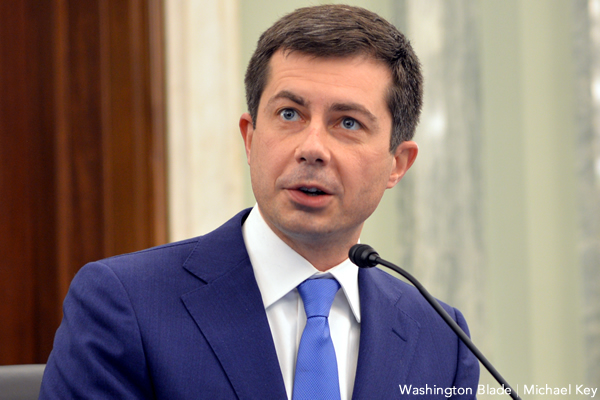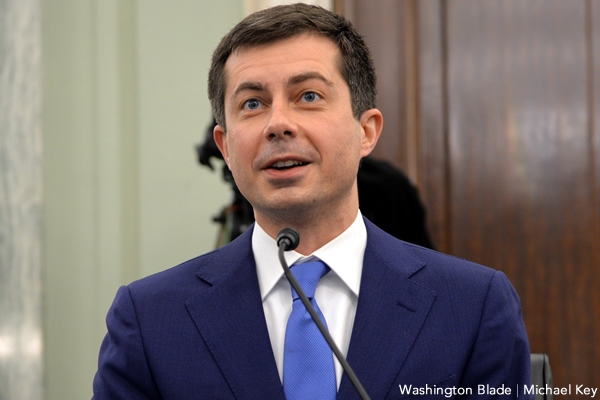 WASHINGTON – The U.S. Senate in a historic and overwhelmingly bipartisan vote of 86-13, confirmed former South Bend, Indiana, Mayor Pete Buttigieg to be the nineteenth U. S. Secretary of Transportation.
Buttigieg is the first Senate confirmed openly LGBTQ+ presidential cabinet secretary and at age 39, the youngest person to serve as secretary of transportation.
On Twitter Secretary Buttigieg wrote: "I'm honored and humbled by today's vote in the Senate—and ready to get to work."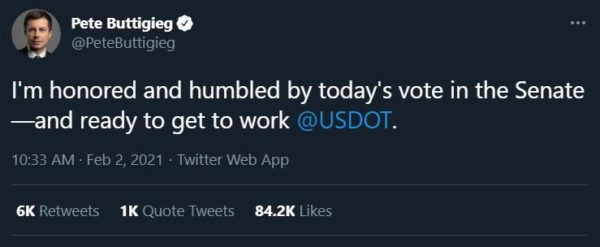 "Congratulations to Secretary Pete Buttigieg on his historic confirmation," Alphonso David, president of Human Rights Campaign, said after the vote. "This confirmation breaks through a barrier that has existed for too long, where LGBTQ identity served as an impediment to nomination or confirmation at the highest level of government."
Buttigieg brings diversity to the Cabinet. There hasn't been an out gay Cabinet secretary before. Under President Trump, Richard Grenell, who is gay, served as acting director of national intelligence, but did not have to face Senate confirmation as an acting director.
In the late 1990s, Senate Majority Leader Trent Lott blocked a confirmation vote on President Clinton's pick for ambassador to Luxembourg, James Hormel, over his sexual orientation; Clinton ultimately installed Hormel with a recess appointment, the Los Angeles Times noted.
In early 2019, Pete Buttigieg was the first openly gay candidate to run for a Democratic presidential nomination, where he became the first openly LGBTQ person of any party to earn a delegate and win a state caucus or primary.
He became a serious contender after initial critique of being too young and as a mayor untested and inexperienced was mitigated by his virtual tie with Senator Bernie Sanders, (D-VT) in the outcome of the first-in-the-nation Iowa caucuses.
Buttigieg struggled to gain support from Black voters, a critical must have in Democratic party politics and ultimately dropped out of the race after a crushing loss to Joe Biden in the South Carolina primary.
After his withdrawal, he chose to quickly endorse Biden, helping him solidify unified support in the challenge to become the Democratic party nominee and later he was a critical component of the campaign against former President Donald Trump.
In his opening statement before the Senate Committee on Commerce, Science & Transportation confirmation hearing last week, Buttigieg stated that he felt ensuring investment in infrastructure would be key to addressing economic and climate issues.
"By creating millions of good paying jobs revitalizing communities that have been left behind, enabling American small business workers, families and farmers to compete and win in the global economy and tackling the climate crisis," Buttigieg said.
Consistent with Biden's stated plan to address systemic racism, Buttigieg also stated his plan for transportation is ensuring marginalized communities can benefit.
"Getting people and goods to where they need to be directly and indirectly creating good paying jobs, but I also recognize that at their worst misguided policies and missed opportunities in transportation can reinforce racial and economic inequality by dividing or isolating neighborhoods and undermining government's basic role of empowering Americans to thrive," Buttigieg said.
Former Houston, Texas Mayor Annise Parker, the President & CEO of LGBTQ Victory Institute noted in an emailed statement;
"Pete shattered a centuries-old political barrier with overwhelming bipartisan support and that paves the way for more LGBTQ Americans to pursue high-profile appointments. Pete testifying at his confirmation hearing, with his husband looking on, will be among the powerful images that define this unprecedented political moment and will be remembered as a milestone in America's move toward social justice."

"While his confirmation is historic, Pete is focused on the difficult task ahead. America is in desperate need of a revitalized transportation effort and his two terms as mayor provide the experience and perspective needed to propose bold solutions. Americans are fortunate to have Pete as their Secretary of Transportation."
Praised by President Joe Biden as bringing a "new voice" to his administration, Buttigieg takes over a Transportation Department with 55,000 employees and a budget of tens of billions of dollars, the Los Angeles Times reported noting that Buttigieg has pledged to quickly get to work promoting safety and restoring consumer trust in America's transportation networks as airlines, buses, city subway systems and Amtrak reel from plummeting ridership in the COVID-19 pandemic.
"The Los Angeles LGBT Center congratulates Pete Buttigieg on the historic occasion of becoming the first openly LGBTQ person to be appointed to a permanent Cabinet position. From presidential candidate to Secretary of Transportation, Buttigieg has broken down longstanding barriers that have excluded members of the LGBTQ community from the highest positions in government," the Center wrote in an emailed statement.
Equality California, the nation's largest statewide LGBTQ+ civil rights organization, released the following statement from Executive Director Rick Chavez Zbur:
"Today is an historic day for our LGBTQ+ community and our nation. The confirmation of Pete Buttigieg signals to millions of LGBTQ+ kids across our country that anything is possible and that LGBTQ+ people belong in every seat of power.

"I'll never forget watching Pete Buttigieg during his trailblazing run for the White House help 9-year-old Zachary find the courage to come out as gay. It's this kind of bravery and strength that Pete inspires in our entire country, but especially our LGBTQ+ young people.

"Equality California applauds President Joe Biden and Vice President Kamala Harris for this historic nomination and their commitment to creating a diverse administration. We also thank California Senators Dianne Feinstein and Alex Padilla for their votes to confirm Secretary Buttigieg today.

"We're ready to roll up our sleeves and get to work with Secretary Buttigieg and the Biden-Harris Administration to build back an America that is better and more inclusive for everyone."
Additional reporting from Chris Johnson
Missouri bill would ban companies' "refusing to deal with" clauses
This recent move comes after recent high-profile cases of companies pulling business with X, formerly Twitter, over rising hate speech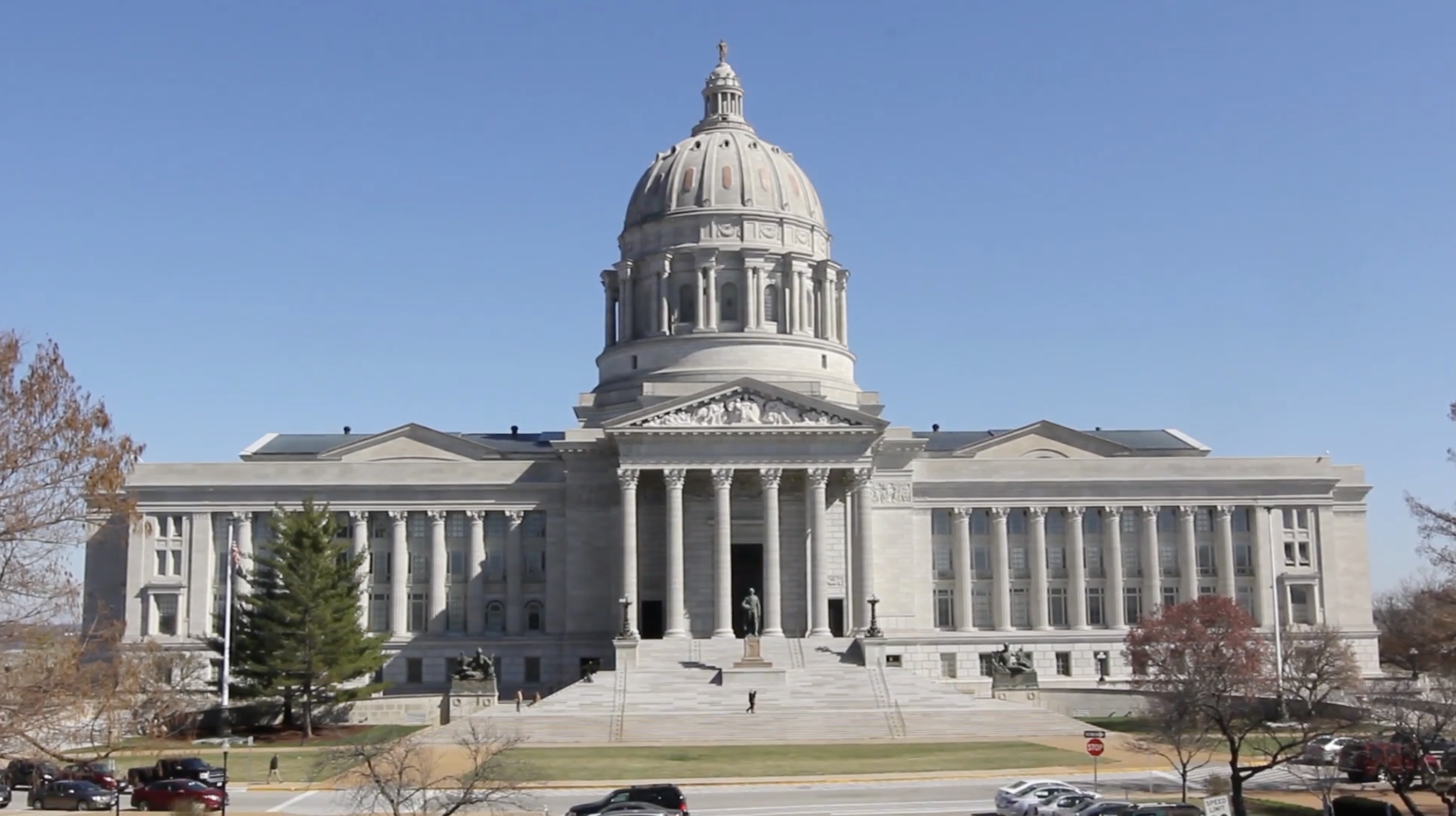 By Erin Reed | JEFFERSON CITY. Mo. – A new bill in Missouri could significantly curtail the ability of companies in the state to pull business with other companies over anti-trans, anti-abortion, or other policies.
The bill, Senate Bill 1061, would ban companies doing business with the state from engaging in "economic boycotts" over a large list of issues, including transgender care and abortion. The boycott ban includes "refusing to deal with" or "terminating business with" other companies over these policies.
This recent move comes after recent high-profile cases of companies pulling business with X, formerly Twitter, over rising hate speech on the platform.
The bill stipulates that companies doing business with the state of Missouri cannot engage in economic boycotts targeted at other companies over issues traditionally supported by conservative politicians. Notably, the ban applies not only to companies doing business with the state of Missouri but also to companies doing business with any political subdivision of the state.
Typically, this includes counties, city governments, public schools, public libraries, and more. This would affect the nearly 700 businesses that have direct contracts with the state, and countless more that have contracts with school boards and local governments.
Under this law, companies that enter into contracts with any of the aforementioned entities would be barred from "refusing to deal with," "terminating business with," or otherwise engaging in economic activities designed to penalize a company over that company's views relating to "not facilitating sex or gender change" or not facilitating "access to abortion." It also includes other topics, such as boycotts over environmental policies and firearms.
You can see the provisions targeting economic boycotts of other companies, including the abortion and trans provision, here:
The issue of economic boycotts over anti-LGBTQ+ policies has gained rising attention in recent months. Companies have "terminated business activities with" X, formerly Twitter, over its support for hate speech, which, for some, has included anti-LGBTQ+ hate speech. New policies on X include ending a previous policy that protected transgender people from harassment on the platform, including targeted misgendering.
It is unclear if this policy would bar businesses from terminating business with X – companies boycotting the social media platform over Elon Musk's declaration that he would lobby to criminalize gender affirming care, for instance, might violate the law if they have contracts with Missouri or any city government, school, or library. For example, IBM pulled advertising on X and currently has an open contract with the state.
This bill is not the only one like it in the United States. Over the last year, several others have been proposed with the same language, although all of them have failed to pass. Bills with similar wording have been proposed in Oklahoma, South Dakota, Texas, Ohio, and Iowa.
This approach could, in part, stem from an earlier law targeting a different boycott target: last year, the Eighth Circuit Court of Appeals ruled that a law requiring companies that do business with public entities in Arkansas to not engage in boycotts of Israel could be enforced.
This approach to targeting companies over their commitment to rejecting hate speech is likely to be repeated in several states this year. Increasingly, Republicans are mobilizing state law and enforcement efforts against corporate activism when it does not agree with the Republican platform.
Despite claiming to be in favor of "absolute free speech" and "less regulations," these supposed values do not clearly apply when companies choose to protect LGBTQ+ people.
****************************************************************************
Erin Reed is a transgender woman (she/her pronouns) and researcher who tracks anti-LGBTQ+ legislation around the world and helps people become better advocates for their queer family, friends, colleagues, and community. Reed also is a social media consultant and public speaker.
Follow her on Twitter (Link)
Website here: https://www.erininthemorning.com/
******************************************************************************************
The preceding article was first published at Erin In The Morning and is republished with permission.