February 26, 2021 at 5:50 pm PST | by Staff reports
U.S. Rep. Barbara Lee introduces Resolution to uplift Black LGBTQ+ Leaders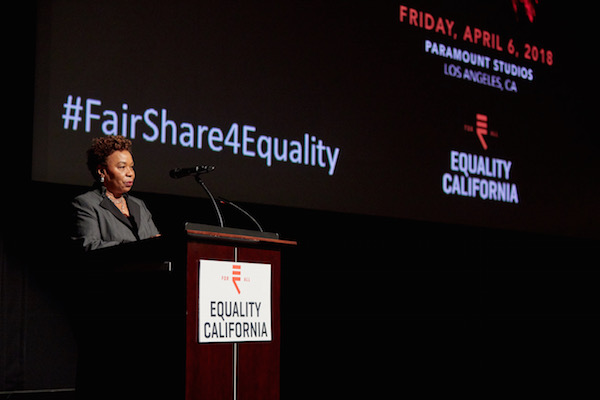 WASHINGTON — Congresswoman Barbara Lee (D-Oakland), vice-chair and founding member of the Congressional LGBTQ Equality Caucus introduced a House Resolution Friday, honoring the contributions of Black LGBTQ+ individuals.
The resolution seeks to uplift the contributions of Black LGBTQ+ individuals, both past and present, as fearless trailblazers in American culture and society. Black LGBTQ+ Americans have made significant strides in the fields of politics, entertainment, athletics, and more. This resolution recognizes and celebrates these contributions.
"As we celebrate Black History Month, it is critical that we honor the remarkable and unique contributions of all LGBTQ+ Black Americans throughout U.S. history – those whose names we easily recognize and those whose names we'll never know," Lee continued. "This resolution is an important step in ensuring that their contributions are remembered and properly commemorated."
"Too often the contributions of Black LGBTQ+ Americans to our society have been ignored or erased," said Lee's fellow LGBTQ Caucus member, New York Freshman Congressman Richie Torres, (D-38). "They made contributions to various aspects of American culture and numerous fields and industries that significantly transformed our country, yet many of us are not aware of them. This resolution uplifts those accomplishments and finally recognizes the indelible impact that Black LGBTQ+ Americans had on our country and that we still feel today."
"We are beyond proud to partner with Congresswoman Lee to introduce this important resolution highlighting the accomplishments of so many inspiring Black LGBTQ+ leaders," said Equality California Executive Director Rick Chavez Zbur. "The struggles for racial justice and LGBTQ+ equality are not the same, but they have always been intertwined. From Bayard Rustin and Marsha P. Johnson to Alphonso David and Imani Rupert-Gordon, Black LGBTQ+ civil rights leaders have had a major impact on our shared histories — and they are shaping our movement today. We're grateful for the opportunity to celebrate their work and their transformative impacts on our nation."
For the full text of the resolution, click here.
This resolution has been endorsed by: The Congressional LGBTQ+ Equality Caucus, Equality CA, and National Black Justice Coalition.