Atlanta billboard campaign demands end to violence against Black trans people
I Am Human Foundation launched initiative in January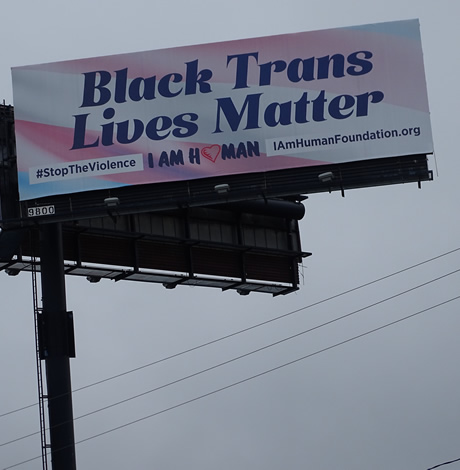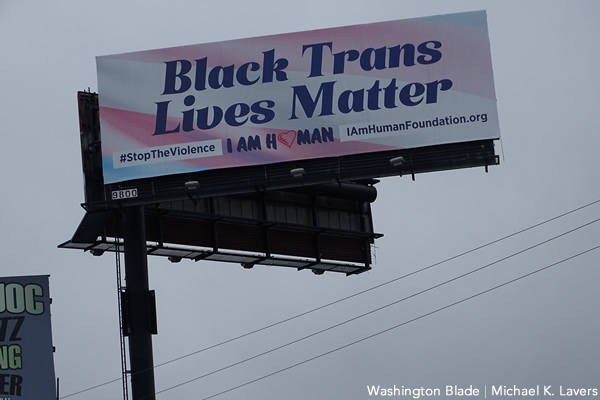 ATLANTA — An Atlanta advocacy group has created a billboard campaign that demands an end to violence against Black transgender people.
The I Am Human Foundation campaign debuted in January, and features billboards with the slogan "Black trans lives matter" against the backdrop of the trans Pride flag. The billboards also contain the hashtag "stop the violence."
Alex Santiago, the executive director of the I Am Human Foundation, on Feb. 21 told the Blade the idea behind the campaign emerged last summer after he attended marches in support of the Black Lives Matter movement.
"There was a lot of conversation back in the summer with the Black Lives Matter (protests) and there was even a divide in the LGBTQ community where they were saying, okay, well are we included in that because, you know, when it comes to cisgender Black people, they don't include us," said Santiago, who is also the co-chair of FLUX Atlanta, an AIDS Healthcare Foundation project that serves trans and gender non-conforming people.
"A lot of them don't feel like we even fit with them, so with the Black Lives Matter campaign there were huge debates about that."
Santiago said he brought posters in support of Black trans people to the Black Lives Matter protests he attended. Santiago said participants' reaction to them "was amazing," but he added some LGBTQ people did question why he decided to participate.
"At first I was like, well I don't understand why you aren't supporting it because before anybody knows that you're gay, before they know you're trans, they know you're Black because they can see you, but then I had to think about it," said Santiago. "But you know what? Maybe we're not included in that."
Santiago told the Blade there is "very little trans support" in Atlanta, so he thought about ways to make the city's trans community more visible.
"I was like, okay, I got to bring awareness to Atlanta that we're here and that we matter," said Santiago.
He met with the owner of a local PR agency who is a cisgender woman to discuss the campaign. Santiago said she "was like, oh my God, I think this amazing" and agreed to offer the I Am Human Foundation four billboards for the price of one.
One of the billboards is located adjacent to the University Avenue exit of the Downtown Connector, which is one of Atlanta's main expressways. The other three are located on Ponce de Leon Avenue near the Ponce City Market and on Moreland Avenue near the Starlight Drive-In Theatre.
The campaign was only scheduled to run for four weeks, but Santiago said the PR agency has allowed the billboards to remain in place as long as nobody else wants to buy the space.
"I've gotten great, great, great response," he said.
The Human Rights Campaign notes at least nine trans or gender non-conforming people have been reported killed so far this year.
Bianca "Muffin" Bankz, a Black trans woman, was shot to death in Atlanta on Jan. 17. Other trans or gender non-conforming people have been murdered in Illinois, Puerto Rico, Mississippi, Louisiana, Florida and Pennsylvania.
Santiago said he didn't know about Bankz' murder until he read about it on HRC's website.
"I didn't know anything about it," he said. "It's like, how do I not know in my own city that this happened."
Santiago told the Blade his organization is working on a second billboard campaign that will demand an end to the murders of Black trans women. Santiago said he plans to place a billboard near Atlanta City Hall "because I just feel like … nobody cares."
DeSantis education purge begins after school board takeovers
Ziegler, a co-founder of right-wing group Moms for Liberty, was one of two dozen school board candidates receiving endorsement from DeSantis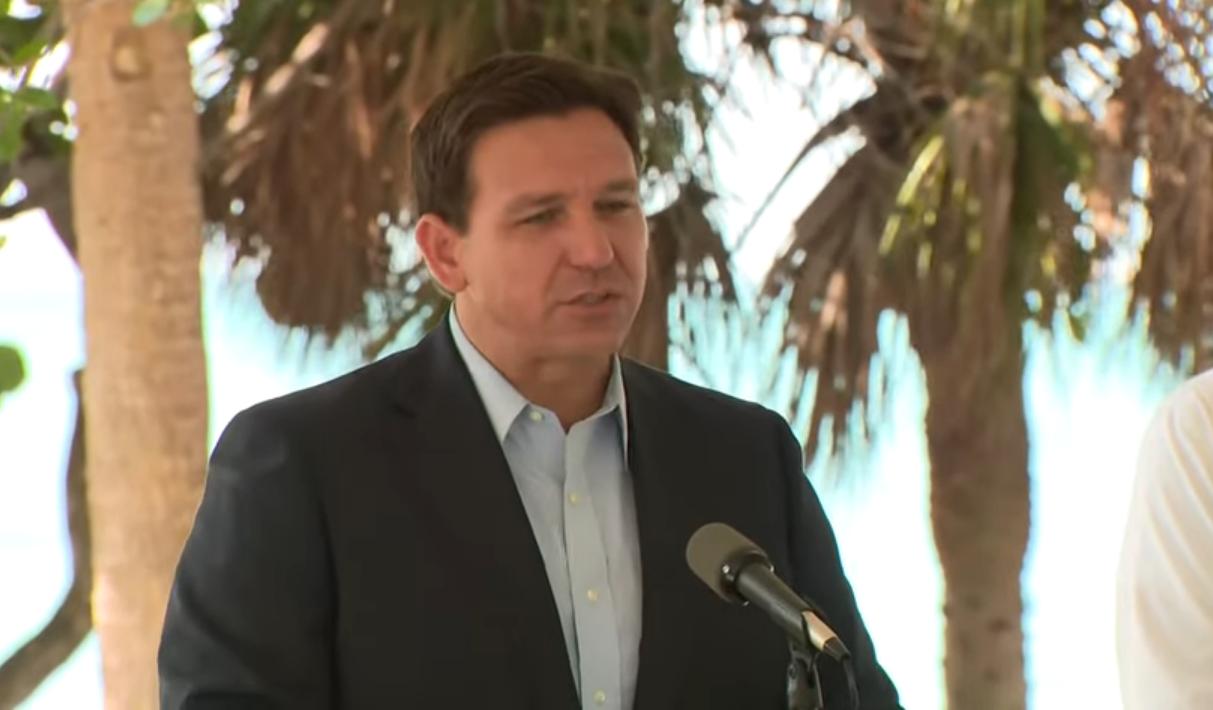 By Julia Conley | SARASOTA – Despite outcry from parents, teachers, and students, newly elected right-wing school board members in Sarasota County, Florida on Tuesday became the latest allies of Republican Gov. Ron DeSantis to oust a school superintendent over the district's adherence to public health guidance during the coronavirus pandemic.
Dozens of community members gathered at a school board meeting in Sarasota County on Tuesday evening to support Brennan Asplen, the superintendent of schools since 2020, whose contract was the subject of the meeting.
The board met the same day new members, including Chair Bridget Ziegler, were sworn in. Ziegler, a co-founder of right-wing group Moms for Liberty, was one of two dozen school board candidates who received an endorsement from DeSantis during the midterm elections. The majority of those candidates, who received $1,000 contributions from the governor, won their elections.
At the meeting, members condemned Asplen "for not pushing back on the mask mandate" that was in place for three weeks in 2021 after the school board voted 3-2 in favor of the mandate, making Sarasota County the first in the state to defy DeSantis' law blocking Covid-19 mitigation measures.
Quite a crowd gathered in front of the @sarasotaschools district building ahead of the special meeting to discuss the termination of Superintendent Brennan Asplen tonight.

Follow along for updates for the @HeraldTribune: pic.twitter.com/xcnoJ4a5ok

— Steven Walker (@swalker_7) November 29, 2022
On Tuesday the board ultimately voted 4-1 in favor of negotiating a separation agreement with Asplen, after another board member, Thomas Edwards, warned the move would be a "carbon copy" of a similar ouster in Berkeley County, South Carolina earlier this month.
In that case, new school board members who had been endorsed by Moms for Liberty voted to fire the district's superintendent and ban classroom discussions of racism in history and the present day.
Asplen is not the only school leader who has been pushed out of a superintendent position in Florida by DeSantis allies citing objections to public health protocols.
Five members of the Broward County school board this month fired Superintendent Vickie Cartwright over a grand jury report on the 2018 Parkland shooting. Like Asplen, Cartwright presided over the district during the pandemic and "faced frustration from some parents" over Covid-19 mitigation measures, which were implemented in violation of DeSantis' order.
All of the members who voted to fire Cartwright were DeSantis appointees following the removal of previous members after a school safety investigation stemming from the 2018 Parkland school shooting.
WUSF Public Media reported earlier this year that the county is undergoing "a transformational shift" with the governor's allies poised to take "a rare opportunity to advance conservative policy priorities in one of the state's most Democratic-leaning counties."
The superintendent of schools in Brevard County was also pushed out last week, hours after DeSantis-aligned school board members were sworn in.
Jonathan Friedman, director of free expression and education programs at PEN America, noted that parents from across the political spectrum have spoken out against the dismissals of school leaders in the Florida counties in recent weeks—"but to little avail."
Remarkably, local conservative parents have come out to these FL board mtgs to say they have been duped, did not vote for the ousting of their superintendents. But to little avail. The new playbook of total ideological control is in full swing. https://t.co/T9pFbL0kWA

— Jonathan Friedman 📚 (@jonfreadom) November 30, 2022
"The new playbook of total ideological control is in full swing," said Friedman.
Bill Kimler, a former candidate for state House in South Carolina, noted that a right-wing takeover of school boards like the one in Berkeley County "is happening elsewhere in the country."
"Every election cycle, we need to view school board positions with the same level of enthusiasm as we do the president of the USA," said Kimler. "Our kids' education cannot be left in the hand of extremists."
***********************************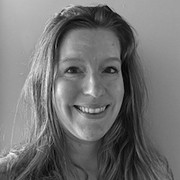 Julia Conley is a staff writer for Common Dreams.
The preceding article was previously published by Common Dreams and is republished with permission.