Paul Richmond Soars with Phoenix and Butterfly Wings
"Taking pride in myself as an artist was my life raft," he says.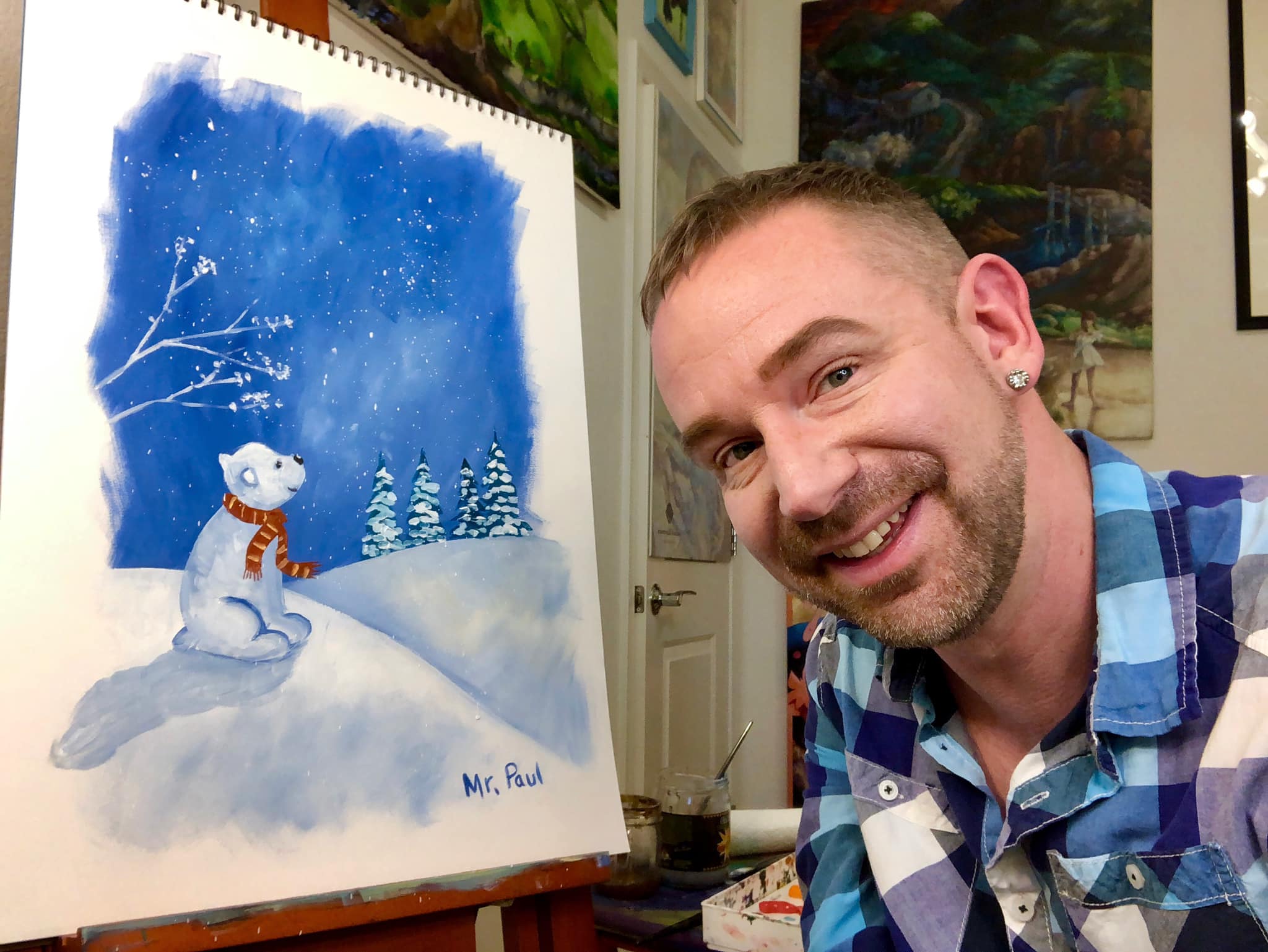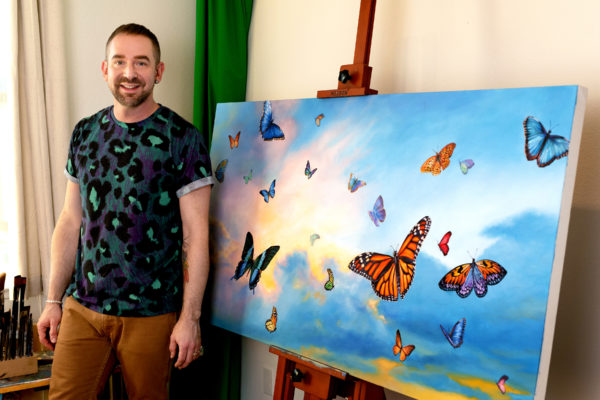 MONTEREY – Paul Richmond's paintings are mind-blowing. Filled with abstraction of color, motion, form and vibrancy, they focus on the unique identity of the subject and that subject's inner life with its own abstraction of pain, joy and spirit. They often blend beauty with whimsy, intrigue with eroticism.
Paul has gained international notoriety, publication in numerous art journals and anthologies as well as exhibition in galleries and museums through the United States. In his own words, ""My style weaves back and forth between realism and abstraction, usually incorporating aspects of both to varying degrees. There are common threads of personal narrative, self-expression, and the questioning of societal constructs around gender and sexuality."
In full disclosure, I personally have been the subject of one of Paul's paintings, a piece in his Promiseland exhibit called Echoes. Seeing yourself from Paul Richmond's perspective is not just seeing your face on a wall… he lets you see what your soul looks like.
I recently caught up with him for an interview.
When you meet him, his boyish exuberant personality does not scream "serious artist". He is accessible and outgoing. He laughs a lot and while not taking himself too seriously, demands due respect for his work. He is completely accessible, but after a few minutes of watching him work, you know you are in the presence of someone extraordinary.
He is an artist on the verge of soaring to great heights. The wings with which he flies are not just his own, however. The fluttering you may imagine hearing around him are not from him alone.
They are from his phoenix and his butterfly. Two womanly forces – one that has inspired him, and one that has been a thorough and life-saving guiding force to his personal accomplishment.
The Phoenix: Linda Regula
Linda Regula was Paul Richmond's life-long art instructor. Paul met her when he was 4 years old. She was the first person in his life who literally lived amongst their created art. Walking into her home and seeing that environment, impressed him greatly. She saw promise in him, and immediately told his parents that she would guide him in his talent.
Linda's art was both her expression and her release of the pain of abuse she had suffered. She embraced the image of the phoenix, ""Being poor, shy, skinny, and motherless, I was bullied unmercifully as a child. When I was in the fourth grade, our teacher asked students to listen to a story about a phoenix, then to draw a picture of the mythical fire bird rising from ashes…Gathering up several crayons marked with names that I loved, I colored its feathers emerald green, ruby red, violet, and cobalt blue.
At last, satisfied that my Phoenix appeared to live within the drawing, I created a radiant yellow sun whose golden rays seemed to tease the bird into flight. I then drew glowing embers scattered beneath its feet, and colored black and brown residue clinging to its long legs to indicate that the great bird was rising from sooty ashes." Her phoenix was given a place of honor in her classroom, but was soon destroyed by her bully. "Memory of that bully destroying my phoenix drawing still remains as if that magnificent fire bird, its feet coated with hot ashes, had actually walked across my brain."
She communicated this to the young Mr. Richmond in age-appropriate ways, giving him the awareness that his own artistic expression was more than ideas and concepts, but a means to heal – should he need it. When he entered fourth grade, the need for that outlet emerged.
His earlier school career had been in a Montessori environment, and after third grade, he was sent to a Catholic school. His artistic and buoyant personality signaled his emerging sexual orientation and even before he could grasp his own self-awareness, he was badgered and abused himself.
He did not confide this to Linda, mostly due to shame and confusion he felt, but she became aware of his change in mood and demeanor. When he finally did open up, enough, she encouraged him to "paint about it." His first painting expressing the situation was a work called "The Piece that did not fit." It was a painting of a puzzle with all the pieces (his classmates) fitting, and one odd piece that did hot… himself.
As he dealt with suicidal thoughts in sixth grade, his ability to paint his feelings, and to express himself through Linda's classes were the only things that kept him from exercising self-harm. "Taking pride in myself as an artist was my life raft," he says. "Linda encouraged me to take all of those feelings and express them in art, I hadn't really considered that before. I had seen her paintings and the way she used art to process her own life, but that was the first time I realized I could do that too — that art could be a way for me to deal with what was happening at school and in my life."
The Butterfly: Dolly Parton
Dolly Parton loves butterflies. In many ways, they seem equally representative of her persona. From humble beginnings, they transform into colorful fabulosity. They are attention getting, fabulous and always soaring to new colorful heights. They are the definition of Dolly Parton.
As a young teenager, Paul Richmond held the ultimate butterfly, Dolly Parton, up as a role model. "As I got older, I became more aware of her personality and who she was, I just really related to her. There were a lot of similarities actually between her and Linda, because they both have the backstory of growing up in poverty in the mountains; Both had really adorable Southern accents. They are both creative inspiring people who really shine a big light in the world. So, Linda was first, but I think it was kind of natural for me to latch on to Dolly as a role model because she was so similar in many ways to the role model that I already had."
Paul's youthful determination to meet The Butterfly paid off. He persuaded both his parents and Parton's handlers to allow him to bring her a piece of art when she opened Dollywood. He was 12 years old.
Years later, inspired by a Dolly reference on his website, The World of Wonder gallery in Los Angeles contacted him and asked him to submit a piece for their Dolly-Pop exhibition. He created a fanciful piece. In the canvas, Dolly appears in the Glinda Good Witch bubble above the yellow brick road in front of a 4-year old boy who stands transfixed… wearing a pair of grown woman's high healed shoes. A huge butterfly is featured prominently in the painting.
A print of the painting also ended up in Dolly's dressing room. "I was really trying to just capture my childhood fascination with Dolly and I thought the Wizard of Oz, would be a perfect metaphor for that. Meeting Dolly in Dollywood, as a kid was such a, such a meaningful important part of my childhood, and I wanted to represent the feeling she really opened up a whole world to me that I knew I wanted to be part of, and that I wanted to someday venture out into from the little conservative town that I lived in. Experience more of this big colorful amazing world for which Dolly was the entry point," Paul told me.
The Phoenix Rises and the Butterfly Sings
Linda Regula died in July of 2020. Her passing intensified Paul's commitment and involvement in an organization they had co-founded called the You Will Rise Project.
Its logo is the phoenix.
You Will Rise provides "a multimedia showcase for people of all ages who have been bullied to share their stories through the arts. Submissions can include visual art (paintings, drawings, sculptures, videos, etc.) as well as poetry, song lyrics, short stories, or other creative expressions that best capture their personal experiences. The You Will Rise Project asks only that contributors be truthful and real. No corrections or alterations will be made to the works that are posted on the site."
Shortly after Linda's passing, Paul heard from Parton's art director. They wanted to commission a Paul Richmond painting for Dolly Parton's living room… a painting of butterflies.
Paul had a great conversation and shared about his back story, about Linda, and his love of Dolly. He told them about You Will Rise, and an online fund raiser they were doing for a scholarship in Linda's name. "Well, I think that Dolly would really like to be part of that," the director stated.
On Saturday, October 17, You Will Rise and ArtCOZ (the Artist Colony of Zanesville) presented a virtual event honoring Regula's legacy and established the Linda Regula Legacy Scholarship Fund for young people who utilize artistic expression to communicate their personal experiences with adversity.
The event included the donation of a rhinestone-studded autographed guitar from Parton's personal collection.
And Dolly Parton sang a livestream tribute to Linda. The butterfly serenaded the phoenix.
"It was really beautiful to see the intersection of these two incredible women. Two women who were so important to me, come together in this way, at this event. It was really powerful. It meant so much," Paul says.
As for the future, Paul continues both his art and his activism. He has a renewed passion to the You Will Rise Project. He is a driver behind the Re-Drawing Masculinity project for which he is both and instructor and model, along with transgender artist Briden Schueren . The workshop is designed to introduce the fundamentals of figure drawing and anatomy. The project website states: "Masculinity means more than bodies with a penis. This workshop is all-inclusive and anyone being inappropriate or disrespectful will be disconnected and banned."
Paul seeks to also emulate his role model, Parton, the Butterfly. He says of her recent contribution to the fight against COVID 19: "Dolly has never been somebody who was interested in trying to make political statements she's always been much more about spreading love and acceptance of everybody. I felt like this was such a meaningful way for her to contribute something so important right now. Then to also make a video of herself getting the vaccine to help hopefully inspire those who might have fears about it. Maybe she can reach people that others can't. That's kind of how she's always operated she, she really, she doesn't want to be divisive she truly wants to help, and she uses her platform to do that and I really respect that."
As Paul and I finished our talk, he commented with a twinkle of an eye, "There are things coming up that I can't yet tell you about for this interview. But stay tuned."
I got butterflies….
Hollywood's Peter Kallinteris Agency launching LGBTQ dreams
"It's important to me to actively participate with a platform and space for the LGBTQ community. I want to make a difference and be a leader"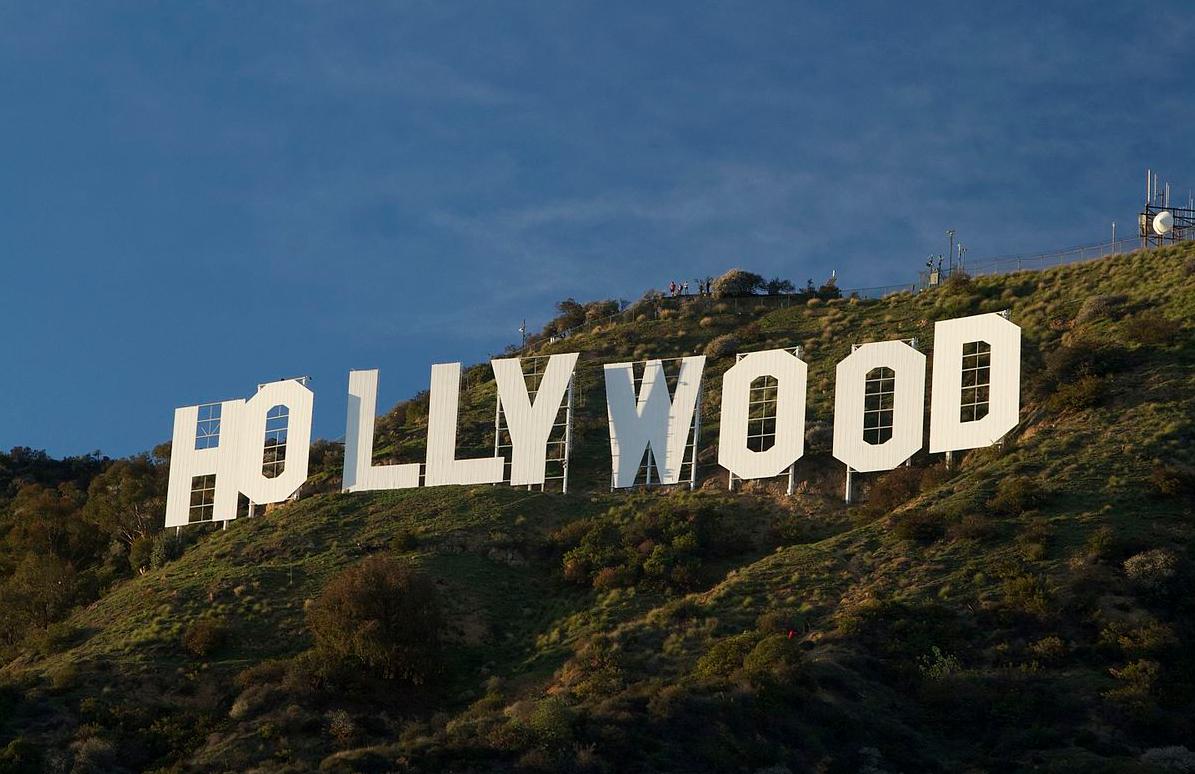 HOLLYWOOD – Whether they'd admit to it or not the aspiration for most actors is to be sitting in the Dolby Theatre at some point in their careers, dressed in their finest fashion ensemble at the most prestigious event of the year and hear, "and the Oscar goes to [insert their name]." Conversely also true for the Emmy awards or the Tony awards, yet for many LGBTQ artists the path to that goal is fraught with obstacles and difficulties.
In 2018, a young Black actor from Atlanta, Georgia, was given a supporting role as Ethan in the surprise hit film Love Simon. That actor, Clark Moore, in interviews with host Rob Watson, journalists Dawn Ennis and Brody Levesque on RATED LGBTQ RADIO and separately with Teen Vogue's Shammara Lawerence spoke of the difficulty landing roles like that of Ethan, but also the conflict inherent with how the film and television industry has seen LGBTQ actors.
Answering a question by Teen Vogue's Lawerence centered on that conflict, Moore bluntly assessed the landscape telling her; "Historically, I think the reason why there haven't been more gay roles or more gay actors playing roles that have lots of layers to them and lots of depths to them is because for whatever reason, people think that the story is done. We've seen the gay character. We know what he says. We know what he thinks. We don't need to tell that story anymore, but if you think about it, we've had a full canon of stories about straight white men that stretch back millennia, and so we're only scratching the surface," Moore pointed out.
"If we can have stories about people all the way back thousands of years ago and we can still be telling the same story now about straight white men and their journey to self-discovery or redemption, there's plenty of stories to tell of people of color and LGBTQ people and anybody who falls in the intersection of those two identities," he added.
Yet in the age of digital moving beyond the traditional film and television as more and more content is streamed online- and there's insatiable need by casting agencies for a wider diverse spectrum of actors, there are still obstacles in the path for LGBTQ actors, especially trans and disabled LGBTQ actors.
Enter Peter Kallinteris, who with his broad based knowledge and understanding of the critical needs of the LGBTQ actor community decided that the time has arrived to have specialized representation for that community.
"Looking to the past, Hollywood hasn't been very kind to the Queer community. Throughout the history of cinema gay men were either played as effeminate, weak, airheads, and lesbians as tough softball or gym coaches, who are often played by straight people," Kallinteris said. "Within the the broader culture, there are subcultures, just as within any community. They are nuances within each that will never find its way between the pages of a table read."
"To create an authentic moment the space has to be made for those who've lived that life every day. Gay, Black, White or Straight ect, our experiences of the world are different depending on how we show up. In many cases that will determine our outcomes," he noted. "Specialized representation is so important because without the lingering trauma, and continued hatred & fear toward our community the Queer division of PKA wouldn't exist, we'd just be accepted. We have important stories to tell and will continue to be telling them. PKA is just the begging for all to feel safe and thrive."
In a statement issued from his offices at the Sunset-Gower Studios, the former historic home of pioneering Columbia Pictures founded in 1918, Kallinteris reflected, "When I was a young Actor being gay was career ending."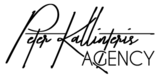 "Today it's celebrated. It's important to me to actively participate with a platform and space for the LGBTQ community. I want to make a difference and be a leader because I can."
To accomplish this he launched the Queer Division of his PKA agency. "The Queer Division of PKA was inevitable, a natural outgrowth of my own personal evolution first by coming out as gay man, from Artist to Agent. The timing was right to make an impact with talent," he said.
"As my Agency grew I was able to gleam that there was a space beginning to open up by which I could represent the full spectrum of Queer humanity & sexuality within the arts. Not as one dimensional static caricatures, but as beings who's emotions run the full gamut of the human experience. This was very exciting to me, I have a opportunity to effect change. I wanted to be apart of history Pioneering a movement," he added.
He said that his message to LGBTQ artists is simple. "I want talent to know they will be given the opportunity to be who they are, live their truth and work for who they are without rejection, humiliation, fear, or hopelessness. People perform at their best, live at their best. And do their best when they are happiest. PKA is not just a brand, we are the LGBTQIA community. If life imitates art, then let's represent it boldly!"
His expectations of the film and television industry's reaction? "My inspiration to launch the Q.D. is truthfully representing talent that reflects the current needs for the industry, and to remain a permanent fixture within the industry that continues to grow stronger. I want the industry to understand I've created this environment specifically for the Queer community. I'm happy & honored to be the first Agency that represents this community in this way," Kallinteris said.
Last week, PKA, whose clients include, Justin Jedlica (TV personality), Steven James Tingus (President George W. Bush's lead for disability research and policy for eight years), Kate Linder (The Young and the Restless), Albert Lawrence (IMDB Host), Deric Battiste aka DJ D-Wrek (MTV's Wild 'N Out), and Leslie Stratton (The Swing of Things, Truth or Dare), announced the launch of the Queer Division in a video.
WATCH:
Julia Scotti, the movie, is just Funny That Way
Life is funny that way—not working out quite the way we thought it would. And that is ultimately the point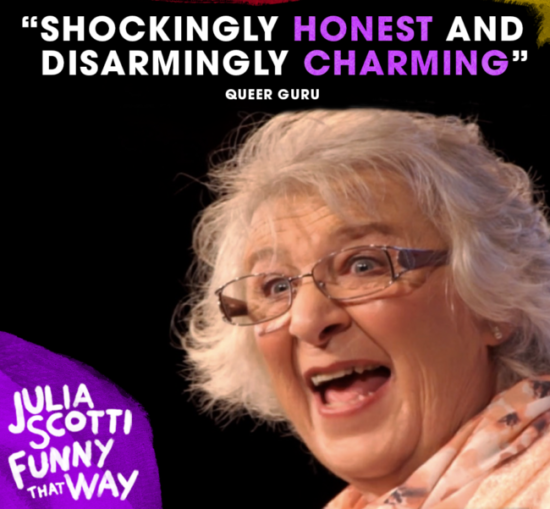 WHITING, NJ. – "You are a piece of work, Julia!" Simon Cowell blurted during her landmark America's Got Talent debut. Julia Scotti had just completed her audition for the show that ended not only with a standing ovation, but with the revelation that she had once upon a time been a stand-up comedian named Rick. As that news crossed the faces of the four judges, their collective jaws dropped. "I mean like you come out as the nice little granny school teacher all sweet and then you go into your routine and like WHOA. Talk about surprises – they are never ending with you, are they?" Cowell finished.
With Julia Scotti, the surprises never end.
Her latest surprise for the public is a gem of a film, Julia Scotti: Funny That Way. It is a documentary of her journey from the days of Rick, the up and coming comic who performed on bills with Chris Rock and Jerry Seinfeld to Julia, who is wowing millions.
Of her transition, Julia has remarked. "It is NEVER an easy process whether you're a public figure or not. You are essentially killing your old self and ending your old life. And with that comes the history you've built with friends and family. Some are very accepting, but most are not. That is why the suicide attempt rate for Trans folk is still at 41%."
Funny That Way does not spare us the heart-breaking fallout from the virtual "death' of Rick Scotti.  Filmmaker Susan Sandler weaves Julia's story, the losses and damage, to her rebirth, healing and the reuniting with her kids after a 15-year estrangement.
Julia and Susan sat down with us on the podcast Rated LGBT Radio to talk about the film. "This is a story and like all stories, there is a beginning and a middle and an end. In the end, I want the audience to know there is HOPE. It is bumpy at times, joyous at times. It is not just isolated to my life. You can have that in your life when you walk through that door of your own truth and come out the other side and when you look back on all you went through, you go 'what the hell was I so afraid of?' Look how happy I am." Julia explains.
Susan had never directed a documentary before, but as one of Hollywood's master story tellers, and a Golden Globe nominee, she was unfazed. "The impetus behind this film was falling in love with Julia, her, then and now. If you are working from a really rich, complex, compelling character –which is Julia—that is the GIFT. All of my nerve endings, my story telling, told me this was dynamic documentary, and that's the form in which I wanted to tell it."
Susan took five years to research, document and interact with Julia's past. She went through old footage of Rick Scotti's stage acts and restored many of them so they could be used in the film. She brought on composer Matt Hutchinson for a beautiful score, and animator Sam Roth for whimsical cartoons that tie the story together.
Before the filming started, Julia had just re-connected with her son Dan, and daughter Emma.  A decade and a half ago, when Julia announced to her then spouse that she was in fact a woman transitioning, her then-wife retaliated by taking their kids away.  Dan and Emma spent their whole adolescence not knowing Julia at all. The story of that pain is told in Funny That Way.  Susan wanted to show the relationships real-time in the film as they came to reconnect with Julia. "We were just at the beginning stages of reconciling," recounts Julia. "I did not want them feeling like I was just reconnecting with them because I wanted them in this film. I did not want to distance them even more."
Dan and Emma were onboard, however.  Also on board, albeit only by phone, was Kate. Kate was  Julia's last wife, described as Julia's "love of her life". Kate supported Julia emotionally and spiritually through out the entire transition process.  One of the most poignant moments in the film was Julia hearing Kate describe the end of their relationship.  Kate's support was significant, but once Julia became fully Julia, it was evident to both that their relationship had changed and they had to let it go.
Susan captured many live moments of Julia's evolving life. She caught the very first time that son Dan ever called Julia "his mother" and the effect was pronounced. Also caught in the film was a moment when Julia and Dan are watching Rick's old stand up routines. One such performance takes Julia by surprise—it was a routine that she had not remembered ever doing. It was a set where then Rick expressed his revulsion to transgender women in no uncertain terms. Julia sat shocked.
"My sensibilities have been 'woked', I think that is the term for it." She told me about that experience. "Thinking back, I was going through issues and aware that something was not right internally. It frightened me to no end. Looking at that clip, I am totally ashamed of what I did. It embarrassed me."
"I knew it was me. I knew I was there. But I don't feel a connection with that person. That is the truth."
The film does not dwell long on the past shames and regrets. It arcs to the present where an adult daughter gets to see her parent's comedy routine for the very first time.
Some of the greatest joy in the film is witnessing the growing relationship between Julia and son Dan. Dan is sweet and compassionate, and they both have a deep love of comedy. Through their discussions and collaboration on things funny, we witness something decidedly not funny, the deep re-kindling love they have for each other.
The film will make you laugh, and cry, and laugh again. New clips of Julia's now famous turn on America's Got Talent shows her more personal reflective moments over a life changing triumph.
The only regret director Sandler has about the film is how it will be brought to the public. "I am happy to be brining the film now for the people who have an appetite for it. For the truth, the humor, the complete emotional honesty. But I mourn. I mourn the moments not being able to sit with you in a theater. And experiencing the film with you. It was supposed to be seen by audiences, and then give them the opportunity to go down the street and see Julia live at a club." But, life is funny that way—not working out quite the way we thought it would. And that is ultimately the point.
Editor's Note: The film was originally slated for theatrical release which was delayed then put off by the coronavirus pandemic.
Julia Scotti: Funny That Way is available now on digital platforms! That means you can rent or buy it online, at places like iTunes, Apple TV, Amazon, Google Play and more.
Here's the full list of where you can find it.
DIGITAL
iTunes
Amazon
Google Play
Xbox
VUDU
FandangoNow
Vimeo On Demand
CABLE / SATELLITE
iN Demand Movies
Verizon
AT&T
Vubiquity
DirecTV
Dish
Telus
Greyson Chance: A Butterfly's Journey from Holy to Hell and Back
A decade ago there was a boy made famous by a pop song and a viral video. Today, there is an artistic, powerful singer song writer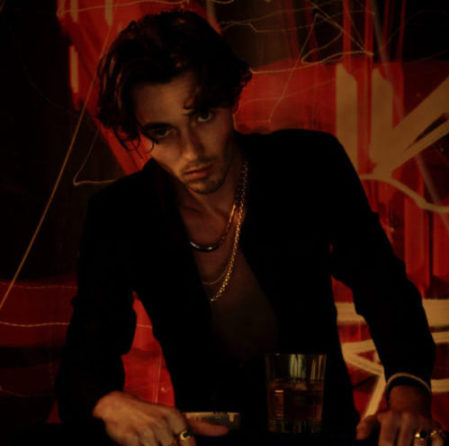 HOLLYWOOD – Many want to saddle singer Greyson Chance with the label "comeback" or having a "return from retirement." It is an understandable mistake as the "fame to disaster" narrative IS there. The real story is about one of the most exciting new artists of today. One that speaks to not only the LGBTQ youth of today, but of their entire generation.
Over a decade ago, there was a boy. The boy was very gifted at the piano, and at singing. He entered a talent contest and belted out a well known pop song by one of the trendiest artists of the day. Of course, there was a video. Social media was itself an infant, and as such, started launching like videos into the stratosphere. His video was one of the first to be seen gazillion of millions of times. Then there was the Ellen show, then the record contracts and a music video where he was Ariana Grande's love interest.
Life would never be the same again. It would not be the same as Greyson Chance would be forever entwined with Lady Gaga and Paparazzi. It would not be the same as when his voice changed and it all came crashing down. "The second that the momentum stopped, you know, I truly was just sort of thrown to the curb when I was 15. I, all in the same day, got dropped by my record label, my management, my publicist, and my agent. It was the ultimate for me, as a child musician." Greyson told me.
The real story however, is of a fantastic singer/songwriter who hit the industry in a big way with a debut album of his own work in 2019. He emerged then as a honed artist who had already been educated on the workings of the industry, and as a professional who knew how to walk in with his own vision and make it happen.
"It is a machine and, when I when I came on the scene originally, I had this huge viral video and with that, a lot of money coming around, and big players kind of involved in the industry," he says.  He made music their way.  He did the songs they wrote, and played the part of the person they wanted him to be.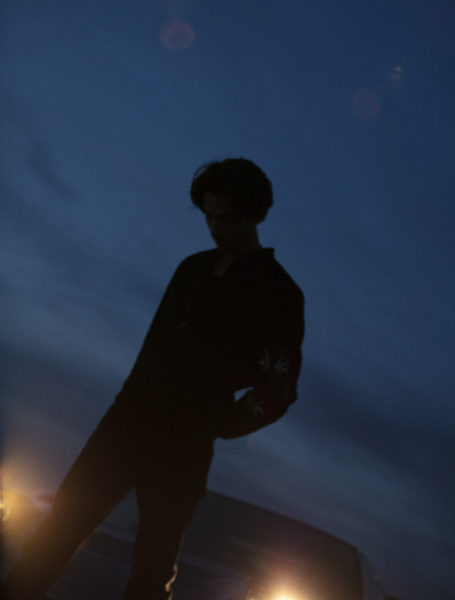 He learned how to be the kind of artist he did not want to be. The young artist went back to Oklahoma and enveloped himself in the cocoon of normalcy. He incubated there, fell in love, and had his heart broken by someone he thought he was going to hold onto forever. At that point, he emerged from the cocoon, with a full self-written album in hand, a musical butterfly spreading his wings.
"I'm 23 years old right now. And I started off with my first record deal when I was 12 years old. There was so much of my adolescence, in my childhood in music, where I wasn't given the chance to not only make music that I really wanted to do, but also to be writing. I was being forced to do records, I didn't have a huge artistic involvement in anything I was doing. So when I came back into music, I really wanted to finally show the world that I was a songwriter, that I had a unique voice. That I had some unique things to say. I really emphasize authenticity. These are stories that are coming from the heart. These are things that are coming from my own life. It's not even really a choice that I have anymore. It is honest, from a place that's true and genuine," Greyson states.
Greyson represented not only with a new thematic "voice", but an actual new physical voice as well. "It was interesting, what I went through, they always tell you that when your voice changes, it's going to be sort of a tough go and that is such an understatement. It was so hard for me for a few years to really kind of find comfortability in my physical voice again. I mean, I really struggled through my voice change. But ultimately, I learned as a kid when I was on the road that in a way, when you're a touring musician, you're sort of like an athlete. My muscle is, is my voice." Greyson's new voice is far superior to his belting-out-broadway boy voice. He has a harmonic high register, and a sultry deep one. It copies no one else's, this voice is uniquely his own.
In 2019, Greyson came out with his launch album "Portraits". The stories of the album gave vision to the various personas he saw of himself as he navigated an ill fated romance. One week, he was looking at engagement rings, the next week, out of the blue, "the man of his dreams" left him without explanation. Greyson works each personal portrait into the prism of a beautiful, musically shiny diamond. "Portraits for me was truly my reinvention piece. And what I mean by that is, at the time before I put out that album, you know, I couldn't even get a meeting in LA with anybody. You know, no one wanted to touch me, no one wanted to be involved in in my project and involved in my music. So I told myself, You know what, I'm going to write a record, and I'm going to write a full album. I'm going to give this one last shot, and see, see what happens. And, fortunately, it went over very, very well."
In 2019 he filled 109 venues performing the songs from Portraits. He publicly came out as gay in response to a fan during a conversation about living authentically. He has also been transparent about his personal challenges, including his on-going battle with anorexia. "It was truly very, very difficult to diagnose it. I had come off of this really bad breakup that I wrote my album Portraits about, and I was developing habits of not eating and not taking care of myself. I blamed it on the sadness I was feeling at the time. Then, as things became a little more normal, and I became a bit more stable, I noticed that I still had had this issue and things that were going on. For me, I had to work through a lot of therapy, to get a grasp on it. I brought it public because it was so stigmatized, and still is. I like to think that I have my life together. But here's the deep issue that I struggle with, and I go through. I'm on a road to recovery, it's never ending when you are battling with an eating disorder, but I'm doing very, very well right now. I'm staying on top of it. Through my disclosure, there was such an amazing and beautiful dialogue that keeps happening, people reaching out to me and sort of sharing their own struggles and battles with it as well. I'm working on trying to be the best version of myself that I can be."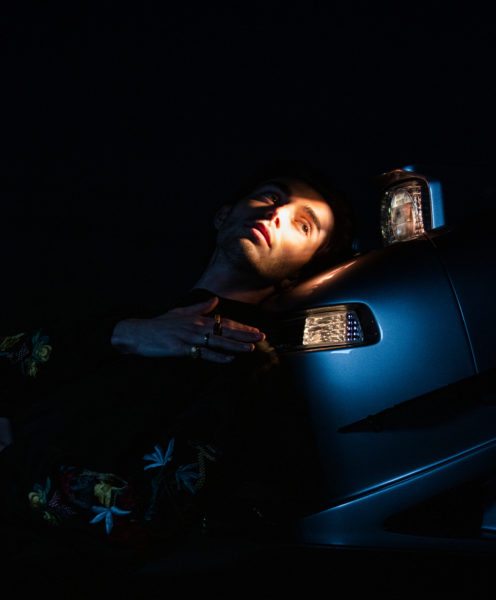 After a forced lockdown during the pandemic of 2020, Greyson is ready to move into the next phase of his butterfly trajectory. He has released two singles off his next EP, Trophies, and he is in love again. The songs on the EP will be in a thematic composition. The two first released create a spiritual arc from the heavenly rich ballad-like Holy Feeling to the high-pop danceable hedonistic Hell Boy.
He says of the new material, "My boyfriend and I just celebrated our one year anniversary yesterday. Trophies, is really expressing the fear of now losing love, and sort of that fear that was created in the old relationships that I've had. It is the desire for my fans and queer people around the world to know what truly being in love is. We're constantly told as, as queer people that, our relationships are always going to be rocky, they're never going to be sort of American Dream type relationships. Because we're different, these relationships are going to be different, because we're inherently different. That is just absolutely BS. Regardless of how you identify who you love, you can totally have all of this stereotypical white picket fence, you know, dog in the backyard green grass type of thing. It is so within your wheelhouse. It's not out of reach. This record is emotionally going through all those those things, and talking about them in the music."
A decade ago there was a boy made famous by a pop song and a viral video. Today, there is an artistic, powerful singer song writer who sings the authenticity of his generation. The rush you feel is the wind from rainbow colored butterfly wings taking flight, and the knowledge that the most famous Greyson Chance is the one yet to come.