Astrophotographer may become first out gay man in space
Jon Carmichael is competing for spot on first all-civilian mission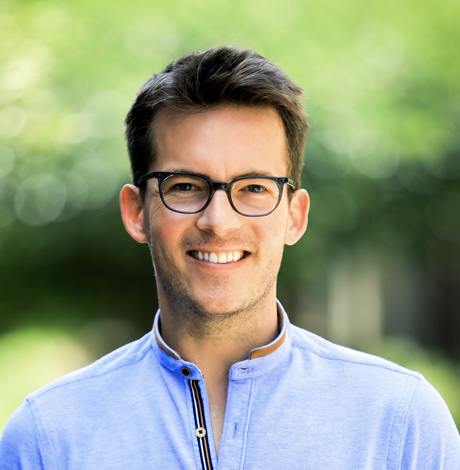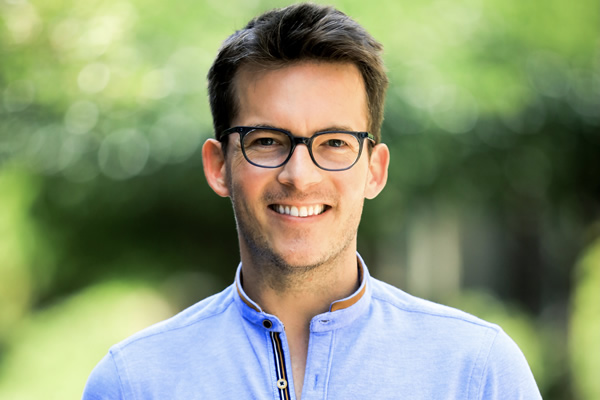 LAS VEGAS — Jon Carmichael could become the first openly gay man to travel to space, and he says it's "about time."
The spacecraft will take four people to travel in Earth's orbit for three to five days. The launch date has not been determined, but it will be no earlier than October.
An astrophotographer and pilot, Carmichael is applying to the Inspiration 4 program — the first all-civilian space mission. The trip will be led by pilot Jared Isaacman, the founder and CEO of Shift4 Payments, a company that supports e-commerce platforms.
Carmichael, 34, says he has had an interest in space since he was a kid.
"It's my lifelong dream now to go to space, and it's actually more realistic now," he told the Blade. "It actually could happen."
He loves to take photos of the Earth's galaxy, the Milky Way, to connect people to the "mesmerizing" experience often lost due to light pollution.
"We've really lost touch of that — that curiosity and that wonder," he said "That's why I like to go out of my way in the middle of nowhere away from light pollution and shoot these night sky images so that doesn't get lost, so I can share that with others, so that people still can feel that inspiration."
Carmichael's application to the contest has been recognized by George Takei, the gay actor who played Hikaru Sulu in the original "Star Trek" series.
First gay man to go to space? I certainly can relate to that dream!

Jon's story is truly inspired. To my LGBTQs and allies, can we make this young man's day with a RT barrage? Let's give it maximum warp and help send Jon on that mission! https://t.co/6gRM33DTVb

— George Takei (@GeorgeTakei) March 1, 2021
(Astronaut Sally Ride, the first American woman in space, was closeted most of her life. Details of her 27-year relationship with Tam O'Shaughnessy were only revealed after Ride's death in 2012.)
Carmichael is based in Las Vegas and is helping his mother, who was recently diagnosed with Hodgkins and non-Hodgkins lymphoma after surviving Stage 4 Hodgkins lymphoma five years ago. She encouraged him to apply to Inspiration 4, he said.
The Inspiration 4 mission is also raising awareness and funds for St. Jude Children's Research Hospital. Carmichael gifted prints of his piece, "108," of the 2017 total solar eclipse to those who donated $50 or more to the hospital.
Each person on the Inspiration 4 mission represents a "pillar" of leadership, hope, generosity or prosperity.
Carmichael is applying for the prosperity seat, which is for an entrepreneur who has used Shift4Payments' Shift4Shop platform to launch a business. The leadership seat is taken by Isaacman and the generosity seat is for an individual who has supported the St. Jude mission. Hayley Arceneaux, a physician assistant at St. Jude and pediatric cancer survivor, will take the hope seat.
The rest of the winners will be announced in late March.
Inspiration 4 isn't the only space mission for which Carmichael is vying.
He's been working on his application to the dearMoon Project, where eight artists from around the world can apply to take a trip to the moon in 2023. The mission is created and led by Japanese billionaire Yusaku Maezawa and Elon Musk.
"It really will ignite a new era of the space race and excitement for space again," he said.
Carmichael became fascinated with the total solar eclipse in his seventh grade geography class in Las Vegas.
"I was so blown away by it," he said. "Since that day, I was determined to see this eclipse."
Carmichael in 2017 took career-changing images of the eclipse on a Southwest flight.
After losing an in-flight viewing party contest hosted by Alaska Airlines, he booked a flight from Portland, Ore., to St. Louis in order to be in the air while the eclipse was in its totality. When the flight crew found out about Carmichael's story, the pilot cleaned a window for a clearer shot and even adjusted the plane's flight pattern to help Carmichael capture as much of the eclipse as possible.
Carmichael stitched more than 1,000 photos together that he captured in the three minutes of totality to get the finished product. He said he worked more than 200 hours on the piece.
The photo was unveiled privately at #OneTeam, a Twitter company event where Carmichael was the substitute keynote speaker when Musk, the original headliner, cancelled at the last minute. A self-proclaimed "Elon Musk fanboy," he was excited about the possibility of meeting him, but Carmichael said his first speech in front of more than 1,000 people was a "beautiful moment" that changed his life.
"Moral of this story is things not happening for the better," he said. "My entire career is still around this eclipse image years later."
The photo was later publicly unveiled on the first anniversary of the eclipse at Twitter's New York office.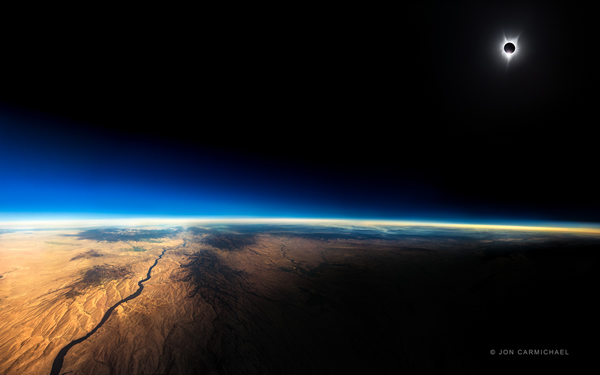 Carmichael began photography at 20 when he moved to Los Angeles after coming out. Two years later, he made the passion a career, he said.
"I was going through a bit of a depression in my life because I had just come out, and I wasn't received very well in circles I was in my life," he said. "So I ran away to L.A. to start a new life. And I suddenly fell in love with photography while I was there, and that sort of became my escape from my depression."
Former President Obama and Lady Gaga are among the celebrities whose pictures he's taken, but Carmichael has been fascinated with space and documenting the universe since he was a kid. The astrophotography specialization was a hobby and he rarely shared this work with anyone, but he decided to formally print his work in his father's honor after he passed away in 2013.
Carmichael's first buyer and collector was Elton John.
He met John's assistant at the Million Dollar Piano show at Caesars Palace in Las Vegas while he was meeting another buyer in 2015.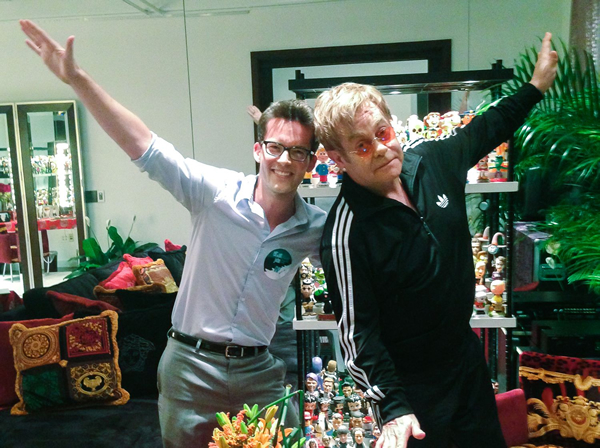 "We turned his entire living room into like a pop-up gallery," said Carmichael. "He became my first collector because of this, and he was the reason that inspired me to actually follow this path."
To Carmichael, the curiosity and mystery of space are what drive him. The unknowns, rather than terrifying him, inspire a connection to childhood and allow hardships "to disappear."
"When you are thinking about the universe, and you're thinking about the reality of where and who we are in the universe, it's such a humbling experience," he said. "And that humility is what actually unites us because it gives us all an ego check."
Blinken: PEPFAR shows 'what American diplomacy can do'
Secretary of state spoke at World AIDS Day event in D.C. on Friday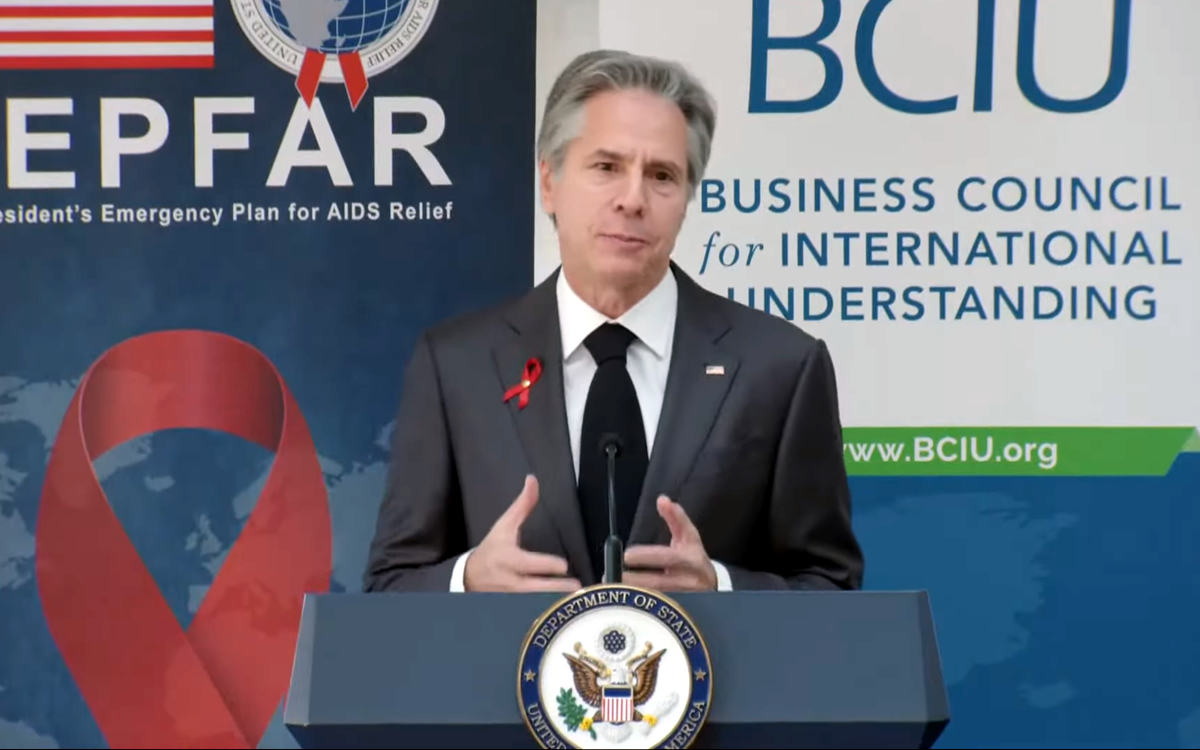 WASHINGTON — Secretary of State Antony Blinken on Friday noted the President's Emergency Plan for AIDS Relief has saved more than 25 million lives since its launch in 2003.
Blinken, who spoke at the Business Council for International Understanding's World AIDS Day event at the Hay-Adams Hotel in D.C., said the more than $100 billion the U.S. has earmarked for PEPFAR over the last two decades has funded 70,000 new community health clinics, 3,000 new laboratories and the hiring of 340,000 health care workers.
"Entire public health systems formed, with over a dozen countries which have either reached their HIV-treatment goals or managed control of the virus altogether," said Blinken.
Then-President George W. Bush in 2003 signed legislation that created PEPFAR. California Democrat Barbara Lee, members of the Congressional Black Caucus and Dr. Anthony Fauci, the director of the National Institute of Allergy and Infectious Diseases and chief White House medical advisor who is retiring at the end of this month, are among those who played a key role in PEPFAR's creation.
"PEPFAR has benefitted from bipartisan support, as we've heard, across four presidencies, across ten Congresses," said Blinken. "It's resulted in an investment of more than $100 billion to the global HIV/AIDS response. This is the largest commitment by one country ever to address a single disease."
Lee and Fauci were among those who attended the event alongside U.S. Global AIDS Coordinator John Nkengasong; Assistant Health Secretary Rachel Levine; Dr. Deborah Birx, the former White House Coronavirus Response Director, and HIV and Hepatitis Policy Institute Executive Director Carl Schmid.
Blinken in his speech noted "the systems put in place by PEPFAR have become an integral part of the health security architecture of countries around the world."
Blinken also said PEPFAR has bolstered responses to COVID-19, Ebola and the avian flu.
"We are continuing to build on PEPFAR's many successes to create a stronger global health security architecture to prevent, to detect, to respond to future health emergencies. Doctor Fauci, you once said that PEPFAR 'shows what the goodwill of a nation can do,' and you were right," said Blinken. "PEPFAR also shows us what American diplomacy can do: Bring together governments, bring together the public and private sectors, communities to tackle challenges that none of us can actually effectively deal with alone and that creates and has created a healthier, safer and ultimately more secure world."
Five-year PEPFAR strategy to target LGBTQ+ people
Blinken acknowledged there is still "very serious work still required for us to end the global HIV health epidemic by 2030," noting HIV/AIDS continues to disproportionately impact LGBTQ+ and intersex people and other marginalized groups.
"Too many countries still have fragile and insufficiently resourced public health systems, which makes it difficult to offer services beyond HIV/AIDS treatments, and that undercuts our capacity to respond to emerging threats," he said.
Blinken noted the U.S. on Thursday announced a new PEPFAR strategy that will help "fill those gaps" over the next five years. It includes the following:
• Targeted programming to help reduce inequalities among LGBTQ+ and intersex people, women and girls and other marginalized groups
• Partnerships with local organizations to help reach "hard-to-reach" communities.
• Economic development and increased access to financial markets to allow countries to manufacture their own antiretroviral drugs, tests and personal protective gear to give them "the capacity to meet their own challenges so that they're not dependent on anyone else."
"This latest PEPFAR strategy will keep making advancements like that possible so that millions more people can live healthy lives and live lives to their full potential," said Blinken.