Fears over women's safety made wedge issue in Equality Act Senate hearing
"Unfortunately, some opponents have chosen to make exaggerated claims about what the Equality Act would do," Durbin said.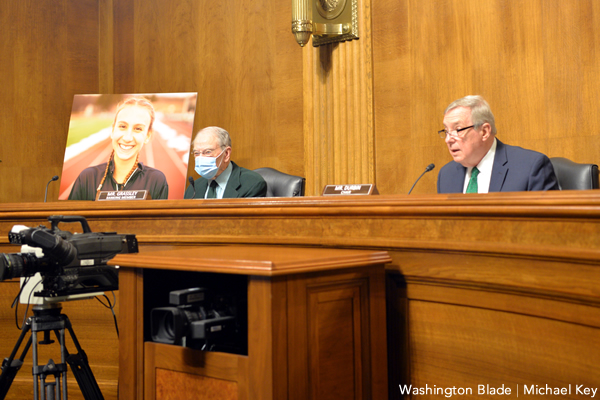 WASHINGTON – The Senate hearing on the Equality Act, which would expand the prohibition on discrimination under federal law, put on full display Wednesday the use of fear mongering about women's safety and the integrity of women's sports as a tool to thwart attempted progress on LGBTQ rights, although more traditional objections based on religious liberty also played a role.
Sen. John Kennedy (R-La.) pulled no punches during the Senate Judiciary Committee hearing — the first-ever hearing for the Equality Act in the U.S. Senate — in heightening fears about threats to women in sex-segregated spaces.
When Abigail Shirer, a journalist who has built a career campaigning against gender transitioning for youth, was presenting testimony as an expert witness, Kennedy went straight to the locker rooms.
"Would this bill prohibit the boy with gender dysphoria from exposing his penis to the girls?" Kennedy asked.
The questioning put Shirer, who was testifying against the Equality Act, in a bind. The Equality Act does prohibit discrimination on the basis of gender identity in locker rooms, but says nothing about that particular issue and laws against lewd conduct are in place. "I'm sorry would it prohibit that?"
When Kennedy repeated the questions, Shirer replied, "I don't believe the bill addresses genitalia." Kennedy went to ask her if it prohibits them from dressing together. "No," Shirer replied. "Would this bill prohibit them from showering together?" "No." Kennedy then asked about boys being able to access girls' sports.
"He wouldn't have to have gender dysphoria," Shirer said. "Anyone who says they're a girl at any time under this bill, they don't have to be transgender-identified, they don't have to have gender dysphoria."
Kennedy said he had intended to get to that point and asked her if the Equality Act would require schools to allow boys with gender dysphoria to compete in girls' sports. Shirer replied, "Yes, anyone who identifies as a woman."
Sen. Charles Grassley (R-Iowa), top Republican on the committee, brought up a specific incident in Connecticut where transgender girls were allowed to compete in a girls track event. Grassley named one of the girls who filed a complaint over the situation, Chelsea Mitchell, as he displayed images of three girls involved behind him.
"Many women and girls before her fought for legal protections under Title IX, which recognizes that sex specific distinctions are appropriate in some instances," Grassley said. "As a father, grandfather and husband, I have celebrated the athletic successes of talented young women in my own family, so I am deeply concerned about this act's potential negative implications for all girls and women in sports."
The Equality Act says nothing about sports, but would prohibit discrimination against transgender people in education and federally funded programs. It should be noted the ruling last year from the U.S. Supreme Court in Bostock v. Clayton County, which found anti-LGBTQ discrimination is an illegal form of sex discrimination, has broad applications, including for Title IX of the Education Amendment of 1972, which bars discrimination on the basis of sex in sports. As a result, refusing to allow transgender kids in sports would likely already be illegal.
Fears of the impact of LGBTQ rights advances on religious practices also came up during the hearing. Sen. Mike Lee (R-Utah), for example, raised a question about whether churches that conduct services with members of the congregation divided by sex would be liable as a public accommodation under the Equality Act.
Mary Rice Hasson, a fellow in Catholic Studies at the Ethics & Public Policy Center, served as a Republican witness and maintained churches could be held liable under the Equality Act "by expanding public accommodations to mean wherever Americans gather, even virtually."
"Compromise your religious beliefs or risk endless litigation," Hasson said. "Recipients of federal funds are also targeted, even for the simple act of maintaining sex segregated bathrooms."
HRC President Alphonso David, responding to an earlier question from Sen. Richard Durbin (D-Ill.), contested the idea that churches would be liable, which would be consistent with the religious exemption the Equality Act would retain under the Civil Rights Act of 1964.
"The Equality Act does not affect how religious institutions function," David said. "That is very different than institutions that actually provide public accommodations, institutions that are open to the public and are providing goods and services to the public."
A major issue of contention was a provision of the Equality Act that would preclude the use of the 1993 Religious Freedom Restoration Act, a law intended to protect religious minorities, as a potential legal defense in cases of discrimination. Scolding Republican critics who indicated the Equality Act would gut RFRA, Sen. Richard Blumenthal (D-Conn.) said the bill does nothing of the sort, but Sen. Josh Hawley (R-Mo.) shot back there was "an explicit carve out in the Equality Act for RFRA."
"I'm aware of no other law that seeks to shred RFRA in this way, and the effect of it basically is that churches, religious ministries, Christian colleges and universities, they'll be unable to pursue their missions, particularly if they involve service to the poor, service to the needy," Hawley said.
During a hearing in which Democratic members of the committee largely focused on their witnesses and Republicans stuck with theirs, Kennedy was an exception and asked David if there are more than two sexes. David initially deferred to medical experts and noted sex and gender can be different concepts, but then concluded "it's not limited to two," citing for example people who are intersex.
Shirer made an attempt during the hearing to qualify her opposition to the Equality Act, saying her opposition is based on potential consequences of the bill on women's safety.
"If S. 393 merely proposed to extend employment, and public housing rights to gay and transgender Americans, I would be supporting this bill, instead of testifying against it," Shirer said. "I am here today because the bill does much more, and no one who wrote it appears to have thoughtfully considered what it would mean for women and girls."
Tillis open to 'compromise' on LGBTQ rights
Despite the issues raised by Republicans, one key moment came when Sen. Thom Tillis (R-N.C.), whose vote would be key to reaching the 60-vote threshold to end a Senate filibuster on the Equality Act, appeared to make a good faith effort to reach across the aisle.
"On the one hand, we have the fact that even in 2021, our LGBTQ friends, family, neighbors, still face discrimination from employment to healthcare to housing to homelessness among LGBTQ youth is a very real problem with discrimination," Tillis said. "I think it's wrong, in any aspect. But on the other hand, we have millions of Americans who are people of faith who have serious and legitimate issues of conscience."
Although Tillis said the Equality Act "falls short of the goal" he seeks in addressing both sides, he added he's "open to finding a compromise." The last committee member to ask questions during the hearing, Tillis also lamented members of the committee "were talking past one another" about their concerns without coming closer to an ultimate conclusion.
Two issues that appeared to concern Tillis were the provision in the Equality Act against use of RFRA in cases of discrimination and whether the Equality Act's ban on LGBTQ discrimination in federally funded programs would require prisons to house transgender women consistent with their gender identity. Tillis posed a question on whether a male serial rapist could say he identified as a woman and be allowed in women's prisons; Shrier said that "absolutely" would be the case.
Meanwhile, proponents of the Equality Act continued to make their case for the bill based on its general objectives, to ban anti-LGBTQ discrimination in all aspects of public life.
Durbin, kicking off the committee hearing, displayed a video highlighting milestones in the LGBTQ movement, including the election of Harvey Milk and the swearing-in of Pete Buttigieg, as well as media coverage on passage in the U.S. House of the Equality Act.
"Unfortunately, some opponents have chosen to make exaggerated claims about what the Equality Act would do," Durbin said. "Let me be clear, those of us working to pass this legislation are open to good faith constructive suggestions on further improvement and strengthening the bill. In fact, that's why we're having this hearing, but many of the texts on this bill are nothing more than the latest in a long, long, long line of fear mongering targeting the LGBTQ community."
Stella Keating, a 16-year-old student from Tacoma, Wash., made the case for the Equality Act as a witness in the simplest way possible: Introducing herself as a transgender person.
"Hi, I'm Stella, and I'm transgender," Keating said, "I'm here before you today, representing the hundreds of thousands of kids, just like me who are supported and loved by their family, friends, and communities across the country."
101 Freeway set to close through downtown this weekend for construction
Closure of the 101 freeway will commence Friday at 10 p.m. & the freeway will reopen Sunday at 3 p.m.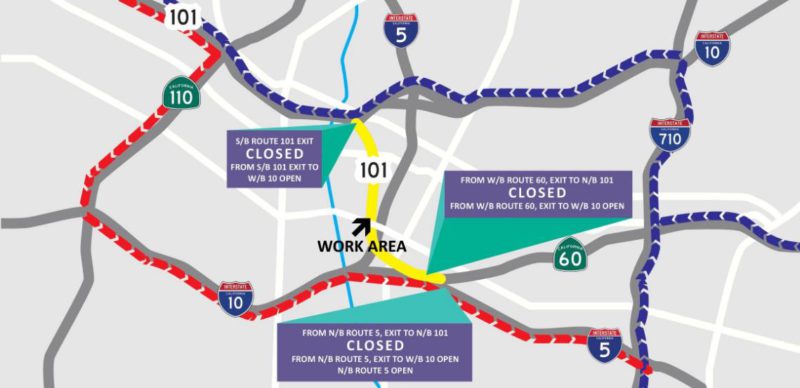 LOS ANGELES – The 101 Freeway will close in both directions this weekend for construction work on the new Sixth Street Viaduct project east of downtown Los Angeles.
Work on the bridge will close 2.5 miles of the freeway in both directions, starting where the 101 and 10 freeways split and ending where the 5, 10 and 101 interchange meets east of downtown Los Angeles, city officials said.
The transition from the westbound 60 Freeway to the 101 will also be closed due to the project. The freeway and transition road are scheduled to reopen by 3 p.m. Sunday.
The closure is necessary to remove the temporary frame supports around the new Sixth Street Viaduct bridge.
A second closure of the same stretch of freeway is scheduled to begin Friday, Nov. 5, at 10 p.m. and continue through Sunday, Nov. 7, at 3 p.m.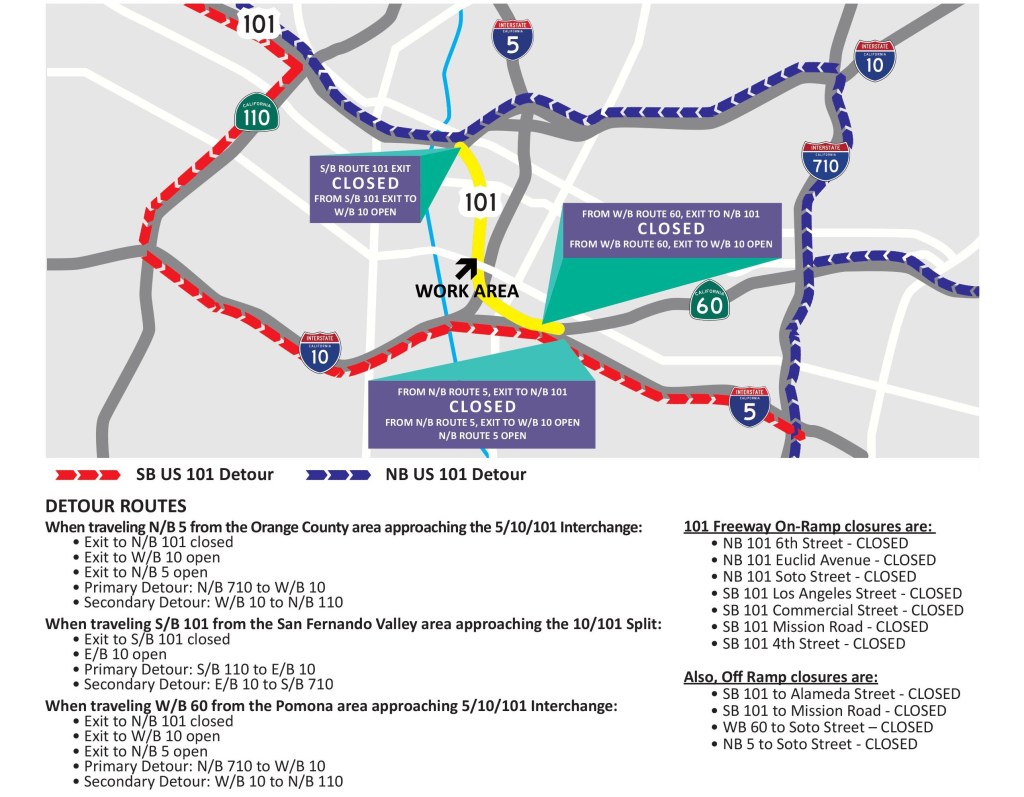 LA County officials say avoid prolonged outdoor activities in Carson area
LA County Public Health recommends temporarily leaving the area where odors are present to alleviate health impacts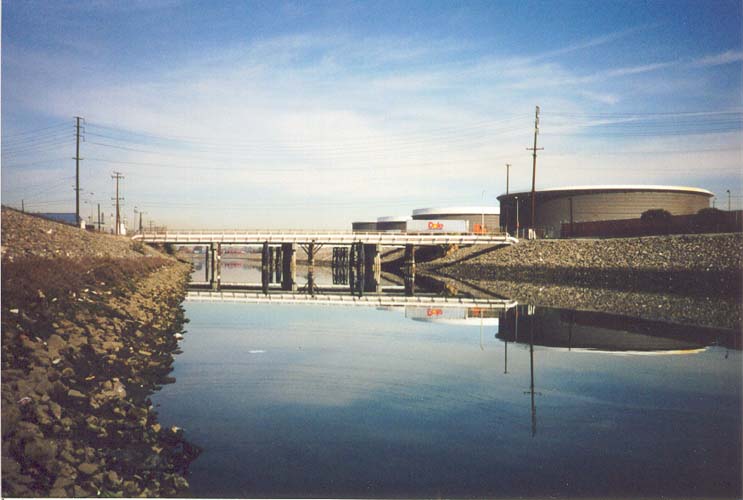 CARSON – Los Angeles County officials have been working collaboratively since Oct. 6 to investigate and address the pungent odor affecting communities in the area of Dominguez Channel in the City of Carson.
A multi-agency response—including the County departments of Public Works, Public Health, Fire and the Office of Emergency Management, as well as the South Coast Air Quality Management District—was mobilized in response to this incident and to provide rapid relief to residents and businesses that have been affected.
The South Coast Air Quality Management District on Tuesday announced it has established a webpage to monitor the foul odor emanating from the Dominguez Channel that has sickened some residents and prompted numerous complaints.
To date, South Coast AQMD has responded to more than 2,000 odor complaints since the acrid scent was first reported on Oct. 3.
Congresswoman Nanette Diaz Barragán, whose 44th congressional district includes the affected areas, in her Oct. 18 letter called on California Governor Gavin Newsom to declare a state of emergency in the area.
On Oct. 15, LA County Public Works maintenance crews began spraying a natural, water-based and biodegradable deodorizer in the channel to neutralize the odor. The community should expect a noticeable reduction in the smell within 3-5 days.
The source continues to be considered as naturally decaying organic material (vegetation and marine life) at the bottom and sides of the Channel in Carson. As air monitoring of the surrounding areas continues, no other point sources for the hydrogen sulfide have been identified. South Coast AQMD, County Fire Hazardous Materials (HazMat), and Public Health continue to evaluate and monitor hydrogen sulfide concentrations and mitigate health impacts.
A bubbler system is being installed today to inject millions of tiny oxygen bubbles into the water to increase the levels of dissolved oxygen and prevent the creation of additional hydrogen sulfide gas.
The Los Angeles County Department of Public Health updated the health recommendations for residents impacted by odors reported in Carson and surrounding communities to avoid prolonged outdoor activities between the hours of 9 p.m. through 8 a.m., based on patterns seen with air monitoring results, and whenever odors are strong to reduce exposure.
While the effort to get rid of the odor continues, Public Health recommends residents take the following actions to lessen their exposure and any symptoms experienced and to protect the health of themselves, their family, and their pets:
If symptoms feel life threatening, seek immediate medical care.
If symptoms are persistent, worrisome, or worsening, seek medical attention. Relocate to another area until odors go away. For assistance, call 2-1-1.
Avoid prolonged outdoor activities between the hours of 9 p.m. through 8 a.m. and whenever odors are strong to reduce exposure.
Keep doors and windows closed as much as possible to prevent outdoor odors from entering the residence or business. Air out the home/business when odors are not present.
If residents have a central heating, ventilation, and air conditioning (HVAC) system, contact an air conditioning specialist, if needed, to determine if the air filters in the system may be replaced with High Efficiency Particulate Air (HEPA) or MERV-rated filters with activated charcoal (carbon) to improve the air quality inside. If residents notice odors are stronger or symptoms are worse in the late evening or early morning hours (9 p.m. to 7 a.m.), residents should try running their central HVAC system throughout the night, if they have not already. Temporarily relocating may be best if this does not help.
Use a certified portable HEPA indoor air filter with activated charcoal to improve air quality in their home. If residents notice odors are stronger or symptoms are worse in the late evening or early morning hours (9 p.m. to 7 a.m.), residents should try running their portable indoor air filter throughout the night, if they have not already. Temporarily relocating may be best if this does not help.
Keep pets indoors. If residents notice any of the following in their pets, they should contact their local veterinarian: difficulty breathing, vomiting, lethargy, or nausea.
Hydrogen sulfide is a colorless gas that has a very strong odor (like "rotten egg"). Its smell can be detected and cause temporary mild to moderate symptoms even below the minimum detection limit of 1 part per million (ppm) or 1000 parts per billion (ppb) of typical equipment used to detect it. Everyone should take steps to reduce their exposure when the odors are present.
People experiencing persistent, worrisome, or worsening symptoms from the odors are encouraged to contact their health care providers, especially if they have any chronic health conditions. People should also ensure that they have adequate supplies of their medications, especially if they have heart or lung conditions. In addition, Public Health recommends temporarily leaving the area where odors are present to alleviate health impacts.

For more information on protective measures to prevent odors from entering the home, residents can contact the Public Health Community line at 626-430-9821 and leave a message with their contact information and their call will be returned. The message line will be checked every hour between 7 a.m. to 10 p.m. every day while odors persist.

If you live in the areas of Carson or West Carson, or the surrounding vicinity, County Public Works has a reimbursement program for the purchase of HVAC air filters, portable HEPA air filters, or for temporary relocation. during this public nuisance event. Please review the recommendations and guidance on "Air Cleaners and Filters to Improve Indoor Air Quality and Remove Odors" below before purchasing filters. Visit https://lacounty.gov/emergency/dominguez-channel for more information on the reimbursement program. Residents can click here to submit for reimbursement. For assistance, they can call 2-1-1.

In addition, residents should continue to call South Coast AQMD to report odors at 1-800-CUT-SMOG (1-800-288-7644) or use the agency's On-line Complaint System.
Learn to Swim scholarship coming this Off Season!
Learn to Swim Scholarships will be made available for the Learn to Swim Program this upcoming Winter and Spring Season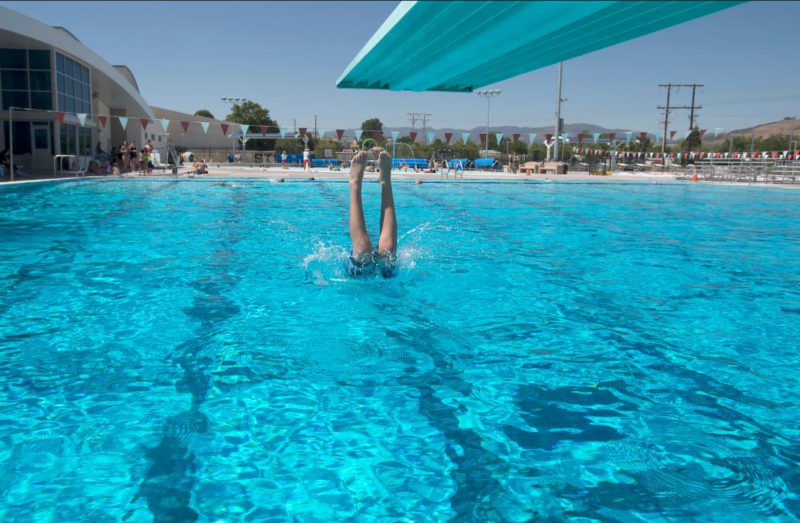 LOS ANGELES –The County of Los Angeles Department of Parks and Recreation, in conjunction with the American Red Cross, is excited to announce that a series of Learn to Swim Scholarships will be made available for the Learn to Swim Program this upcoming Winter and Spring Season.
These scholarships will be made available at the five (5) year-round pools for kids 5-17 years old. These year-round locations are as follows:
· Belvedere Community Pool (5035 E 1st St, East Los Angeles, CA 90022)
· Castaic Sports Complex Pool (31350 Castaic Rd, Castaic, CA 91384)
· Jesse Owens Community Regional Park Pool (9835 S Western Ave, Los Angeles, CA 90047)
· San Fernando Regional Pool (300 Park Ave, San Fernando, CA 91340)
· Franklin D Roosevelt Park Pool (7600 Graham Ave, Los Angeles, CA 90001)
The Learn to Swim Scholarships are being provided as a limited release, as well as a first come, first serve basis. All you have to do is complete the Scholarship Application (available online) as well as provide proof of enrollment in the Federal Free or Reduced Lunch Program. Upon completion and submission, your application will be reviewed for acceptance.
Download and complete the Scholarship Application TODAY!
Please note that completion and submission of application forms does not ensure you are awarded a scholarship. Applications must be reviewed prior to designation of scholarship. Scholarship process must be completed for each child in the household applying and for each session. Scholarships are only for the Youth Learn to Swim Program and are not applicable for any other Aquatics program or Youth program.
For a step by step breakdown, feel free to consult this graphic.
Download and complete the Scholarship Application TODAY!
For questions, contact LA County Parks at [email protected] or (626) 588-5364
For questions, contact LA County Parks at [email protected] or (626) 588-5364.