Fears over women's safety made wedge issue in Equality Act Senate hearing
"Unfortunately, some opponents have chosen to make exaggerated claims about what the Equality Act would do," Durbin said.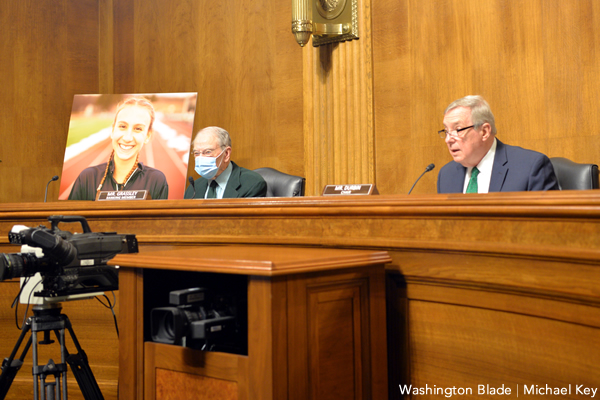 WASHINGTON – The Senate hearing on the Equality Act, which would expand the prohibition on discrimination under federal law, put on full display Wednesday the use of fear mongering about women's safety and the integrity of women's sports as a tool to thwart attempted progress on LGBTQ rights, although more traditional objections based on religious liberty also played a role.
Sen. John Kennedy (R-La.) pulled no punches during the Senate Judiciary Committee hearing — the first-ever hearing for the Equality Act in the U.S. Senate — in heightening fears about threats to women in sex-segregated spaces.
When Abigail Shirer, a journalist who has built a career campaigning against gender transitioning for youth, was presenting testimony as an expert witness, Kennedy went straight to the locker rooms.
"Would this bill prohibit the boy with gender dysphoria from exposing his penis to the girls?" Kennedy asked.
The questioning put Shirer, who was testifying against the Equality Act, in a bind. The Equality Act does prohibit discrimination on the basis of gender identity in locker rooms, but says nothing about that particular issue and laws against lewd conduct are in place. "I'm sorry would it prohibit that?"
When Kennedy repeated the questions, Shirer replied, "I don't believe the bill addresses genitalia." Kennedy went to ask her if it prohibits them from dressing together. "No," Shirer replied. "Would this bill prohibit them from showering together?" "No." Kennedy then asked about boys being able to access girls' sports.
"He wouldn't have to have gender dysphoria," Shirer said. "Anyone who says they're a girl at any time under this bill, they don't have to be transgender-identified, they don't have to have gender dysphoria."
Kennedy said he had intended to get to that point and asked her if the Equality Act would require schools to allow boys with gender dysphoria to compete in girls' sports. Shirer replied, "Yes, anyone who identifies as a woman."
Sen. Charles Grassley (R-Iowa), top Republican on the committee, brought up a specific incident in Connecticut where transgender girls were allowed to compete in a girls track event. Grassley named one of the girls who filed a complaint over the situation, Chelsea Mitchell, as he displayed images of three girls involved behind him.
"Many women and girls before her fought for legal protections under Title IX, which recognizes that sex specific distinctions are appropriate in some instances," Grassley said. "As a father, grandfather and husband, I have celebrated the athletic successes of talented young women in my own family, so I am deeply concerned about this act's potential negative implications for all girls and women in sports."
The Equality Act says nothing about sports, but would prohibit discrimination against transgender people in education and federally funded programs. It should be noted the ruling last year from the U.S. Supreme Court in Bostock v. Clayton County, which found anti-LGBTQ discrimination is an illegal form of sex discrimination, has broad applications, including for Title IX of the Education Amendment of 1972, which bars discrimination on the basis of sex in sports. As a result, refusing to allow transgender kids in sports would likely already be illegal.
Fears of the impact of LGBTQ rights advances on religious practices also came up during the hearing. Sen. Mike Lee (R-Utah), for example, raised a question about whether churches that conduct services with members of the congregation divided by sex would be liable as a public accommodation under the Equality Act.
Mary Rice Hasson, a fellow in Catholic Studies at the Ethics & Public Policy Center, served as a Republican witness and maintained churches could be held liable under the Equality Act "by expanding public accommodations to mean wherever Americans gather, even virtually."
"Compromise your religious beliefs or risk endless litigation," Hasson said. "Recipients of federal funds are also targeted, even for the simple act of maintaining sex segregated bathrooms."
HRC President Alphonso David, responding to an earlier question from Sen. Richard Durbin (D-Ill.), contested the idea that churches would be liable, which would be consistent with the religious exemption the Equality Act would retain under the Civil Rights Act of 1964.
"The Equality Act does not affect how religious institutions function," David said. "That is very different than institutions that actually provide public accommodations, institutions that are open to the public and are providing goods and services to the public."
A major issue of contention was a provision of the Equality Act that would preclude the use of the 1993 Religious Freedom Restoration Act, a law intended to protect religious minorities, as a potential legal defense in cases of discrimination. Scolding Republican critics who indicated the Equality Act would gut RFRA, Sen. Richard Blumenthal (D-Conn.) said the bill does nothing of the sort, but Sen. Josh Hawley (R-Mo.) shot back there was "an explicit carve out in the Equality Act for RFRA."
"I'm aware of no other law that seeks to shred RFRA in this way, and the effect of it basically is that churches, religious ministries, Christian colleges and universities, they'll be unable to pursue their missions, particularly if they involve service to the poor, service to the needy," Hawley said.
During a hearing in which Democratic members of the committee largely focused on their witnesses and Republicans stuck with theirs, Kennedy was an exception and asked David if there are more than two sexes. David initially deferred to medical experts and noted sex and gender can be different concepts, but then concluded "it's not limited to two," citing for example people who are intersex.
Shirer made an attempt during the hearing to qualify her opposition to the Equality Act, saying her opposition is based on potential consequences of the bill on women's safety.
"If S. 393 merely proposed to extend employment, and public housing rights to gay and transgender Americans, I would be supporting this bill, instead of testifying against it," Shirer said. "I am here today because the bill does much more, and no one who wrote it appears to have thoughtfully considered what it would mean for women and girls."
Tillis open to 'compromise' on LGBTQ rights
Despite the issues raised by Republicans, one key moment came when Sen. Thom Tillis (R-N.C.), whose vote would be key to reaching the 60-vote threshold to end a Senate filibuster on the Equality Act, appeared to make a good faith effort to reach across the aisle.
"On the one hand, we have the fact that even in 2021, our LGBTQ friends, family, neighbors, still face discrimination from employment to healthcare to housing to homelessness among LGBTQ youth is a very real problem with discrimination," Tillis said. "I think it's wrong, in any aspect. But on the other hand, we have millions of Americans who are people of faith who have serious and legitimate issues of conscience."
Although Tillis said the Equality Act "falls short of the goal" he seeks in addressing both sides, he added he's "open to finding a compromise." The last committee member to ask questions during the hearing, Tillis also lamented members of the committee "were talking past one another" about their concerns without coming closer to an ultimate conclusion.
Two issues that appeared to concern Tillis were the provision in the Equality Act against use of RFRA in cases of discrimination and whether the Equality Act's ban on LGBTQ discrimination in federally funded programs would require prisons to house transgender women consistent with their gender identity. Tillis posed a question on whether a male serial rapist could say he identified as a woman and be allowed in women's prisons; Shrier said that "absolutely" would be the case.
Meanwhile, proponents of the Equality Act continued to make their case for the bill based on its general objectives, to ban anti-LGBTQ discrimination in all aspects of public life.
Durbin, kicking off the committee hearing, displayed a video highlighting milestones in the LGBTQ movement, including the election of Harvey Milk and the swearing-in of Pete Buttigieg, as well as media coverage on passage in the U.S. House of the Equality Act.
"Unfortunately, some opponents have chosen to make exaggerated claims about what the Equality Act would do," Durbin said. "Let me be clear, those of us working to pass this legislation are open to good faith constructive suggestions on further improvement and strengthening the bill. In fact, that's why we're having this hearing, but many of the texts on this bill are nothing more than the latest in a long, long, long line of fear mongering targeting the LGBTQ community."
Stella Keating, a 16-year-old student from Tacoma, Wash., made the case for the Equality Act as a witness in the simplest way possible: Introducing herself as a transgender person.
"Hi, I'm Stella, and I'm transgender," Keating said, "I'm here before you today, representing the hundreds of thousands of kids, just like me who are supported and loved by their family, friends, and communities across the country."
LA County Parks should be your destination this Fall!
Make LA County Parks your destination this fall as you explore, engage and connect through our exciting programs!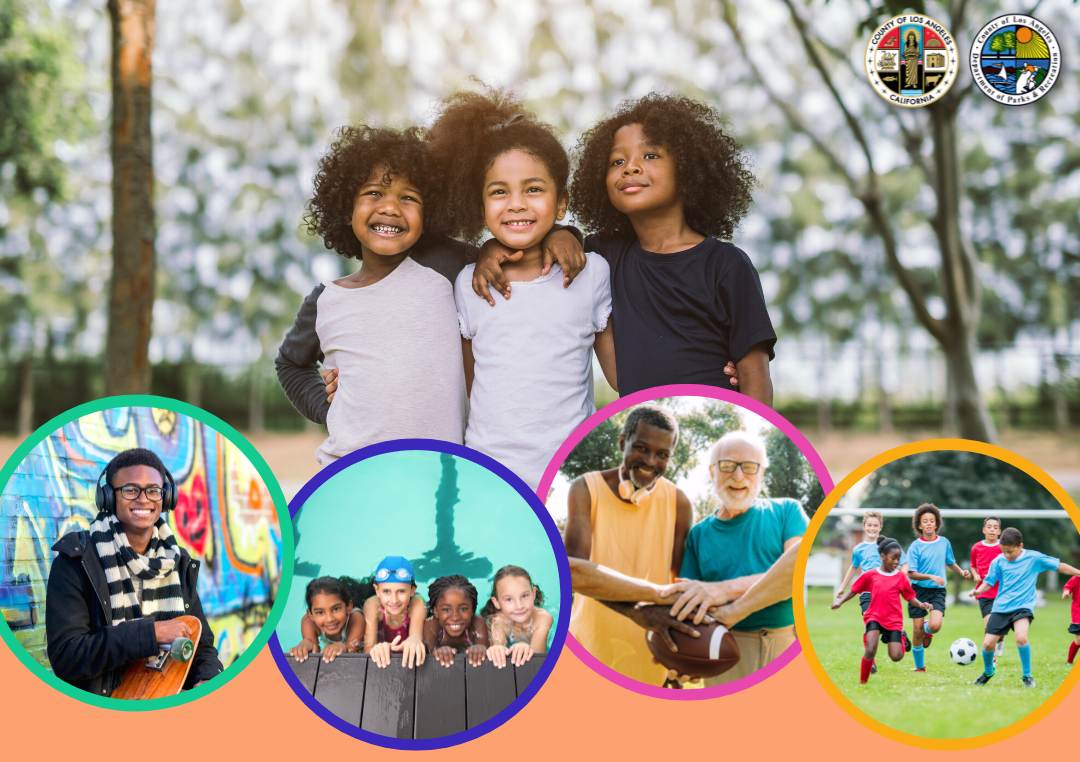 LOS ANGELES – Summer is coming to an end soon, but the fun doesn't stop here! LA County Parks presents an exciting slate of fun programming for the whole family this fall! Join us to create lifelong memories with your family. From recreation classes and nature center programs to sports and aquatics, there's something for every body to enjoy.

Check out some of our new programs, as well as community favorites that are back for another season! Join the fun starting September 6, 2022.
Check out a few of our upcoming programs!

SPORTS FOR ALL
Days and times vary based on location
Program availability may vary by location
Pre-registration is required, register HERE

Sports for All clinic is a youth sports clinic is an 8-week skills development clinic that meets once a week for basketball, baseball, softball, soccer, volleyball, cheer and other sports. Clinics focus on building foundational skills, self-confidence and teamwork.

EVERY BODY PLAYS DROP IN RECREATION ADVENTURES
Mondays – Fridays, 2:30 PM – 5:30 PM
Free drop-in program; No registration required

Every Body Plays is a positive space with a curriculum that is youth centered and designed for fun! This FREE drop-in program launches September 6, 2022 and runs until May 26, 2022. Children can enjoy a snack with their friends at select parks from 3:00 PM – 4:00 PM. The program provides children ages 7-17 with access to caring and trained park staff who serve as mentors and lead an array of programs and activities, ranging from sports, fitness, arts and crafts, STEM, group games, story time and so much more. Every day is an adventure in LA County Parks!

FREE SNACK PROGRAM
September 6, 2022 – May 26, 2023
Mondays – Fridays; 3:00 PM – 4:00 PM
Children and youth under 18 years of age are invited to receive a nutritious grab-n-go snack that includes vegetables, fruits, seeds and healthy dairy products like milk, string cheese, and yogurt. Created to help reduce the growing percentage of young people in the United States challenged by obesity or lack of consistent access to wholesome meals, the program aims to provide a healthy alternative for children when school is out. There are no meals served on County observed holidays.

NATURAL AREAS:

EVERY BODY EXPLORES
Tuesdays – Fridays, 2:30 PM – 5:30 PM & Saturdays 10:30 AM – 1:30 PM
Free drop-in program; No registration required

The Everybody Explores program provides participants of all ages an opportunity to check out a Naturalist field backpack they can use to complete self-guided activities, make observations and explore the park.

NATURE KNOWLEDGE NIGHTS
Dates vary by location, 6:00 PM – 7:00 PM
Free drop-in program; No registration required

Spend an evening getting to know the beauty of the natural world at a Los Angeles County Nature Center. Activities vary based on topic but may include group activities, ESTEAM fundamentals, community science, nature hikes, guided tours or animal ambassador experience.

NATURE CENTER DISCOVERY
Every Saturday at select Nature Centers, 10:00 AM – Noon
Free drop-in program; No registration required

Each Saturday you'll have an opportunity to meet our Nature Center Superintendents and learn about the park, history and the natural habitat around you, even meeting Animal Ambassadors native to the area! Find a Nature Center near you HERE.

You can also participate in our Saturday Morning Discovery Tables, where you and your family can explore table exhibits and "ask a naturalist" about the flora and fauna all around us. These exhibits will take place from 10:00 AM – 12:30 PM.

FALL RECREATION CLASSES
Dates, times and locations vary by class
Registration required. Register HERE

We teamed up with some of the best instructors in Los Angeles to bring you hundreds of classes for all ages, levels and budgets. Take a class at your local park for some fresh air or join virtual classes from the comfort of your own home! Whether you're looking to be more active, learn a new hobby or take up a new skill or language, we have just the class for you and everyone in your family.

TRICK-OR-TREAT VILLAGE
October 25-29, 2022 at several LA County Parks
Dates and times vary by location
Free; No registration required

Join us for a fantastically spooky time at a park near you this October to enjoy free activities. Costumes are encouraged! More information coming soon.

HARVEST FESTIVAL
November 15-23, 2022 at several LA County Parks
Dates and times vary by location
Free; No registration required

Families are invited to enjoy cultural celebrations that include food tasting, dancing, music, crafts and family activities. More information coming soon.

EDDIE HEREDIA BOXING CLUB
The Eddie Heredia Boxing Club has reopened! Do have what it takes to be a world class boxer? The Eddie Heredia Youth Boxing Club offers a variety of boxing classes geared to teach youth who are just beginning to learn the sport, to advanced classes for youths who are ready to spare and participate in competitions on a local, regional, and national level.

AQUATICS:

LEARN TO SWIM
Monday-Friday, Saturdays
August 29, 2022 thru December 23, 2022
Times may vary by location, level and session
Pre-registration is required; register HERE

Swim Lessons teach core swimming skills including water safety, floating and technique for the four core swimming strokes. The program is designed to provide swimmers with a positive learning experience while steadily progressing through the core skills and strokes.  All levels are in alignment with the American Red Cross' "Learn to Swim" Program.

EVERY BODY SWIMS
Saturday from 12:30pm – 2:00pm; 2:30pm – 4:00pm
Begins September 3rd, 2022

FREE Rec Swim is a fun and positive way to practice new skills, be physically active, keep your heart rate up, reduce stress and build muscle. Rec swim also provides an opportunity to socialize and make new friends.  Rec Swim starts September 3 and takes place on Saturdays from 12:30 PM – 2:00 PM and 2:30 PM – 4:00 PM.

SENIOR PROGRAMS AND ACTIVITIES
Dates and times vary by location Free; No registration required

LA County Senior Centers, Programs and Activities are a great place for adults ages 60+ years to stay fit, active and to meet new people. Activities promote physical and mental well-being, socialization, nutrition, life-long learning and volunteer opportunities. Lean more HERE.

OUR SPOT
Monday to Friday 3:00 PM – 7:00 PM
Free program; Register HERE

FREE daily after-school program that supports positive youth development by exposing teens to caring mentors, social justice projects, leadership and artists experiences, early career exploration, substance abuse prevention, sports and physical fitness, and other opportunities meaningful to youth. Teens participate in park advisory groups and contribute to the planning of field trips, events and social action projects.

… AND MUCH MORE!
Follow us on Facebook @parks.lacounty.gov and Twitter & Instagram @lacountyparks!
Public help sought identifying patient at County-USC Medical Center
Anyone with information on the patient's identity is asked to call Clinical Social Worker Cesar Robles at 323-409-6884 or 323-409-5253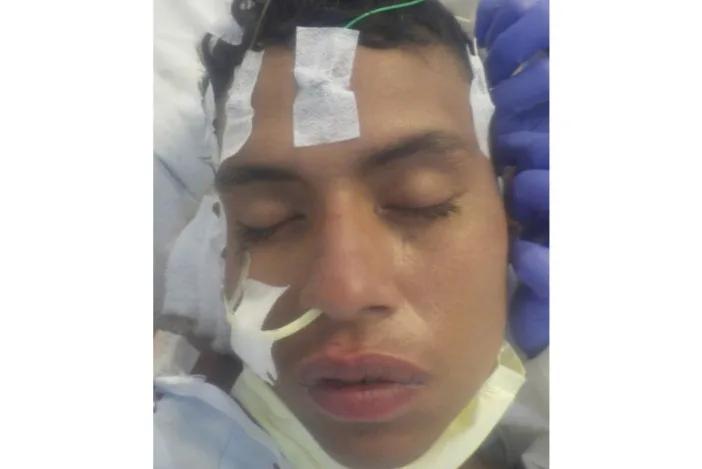 LOS ANGELES – The Los Angeles County Department of Health Services asked the public for help Tuesday in identifying a possible juvenile who has been hospitalized for nearly two weeks.
According to a news release the young male who could be in his late teens was dropped off at LA County-USC Medical Center on July 22. The patient was described as a male Hispanic between 16 and 20 years old. He is about 5 feet 8 inches tall and weighs 154 pounds.
The Medical Center described him as having a thin stature with short dark hair and brown eyes. The patient also has a tattoo of a cross under his right eye and another tattoo on his right hand.
No further information about the nature of the injuries or the condition of the patient was released.
Anyone with information on the patient's identity is asked to call Clinical Social Worker Cesar Robles at 323-409-6884 or 323-409-5253.
LA LGBT Center & Public Health host virtual townhall on Monkeypox
Topics will include a situational update, vaccine eligibility, & preventative measures. The town hall will also include a Q&A with residents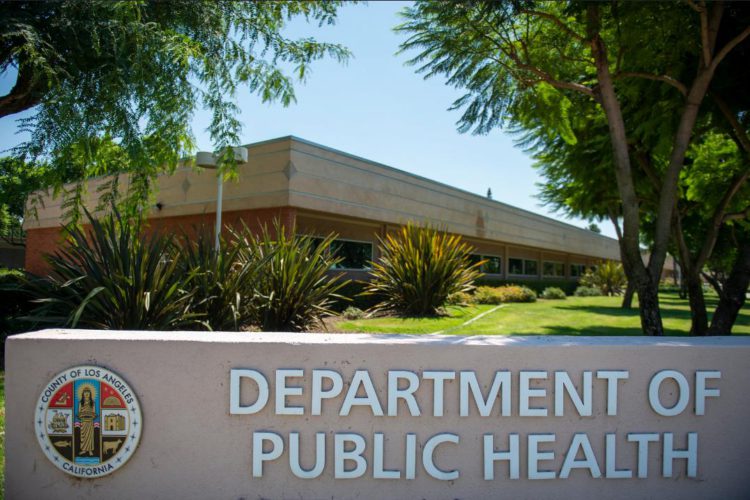 LOS ANGELES – Los Angeles County Department of Public Health and the Los Angeles LGBT Center will host a virtual town hall for the public on the topic of Monkeypox. Topics will include a situational update, vaccine eligibility, and preventative measures. The town hall will include the latest updates and a Q&A with residents.
WHEN:
Tuesday, July 12, 2022
6:00 p.m.
WHERE:
Submit questions ahead HERE to have them answered during the livestream.
WHO:
Sonali Kulkarni, MD, MPH, Medical Director in the Division of HIV and STD Programs (DHSP) at the Los Angeles County (LAC) Department of Public Health
Nava Yeganeh, MD, MPH, Pediatric Infectious Disease Physician and Medical Director of the Vaccine Disease Preventable Control Program
Robert Bolan, MD, Medical Director of Research and Education, Los Angeles LGBT Center
David Herman, MD, Medical Director of Primary Care, Los Angeles LGBT Center