Two gay men burned in Kenya refugee camp attack
'I thought we were all going to die'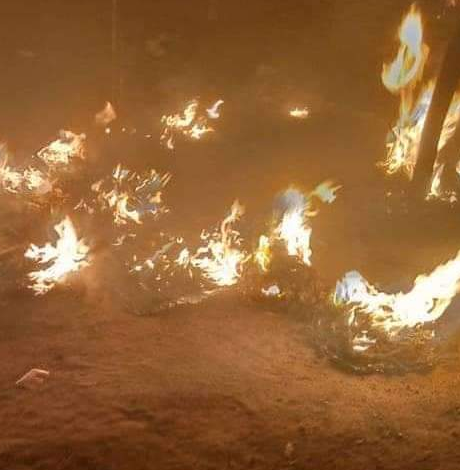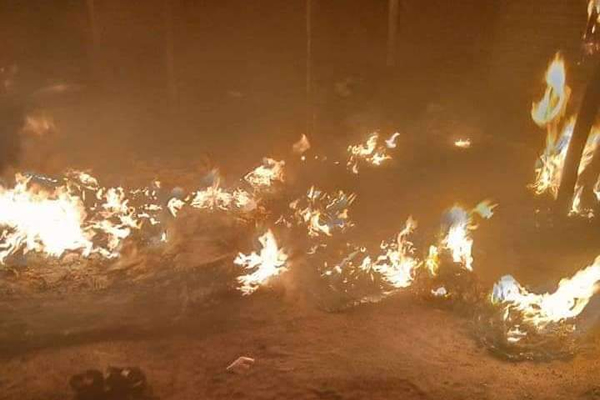 KAKUMA, Kenya — An attack at a Kenya refugee camp earlier this month that left two gay men with second-degree burns has once again drawn attention to the plight of LGBTQ refugees and asylum seekers who live there.
A press release the Minnesota-based Black Immigrant Collective sent to the Blade last week notes "petrol bombs were thrown into a group of LGBTQ+ refugees, allies and their children who live in" Block 13 of the Kakuma refugee camp on the morning of March 15.
"This attack not only set people on fire, but also destroyed beddings and personal belongings as many of the refugees sleep in the open air," reads the press release.
The press release also notes the men who are described as "organizers" suffered second-degree burns throughout their bodies.
Gilbert Kagarura, a human rights activist and refugee from Uganda who lives in Block 13, on Tuesday sent the Blade a series of pictures of the two men that show burns on their arms, legs and other parts of their bodies. Shifra, an 18-year-old refugee who also lives in Block 13, on March 24 during a virtual press conference the Black Immigrant Collective and other advocacy groups and human rights activists in the U.S., Kenya and elsewhere around the world organized recalled the attack.
"I thought we were all going to die," said Shifra. "Everyday I relive this horrible experience that I have."
The U.N. Refugee Agency in a March 25 statement notes it "organized" the men's transfer to a hospital in Lodwar, a town that is roughly 75 miles away from the camp. The men are now receiving treatment at a public hospital in the Kenyan capital of Nairobi.
"UNHCR organized their transfer to a regional hospital in Lodwar and, following expert advice from burn specialists, to a Nairobi hospital," says UNHCR in its press release. "Both are receiving specialized treatment for their burns and progress in their recovery is being closely monitored by the local medical team and a UNHCR doctor."
Kakuma, which is located in northwest Kenya near the country's border with Uganda and South Sudan, is one of two refugee camps the UNHCR operates in the East African nation. The other, Dadaab, is located near Kenya's border with Somalia.
Kagarura told the Blade that UNHCR created Block 13 within a section of the camp known as Kakuma 3 in May 2020.
The press release the Blade received from the Black Immigrant Collective notes "most of the 135 refugees at Block 13 fled Uganda for Kakuma when the anti-gay bill was introduced."
Ugandan President Yoweri Museveni in 2014 signed his country's Anti-Homosexuality Act, which imposed a life sentence upon anyone found guilty of repeated same-sex sexual acts. The law was known as the "Kill the Gays" bill because it once contained a death penalty provision.
Scott Lively, an anti-LGBTQ evangelical pastor from Massachusetts, is among those who urged Ugandan lawmakers to support the measure. Uganda's Constitutional Court eventually struck down the Anti-Homosexuality Act on a technicality, but consensual same-sex sexual relations remain criminalized in the country.
UNHCR defends efforts to protect LGBTQ refugees
Kagarura on Tuesday noted to the Blade that LGBTQ refugees and asylum seekers who live in Kakuma have endured attacks, harassment and discrimination for years. Kagarura and participants in the virtual press conference on March 24 said UNHCR has failed to protect them.
They demanded UNHCR immediately evacuate Block 13's LGBTQ residents "and fast-track the LGBTQ+ Block 13 group for expedited resettlement as they are survivors of intensive and unending homophobic violence." They also demanded UNHCR transfer the two men burned in the March 15 attack to a private hospital in Nairobi "with specialized, competent and humane burn care treatment" and allow their caregivers "to accompany them at all times."
UNHCR in its statement notes it "hosts around 300 refugees and asylum seekers with an LGBTIQ+ profile" in Kakuma and has "stepped up our services on the ground." These include investing "heavily in building capacity and ensuring more attention is paid to the specific and profound challenges that LGBTIQ+ people face."
"Despite the challenges of life in a refugee camp, the overwhelming majority report to us that they have been able to live peacefully within the Kakuma community," reads the UNHCR statement. "This comes in stark contrast with reports of security incidents, including on social media, by a small group of refugees with an LGBTIQ+ profile residing in Kakuma 3, who are requesting urgent resettlement out of Kenya."
UNHCR, however, acknowledged it is "concerned by these incidents as well as by the increasing tensions between this group and other refugees, including some with an LGBTIQ+ profile."
"Several have reported being threatened or attacked by members of this particular group for refusing to join protests or lend their voice to the call for urgent resettlement on security grounds," reads its statement.
UNHCR says "police patrols in Kakuma 3, medical, legal and psycho-social assistance has been strengthened in the camp." The statement also notes UNHCR, along with Kenya's Refugee Affairs Secretariat and partner organizations "have also held meetings with community leaders in Kakuma 3 to identify solutions and reduce tensions, although the smaller group of LGBTIQ+ persons has (sic) declined to engage in these dialogues."
The statement further indicates UNHCR in recent months has "relocated" more than 30 LGBTQ refugees and asylum seekers "to other parts of the camp based on the protection concerns raised by them and following careful assessment by our teams on the ground."
"UNHCR does not tolerate discrimination or any form of violence against refugees, including violence committed by other refugees, and works with law enforcement and other branches of government in Kenya to ensure that refugees are protected and safe," reads the statement.
State Department in 'close contact' with UNHCR
UNHCR says an estimated 1,000 of the more than half a million refugees and asylum seekers who currently live in Kenya are LGBTQ. It's statement also notes Kenya "remains the only country in the region to provide asylum to those fleeing persecution based on sexual orientation, gender identity or expression," even though consensual same-sex sexual relations remain criminalized.
UNHCR says 48 percent of the LGBTQ refugees and asylum seekers who have asked to be resettled outside of Kenya have left the country.
"We strongly condemn this senseless violence," reads the statement, referring to the March 15 attack. "We have been advised that the ongoing investigation by Kenyan police is progressing and we hope that it will bring full clarity in respect of this incident and that those responsible will be held to account in accordance with Kenyan law."
A State Department spokesperson on March 27 acknowledged UNHCR's statement about LGBTQ refugees and asylum seekers in Kakuma.
The spokesperson noted the U.S. in fiscal year 2020 provided $120 million in humanitarian assistance to Kenya through UNHCR and other non-government organizations with which it partners. The spokesperson also told the Blade that the State Department's Bureau of Population, Refugees and Migration leads the U.S. government's work with UNHCR.
"In working with UNHCR and other international organizations, we stress the need to make extra efforts and invest additional resources to ensure that vulnerable populations at risk of violence, abuse, and exploitation, as well as at risk of receiving inadequate assistance and protection, are themselves present in, engaged in, participating in, and contributing to humanitarian responses," said the spokesperson. "The United States works with international and non-governmental organization partners to ensure and provide equal protection and support to at-risk populations who are particularly vulnerable due to their sexual orientation, gender identity and expression, and/or sex characteristics."
"We have expressed our concern about this group of LGBTQI+ refugees in Kakuma and are in close contact with UNHCR on the situation," added the spokesperson.
The Organization for Refuge, Asylum and Migration is among the NGOs that works with LGBTQ refugees and asylum seekers in Kakuma.
ORAM Executive Director Steve Roth described the situation in the camp "as complex and multilayered, and has yet to be fully understood."
"ORAM is committed to working with partners to gather all the facts and develop a complete understanding of the challenges facing LGBTIQ refugees in Kakuma, uncovering root causes and identifying sustainable solutions," he told the Blade. "We do know that some of the core challenges that LGBTIQ refugees face in Kakuma are economic — a lack of income and ability to pay for basic necessities, which in turn creates other insecurities."
Roth noted ORAM in 2019 partnered with a Kenyan NGO to support microbusinesses in the camp. One such program provides LGBTQ refugees and asylum seekers in Kakuma materials that allow them to make soap and raise poultry they can sell in the camp and elsewhere.
"These programs help generate needed income for LGBTIQ refugees as well as providing skills training, a sense of purpose and the chance to improve their relationships with other camp residents by offering them products and services that they need," said Roth.
Assemblymember Santiago: Up food access to undocumented Californians
A study from the Food4All Coalition, in partnership with UCLA research, 45% of undocumented Californians face food insecurity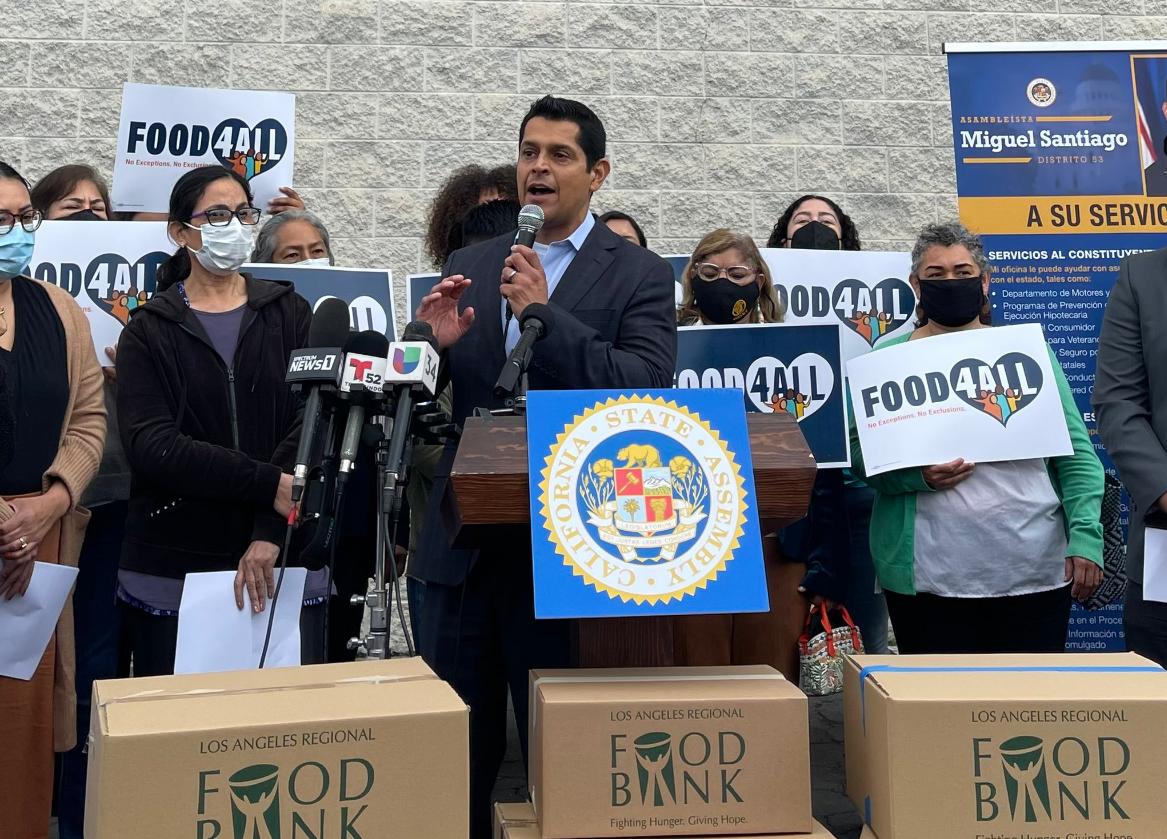 LOS ANGELES – The sharply rising costs of food, housing, gasoline, coupled with the inflation rate hovering at 8.3% has many Californian scrambling to supplement their access to food. The cost for food alone in the Southern California region has risen 1% from February 2022 to March 2022, and food prices were 8.8% higher than in March 2021.
Governor Gavin Newsom had previously announced in January that he intended to extend CalFresh public food assistance programs in the budget to include undocumented immigrants ages 55 and over, a move advocates including state Assemblymember Miguel Santiago, who represents the 53rd District covering parts of downtown L.A. applauded as a first step in curbing food insecurity for millions of low-income Californians.
At the beginning of the month in Newsom's revised budget the governor removed exclusions to the California Food Assistance Program for Californians 55 and older, regardless of immigration status.
Santiago, joined by the Food4All Coalition, the LA Regional Food Bank, the California Immigrant Policy Center, Gender Justice LA, and Nourish California gathered for a ' Food4All" rally Friday in Los Angeles to ensure that all ages are to be included in Newsom's revised proposal.
"If you qualify for CalFresh program, you should have the ability to obtain the dollars to be able to feed your kids," said Santiago.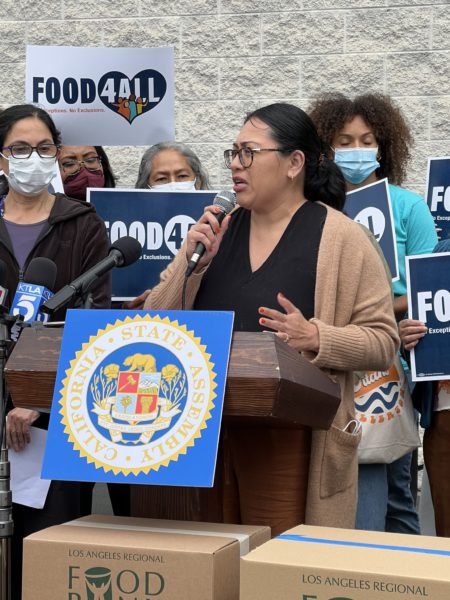 Betzabel Estudillo, a senior advocate with Nourish California told the rally attendees; "This campaign has been years in the making. We appreciate the governor's proposal, but the need is greater. Nearly half of undocumented Californians face food insecurity. It's even worse for children – 2 out of every 3 are going hungry."
Currently, all undocumented people are ineligible for CalFresh benefits. Only certain low-income immigrants that have lived in the U.S. for at least five years, including those admitted for humanitarian reasons and those with permanent residence, may be eligible for the benefits. Immigrants who receive disability-related assistance or benefits and children under 18 years old with permanent residency are also eligible, regardless of their entry date.
Newsom's proposals would revise those CalFresh benefits restrictions.
According to a study from the Food4All Coalition, in partnership with UCLA Center for Health Policy Research, 45% of undocumented Californians face food insecurity.
"We're pushing for a budget that includes over $500 million to be able to feed those who are the hungriest in the state of California," said Santiago.
Newsom has until the end of June to finalize the budget.
With rising food costs, we're having a rally so all Californians, regardless of immigration, can access food!

Great joining @LAFoodBank, @Nourish_CA, @GJLAScoop, @CALimmigrant and the Food4All Coalition! pic.twitter.com/RVaarljKET

— Miguel Santiago (@SantiagoAD53) May 20, 2022
Diputado salvadoreño habla públicamente su homosexualidad
Vídeo de Johnny Wright Sol con su pareja circuló en redes sociales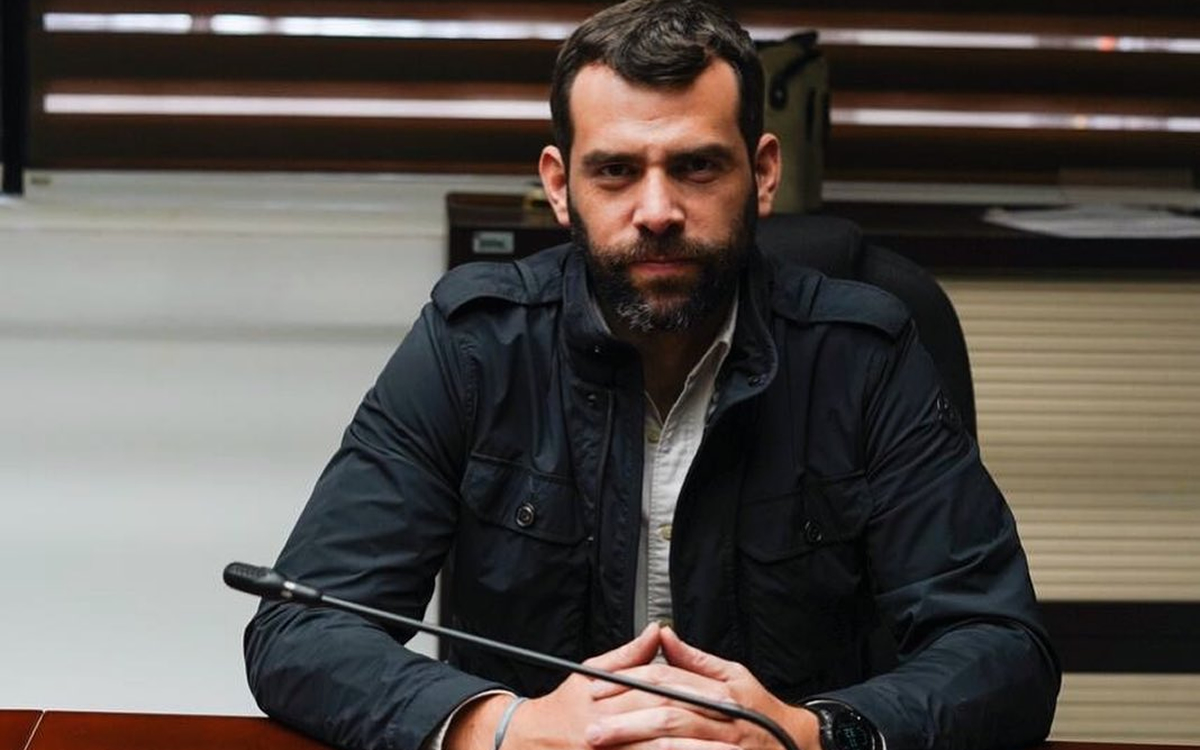 SAN SALVADOR, El Salvador — Circuló en redes sociales el 13 de mayo un vídeo de una entrevista con el diseñador mexicano Kris Goyri, en donde se dieron a conocer unas fotografías con su pareja, el diputado salvadoreño Johnny Wright Sol del partido Nuestro Tiempo, imágenes que al parecer tomaron por sorpresa al diseñador, pues fueron mostradas sin su consentimiento.
En una entrevista del podcast La Tribu en radio Fuego 107.7 mientras el locutor Pencho Duque hablaba con el diputado salvadoreño, trajo el tema a la palestra con mucho respeto, a lo que el político no tuvo problema con hacer unos comentarios al respecto.
Aseguró que hay dos conclusiones primordiales que le surgieron de esta situación, en donde se abordaba el tema de su orientación sexual y de su pareja.
La primera conclusión es que "como sociedad nos distraemos bien fácil, porque pese a la crisis económica y climática que atraviesa el mundo, una crisis social, una sociedad muy violenta y a pesar de todas estas cosas que nos impactan en el día a día, mi orientación sexual era trending topic", expresó Wright.
Hizo hincapié en que debemos reflexionar sobre las prioridades que tenemos como sociedad, dado a toda la situación que se vive como país, es importante tener un ojo realmente crítico con los temas que deben ser fiscalizados.
La segunda conclusión que comentó es que, "hay mucho trabajo por hacer para convertirnos en una sociedad verdaderamente democrática y pacífica en donde se logren los mínimos estándares de convivencia", además mencionó que como partido promueven la tolerancia, pero más que eso, las personas merecen ser aceptadas, "ese es el ideal", agregó el diputado.
Con una sonrisa en el rostro Wright menciona que la pregunta sobre su orientación sexual "nunca había surgido, en el contexto mediático de mi prensa", agregando que no era algo que fuera un secreto o algo que ocultara, "en las imágenes me veo muy feliz con mi pareja", detalla el diputado.
También menciona que la entrevista que le hicieron a su pareja fue "una emboscada", dado que las imágenes presentadas tuvieron que haberlas obtenido del teléfono de alguno de los dos. A esta hipótesis le suma el hecho de haber recibido correo de la compañía Apple, en los cuales se le alertaba que su teléfono había sido intervenido, no descarta la posibilidad que fuera por el spyware Pegasus.
Pero el punto que dejó muy claro es que desde que fue nombrado diputado en mayo del 2021, no ha tenido ningún inconveniente con reconocer o admitir que es un hombre gay, aunque sí reconoce que los temas de su vida personal habían decidido mantenerlo en lo privado junto con su pareja.
Esta decisión fue tomada, dado que ambos son figuras públicas en sus respectivos países, en el caso de Goyri es un diseñador reconocido con 12 años de carrera.
El diputado mencionó sentirse privilegiado en tener una familia que lo quiere muchísimo, tal cual es, como también de tener unas amistades, que en sus palabras les describió como "super cachimbones".
"A mi me tiene sin cuidado toda esa plática en redes", agregó el diputado, pero que lo único que en verdad preocupa es que lo sucedido ha sido un recordatorio para ver lo mal que está El Salvador como sociedad, por lo que esto es un reto de lo mucho que falta por construir.
Triple A: Gas prices continue to set new records
The average price for self-serve regular gasoline in California is $6.06, which is 21 cents higher than last week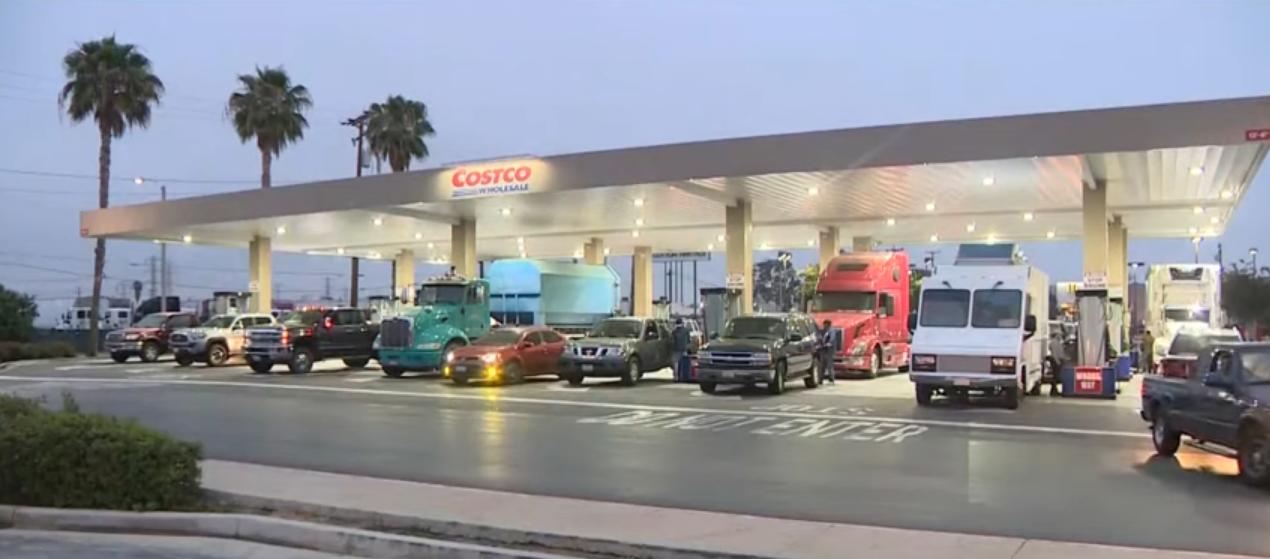 LOS ANGELES – Gas prices throughout the U.S. continue to sent new records, due to inflation, high demand, and high cost of oil. In Southern California breakdowns in two local refineries as well as supply issues are also having a direct impact on pump prices, according to the Auto Club's Weekend Gas Watch. 
The average price for self-serve regular gasoline in California is $6.06, which is 21 cents higher than last week. The average national price is $4.59, which is 17 cents higher than a week ago.
The average price of self-serve regular gasoline in the Los Angeles-Long Beach area is $6.10 per gallon, which is 20 cents higher than last week, 29 cents higher than last month, and $1.92 higher than last year. In San Diego, the average price is $6.02, which is 17 cents higher than last week, 26 cents higher than last month, and $1.87 higher than last year.
On the Central Coast, the average price is $6.04, which is 18 cents higher than last week, 22 cents higher than last month and $1.89 higher than last year. In Riverside, the average per-gallon price is $5.98, which is 17 cents higher than last week, 25 cents higher than last month and $1.89 higher than last year. In Bakersfield, the $5.98 average price is 15 cents more than last Thursday, 21 cents higher than last month and $1.94 higher than a year ago today.
"The reasons for the increase are not just the war and some refinery supply issues, but also inflation and competition for resources to produce diesel fuel, which is about 50 cents more expensive than regular unleaded gasoline," said Auto Club spokesman Doug Shupe. "Memorial Day travel will likely add to the demand for gasoline. The Auto Club expects an 11 percent increase in holiday weekend travel volume compared to last year."
The Auto Club recommends the following tips to save money on gas:
Look into carpooling if you commute a significant distance. Carpooling with one other person cuts commute costs in half, and you can cut your commute costs by two-thirds by carpooling with two other people.
Make sure your tires are properly maintained and inflated to the correct level.
Maintain your car according to the manufacturer's recommendations. Regular service will ensure optimum fuel economy.
Avoid "jackrabbit" starts and hard accelerations. These actions greatly increase fuel consumption.
Slow down and drive the speed limit. Fuel economy peaks around 50 mph on most cars, then drops off as speed increases. Reducing freeway speeds by 5 to 10 mph can increase fuel economy by as much as 14%.
Use cruise control on the highway to help maintain a constant speed and save fuel. However, never use cruise control on slippery roads because you could lose control of the vehicle.
Minimize your use of air conditioning.
Avoid extended idling to warm up the engine, even in colder temperatures. It's unnecessary and wastes fuel.
Remove unnecessary and heavy items from your car.
Minimize your use of roof racks and remove special carriers when not in use.
Download the AAA App to find the cheapest gas prices near you.
The Weekend Gas Watch monitors the average price of gasoline. As of 9 a.m. on May 19, averages are:
Gas prices in LA County hit another record high, averaging $6: