April 7, 2021 at 4:16 pm PDT | by Brody Levesque
Georgia DA won't prosecute Black LGBTQ Lawmaker for knocking on Governor's door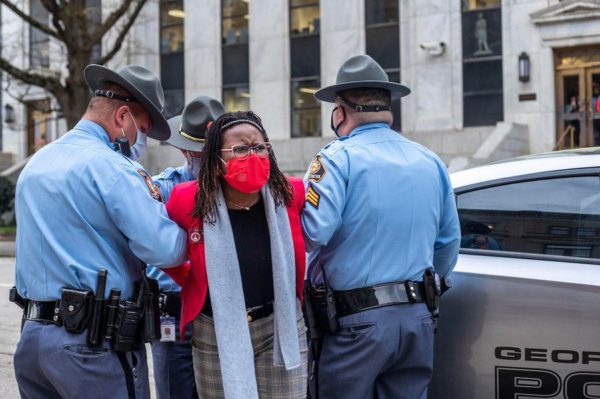 ATLANTA, GA. – The District Attorney for Fulton County, Georgia, which includes the City of Atlanta where the Georgia State Capitol Building is located, announced Wednesday she will not prosecute Democratic state Rep. Park Cannon, who identifies as queer.
Georgia state troopers arrested and forcibly removed Cannon from the Capitol building last month as she interrupted Republican Governor Brian Kemp during his signing of a massive elections bill that critics derided as an effort to disenfranchise voters.
Fulton County District Attorney Fani Willis told reporters that she considers the case closed after reviewing the evidence surrounding the March 25 arrest of Cannon, adding that she will not be presenting the case to a grand jury.
Cannon had faced two felony charges – willful obstruction of law enforcement officers by use of threats or violence and preventing or disrupting General Assembly sessions or other meetings of members – third offense. Troopers transported Cannon to the Fulton County Jail after she was arrested.
"While some of Rep. Cannon's colleagues and the police officers involved may have found her behavior annoying, such sentiment does not justify a presentment to a grand jury of the allegations in the arrest warrants or any other felony charges," Willis said.
LGBTQ colleagues at the State Capitol – Cannon is one of seven currently serving Georgia state queer lawmakers – criticized the arrest at the time.
On social media, the Atlanta Journal-Constitution reported that Cannon applauded the decision shortly after Willis' announcement: "Doors of injustice are everywhere and we cannot stop knocking."
The paper also reported that Cannon suggested through a spokesman that she could file litigation of her own.
"Facts and evidence showed to the world that Rep. Cannon committed no crime and should not have ever been arrested," said Gerald Griggs, an Atlanta attorney. "We thank the district attorney for her thorough review of the evidence and are weighing our next legal actions."