New report highlights serious health inequities impacting Transmasculine people in LA County
Health inequities are the result of deliberate power structures that impose a gender binary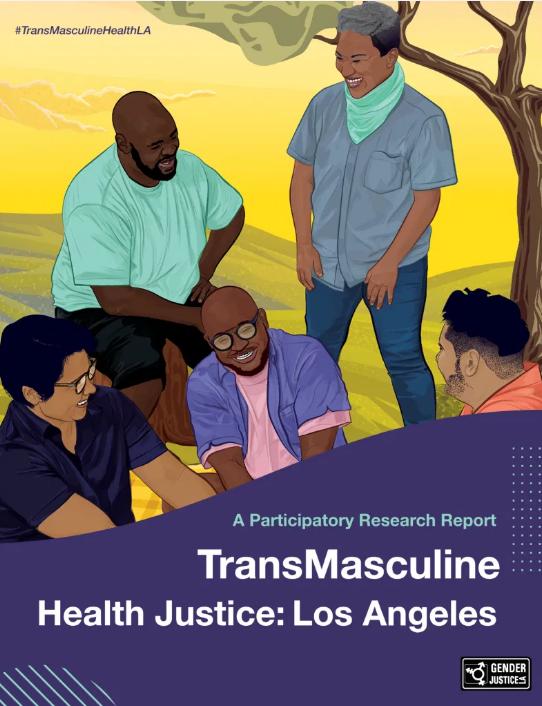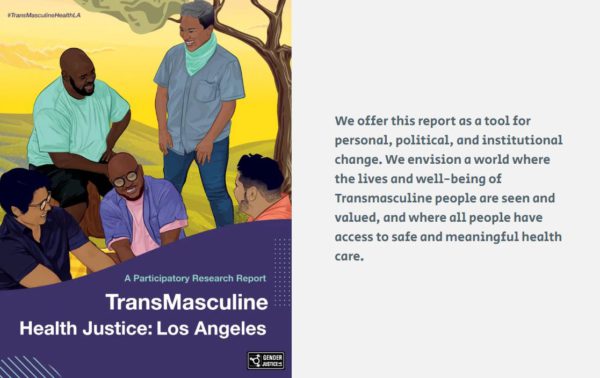 LOS ANGELES – A groundbreaking report that highlights the serious health inequities impacting Transmasculine people in Los Angeles County was released Wednesday by Gender Justice Los Angeles.
The report is part of a trans-led research and organizing initiative that was first convened in 2015 by the City of Los Angeles AIDS Coordinator's Office and Gender Justice Los Angeles.
This by-and-for initiative by transmasculine Angelenos addresses what the TransMasculine Health Justice Los Angeles project organizers say is the fundamental erasure of Transmasculine people from local public health data, and therefore planning, policy and practice.
The report draws on community-generated data from a survey with 310 participants to develop a health equity agenda, which was conducted in 2017, and remains the single largest effort to understand and respond to inequities facing Transmasculine people in the County.
The TransMasculine Health Justice Los Angeles project emphasized the need to lift up the voices of Transgender, Gender non-conforming, and Intersex (TGI) people, and especially Transmasculine Black, Indigenous, People of Color (BIPOC) in public conversation about health and health care inequities.
Speakers from Gender Justice LA and its related initiative, Transmasculine Health Justice- Los Angeles, held a joint virtual press conference on Wednesday, April 7, which was World Health Day, to announce the release of the participatory research report.
They addressed the need for more responsive public health systems not only in terms of inclusion in health equity data, but in taking leadership over efforts to address the serious health problems facing Transmasculine people, including high rates of victimization, depression and anxiety, and inequitable access to health care.
At a time when gender-affirming health care is under direct political attack, the report also emphasizes the inequities Transmasculine people who are pursuing this kind of care face.
For example, three-quarters of survey participants who had sought out a required medical authorization letter for gender-affirming care or hormone treatment had been required to meet with a mental health professional more than once. This, the group says, is a significant barrier to accessing care that disproportionately impacts people who are low income and BIPOC.
In a finding supportive of this claim, BIPOC participants were about half as likely as white participants to have had access to chest reconstruction surgery.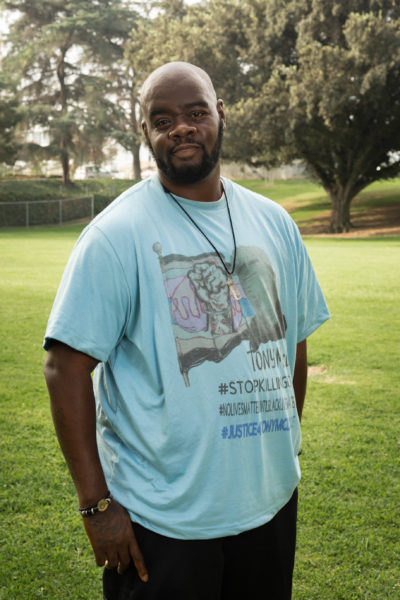 During the joint press conference, speakers from Gender Justice LA discussed the report's findings and recounted their lived experiences as Transmasculine people facing barriers and challenges in seeking healthcare and having their needs met. Their poignant descriptions of navigating health and health care underscore how health care inequities facing Transmasculine people are ultimately preventable – a main conclusion of the report.
"Health inequities are the result of deliberate power structures that impose a gender binary, restrict bodily autonomy, and create dangerous conditions in health care." said Héctor Trinidad Plascenia from Gender Justice LA. "We are emphasizing health inequities in order to take action for change," he added.
Speakers who sought care in LA spoke about being turned away and misinformed in services organized as "men's health" and "women's health." Lucas Rojas, one of the project's advisory members said that he was told by a provider that he did not need a IUD (interuterine device) for contraception because he was using testerone.
This kind of misinformation among providers is not unusual said project organizers. One of the group's more surprising findings was the frequency of use of emergency contraception with 20% of the survey participants saying they had used Plan B at least once in their lifetime (this compared to about 11% of the general population nationally).
Created by an entirely trans-led team, the report provides compelling evidence of health inequities alongside a framework for action. Among the group's stated goals is a future that Transgender, Gender non-conforming, and Intersex (TGI) people can age, heal, evolve, thrive and create families and kinship with dignity.
The group formed in response to what they see as the current erasure of Transmasculine people in public health data.
"This project isn't just about data. It's about strengthening the leadership of trans people and trans-led organizations to claim power to produce knowledge on our own terms," said Sid Jordan, one of lead authors of the report and a PhD Candidate in the Department of Social Welfare at UCLA who partnered on the study. "We have created much more than a research study. We are creating ways to connect, resist, and heal together."
Report Link: https://www.tmhealthstudyla.org/2021-report/
Newsom signs orders to roll back coronavirus restrictions next Tuesday
The Governor's Office established a timeline to continue winding down the various provisions of the 58 COVID-related executive orders.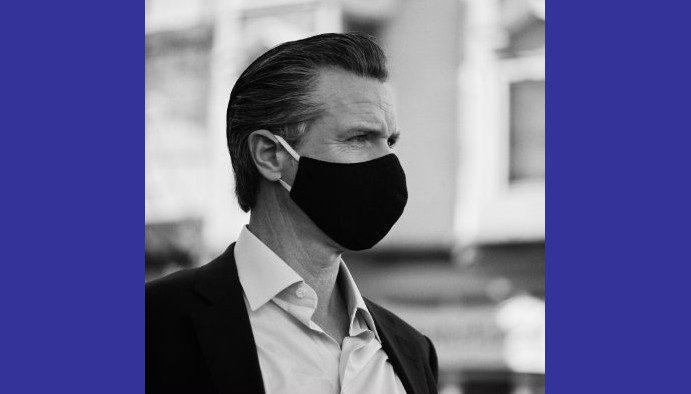 SACRAMENTO – Effective June 15, restrictions such as physical distancing, capacity limits and the county tier system will end as Governor Gavin Newsom signed a series of executive orders Friday marking a return to normalcy after nearly 15 months of the ongoing battle to protect the state's residents from the ravages of the coronavirus pandemic. Additionally, those Californians who are fully vaccinated won't be required to wear a mask — including indoors.
Newsom's actions also include terminating the Stay-at-Home Order that was implemented early in the pandemic to protect Californians and retiring the Blueprint for a Safer Economy.
"California is turning the page on this pandemic, thanks to swift action by the state and the work of Californians who followed public health guidelines and got vaccinated to protect themselves and their communities," said Newsom. "With nearly 40 million vaccines administered and among the lowest case rates in the nation, we are lifting the orders that impact Californians on a day-to-day basis while remaining vigilant to protect public health and safety as the pandemic persists."
The Governor's Office today established a timeline and process to continue winding down the various provisions of the 58 COVID-related executive orders, which suspended statutes and regulations to help the state and businesses continue operations during the pandemic.
To ensure that impacted individuals and entities have time to prepare for the changes, the provisions will sunset in phases, beginning later this month, in July and in September. For example, the suspension of certain licensing requirements for manufacturers to produce hand sanitizer will end on June 30, as shortages are no longer a concern. By the end of September, nearly 90 percent of the executive actions taken since March 2020 will have been lifted.
The California Department of Public Health on Friday released a new state public health officer order that goes into effect on June 15.
Dr. Tomás Aragón, California's public health officer, issued a new order that, among other things, puts in place new requirements for mask wearing that take effect Tuesday. The new rules say fully vaccinated people don't have to wear a mask in most places, either indoors our outdoors. But the state is still requiring people who have not been vaccinated to wear a mask in public places.
"We've met our metrics, we feel prepared," Dr. Mark Ghaly, California's Health and Human Services Agency secretary, told reporters on Friday. "Things in California, from a COVID transmission perspective, are going reasonably well."
These actions supports the full and safe reopening of the state, while maintaining focused public health requirements that address the risk posed by variants as some regions across the nation and world continue to experience high levels of transmission, Ghaly noted.
One City One Pride, LGBTQ Arts Festival Continues through June 30
All festival events are being presented on an online virtual platform to respond to the City's efforts to prioritize health & public safety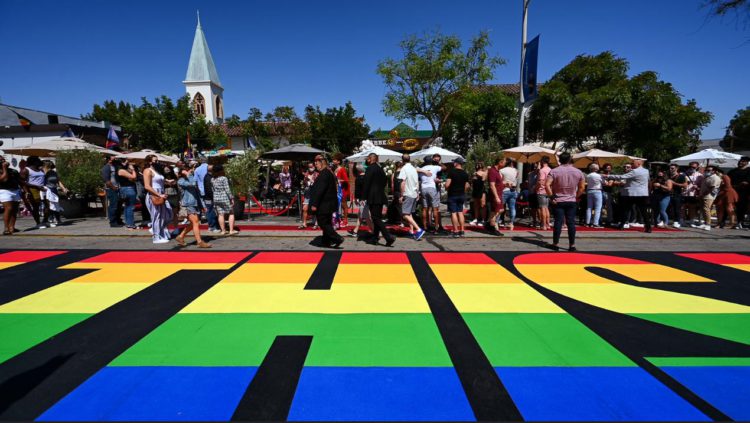 WEST HOLLYWOOD – The 2021 theme for One City One Pride is 'For the Record LGBTQ Stories' of the past that have often been hidden or undocumented. One must read between the lines to find stories hidden behind "beard" marriages, coded language, and erased or destroyed evidence. This year, One City One Pride looks at some of these previously hidden stories.
Due to the coronavirus crisis, all festival events are being presented on an online virtual platform to respond to the City of West Hollywood's efforts to prioritize health and public safety. A select few programs can also be experienced as self-guided solo walking tours or outdoor exhibitions.
More detailed information about the following City of West Hollywood One City One Pride LGBTQ Arts Festival events is available at www.weho.org/pride.
Forthcoming events of the 40-day festival include:
Pride Poets Poetry Hotline presented by West Hollywood City Poet Laureate Brian Sonia-Wallace & the Pride Poets from 10 a.m. to 10 p.m., Friday, June 11, 2021 to Sunday, June 13, 2021. Free. Call in to get a custom poem for you or a loved one based on the topic of your choice, written by one of the team of LGBTQ+ Pride Poets standing by at the remote Poetry Hotline from June 11-13, marathon-style from 10 a.m. to 10 a.m. Poems will be written on-the-spot and callers can choose to have copies of the poems emailed or mailed to them. Poetry hotline: call (202) 998-3510 to speak to a poet.
LGBTQ History in Comics — A virtual panel with readings from creators presented by Prism Comics. Launches Tuesday, June 15, 2021, at 6 p.m. Free. View the panel at: http://www.youtube.com/wehoarts and www.prismcomics.org. Join Prism Comics, moderator Justin Hall (No Straight Lines; Associate Professor of Comics, California College of The Arts) and a diverse, talented group of creators as they explore our queer past through comics. The panel and readings will remain online for viewing after the premiere date. More information is available at www.prismcomics.org.
Secret Lives, stories, music, and original writings by LGBTQ seniors watch party presented by NewStages, a program of Oasis Theater Company at 7 p.m. on the first four Tuesdays in June. Free. RSVP by calling (323) 860-5830 or by email at

[email protected]

. Secret Lives will explore the stories of remarkable seniors as well as many historical figures who had to keep secrets to maintain their careers, their families, and their place in society. Archived events available at www.weho.org/pride.
Additionally, these programs are available to view through June 30, 2021:
Dear Harvey: Stories of Harvey Milk byPatricia Loughrey. Extensively researched and beautifully constructed, this documentary-style ensemble play recounts the life and lasting impact of groundbreaking LGBTQ activist and politician Harvey Milk, as told by the people who knew him best … the real-world figures whose lives were forever altered by Milk's too-short career. This performance will be available to watch for the duration of One City One Pride through June 30, 2021 at https://www.youtube.com/watch?v=ShX27kXqwBg and there is a special welcome from Stuart Milk, the nephew of Harvey Milk.
John Elgin Woolf: Master of the Hollywood Regency (Trail and Short Film) presented by Friends of Residential Treasures: LA. Free. Experience online or as a self-guided walking tour. Take this self-guided architectural trail curated by filmmaker and journalist Matt Tyrnauer, or watch a short film exploring the interior of the Seiter House — an important early work that John Elgin Woolf designed for himself and his same-sex partner.
Love Note presented by Rogue Artists Ensemble. Free. No RSVP Needed. Experience online or as a self-guided experience at Plummer Park, located at 7377 Santa Monica Boulevard. Rogue Artists Ensemble's Love Note is a free, interactive, solo audio expedition of your heart, taking place in West Hollywood's Plummer Park, where audience members can activate sonic narrative experiences at eight unique stops throughout the park. Using only a cell phone and headphones, participants will discover and listen to stories about romance, compassion, and connection, leading to a secret phone line, where participants are invited to share their own love story that will become part of the project's archive. The community-contributed stories recorded during the run will be then woven back into the experience to create an ever-evolving tapestry of voices calling out for love and belonging. This experience is free and open to the public during park operating hours. The experience contains some mature themes and is not recommended for children. A travel map is available for download at the Rogue Artists Ensemble website for audience members to use for their story expedition in the park. Can't make it to Plummer Park? Visit the Rogue Artists Ensemble website at www.rogueartists.org/lovenote to create your own experience from the comfort of your home.
Meringue, a public art exhibition. Free. Outdoor exhibition on traffic median at Santa Monica Boulevard and N. Doheny Drive. Meringue is a temporary public art exhibition by LGBTQ artist Kim Kiduck. The translucency of Meringue lets sunlight in to glow naturally during the daytime, and at night transforms Meringue into a mixing chamber of various light combinations. The exhibition will be lit up in rainbow colors for the duration of the City's One City One Pride LGBTQ Arts Festival.
The City of West Hollywood's Human Rights Speakers Series presents: Breaking Fast. Free.
The City of West Hollywood's Human Rights Speaker Series and One City One Pride LBGTQ Arts Festival present Breaking Fast: Exploring the Intersection of Faith and Sexual Identity, an open panel discussion of the feature film, Breaking Fast, and its themes related to navigating the difficult conversations and real-life impacts of faith, sexual identity, and community. Archived event video available to view at https://www.youtube.com/watch?v=NmSvpTBPzkI.
Walking Amongst the Rubble: Undocuqueer Pride Queer Poetry Reading Series presented by Influx Collectiv. Free. More information and the online podcast is available at https://www.influxcollectiv.org/podcast.
Pride Publics: Words and Actions presented by ONE Archives Foundation. Free. ONE Archives Foundation presents "Pride Publics: Words and Actions," a multi-site outdoor exhibition that examines the intersection between pride and publicness and examines themes central to queer public life while highlighting trailblazers and their visions. With free and accessible outdoor installations plus a digital guide, this exhibition aims to give visibility to LGBTQ life in the public through the lens of history, community, and activism. More information is available at https://www.onearchives.org/pridepublics. This exhibition is organized by ONE Archives Foundation.
Montclair issues 1st Pride proclamation- LGBTQ residents say no thanks
Mayor Dutrey said that he felt that the council "was sabotaged" by those who refused to accept the proclamation was made in good faith.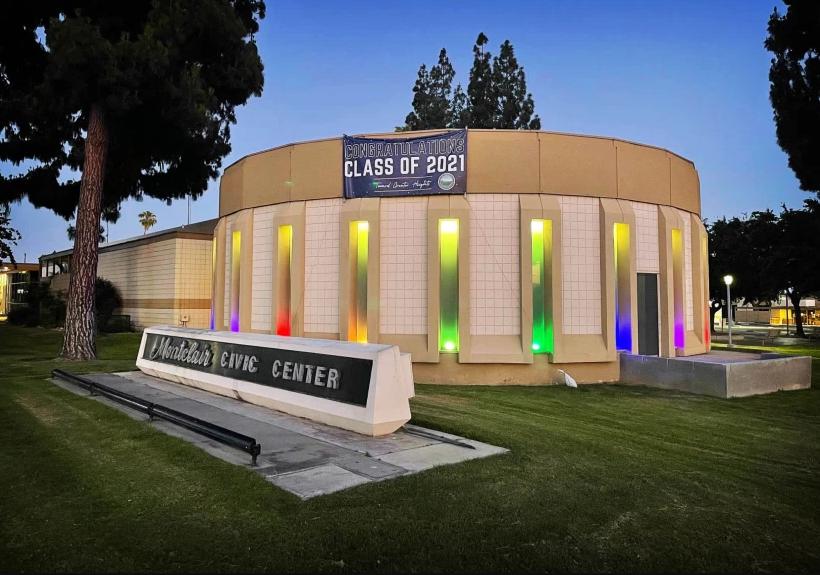 MONTCLAIR, CA. – For the first time ever the city council of this mid-size city in southwestern San Bernardino County declared June as Pride Month issuing a proclamation recognizing its LTBTQ+ community.
Along with the proclamation, the city lit up the outside of the building at the Civic Centre that houses the Council Chambers in rainbow-colored LED lights as part of its "celebration of diversity and support for the LGBTQ+ community."
Montclair's Mayor John Dutrey presented the proclamation to the Rev. Maggie Burbank of the Monte Vista Unitarian Universalist Congregation, a LGBTQ-affirming denomination and congregation. According to the San Gabriel Valley Tribune's journalist Steve Scauzillo, Burbank was a last minute substitute after gay, lesbian, bisexual, transgender and non-binary members from LGBTQ+ groups from in and around the city refused to accept it.
In the public comments portion of the proceeding, several residents spoke up about the issue.
At the center of the refusal is Montclair' City Councilman Benjamin Lopez, who had a long association and deep ties with the former Traditional Values Coalition, an Anaheim based conservative 'family values' group founded by the late Rev. Louis P. Sheldon- the group is listed by the Southern Poverty Law Center as an anti-LGBTQ hate group. Sheldon contended that there was a "homosexual agenda" to not only promote acceptance of gay rights, but to recruit children into homosexuality, as was also described in his obituary published May 29, 2020.
Scauzillo reported that Lopez, elected in November 2020, spoke on numerous occasions from 2003 to 2013 before the state Legislature and in media reports against gay rights, same-sex marriage, the teaching of contributions from gay, lesbian, bisexual and transgender Americans in California public schools, and protections for transgender individuals.
Thuan Nguyen, a long-time Montclair resident and doctoral student in sociology at USC who had asked for the city to recognize and celebrate LGBTQ Pride recognition at a previous meeting, said he struggled with the decision not to accept it. He asked Lopez to apologize for past statements and positions he took while working for the now defunct Traditional Values Coalition.
Mayor Dutrey told Scauzillo that he felt that the council "was sabotaged" by those who refused to accept the proclamation was made in good faith. "The whole purpose was not to be political but to recognize the LGBTQ community in Montclair. I was disappointed in the remarks that were made," he said.
Audio of the City Council session: