GLAAD Media Awards rise above livestream, celebrate progress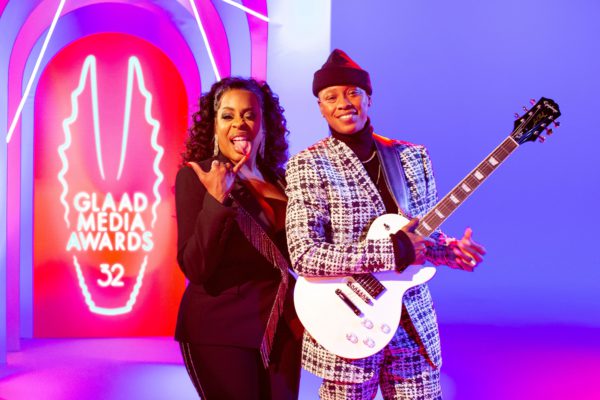 For obvious reasons, Hollywood's 2021 "Awards Season" has been a little different. Constrained by Covid into foregoing the usual swanky galas and glamorous stage extravaganzas, the entertainment industry has been limited to making the public presentations of its annual honors via virtual livestreams that look pretty much the same as the Zoom meetings and Facetime chats of which we've all become so weary.
These shows, though they try hard to generate excitement, can't help but feel a bit perfunctory. We can easily forgive all this, of course. Everyone, including us, has to make the best of a not-so-great situation, and making sure that "the show goes on" is a big part of maintaining a positive, forward-looking attitude as we all push through the current crisis; and besides, there's a satisfaction that comes with watching our favorite celebrities fumble through the same awkward gaffs and technical glitches we've all become so used to – it turns an event which is normally synonymous with the words "Hollywood elite" into an egalitarian reminder that even movie stars like to sit on the couch in their sweats. Still, that same equalizing effect also serves to highlight the relative absurdity of building up so much importance, so much pomp and hyperbole, over awards shows in the first place. It's enough to make watching even a show like the Oscars an empty experience.
The GLAAD Media Awards, however, are not the Oscars. While most big entertainment awards are focused (in theory, anyway) on artistic excellence, the GMAs are interested in something with a little more real-world impact – the fair, accurate, and inclusive representation of LGBTQ people and issues in the media – and that difference helped to make the livestream of its 32nd annual presentation, which took place last week (April 8), a surprisingly engaging 90 minutes of screen time.
Of course, it helped that the production was slick, polished, and tightly orchestrated, and that numerous winners had already been announced so that the show could be streamlined into an hour-and-a-half. It was a show that had the self-assuredness that comes from being pre-recorded (or at least, well-rehearsed); and while this may have eliminated the spontaneity that often makes for some of the best highlights in awards shows like this, it also allowed show producers to put together something that felt like a cohesive presentation instead of an awkward work-from-home staff meeting where everyone involved would rather be doing something else.
Unsurprisingly, GLAAD – the world's largest LGBTQ media advocacy organization, which has been holding the media accountable for its treatment of queer people and issues for nearly four decades – turned the situation into an opportunity to highlight the incredible progress that continues to be made in an uphill fight that is still far from over. Tastefully but assertively, the show threaded key talking points into the festivities; threads highlighting diversity, intersectionality, and the uptick in percentages of youth identifying somewhere on the LGBTQ spectrum were picked up and echoed throughout in speeches from hosts, presenters and winners alike. On a typical awards broadcast, this casual smoothness of messaging would likely come across as inauthentic; here, where the entire point is the advancement of equality, it gave the whole affair a sense of higher purpose, unabashedly presented and proudly embraced, and resulted in the sudden welling-up of unexpected tears during several moments of the presentation.
A few highlights:
Host Niecy Nash took immediate command of the proceedings, setting a jovial tone and leaning into her status as a "new member" of the community. Nash came out ("came into myself," as she prefers to say) as LGBTQ and married her wife, musician Jessica Betts, in 2020, and joked about the ongoing process of figuring out her own place on the spectrum by admitting she didn't know how things would have turned out if "that guy from 'Bridgerton'" had come along first. Later in the livestream, Betts appeared to sing her song, "Catch Me," giving Nash the opportunity to introduce her own wife's performance – an undeniably magical moment.
JoJo Siwa, who also came out in 2020, presented the award for Outstanding Children's Programming to "The Not-Too-Late Show with Elmo." After her exuberant introduction, in which she acknowledged "the best, most amazing, wonderful girlfriend in the entire world" and proclaimed "Love is awesome…. you can be in love with whoever you want to be in love with and it should be celebrated," the award was accepted by Elmo himself – another tear-inducing moment in which the progress made in queer acceptance was thrown into stark relief.
Presenting the award for Outstanding Film – Wide Release, USWNT and Orlando Pride Stars Ashlyn Harris and Ali Krieger spoke out in support of trans athletes, saying "Trans students want the opportunity to play sports for the same reason other kids do: to be a part of a team where they feel like they belong." The award went to "Happiest Season," the Hulu-produced Christmas romance centered on a lesbian couple played by Kristen Stewart and Mackenzie Davis – again, underscoring the leaps made in LGBTQ inclusion in mainstream entertainment.
Accepting the award for Outstanding Variety or Talk Show Episode for "A Little Late With Lilly Singh: Lilly Responds to Comments About Her Sexuality," Lilly Singh highlighted the importance of representation by saying, "you know, in other cultures like South Asian culture…there is still a stigma attached to being your true authentic self. I always think that if I was younger and I saw someone on TV who looked like me, that was out and proud about it, maybe I would've gotten here faster…I just want to say to everyone at home that looks like me: I am out. I am loud. I am proud. I love myself. And the journey to get here was tough, but it was so worth it. So I want to say that I see you. I recognize you. You are valid. You are beautiful. Nothing about you needs to change."
The "Gay Geek" contingent received some validation when the award for Outstanding Television Series – Drama went to "Star Trek: Discovery." Accepted by series stars Wilson Cruz, Anthony Rapp, Ian Alexander, and Blu del Barrio, the win was an much-deserved acknowledgement that the Gene Roddenberry-created franchise has always pushed the boundaries of social acceptance in its content, as well as an uplifting reminder of the power of popular fiction to help us imagine – and aspire to – the better world we want to build.
There were some drawbacks and disappointments, of course – most notably, perhaps, the much-touted "Glee" reunion, in which the stars of the breakthrough Ryan Murphy series came together via virtual conference to pay tribute to departed castmate Naya Rivera and the legacy of her character, Santana Lopez. Die-hard fans may have found satisfaction in seeing this beloved ensemble "together" again, and the spirit in which it happened was unquestionably sincere; even so, the obvious "edited highlights" quality of the segment fell far short of the excitement that might have been made possible by having them unite for a musical number for old time's sake. Let's hope for a "do-over" in 2022.

Also unfortunate was the "by the way" status relegated to many of the winners that had been previously announced, especially the electrifying Michaela Cole-created "I May Destroy You," the HBO show exploring the grey areas of consent in an era hyperaware of "rape culture," which won for Outstanding Limited or Anthology Series. And while the focus may not have been on glamor, it might still have been fun to see (for example) the fabulous outfit singer Sam Smith might have worn in lieu of baggy sweats had he been able to accept his award for Outstanding Music Artist in person instead of from his living room.
As for who all the winners were, a complete list can easily be found on the GLAAD website, or you can even watch the full presentation on YouTube. Their names deserve to be known, and their accomplishments celebrated.
Still, in a ceremony devoted to elevating an entire community instead of giving self-congratulatory pats on the back to an industry still struggling to overcome its reputation for homophobia, it doesn't matter so much whose name is on the trophy.
We are the winners.
Hollywood's Peter Kallinteris Agency launching LGBTQ dreams
"It's important to me to actively participate with a platform and space for the LGBTQ community. I want to make a difference and be a leader"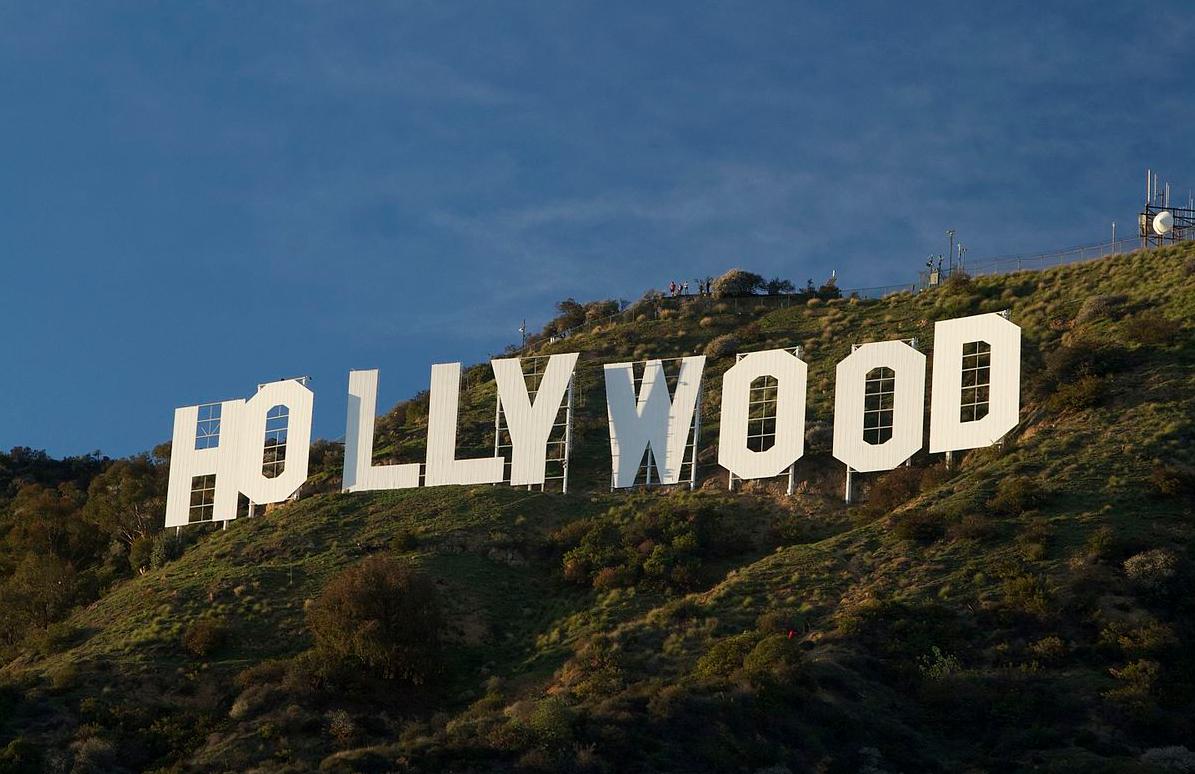 HOLLYWOOD – Whether they'd admit to it or not the aspiration for most actors is to be sitting in the Dolby Theatre at some point in their careers, dressed in their finest fashion ensemble at the most prestigious event of the year and hear, "and the Oscar goes to [insert their name]." Conversely also true for the Emmy awards or the Tony awards, yet for many LGBTQ artists the path to that goal is fraught with obstacles and difficulties.
In 2018, a young Black actor from Atlanta, Georgia, was given a supporting role as Ethan in the surprise hit film Love Simon. That actor, Clark Moore, in interviews with host Rob Watson, journalists Dawn Ennis and Brody Levesque on RATED LGBTQ RADIO and separately with Teen Vogue's Shammara Lawerence spoke of the difficulty landing roles like that of Ethan, but also the conflict inherent with how the film and television industry has seen LGBTQ actors.
Answering a question by Teen Vogue's Lawerence centered on that conflict, Moore bluntly assessed the landscape telling her; "Historically, I think the reason why there haven't been more gay roles or more gay actors playing roles that have lots of layers to them and lots of depths to them is because for whatever reason, people think that the story is done. We've seen the gay character. We know what he says. We know what he thinks. We don't need to tell that story anymore, but if you think about it, we've had a full canon of stories about straight white men that stretch back millennia, and so we're only scratching the surface," Moore pointed out.
"If we can have stories about people all the way back thousands of years ago and we can still be telling the same story now about straight white men and their journey to self-discovery or redemption, there's plenty of stories to tell of people of color and LGBTQ people and anybody who falls in the intersection of those two identities," he added.
Yet in the age of digital moving beyond the traditional film and television as more and more content is streamed online- and there's insatiable need by casting agencies for a wider diverse spectrum of actors, there are still obstacles in the path for LGBTQ actors, especially trans and disabled LGBTQ actors.
Enter Peter Kallinteris, who with his broad based knowledge and understanding of the critical needs of the LGBTQ actor community decided that the time has arrived to have specialized representation for that community.
"Looking to the past, Hollywood hasn't been very kind to the Queer community. Throughout the history of cinema gay men were either played as effeminate, weak, airheads, and lesbians as tough softball or gym coaches, who are often played by straight people," Kallinteris said. "Within the the broader culture, there are subcultures, just as within any community. They are nuances within each that will never find its way between the pages of a table read."
"To create an authentic moment the space has to be made for those who've lived that life every day. Gay, Black, White or Straight ect, our experiences of the world are different depending on how we show up. In many cases that will determine our outcomes," he noted. "Specialized representation is so important because without the lingering trauma, and continued hatred & fear toward our community the Queer division of PKA wouldn't exist, we'd just be accepted. We have important stories to tell and will continue to be telling them. PKA is just the begging for all to feel safe and thrive."
In a statement issued from his offices at the Sunset-Gower Studios, the former historic home of pioneering Columbia Pictures founded in 1918, Kallinteris reflected, "When I was a young Actor being gay was career ending."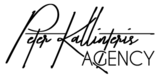 "Today it's celebrated. It's important to me to actively participate with a platform and space for the LGBTQ community. I want to make a difference and be a leader because I can."
To accomplish this he launched the Queer Division of his PKA agency. "The Queer Division of PKA was inevitable, a natural outgrowth of my own personal evolution first by coming out as gay man, from Artist to Agent. The timing was right to make an impact with talent," he said.
"As my Agency grew I was able to gleam that there was a space beginning to open up by which I could represent the full spectrum of Queer humanity & sexuality within the arts. Not as one dimensional static caricatures, but as beings who's emotions run the full gamut of the human experience. This was very exciting to me, I have a opportunity to effect change. I wanted to be apart of history Pioneering a movement," he added.
He said that his message to LGBTQ artists is simple. "I want talent to know they will be given the opportunity to be who they are, live their truth and work for who they are without rejection, humiliation, fear, or hopelessness. People perform at their best, live at their best. And do their best when they are happiest. PKA is not just a brand, we are the LGBTQIA community. If life imitates art, then let's represent it boldly!"
His expectations of the film and television industry's reaction? "My inspiration to launch the Q.D. is truthfully representing talent that reflects the current needs for the industry, and to remain a permanent fixture within the industry that continues to grow stronger. I want the industry to understand I've created this environment specifically for the Queer community. I'm happy & honored to be the first Agency that represents this community in this way," Kallinteris said.
Last week, PKA, whose clients include, Justin Jedlica (TV personality), Steven James Tingus (President George W. Bush's lead for disability research and policy for eight years), Kate Linder (The Young and the Restless), Albert Lawrence (IMDB Host), Deric Battiste aka DJ D-Wrek (MTV's Wild 'N Out), and Leslie Stratton (The Swing of Things, Truth or Dare), announced the launch of the Queer Division in a video.
WATCH:
Julia Scotti, the movie, is just Funny That Way
Life is funny that way—not working out quite the way we thought it would. And that is ultimately the point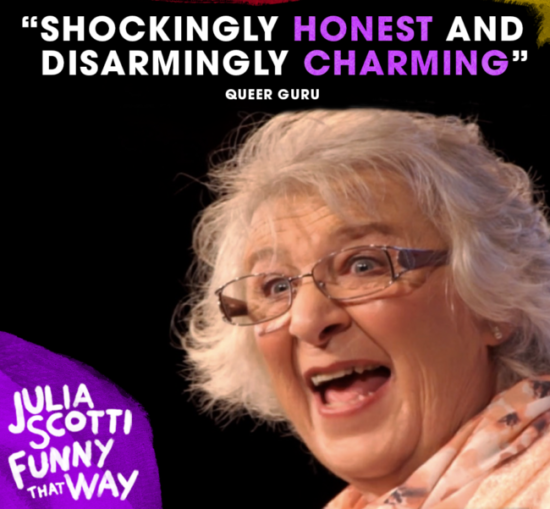 WHITING, NJ. – "You are a piece of work, Julia!" Simon Cowell blurted during her landmark America's Got Talent debut. Julia Scotti had just completed her audition for the show that ended not only with a standing ovation, but with the revelation that she had once upon a time been a stand-up comedian named Rick. As that news crossed the faces of the four judges, their collective jaws dropped. "I mean like you come out as the nice little granny school teacher all sweet and then you go into your routine and like WHOA. Talk about surprises – they are never ending with you, are they?" Cowell finished.
With Julia Scotti, the surprises never end.
Her latest surprise for the public is a gem of a film, Julia Scotti: Funny That Way. It is a documentary of her journey from the days of Rick, the up and coming comic who performed on bills with Chris Rock and Jerry Seinfeld to Julia, who is wowing millions.
Of her transition, Julia has remarked. "It is NEVER an easy process whether you're a public figure or not. You are essentially killing your old self and ending your old life. And with that comes the history you've built with friends and family. Some are very accepting, but most are not. That is why the suicide attempt rate for Trans folk is still at 41%."
Funny That Way does not spare us the heart-breaking fallout from the virtual "death' of Rick Scotti.  Filmmaker Susan Sandler weaves Julia's story, the losses and damage, to her rebirth, healing and the reuniting with her kids after a 15-year estrangement.
Julia and Susan sat down with us on the podcast Rated LGBT Radio to talk about the film. "This is a story and like all stories, there is a beginning and a middle and an end. In the end, I want the audience to know there is HOPE. It is bumpy at times, joyous at times. It is not just isolated to my life. You can have that in your life when you walk through that door of your own truth and come out the other side and when you look back on all you went through, you go 'what the hell was I so afraid of?' Look how happy I am." Julia explains.
Susan had never directed a documentary before, but as one of Hollywood's master story tellers, and a Golden Globe nominee, she was unfazed. "The impetus behind this film was falling in love with Julia, her, then and now. If you are working from a really rich, complex, compelling character –which is Julia—that is the GIFT. All of my nerve endings, my story telling, told me this was dynamic documentary, and that's the form in which I wanted to tell it."
Susan took five years to research, document and interact with Julia's past. She went through old footage of Rick Scotti's stage acts and restored many of them so they could be used in the film. She brought on composer Matt Hutchinson for a beautiful score, and animator Sam Roth for whimsical cartoons that tie the story together.
Before the filming started, Julia had just re-connected with her son Dan, and daughter Emma.  A decade and a half ago, when Julia announced to her then spouse that she was in fact a woman transitioning, her then-wife retaliated by taking their kids away.  Dan and Emma spent their whole adolescence not knowing Julia at all. The story of that pain is told in Funny That Way.  Susan wanted to show the relationships real-time in the film as they came to reconnect with Julia. "We were just at the beginning stages of reconciling," recounts Julia. "I did not want them feeling like I was just reconnecting with them because I wanted them in this film. I did not want to distance them even more."
Dan and Emma were onboard, however.  Also on board, albeit only by phone, was Kate. Kate was  Julia's last wife, described as Julia's "love of her life". Kate supported Julia emotionally and spiritually through out the entire transition process.  One of the most poignant moments in the film was Julia hearing Kate describe the end of their relationship.  Kate's support was significant, but once Julia became fully Julia, it was evident to both that their relationship had changed and they had to let it go.
Susan captured many live moments of Julia's evolving life. She caught the very first time that son Dan ever called Julia "his mother" and the effect was pronounced. Also caught in the film was a moment when Julia and Dan are watching Rick's old stand up routines. One such performance takes Julia by surprise—it was a routine that she had not remembered ever doing. It was a set where then Rick expressed his revulsion to transgender women in no uncertain terms. Julia sat shocked.
"My sensibilities have been 'woked', I think that is the term for it." She told me about that experience. "Thinking back, I was going through issues and aware that something was not right internally. It frightened me to no end. Looking at that clip, I am totally ashamed of what I did. It embarrassed me."
"I knew it was me. I knew I was there. But I don't feel a connection with that person. That is the truth."
The film does not dwell long on the past shames and regrets. It arcs to the present where an adult daughter gets to see her parent's comedy routine for the very first time.
Some of the greatest joy in the film is witnessing the growing relationship between Julia and son Dan. Dan is sweet and compassionate, and they both have a deep love of comedy. Through their discussions and collaboration on things funny, we witness something decidedly not funny, the deep re-kindling love they have for each other.
The film will make you laugh, and cry, and laugh again. New clips of Julia's now famous turn on America's Got Talent shows her more personal reflective moments over a life changing triumph.
The only regret director Sandler has about the film is how it will be brought to the public. "I am happy to be brining the film now for the people who have an appetite for it. For the truth, the humor, the complete emotional honesty. But I mourn. I mourn the moments not being able to sit with you in a theater. And experiencing the film with you. It was supposed to be seen by audiences, and then give them the opportunity to go down the street and see Julia live at a club." But, life is funny that way—not working out quite the way we thought it would. And that is ultimately the point.
Editor's Note: The film was originally slated for theatrical release which was delayed then put off by the coronavirus pandemic.
Julia Scotti: Funny That Way is available now on digital platforms! That means you can rent or buy it online, at places like iTunes, Apple TV, Amazon, Google Play and more.
Here's the full list of where you can find it.
DIGITAL
iTunes
Amazon
Google Play
Xbox
VUDU
FandangoNow
Vimeo On Demand
CABLE / SATELLITE
iN Demand Movies
Verizon
AT&T
Vubiquity
DirecTV
Dish
Telus
Greyson Chance: A Butterfly's Journey from Holy to Hell and Back
A decade ago there was a boy made famous by a pop song and a viral video. Today, there is an artistic, powerful singer song writer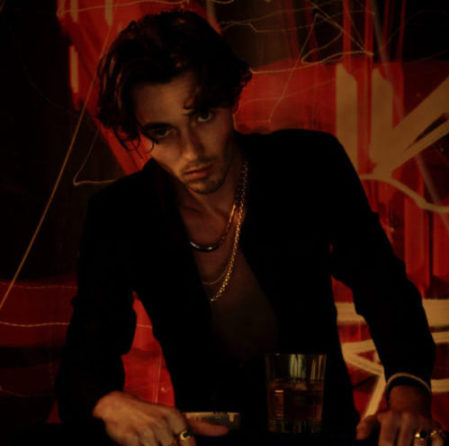 HOLLYWOOD – Many want to saddle singer Greyson Chance with the label "comeback" or having a "return from retirement." It is an understandable mistake as the "fame to disaster" narrative IS there. The real story is about one of the most exciting new artists of today. One that speaks to not only the LGBTQ youth of today, but of their entire generation.
Over a decade ago, there was a boy. The boy was very gifted at the piano, and at singing. He entered a talent contest and belted out a well known pop song by one of the trendiest artists of the day. Of course, there was a video. Social media was itself an infant, and as such, started launching like videos into the stratosphere. His video was one of the first to be seen gazillion of millions of times. Then there was the Ellen show, then the record contracts and a music video where he was Ariana Grande's love interest.
Life would never be the same again. It would not be the same as Greyson Chance would be forever entwined with Lady Gaga and Paparazzi. It would not be the same as when his voice changed and it all came crashing down. "The second that the momentum stopped, you know, I truly was just sort of thrown to the curb when I was 15. I, all in the same day, got dropped by my record label, my management, my publicist, and my agent. It was the ultimate for me, as a child musician." Greyson told me.
The real story however, is of a fantastic singer/songwriter who hit the industry in a big way with a debut album of his own work in 2019. He emerged then as a honed artist who had already been educated on the workings of the industry, and as a professional who knew how to walk in with his own vision and make it happen.
"It is a machine and, when I when I came on the scene originally, I had this huge viral video and with that, a lot of money coming around, and big players kind of involved in the industry," he says.  He made music their way.  He did the songs they wrote, and played the part of the person they wanted him to be.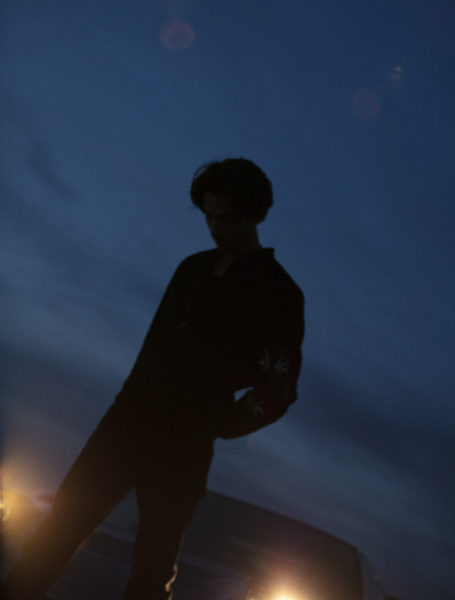 He learned how to be the kind of artist he did not want to be. The young artist went back to Oklahoma and enveloped himself in the cocoon of normalcy. He incubated there, fell in love, and had his heart broken by someone he thought he was going to hold onto forever. At that point, he emerged from the cocoon, with a full self-written album in hand, a musical butterfly spreading his wings.
"I'm 23 years old right now. And I started off with my first record deal when I was 12 years old. There was so much of my adolescence, in my childhood in music, where I wasn't given the chance to not only make music that I really wanted to do, but also to be writing. I was being forced to do records, I didn't have a huge artistic involvement in anything I was doing. So when I came back into music, I really wanted to finally show the world that I was a songwriter, that I had a unique voice. That I had some unique things to say. I really emphasize authenticity. These are stories that are coming from the heart. These are things that are coming from my own life. It's not even really a choice that I have anymore. It is honest, from a place that's true and genuine," Greyson states.
Greyson represented not only with a new thematic "voice", but an actual new physical voice as well. "It was interesting, what I went through, they always tell you that when your voice changes, it's going to be sort of a tough go and that is such an understatement. It was so hard for me for a few years to really kind of find comfortability in my physical voice again. I mean, I really struggled through my voice change. But ultimately, I learned as a kid when I was on the road that in a way, when you're a touring musician, you're sort of like an athlete. My muscle is, is my voice." Greyson's new voice is far superior to his belting-out-broadway boy voice. He has a harmonic high register, and a sultry deep one. It copies no one else's, this voice is uniquely his own.
In 2019, Greyson came out with his launch album "Portraits". The stories of the album gave vision to the various personas he saw of himself as he navigated an ill fated romance. One week, he was looking at engagement rings, the next week, out of the blue, "the man of his dreams" left him without explanation. Greyson works each personal portrait into the prism of a beautiful, musically shiny diamond. "Portraits for me was truly my reinvention piece. And what I mean by that is, at the time before I put out that album, you know, I couldn't even get a meeting in LA with anybody. You know, no one wanted to touch me, no one wanted to be involved in in my project and involved in my music. So I told myself, You know what, I'm going to write a record, and I'm going to write a full album. I'm going to give this one last shot, and see, see what happens. And, fortunately, it went over very, very well."
In 2019 he filled 109 venues performing the songs from Portraits. He publicly came out as gay in response to a fan during a conversation about living authentically. He has also been transparent about his personal challenges, including his on-going battle with anorexia. "It was truly very, very difficult to diagnose it. I had come off of this really bad breakup that I wrote my album Portraits about, and I was developing habits of not eating and not taking care of myself. I blamed it on the sadness I was feeling at the time. Then, as things became a little more normal, and I became a bit more stable, I noticed that I still had had this issue and things that were going on. For me, I had to work through a lot of therapy, to get a grasp on it. I brought it public because it was so stigmatized, and still is. I like to think that I have my life together. But here's the deep issue that I struggle with, and I go through. I'm on a road to recovery, it's never ending when you are battling with an eating disorder, but I'm doing very, very well right now. I'm staying on top of it. Through my disclosure, there was such an amazing and beautiful dialogue that keeps happening, people reaching out to me and sort of sharing their own struggles and battles with it as well. I'm working on trying to be the best version of myself that I can be."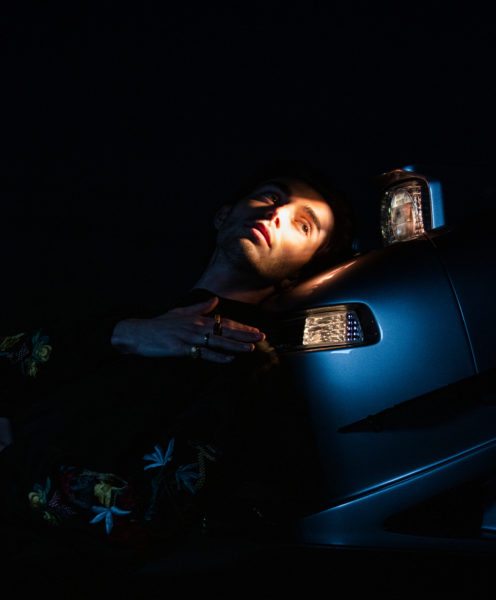 After a forced lockdown during the pandemic of 2020, Greyson is ready to move into the next phase of his butterfly trajectory. He has released two singles off his next EP, Trophies, and he is in love again. The songs on the EP will be in a thematic composition. The two first released create a spiritual arc from the heavenly rich ballad-like Holy Feeling to the high-pop danceable hedonistic Hell Boy.
He says of the new material, "My boyfriend and I just celebrated our one year anniversary yesterday. Trophies, is really expressing the fear of now losing love, and sort of that fear that was created in the old relationships that I've had. It is the desire for my fans and queer people around the world to know what truly being in love is. We're constantly told as, as queer people that, our relationships are always going to be rocky, they're never going to be sort of American Dream type relationships. Because we're different, these relationships are going to be different, because we're inherently different. That is just absolutely BS. Regardless of how you identify who you love, you can totally have all of this stereotypical white picket fence, you know, dog in the backyard green grass type of thing. It is so within your wheelhouse. It's not out of reach. This record is emotionally going through all those those things, and talking about them in the music."
A decade ago there was a boy made famous by a pop song and a viral video. Today, there is an artistic, powerful singer song writer who sings the authenticity of his generation. The rush you feel is the wind from rainbow colored butterfly wings taking flight, and the knowledge that the most famous Greyson Chance is the one yet to come.