GLAAD Media Awards rise above livestream, celebrate progress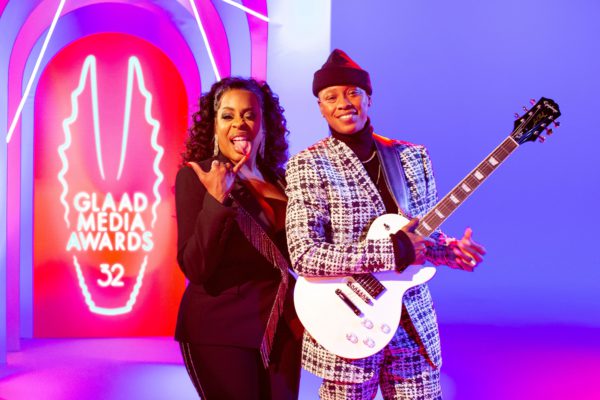 For obvious reasons, Hollywood's 2021 "Awards Season" has been a little different. Constrained by Covid into foregoing the usual swanky galas and glamorous stage extravaganzas, the entertainment industry has been limited to making the public presentations of its annual honors via virtual livestreams that look pretty much the same as the Zoom meetings and Facetime chats of which we've all become so weary.
These shows, though they try hard to generate excitement, can't help but feel a bit perfunctory. We can easily forgive all this, of course. Everyone, including us, has to make the best of a not-so-great situation, and making sure that "the show goes on" is a big part of maintaining a positive, forward-looking attitude as we all push through the current crisis; and besides, there's a satisfaction that comes with watching our favorite celebrities fumble through the same awkward gaffs and technical glitches we've all become so used to – it turns an event which is normally synonymous with the words "Hollywood elite" into an egalitarian reminder that even movie stars like to sit on the couch in their sweats. Still, that same equalizing effect also serves to highlight the relative absurdity of building up so much importance, so much pomp and hyperbole, over awards shows in the first place. It's enough to make watching even a show like the Oscars an empty experience.
The GLAAD Media Awards, however, are not the Oscars. While most big entertainment awards are focused (in theory, anyway) on artistic excellence, the GMAs are interested in something with a little more real-world impact – the fair, accurate, and inclusive representation of LGBTQ people and issues in the media – and that difference helped to make the livestream of its 32nd annual presentation, which took place last week (April 8), a surprisingly engaging 90 minutes of screen time.
Of course, it helped that the production was slick, polished, and tightly orchestrated, and that numerous winners had already been announced so that the show could be streamlined into an hour-and-a-half. It was a show that had the self-assuredness that comes from being pre-recorded (or at least, well-rehearsed); and while this may have eliminated the spontaneity that often makes for some of the best highlights in awards shows like this, it also allowed show producers to put together something that felt like a cohesive presentation instead of an awkward work-from-home staff meeting where everyone involved would rather be doing something else.
Unsurprisingly, GLAAD – the world's largest LGBTQ media advocacy organization, which has been holding the media accountable for its treatment of queer people and issues for nearly four decades – turned the situation into an opportunity to highlight the incredible progress that continues to be made in an uphill fight that is still far from over. Tastefully but assertively, the show threaded key talking points into the festivities; threads highlighting diversity, intersectionality, and the uptick in percentages of youth identifying somewhere on the LGBTQ spectrum were picked up and echoed throughout in speeches from hosts, presenters and winners alike. On a typical awards broadcast, this casual smoothness of messaging would likely come across as inauthentic; here, where the entire point is the advancement of equality, it gave the whole affair a sense of higher purpose, unabashedly presented and proudly embraced, and resulted in the sudden welling-up of unexpected tears during several moments of the presentation.
A few highlights:
Host Niecy Nash took immediate command of the proceedings, setting a jovial tone and leaning into her status as a "new member" of the community. Nash came out ("came into myself," as she prefers to say) as LGBTQ and married her wife, musician Jessica Betts, in 2020, and joked about the ongoing process of figuring out her own place on the spectrum by admitting she didn't know how things would have turned out if "that guy from 'Bridgerton'" had come along first. Later in the livestream, Betts appeared to sing her song, "Catch Me," giving Nash the opportunity to introduce her own wife's performance – an undeniably magical moment.
JoJo Siwa, who also came out in 2020, presented the award for Outstanding Children's Programming to "The Not-Too-Late Show with Elmo." After her exuberant introduction, in which she acknowledged "the best, most amazing, wonderful girlfriend in the entire world" and proclaimed "Love is awesome…. you can be in love with whoever you want to be in love with and it should be celebrated," the award was accepted by Elmo himself – another tear-inducing moment in which the progress made in queer acceptance was thrown into stark relief.
Presenting the award for Outstanding Film – Wide Release, USWNT and Orlando Pride Stars Ashlyn Harris and Ali Krieger spoke out in support of trans athletes, saying "Trans students want the opportunity to play sports for the same reason other kids do: to be a part of a team where they feel like they belong." The award went to "Happiest Season," the Hulu-produced Christmas romance centered on a lesbian couple played by Kristen Stewart and Mackenzie Davis – again, underscoring the leaps made in LGBTQ inclusion in mainstream entertainment.
Accepting the award for Outstanding Variety or Talk Show Episode for "A Little Late With Lilly Singh: Lilly Responds to Comments About Her Sexuality," Lilly Singh highlighted the importance of representation by saying, "you know, in other cultures like South Asian culture…there is still a stigma attached to being your true authentic self. I always think that if I was younger and I saw someone on TV who looked like me, that was out and proud about it, maybe I would've gotten here faster…I just want to say to everyone at home that looks like me: I am out. I am loud. I am proud. I love myself. And the journey to get here was tough, but it was so worth it. So I want to say that I see you. I recognize you. You are valid. You are beautiful. Nothing about you needs to change."
The "Gay Geek" contingent received some validation when the award for Outstanding Television Series – Drama went to "Star Trek: Discovery." Accepted by series stars Wilson Cruz, Anthony Rapp, Ian Alexander, and Blu del Barrio, the win was an much-deserved acknowledgement that the Gene Roddenberry-created franchise has always pushed the boundaries of social acceptance in its content, as well as an uplifting reminder of the power of popular fiction to help us imagine – and aspire to – the better world we want to build.
There were some drawbacks and disappointments, of course – most notably, perhaps, the much-touted "Glee" reunion, in which the stars of the breakthrough Ryan Murphy series came together via virtual conference to pay tribute to departed castmate Naya Rivera and the legacy of her character, Santana Lopez. Die-hard fans may have found satisfaction in seeing this beloved ensemble "together" again, and the spirit in which it happened was unquestionably sincere; even so, the obvious "edited highlights" quality of the segment fell far short of the excitement that might have been made possible by having them unite for a musical number for old time's sake. Let's hope for a "do-over" in 2022.

Also unfortunate was the "by the way" status relegated to many of the winners that had been previously announced, especially the electrifying Michaela Cole-created "I May Destroy You," the HBO show exploring the grey areas of consent in an era hyperaware of "rape culture," which won for Outstanding Limited or Anthology Series. And while the focus may not have been on glamor, it might still have been fun to see (for example) the fabulous outfit singer Sam Smith might have worn in lieu of baggy sweats had he been able to accept his award for Outstanding Music Artist in person instead of from his living room.
As for who all the winners were, a complete list can easily be found on the GLAAD website, or you can even watch the full presentation on YouTube. Their names deserve to be known, and their accomplishments celebrated.
Still, in a ceremony devoted to elevating an entire community instead of giving self-congratulatory pats on the back to an industry still struggling to overcome its reputation for homophobia, it doesn't matter so much whose name is on the trophy.
We are the winners.
Elton John and Years & Years give a fabulous performance at the 2021 Brit Awards
Elton John's & Years & Years' BRIT Awards 2021 song 'It's a Sin' released in support of Elton John AIDS Foundation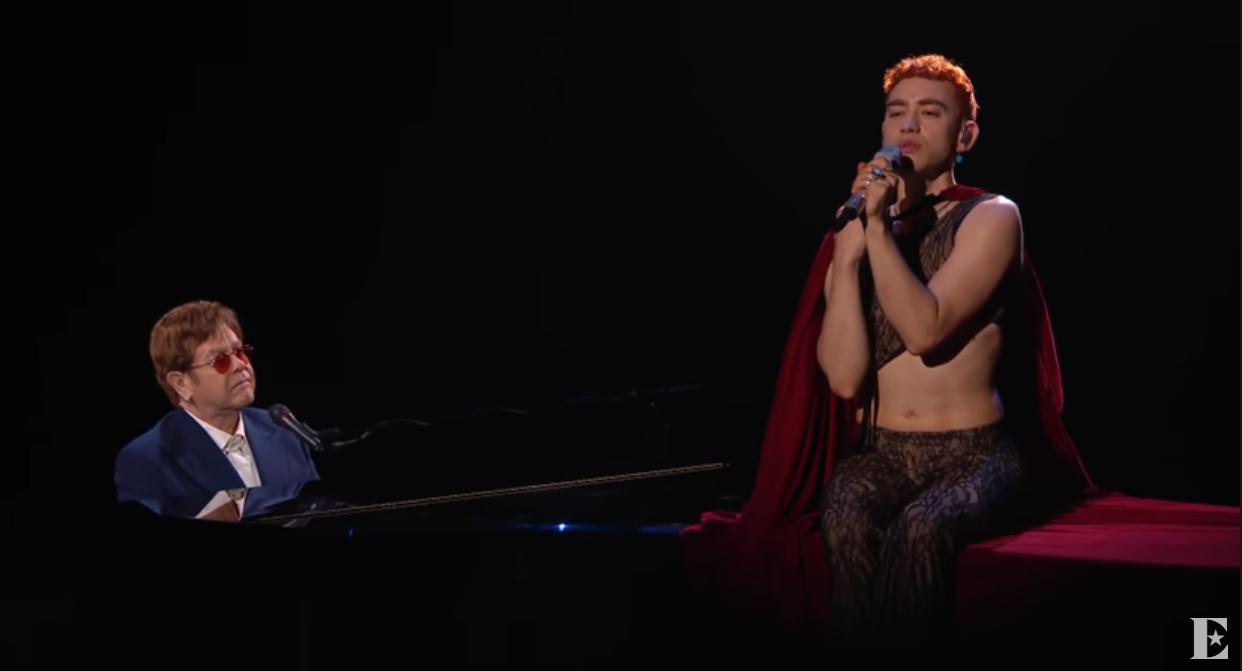 LONDON – In a show stopping performance Tuesday, Sir Elton John and Olly Thornton both who are British musicians, singer-songwriters, actors, and LGBTQ advocates- Thornton performs as Years & Years, rendered their new version of the Pet Shop Boys classic single 'It's a Sin'.
John's and Years & Years' BRIT Awards 2021 performance of the Pet Shop Boys classic single 'It's a Sin' was released in support of the Elton John AIDS Foundation.
WATCH:
LISTEN TO It's a sin HERE: https://EltonJohnYearsandYears.lnk.to…
DONATE TO EJAF HERE: https://donate.eltonjohnaidsfoundatio…
Ellen DeGeneres announces she is ending her show after 19 years
Ellen will sit down with Oprah Winfrey on Thursday to discuss her leaving daytime TV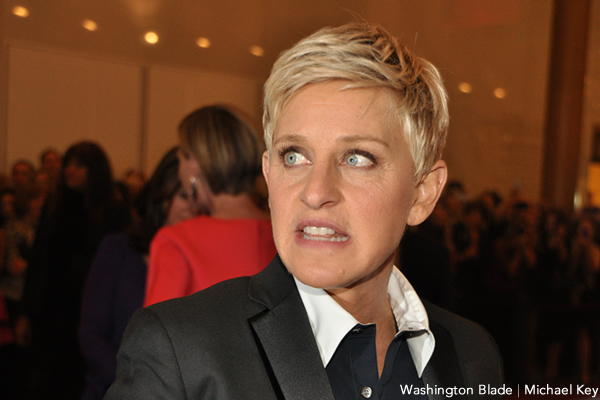 BURBANK – The Ellen DeGeneres Show known simply as 'Ellen' is ending its 19 year daytime television run next year in an announcement made to the show's staff yesterday and in an interview DeGeneres gave The Hollywood Reporter published Wednesday. The show debuted on September 8, 2003 but has been plagued with problems over the past year after staffers alleged a toxic work environment and accused producers of sexual misconduct last summer.
"When you're a creative person, you constantly need to be challenged – and as great as this show is, and as fun as it is, it's just not a challenge anymore," DeGeneres told the Hollywood Reporter.
Last July, online webzine Buzzfeed reported that the toxicity in the workplace had created a hostile environment for the show's production staff. "Most of the former employees blamed executive producers and other senior managers for the day-to-day toxicity, but one former employee said that, ultimately, it's Ellen's name on the show and "she really needs to take more responsibility" for the workplace environment," Buzzfeed wrote.
There were also accusations of racism directed against one former staffer and sexual misconduct and other problems behind the scenes. Some of the problems according to reporting by Variety in addition to the Buzzfeed article stemmed from allegations stating that DeGeneres herself created strive by being notoriously difficult to deal with.
Last March as the pandemic closed down production, there were complaints by staff about being shut out without a fall back position further exacerbated when DeGeneres taped several of the shows with an outside crew at her home.
A spokesperson for Warner Bros. Television, which distributes the show, told Variety that the crew was consistently paid during the pandemic, although at reduced hours, and "acknowledged that communication could have been better, but cited complications due to the chaos caused by COVID-19."
Adding to the turmoil last Spring, comedian Kevin T. Porter started a Twitter thread asking people to share "the most insane stories you've heard about Ellen [DeGeneres] being mean." which had a significant thread of replies.
In August Variety reported that three senior producers executive producers Ed Glavin and Kevin Leman, and co-executive producer Jonathan Norman — have been ousted from the Warner Brothers after the allegations raised in the reporting by Buzzfeed and Variety.
DeGeneres's contract with Warner Brothers for 'Ellen' runs through 2022. The chat show host has publicly reflected on stepping away in recent years.
She will sit down with longtime pal and daytime predecessor Oprah Winfrey to discuss the news on Ellen's May 13 show
She has also broadened her workload, having made a standup comedy special for Netflix and reaching a deal with Warner Media to create new shows for its streaming platform, HBO Max, among other projects.
NBC Universal cancels Golden Globe awards broadcast for 2022
NBC Universal announced the network would not broadcast the 2022 Golden Globes awards ceremony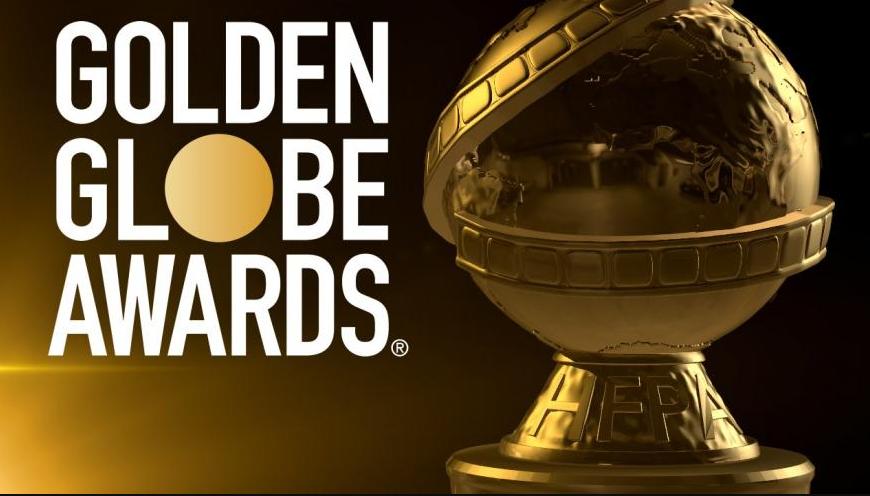 BURBANK – In the wake of an in-depth investigation into the Hollywood Foreign Press Association (HFPA), the organization responsible for the Golden Globes by the Los Angeles Times, which revealed a lack of racial diversity among its voting members and various other ethical concerns, NBC Universal announced Monday the network would not broadcast the 2022 Golden Globes ceremony.
This past February ahead of the HFPA's 78th Annual Golden Globes ceremony, HFPA board chair Meher Tatna told Variety magazine that the organization that the organization of international journalists which covers the film, television, and entertainment industry has not had any Black members in at least 20 years.
Actor Sterling K. Brown, a Golden Globe winner and two-time nominee, posted to Instagram;
Criticism of the HFPA, which puts on the Globes and has been denounced for a lack of diversity and for ethical impropriates, reached such a pitch this week that actor and superstar celebrity Tom Cruise returned his three Globes to the press association's headquarters, according to a person who was granted anonymity because they weren't authorized to speak publicly about the decision, the Associated Press reported.
"We continue to believe that the HFPA is committed to meaningful reform. However, change of this magnitude takes time and work, and we feel strongly that the HFPA needs time to do it right," a spokesperson for NBC said in a statement.
"As such, NBC will not air the 2022 Golden Globes," the spokesperson added. "Assuming the organization executes on its plan, we are hopeful we will be in a position to air the show in January 2023."
NBC's decision comes as Vogue reported that the backlash to the HFPA came swiftly and decisively. Some of Hollywood's biggest studios, including Netflix, Amazon, and WarnerMedia, announced they were severing ties with the organization until efforts were made to increase diversity and stamp out corruption, while a group of more than 100 of the industry's biggest PR firms released a statement in March in which they pledged to boycott the ceremony for the foreseeable future.
The HFPA did not immediately respond to inquiries by media outlets requesting comment about NBC's decision.
In February, the organization said it was "fully committed to ensuring our membership is reflective of the communities around the world who love film, TV, and the artists inspiring and educating them."
"We understand that we need to bring in Black members as well as members from other underrepresented backgrounds, and we will immediately work to implement an action plan to achieve these goals as soon as possible," it said.
HFPA also announced a full timetable through this summer for implementing promised reform initiatives in response to NBC's decision.

"Regardless of the next air date of the Golden Globes, implementing transformational changes as quickly — and as thoughtfully — as possible remains the top priority," the HFPA board said in a statement. "We invite our partners in the industry to the table to work with us on the systemic reform that is long overdue, both in our organization as well as within the industry at large."