Former GOP Speaker says Biden attacking 'traditional values' allowing Pride Flags at U.S. Embassies
I couldn't imagine any administration which had been this deliberately anti-American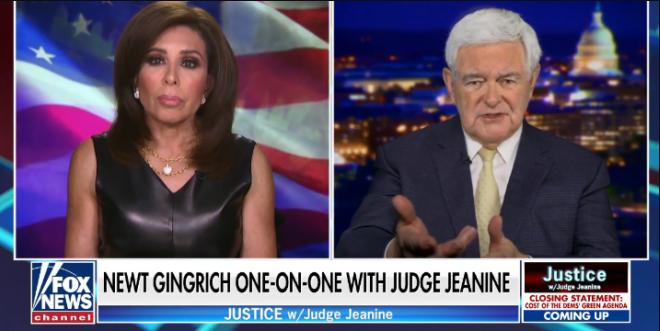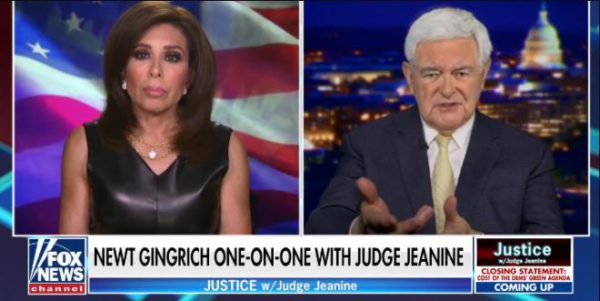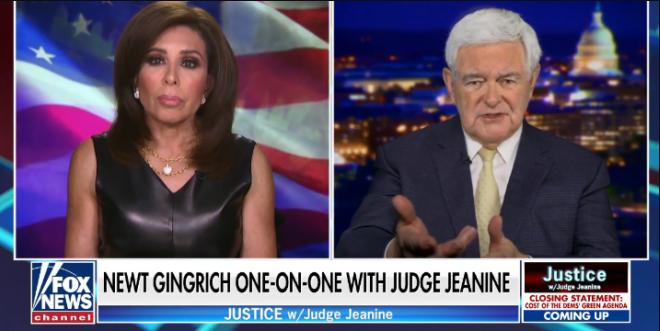 NEW YORK, NY. – Appearing on the Fox News show, Justice with Judge Jeanine Pirro Saturday evening, former Republican U.S. House Speaker and now a Fox contributor, Newt Gingrich, attacked the Biden administration for 'threatening' conservative Americans' values.
After thanking Gingrich for appearing Pirro asked, "What is going on with Joe Biden, he really has, not even 100 days in, and yet at this point he has pretty much done everything they wanted him to do." This in reference to what the Fox host derisively has labeled 'the left's bidding in a power grab.'
Gingrich responded saying; "Every idiotic thing that the Biden administration has done in the first 100 days, you begin to realize — whether it's threatening everybody who believes in the Second Amendment or it's attacking everybody who believes in right to life or it is attacking people of traditional values who are appalled that this administration would fly the gay flag at American embassies all over the world.
"I mean, you just go down item by item and it's almost like they have a checklist of 'What can we do that will really, truly, infuriate traditional Americans?' And I've never seen anything like it. I couldn't imagine any administration which had been this deliberately anti-American and it's deliberately committed to infuriating the majority of the American people."
Earlier this past week, Secretary of State Antony Blinken said he will once again allow U.S. diplomatic installations to fly the Pride flag.
Former U.S. Ambassador to the Dominican Republic James "Wally" Brewster — one of the openly gay men who served as ambassadors during the Obama administration — on Friday applauded Blinken's decision.
"As one of the constant supporters of Human Rights and LGBTQ rights throughout his life, President Biden and Secretary of State Blinken are showing the commitment to fighting for the rights of the marginalized around the globe," Brewster told the Blade. "So proud of our global leadership once again!"
"Sec. Blinken is committed to the rights and prosperity of our LGBTQ+ community, both our employees at State and all around the world," said State Department spokesperson Jalina Porter on Friday in response to the Blade's question about Blinken's cable during a press briefing with reporters.
"The department issues Pride guidance to our missions on a regular basis," added Porter. "Overseas facilities actually don't require Washington approval. However, flying the flag from the same flagpole as the U.S. (flag) actually doesn't require approval as well."
"In prior years the department has issued a blanket authorization or requested that posts request permission from Washington to fly a Pride flag from the same flagpole as the U.S. flag," Porter further noted to the Blade.
Former Speaker of The House @newtgingrich joined 'Justice' to discuss the latest power grab by the left. pic.twitter.com/YLH8KLPlCx

— Jeanine Pirro (@JudgeJeanine) April 25, 2021
Additional reporting by the Blade's International Editor Michael K. Lavers
Newsom appoints Laphonza Butler to Feinstein seat
Newsom's office confirmed that he has picked Butler, an Out Black lesbian Democratic strategist who rose to prominence in the labor movement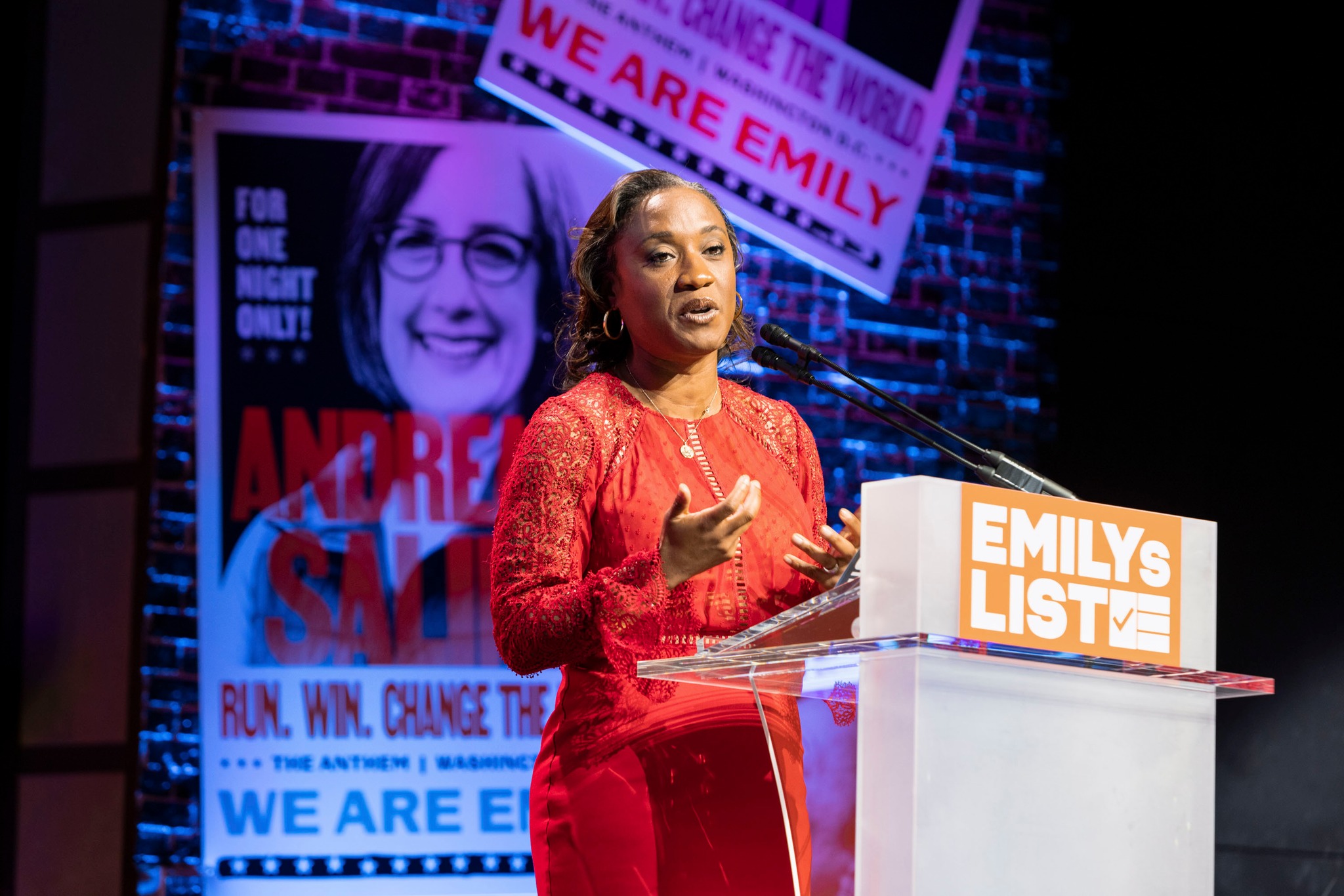 SACRAMENTO, Calif. – On Sunday evening, California Governor Gavin Newsom announced he is appointing Black openly lesbian EMILY's List President, Laphonza Butler, to the vacant seat of the late U.S. Senator Diane Feinstein who died Friday at age 90.
Butler's wife is Neneki Lee, the Washington D.C.-based Director for labor union SEIU's Public Services Division.
News of Butler's selection by Newsom was first reported by POLITICO's California Bureau Chief Christopher Cadelago. A source knowledgeable on the governor's team told POLITICO there were no preconditions about whether she could run in 2024.
Newsom's office confirmed that he has picked Butler, a Democratic strategist who rose to prominence in the labor movement, to fill Feinstein's seat.
In an emailed statement, Governor Newsom said:
"An advocate for women and girls, a second-generation fighter for working people, and a trusted adviser to Vice President Harris, Laphonza Butler represents the best of California, and she'll represent us proudly in the United States Senate. As we mourn the enormous loss of Senator Feinstein, the very freedoms she fought for — reproductive freedom, equal protection, and safety from gun violence — have never been under greater assault. Laphonza will carry the baton left by Senator Feinstein, continue to break glass ceilings, and fight for all Californians in Washington D.C."
SCOOP: Gavin Newsom will appoint EMILY's List President Laphonza Butler to fill the seat of the late Sen. Dianne Feinstein, elevating the head of a fundraising juggernaut that works to elect Dem women who support abortion rights, per a person familiar.https://t.co/FtOv4fneAk

— Christopher Cadelago (@ccadelago) October 2, 2023
Equality California tweeted a statement praising Newsom's action:
Executive Director @TonyHoang on Governor @GavinNewsom's selection of @LaphonzaB to serve as the next U.S. Senator from California: pic.twitter.com/6RYB1SUyEr

— Equality California (@eqca) October 2, 2023
Democrat Alex Padilla, now serving as California's senior U.S. Senator, released the following statement after Newsom appointed Butler to fill the vacancy created by the late Senator Feinstein: 
"Throughout her career, Laphonza Butler has been a strong voice for working families, LGBTQ rights, and a champion for increasing women's representation in politics. I'm honored to welcome her to the United States Senate.
"Governor Newsom's swift action ensures that Californians maintain full representation in the Senate as we navigate a narrow Democratic majority. I look forward to working together to deliver for the people of California."
Butler is a longtime leader in Democratic politics in California and beyond. She has been involved in campaign strategy, and the labor movement for two decades, and according to her official biography she has dedicated her life to empowering women and supporting them in finding their voice, and using it to make meaningful change.
Newsom's office noted in its statement:
"Butler, a longtime senior adviser to Vice President Kamala Harris, labor leader, and advocate for women and working people, will be the first openly LGBTQ person to represent California in the Senate. She will also be the first Black lesbian to openly serve in Congress in American history and the second Black woman to represent California in the Senate following Vice President Kamala Harris."
Prior to joining EMILYs List, Butler served as Director of Public Policy and Campaigns in North America for Airbnb. She also was a partner at SCRB Strategies, a political consulting firm where she was a strategist for candidates running up and down the ballot and a senior advisor to Vice President Kamala Harris's presidential campaign.
With nearly 20 years in the labor movement, Butler has served as the president of the biggest union in California, and the nation's largest homecare workers union, SEIU Local 2015. She was elected to this position at just 30 years old, one of the youngest to take on this role. As president, Butler was the leading voice, strategist, and architect of efforts to address pay inequity for women in California and a top advocate for raising the state's minimum wage to $15 an hour – the first state in the nation to do so, benefiting millions of working women in low wage jobs. That effort also gave hundreds of thousands of home workers access to paid time off. She also served as an SEIU International Vice President and President of the SEIU California State Council.
Throughout her career, Butler has been highly regarded as a strategist working to elect Democratic women candidates in political offices across California and nationally. A long-time supporter of Kamala Harris in her California runs, Butler was a key leader in Vice President Harris's presidential campaign. She served as a senior advisor to Hillary Clinton's presidential campaign in California during the primary and general elections. Most recently, Butler was a campaign operative behind the campaign to make the Los Angeles Board of Supervisors all-women for the first time in its history with the election of Supervisor Holly Mitchell.
She has been a member of the University of California Board of Regents and a member of the board of directors for the Children's Defense Fund and BLACK PAC.
Laphonza grew up in Magnolia, MS, and attended one of the country's premier HBCUs, Jackson State University. She lives in Maryland with her wife, Neneki, and together they have a daughter, Nylah.
EMILY's List is an American political action committee that aims to help elect Democratic female candidates in favor of abortion rights to office. It was founded by Ellen Malcolm in 1985. The group's name is an acronym for "Early Money Is Like Yeast". Malcolm commented that "it makes the dough rise".
Related:
Governor Gavin Newsom Appoints Laphonza Butler to the U.S. Senate: