LA Pride breaks silence announces 'Thrive with Pride'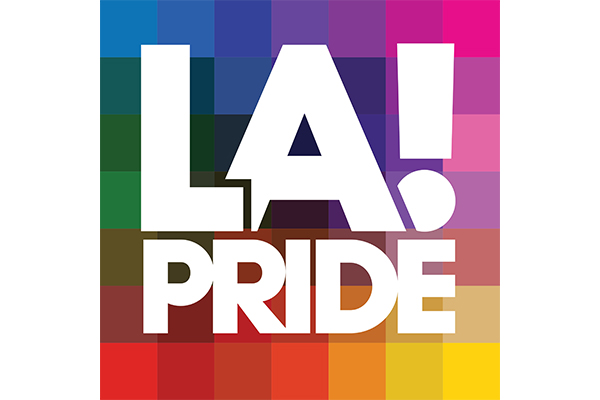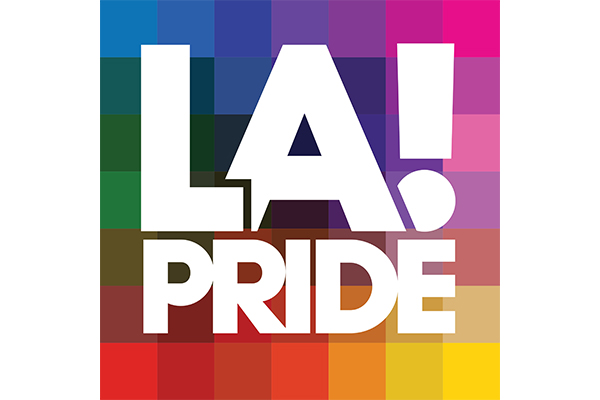 LOS ANGELES – After weeks of 'stay tuned' on its website and no real engagement with the media or the LGBTQ community, Christopher Street West Association Inc. the nonprofit organization that produces the annual LA Pride celebration announced its planned June programming for LA Pride 2021 on Thursday.
Pride 2021 activations are themed around the daily reminder to Thrive with Pride.
LA Pride weekend will kick-off on Thursday night, June 10th with a concert exclusively presented by and live streamed on TikTok featuring hyper-pop diva Charli XCX and a showcase of up and coming LGBTQ+ performers across genres. In-person concert opportunities are not available at this time. Fans and followers can follow @tiktokforgood and @lapride on TikTok for updates and advanced promotions.
Further, a televised special titled "Thrive with Pride Celebration" is set for Saturday, June 12th airing 9:00pm-10:00pm PDT on ABC 7 Los Angeles, the most-watched station in Southern California, will feature special guests, performances and LA Pride honorees.
"To thrive means to flourish and progress despite the circumstances. Pride this year is a moment for you to stop and breathe," said Sharon-Franklin Brown, CSW board president. "It's a moment to remember you're not just surviving one of the hardest years in recent memory, but growing into your truth. This is why we were so intentional in our planning. We want to bring a moment of celebration, a moment to highlight the community, and an opportunity to give back. If we as a community can come together, even for a moment, to realize we've broken down some barriers put on us, it'll strengthen our resolve to continue tearing more down for those to come after us."
"After an unprecedented year of challenge and struggle, I am so pleased that this year's pride festivities embrace the spirit of the first pride parade and our activist roots," said Los Angeles City Councilmember Mitch O'Farrell. "By bringing together LGBTQ+ communities from every corner of our City, we will uplift all voices and elevate the important work of the icons of the LGBTQ movement who sacrificed everything in their young lives at the time so we can all celebrate together in 2021. With a mix of virtual and potential in-person events, this year's festivities will keep our community safe and connected while providing every Angeleno an opportunity to embrace giving and volunteerism."
In recognition of the incredibly difficult work Los Angeles social justice and non-profit organizations have put into achieving equity, actionable change and stability, LA Pride will launch a 30-day give back campaign to support these efforts. Pride Makes a Difference will highlight opportunities for Angelenos to sign up to either volunteer, or donate goods and/or money to local organizations in Los Angeles County. Pride Makes a Difference is a new program in conjunction with Big Sunday. As part of these new efforts, drop off locations will be set up all throughout Los Angeles. A list of selected local organizations and drop off sites will be available soon to choose from, as well as the sign-up details and commitment.
"Our utmost priority in whatever we're doing to celebrate Pride this year ensures safety and follows CDC-approved pandemic guidelines," continued Brown. "That's why we're announcing this programming first. Any potential in-person celebratory activations will be announced at a later date in the coming weeks. The more we put safety first, the more likely we're able to plan big physical events in the future, including Pride 2022, where we can celebrate who we are, where we came from, and where we need to go."
33 Taps Owner Ryan Floyd has Big Plans
33 Taps will now be a part of the official Silverlake gay bar crawl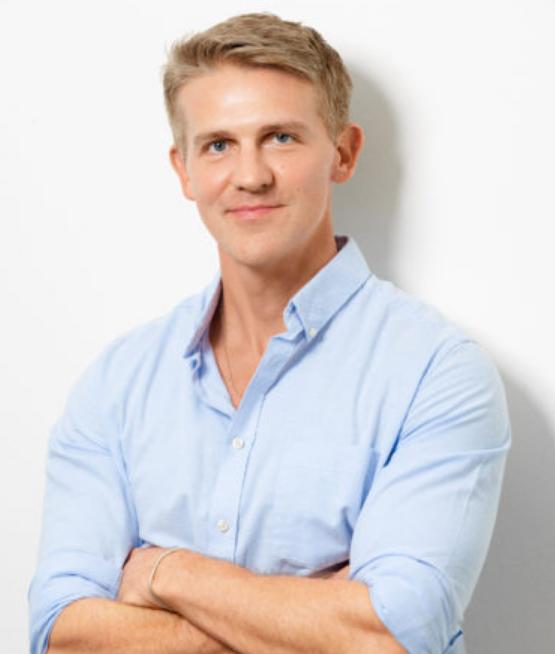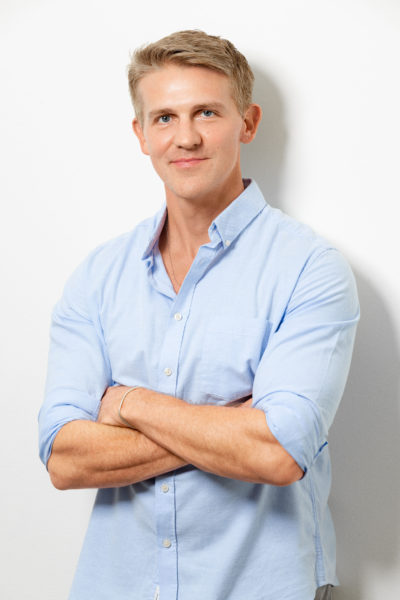 WEST HOLLYWOOD Ryan Floyd signed the contract for his first restaurant after working for 10 years in LA as a finance guy. He said he hit the decade mark and realized, "I want to do something on my own." He liked the industry, and knew the business side after working as CFO for a successful restaurant development and management firm. Now, after more than a year in lockdown, he's got big things planned for his spot 33 Taps, and his next venture, Stache in West Hollywood.
In 2016, Floyd bought a storied beer bar and country diner once known as The Crest on Sunset, making him the third consecutive gay owner of the location. The Crest on Sunset had been running since the late-1980s, with a loyal local clientele – most of the staff was gay, most of the customers were gay. "A friend brought it to me and I thought, this could be a good step for me," Floyd explained, "I bought the assets and license and rebranded it as 33 Taps."
33 Taps formally opened in September 2016, and will celebrate its five-year anniversary in the fall. "The first year was really stressful," Floyd remembers, "we were under capitalized. I lost money for the first six, seven months. It was scary." The former investment banker had sunk all his own cash into the business, and it wasn't until the end of 2017 that 33 Taps began to find its footing, and its niche.
Floyd credits his team for the longevity of the spot, and for helping keep the business open during its first year and all the years that followed. Many of the employees had even been at that location before the sale – the general manager at 33 Taps, Peaches, has been working at the address for more than 30 years.
Before the pandemic hit, business was good. "Seventy-five percent of our patrons are local," Floyd said proudly. "We've really established ourselves as a place where people love to watch LA sports — the Dodgers, the Lakers, the Rams. And we also have a huge Drag Race following." The bar finally returned to its weekly Drag Race viewing parties just in time for the grand finale episode last Friday. According to Floyd, more than a third of the clientele is LGBTQ.
As Los Angeles slowly begins to reopen, and businesses and bars can welcome back customers, 33 Taps is greeting the post-COVID world with some new changes. "During the pandemic I had entered the liquor license lottery." For businesses hoping for a budget break, the State of California holds a yearly liquor license lottery in which restaurants and bars can try their luck at a discounted license. "The state will issue however many licenses they think the market should absorb. You can buy those licenses for $15,000, which is a full liquor license — a type 47. Whereas on the open market, prices go from $100,000-$120,000." It was his fourth year entering the lottery, and his first time winning. It took the state months to process the license, but it finally issued 3725 Sunset Blvd. its first-ever liquor license. It'll be the first time in 40 years that the location will have a full bar.
A numbers man, Floyd explained an added benefit of a liquor license kicking in now. "Beer and spirits go through cycles. Beer had a very long, 10-year run. In 2005, there were 300 breweries in the United States, and now there's over 5,000." Floyd recites these statistics with a sportscaster's excitement, "beer had this huge run, but now spirits have taken the lead again." With the city's reopening looking more and more optimistic, and more and more people wanting to celebrate big after a year in their living rooms – the new liquor license could not be better timed. "We want to program our Friday and Saturday nights. We've never been open beyond 11 o'clock, now we can stay open until 1 a.m. and actually have a bar crowd." He's lining up a slew of parties, bringing some much needed queer nightlife programming to the Silverlake scene.
33 Taps will now be a part of the official Silverlake gay bar crawl, for all those on their way to dance at Akbar or a party at The Eagle. It rounds out the trio, offering its own flare – a modern neighborhood restaurant and sports bar.
Each spot brings something different to the table. Akbar is beloved for its brand of queer punk quirk; the also beloved Eagle offers its loyal leather-clad following the gritty gay bar of years past. 33 Taps is the grad-school jock of the group, a lovable charm and an always here for a good time attitude. Floyd offered the elevator pitch: "You can listen to great music, drink from a full bar and also have some great food." The 33 Taps food menu has always been one of its strongest assets, offering customers a chef-driven menu of craft burgers and fries. A top-notch bite at a gay bar is hard to come by, and the plates at 33 Taps put most bar menus to shame.
He teased a few details of his highly anticipated new venture: Stache. Coming to West Hollywood this summer, Stache is lucratively situated across the street from Beaches and TomTom, and down the block from Weho heavy-hitters, Rocco's and The Abbey. "Stache will also be a full restaurant and full bar, with a nightlife component as well," Floyd shared. While he can't reveal plans just yet, he promises big monthly parties, disco and drag. The new website, stacheweho.com, describes Stache as, "an all-inclusive social house for every form of self-expression." The site also attributes the mustache in the name and logo as a symbol of resilience in the gay community, honoring those lost to the AIDS epidemic.
After the closing of so many iconic LA gay bars during the pandemic, Ryan Floyd's Stache is a welcome addition to the WeHo strip.
Dorian Awards; The Society of LGBTQ Entertainment Critics names 'NOMADLAND' Best Film
GALECA's Dorian Awards honor the best in all of film and TV, from mainstream to LGBTQ fare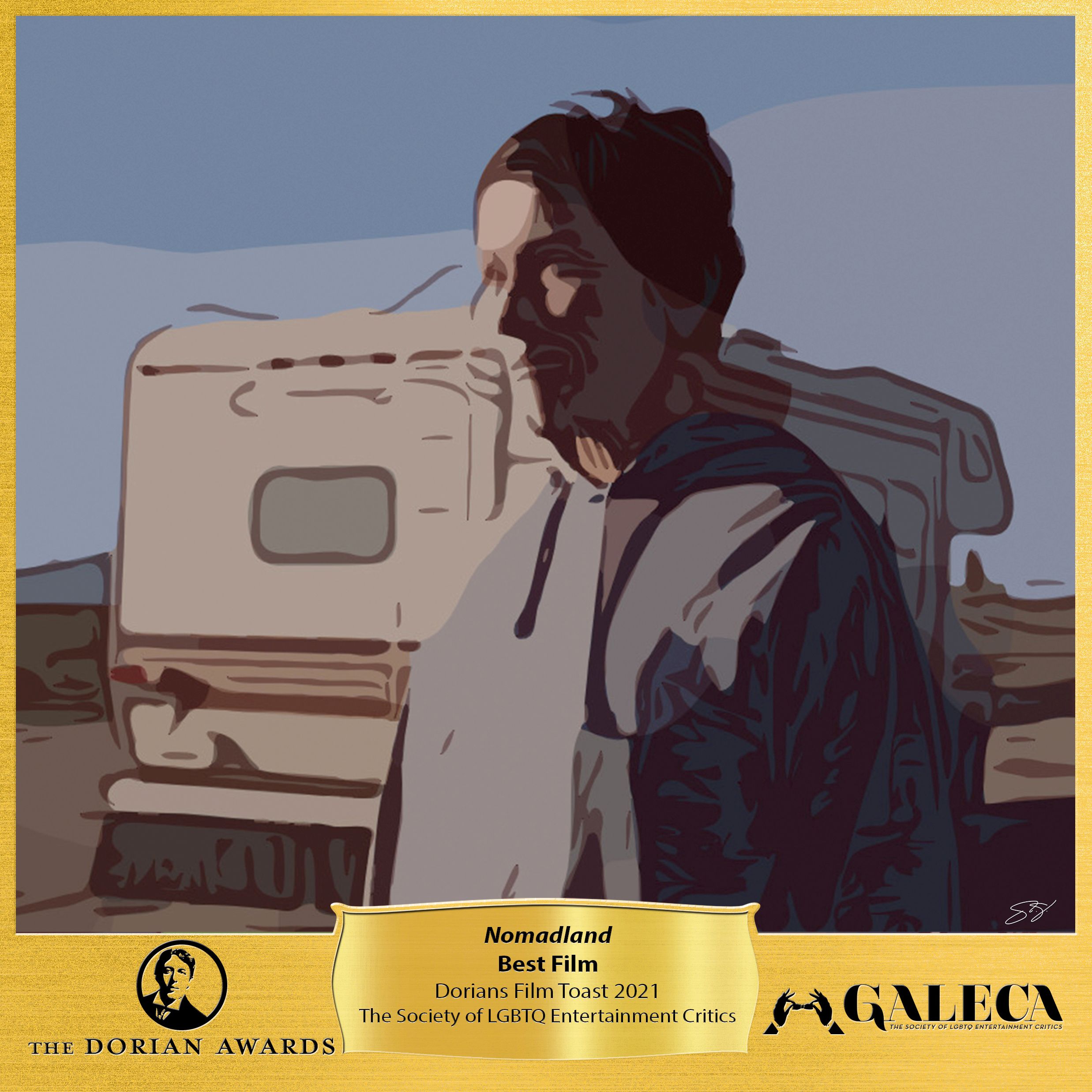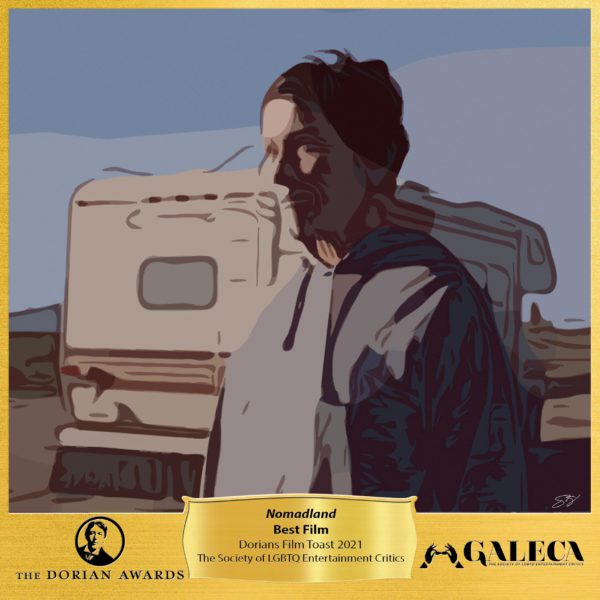 HOLLYWOOD, CA. – Nomadland, the spare and fact-based drama of a group of struggling Americans living off the grid; the vivid blueswoman biopic Ma Rainey's Black Bottom; the family-happy fish-out-of-water fable Minari; writer-director-actress Radha Blank and her biting showbiz satire The Forty-Year-Old Version; the death-to-misogyny revenge thriller Promising Young Woman; and the urgent human-rights documentaries Disclosure and Welcome to Chechnya all scored more than one Dorian Award from GALECA: The Society of LGBTQ Entertainment Critics tonight via a televised special Sunday night.
GALECA's Dorian Awards honor the best in all of film and TV, from mainstream to LGBTQ fare, on separate occasions. As revealed in the group's three-hour Dorians Film Toast 2021, shown on LGBTQ+ streaming platform Revry and hosted by famed entertainer and human rights hero Karel, Nomadland earned 3 Dorians: Best Film, Best Director for Chloé Zhao, and Most Visually Striking Film. Minari earned Best Non-English Language Film plus a supporting actress nod for Yuh-Jung Youn. Ma Rainey's was deemed Best LGBTQ Film by GALECA, and the musical drama's male lead, the late Chadwick Boseman, earned Best Film Performance—Actor.
Boseman was "such an incredible human, scholar, humanitarian, and a really wonderful actor," said Ma Rainey's costar Colman Domingo, accepting via a recorded video on behalf of Boseman and his family. "Creating complex roles about the African-American experience, and about people who are marginalized in society and trying to stand up and have a strong voice, fighting for representation—that is Chadwick Boseman's legacy."
Pretty Young Woman star Carey Mulligan, fascinatingly mischievous as a woman out to avenge the death of a female friend, and the mystery's witty screenwriter, Emerald Fennell, both delighted with their humble acceptance videos for Best Film Performance—Actress and Best Screenplay, respectively. "I'm just so happy that (Woman) has resonated, and I'm so grateful to (Fennell) for inviting me along for the ride," said Mulligan. Fennell, meanwhile, graciously spoke of her "admiration for (GALECA's) members."
In homage to Oscar Wilde's novel The Picture of Dorian Gray, GALECA's Dorian "trophies" are actually small pop-art portraits of the winner (sometimes in character) or a rendering of a memorable scene from the champion title (the pieces, fashioned from an existing photo, come with an easel). "This might be the coolest prize I've ever seen," said Mulligan, holding up her Dorian. Fennell, taking a moment to lift the little velvet drape that covers each award when first received, called the art piece "amazing" and quipped that the artist (Jason Young) was "kind in giving me cheekbones."
Chloé Zhao said her Dorian for directing Nomadland is "deeply meaningful" because "Oscar Wilde is one of my greatest heroes," and because the film speaks to so many segments of society facing tough times. "Nomadland is about a woman who goes on a journey of grief and healing and ultimately of self-discovery and self-acceptance."
Jessie Tyler Ferguson and Laverne Cox, both performers who've taken to producing documentaries, saw their respective projects, Welcome to Chechnya and Disclosure, tie for the win in two categories: Best Documentary and Best LGBTQ Documentary. A grave Ferguson said Chechnya, which details the persecution of LGBTQ people in the Eastern European republic, is about "people fighting genocide." Cox, in discussing her film's look at the history of transgender representation on screen, noted that "2020 was the deadliest year on record for trans people. We have to continue to highlight the humanity of trans people in the face of us being dehumanized."
Also speaking truth to power, Best Supporting Performance—Actor winner Daniel Kaluuya, honored for his portrayal of martyred Black Panther Party leader Fred Hampton in Judas and the Black Messiah, said he was glad that more people were learning about what Hampton "stood for, what he believed, and what he did for the Black community and the community at large. I really hope that he continues to live on in everyone's hearts and minds."
The Wilde Artist Award, meant for "a truly groundbreaking force in entertainment," went to singer-songwriter-actress-humanitarian Dolly Parton, whose memorable role in the landmark feminist comedy 9 to 5 has generated revived interest just as she made headlines for her deep-pocketed advocacy in helping get Americans vaccinated during the pandemic.
"Thank you to all the members of the Society of LGBTQ Entertainment Critics for this lovely Wilde Artist award," Parton relayed in statement via her publicist. "I'm not sure I'm as edgy as past winners (in the Wilde Artist category) like Todd Haynes, Kate McKinnon, Lin-Manuel Miranda and Jordan Peele—but I am honored and humbled. I appreciate all of you entertainment journalists who are so passionate and are working so hard. Keep up the good work!"
Parton's celebrated friend, septuagenarian actor and social media superstar Leslie Jordan, currently on screens in The United States vs. Billie Holiday—another fact-based drama about the fight against racism—was named the group's latest Timeless Star, a career achievement accolade previously awarded to the likes of Sir Ian McKellen, Jane Fonda, George Takei, John Waters, Lily Tomlin, Betty White and Dame Angela Lansbury.
Paying tribute to Jordan in video form ahead of a segment featuring the star himself: Billie Holiday's director Lee Daniels, Cheyenne Jackson (Jordan's costar in the Fox sitcom Call Me Kat), Beth Grant (sharing a ribald behind-the-scenes story back from their days filming 2000's cult hit Sordid Lives) and Leslie Grossman (a pal from TV's American Horror Story 1984). Summed up Grossman about Jordan's accomplishments, including a new gospel CD: "At a time when our world is as divided as its ever been, there is one thing that everybody can agree on and that is their love for Leslie Jordan. You've done it all: Book, television, movies, social media, an album . . . and we know you're just getting started."
Trans filmmaker and actress Isabel Sandoval (Lingua Franca), in a special interview segment with GALECA Board Member Jazz Tangcay of Variety, accepted the Society's inaugural, Board-picked Trailblazer Award "for creating art that inspires empathy, truth and equity."
Also offering accepting videos or appearing in segments were Ma Rainey's director and Broadway legend George C. Wolfe, Welcome to Chechnya director David France, Nomadland producers Peter Spears and author Jessica Bruder, Turner Classic Movies host Jacqueline Stewart (trumpeting fall's opening of A.M.P.A.S.®'s Academy Museum of Motion Pictures), and California Governor Gavin Newsom, who offered a special message to GALECA members as well as LGBTQs and allies in the entertainment community.
In perhaps the Wilde-est portion of the Toast, fun-loving entertainer Charo presented the Campiest Flick honors with her usual gusto—and Rachel McAdams, star of the winning title, Eurovision Song Contest: The Story of Fire Saga, popped up to accept with a knowing wink. Her costar Will Ferrell, she kidded, considers the movie "as a serious drama, a thespian's opus, so he might be a little pissed." Not to be outdone, celebrity impressionist extraordinaire Chad Michaels (RuPaul's Drag Race) evinced his favorite stars, from Joan Crawford to Cher.
Among the presenters helping raise the proverbial glass in the special: Sex and the City favorite Cynthia Nixon, actor Jharrel Jerome (Moonlight, Concrete Cowboy), comedian Margaret Cho, Rosanna Arquette (Pulp Fiction, Crash), Harry Hamlin (the groundbreaking gay romance Making Love), acclaimed newcomer Danielle Zalopany (Waikiki), director Andrew Ahn (Driveways, Spa Night), Brad Rowe (the cult classic Billy's Hollywood Screen Kiss), Rafael Silva (TV's 9-1-1: Lone Star), Peter Kim (The Forty-Year-Old Version), writer-comic Bruce Vilanch, and satirist Deven Green.
Even GALECA members got the star treatment in the special, which included a half-hour pre-show. A couple dozen critics and journalists from the group discussed the nominees in choice categories, while groundbreaking media fixtures Jane Velez-Mitchell, Judy Wieder, Bobby Rivers and legendary film critic Kevin Thomas—all on the Society's Advisory Board—shared thoughts on some of their all-time favorite films.
Yet another highlight: Singer Morgan Mallory also performed an original song, "Look Into The Light," a tribute to the power of film written and composed by Karel and Mallory.
The Dorians Film Toast 2021 is currently available on-demand on Revry including The Roku Channel, Samsung TV Plus, Comcast Xfinity X1, Cox, Distro TV, Plex, Galaxy TV, Local Now, VIZIO, Zapping TV, STIRR, TiVo, and LGBTQ+ virtual reality channel on RAD available on PlayStation devices.
The show was also co-written and executive produced by Karel, and coproduced by Brandon Riley Miller ("Life in Segments," "High") and John Griffiths for GALECA.
See DoriansToast.com and GALECA.org for more information.
COMPLETE LIST OF DORIAN FILM AWARD WINNERS (noted in bold)
Best Film
FIRST COW
MINARI
NOMADLAND
PROMISING YOUNG WOMAN
SOUND OF METAL
Best LGBTQ Film
AMMONITE
THE BOYS IN THE BAND
I CARRY YOU WITH ME
MA RAINEY'S BLACK BOTTOM
SUPERNOVA
UNCLE FRANK
Best Non-English Language Film
ANOTHER ROUND
BACURAU
I CARRY YOU WITH ME
LA LLORONA
MINARI
TWO OF US
Best Director
CHLOÉ ZHAO, NOMADLAND
EMERALD FENNELL, PROMISING YOUNG WOMAN
KELLY REICHARDT, FIRST COW
LEE ISAAC CHUNG, MINARI
REGINA KING, ONE NIGHT IN MIAMI
Best Screenplay (original or adapted)
CHLOÉ ZHAO, NOMADLAND
ELIZA HITTMAN, NEVER RARELY SOMETIMES ALWAYS
EMERALD FENNELL, PROMISING YOUNG WOMAN
LEE ISAAC CHUNG, MINARI
RADHA BLANK, THE FORTY-YEAR-OLD VERSION
Best Unsung Film – Presented by Stoli®
DRIVEWAYS
FIRST COW
THE FORTY-YEAR-OLD VERSION
MISS JUNETEENTH
NEVER RARELY SOMETIMES ALWAYS
SHIRLEY
THE ASSISTANT
Best Documentary (tie)
COLLECTIVE
CRIP CAMP
DICK JOHNSON IS DEAD
DISCLOSURE
TIME
WELCOME TO CHECHNYA
Best LGBTQ Documentary (tie)
A SECRET LOVE
BORN TO BE
DISCLOSURE
MUCHO MUCHO AMOR: THE LEGEND OF WALTER MERCADO
WELCOME TO CHECHNYA
Best Film Performance — Actress
CAREY MULLIGAN, PROMISING YOUNG WOMAN
FRANCES MCDORMAND, NOMADLAND
NICOLE BEHARIE, MISS JUNETEENTH
SIDNEY FLANIGAN, NEVER RARELY SOMETIMES ALWAYS
VIOLA DAVIS, MA RAINEY'S BLACK BOTTOM
Best Film Performance — Actor
ANTHONY HOPKINS, THE FATHER
CHADWICK BOSEMAN, MA RAINEY'S BLACK BOTTOM
DELROY LINDO, DA 5 BLOODS
RIZ AHMED, SOUND OF METAL
STEVEN YEUN, MINARI
Best Film Performance — SUPPORTING Actress
AMANDA SEYFRIED, MANK
CANDICE BERGEN, LET THEM ALL TALK
MARIA BAKALOVA, BORAT SUBSEQUENT MOVIEFILM
OLIVIA COLMAN, THE FATHER
YUH-JUNG YOUN, MINARI
Best Film Performance — SUPPORTING Actor
CHADWICK BOSEMAN, DA 5 BLOODS
DANIEL KALUUYA, JUDAS AND THE BLACK MESSIAH
LESLIE ODOM JR., ONE NIGHT IN MIAMI
PAUL RACI, SOUND OF METAL
SACHA BARON COHEN, THE TRIAL OF THE CHICAGO 7
Most Visually Striking Film
BIRDS OF PREY (AND THE FANTABULOUS EMANCIPATION OF ONE HARLEY QUINN)
MANK
NOMADLAND
SOUL
WOLFWALKERS
Campiest Flick
BAD HAIR
BIRDS OF PREY (AND THE FANTABULOUS EMANCIPATION OF ONE HARLEY QUINN)
EUROVISION SONG CONTEST: THE STORY OF FIRE SAGA
THE PROM
WONDER WOMAN 1984
"We're Wilde About You!" Rising Star Award
ALAN S. KIM
KINGSLEY BEN-ADIR
MARIA BAKALOVA
RADHA BLANK
SIDNEY FLANIGAN
Wilde Artist Award
(to a truly groundbreaking force in entertainment)
CHADWICK BOSEMAN
CHLOÉ ZHAO
DOLLY PARTON
ELLIOT PAGE
REGINA KING
GALECA Trailblazer Award (Special Board-picked accolade)
For creating art that inspires empathy, truth and equity
ISABEL SANDOVAL
Timeless Star
Honoring an actor or performer whose exemplary career has been marked by character, wisdom and wit
LESLIE JORDAN
GLAAD to announce Media Award nominations on TikTok
Nominations for the 32nd Annual GLAAD Media Awards will be announced in a livestream on GLAAD's TikTok page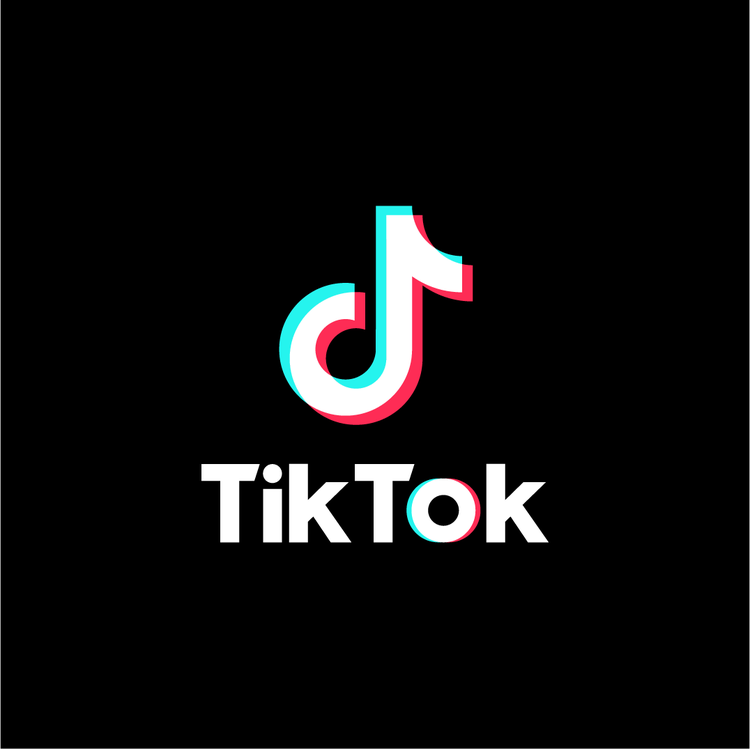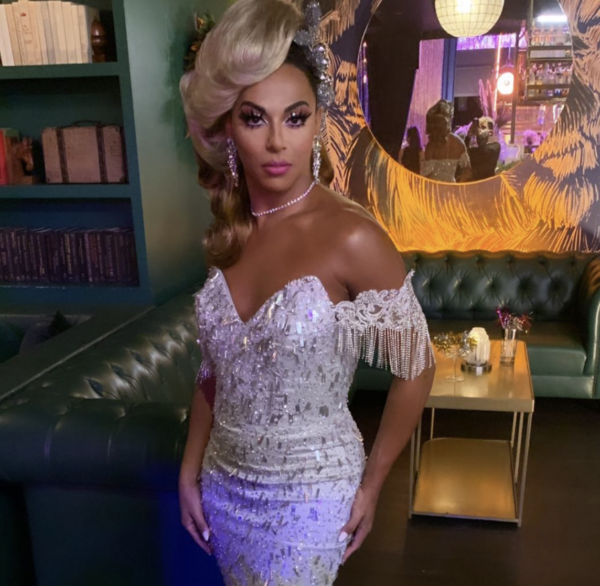 NEW YORK CITY – 2020 may have presented some serious disruptions to the process and presentation of GLAAD's annual Media Awards, but the world's largest LGBTQ media advocacy organization is geared up and ready to handle the continuing challenges of the pandemic as it prepares to announce the nominees for this year's honors.
Nominations for the 32nd Annual GLAAD Media Awards will be announced in a livestream on GLAAD's TikTok page – the popular digital platform's first-ever live-streamed nominations announcement for an awards show – on January 28. Actress Josie Totah, actor and performer D.J. 'Shangela' Pierce, and actor Jonathan Bennett will be on hand to help reveal the nominees for several of the categories, and the livestream will feature highlights from previous GLAAD Media Awards ceremonies, as well as clips from celebrity interviews. The full list of nominations will be revealed after the livestream concludes.
GLAAD is also working with TikTok on a new honor titled "TikTok Queer Advocate of the Year," a special recognition that will highlight those who have "accelerated acceptance and taken LGBTQ visibility to new heights." Multiple TikTok advocates will be nominated, with fans then able to vote for their favorite. The winner will be announced alongside all the other honorees on the night of the GLAAD Media Awards ceremony later this year.
As for the talent on hand to help with the announcements, each of them are familiar faces to LGBTQ audiences.
Josie Totah is an actress, writer, and producer, who can be can be seen in NBCU's Peacock reboot of "Saved by the Bell," as sharp-tongued cheerleader Lexi, the most popular girl at Bayside High. She also lends her voice to the fourth season of Netflix's hit animated series "Big Mouth" alongside Nick Kroll, John Mulaney, Seth Rogen, and Lena Waithe, and will appear in Netflix's upcoming Amy Poehler-directed feature film "Moxie."
D.J. "Shangela" Pierce – as any fan of "RuPaul's Drag Race" is sure to know – is an actor and performer who was the only contestant to compete on three separate seasons of the Emmy-winning reality series (Seasons 2, 3 and "All Stars" 3). Shangela brought down the house with a Beyoncé medley at the 2019 GLAAD Media Awards presentation in Los Angeles, and later that year hosted the Awards ceremony in New York.
Shangela has a long list of credits, including alongside Lady Gaga in "A Star is Born," but she can most recently be seen starring alongside Bob the Drag Queen and Eureka O'Hara in the Emmy-nominated HBO unscripted series "We're Here," which recruits small-town residents across America to participate in a one-night-only drag show.
Jonathan Bennett first leaped to fame as heartthrob Aaron Samuels in "Mean Girls." All grown up now, he's a busy man who recently appeared on Shondaland's "Station 19" (he'll be reprising his role in Season 4), and released a best-selling "Mean Girls" Burn (Cook)book – pairing it nicely with his appearance in Ariana Grande's "thank you, next" video. Even more recently, he starred in the Hallmark Holiday LGBTQ-inclusive telefilm, "The Christmas House," hosted the official Times Square ball drop on New Year's Eve, and will soon be seen in "Potato Dreams of America," an indie feature which will premiere at SXSW.
The 32nd GLAAD Media Awards, designed "to honor media for fair, accurate, and inclusive representations of LGBTQ people and issues," will livestream on GLAAD's TikTok page Thursday, January 28 at 9am PT/12pm ET – and after you've connected there to find out who and what are being recognized at this year's presentation, make sure to join the Blade via Instagram Live later that day (7pm, to be precise) as we celebrate the winners of our own "Best of LA" awards!