Reflections on LGBTQ Icons Harvey Milk and Frank Kameny
Gay is indeed good, and as long as there are those willing to carry on both Frank and Harvey's legacy, then too, hope will never be silent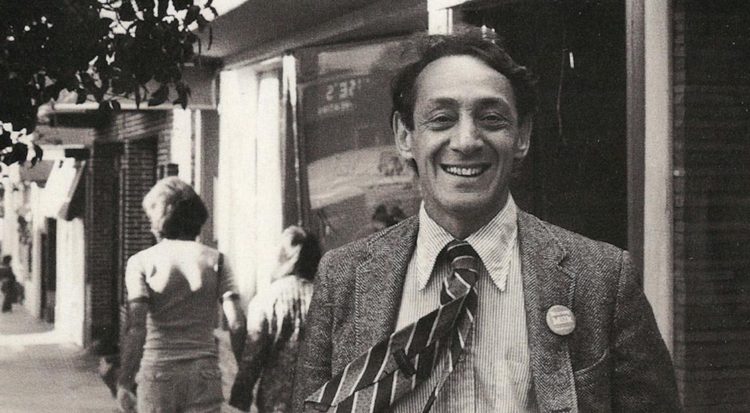 SAN FRANCISCO – In about a week Pride month commences, marking fifty-two years since the riots in the streets of New York City occurred instigated by the NYPD raid on a dingy, run-down mafia owned bottle club in the City's West Greenwich Village.
It also marks fifty-one years since the march for justice in the City for LGBTQ people was held the following year on the first anniversary of those three days of rioting at the Stonewall Inn by the Gay Liberation Front and LGBTQ activists that eventually became Pride, which was also mirrored by LGBTQ activists across the country in other cities.
This reporter was ten years old and then eleven years old respectively at the time growing up in rural Ontario, Canada and totally unaware of the impact these seminal moments in LGBTQ history would come to play a role in my life. Aside from that, would be the factor of two of the pioneers of the LGBTQ activism movement from that time and beyond whose impact would also significantly and personally impact my life.
Today, Saturday May 22, 2021 would have been Harvey Milk's ninety-first birthday and yesterday, Friday, May 21st, 2021, would have been my friend Dr. Frank Kameny's ninety-sixth birthday. I have been extraordinarily fortunate to have had these LGBTQ Icons, their work, their impact, their history interwoven into my professional career, but more so, into my personal life.
In the Spring of 1979, I was a very confused, highly closeted gay twenty year old in University deeply unhappy and in constant struggles with my sexual orientation. My best friend growing up had suddenly announced right after high school that he was moving to the States to "be free." At the time I didn't realise that he too was struggling with being gay like me as we only skirted the edges of that topic. He ended up in San Francisco and was faithful in sending postcards of the various landmarks in the City by the Bay and surrounding areas with cryptic notes of how groovy his neighborhood was in what I later learned was the Castro.
He kept telling me I needed to come and visit- even move to California. As my struggles increased and battles with my family continued to escalate, in part brought on by my inability to escape my feelings and unhappiness not to mention living in constant fear of discovery I relented and in late May of 1979 I flew to San Francisco arriving at 10 o'clock AM on the morning of May 21. (Note that date folks eh?)
The events of the next few hours are still a blur in part due to the shock that my best friend revealed that he was gay, my first exposure to the Castro, my first true exposure to a 'gayborhood' and then the beauty of San Francisco. But, what happened in the hours later that day would forever alter my life as like the thousands of others that night, I was caught up in what later became known as the White Night Riots.
The next day, on what would have been Harvey Milk's 49th birthday, twenty thousand people gathered to pay tribute to the man that everybody knew simply as 'Harvey' including my friend. Over that summer I was introduced to and came to know people that knew Milk intimately- Dan Nicoletta, Lee Mentley, and Cleve Jones among many others. In fact I can credit my pursuit of journalism to a series of conversations I had with Cleve that summer of 1979. I heard 'Harvey' stories, learned about the history of gay rights, the 'Prop 6' battle, Anita Bryant and her attacks, but mostly I learned about me.
Sadly, I wasn't able to stay in San Francisco and ended up back in my native Ontario but with a fresh perspective and knowledge, and education actually from my time in the Castro that there were many many many people just like me. Sadly it also marked my retreating back into the metaphorical closet because I discovered I was not going to be able to be openly gay and in fact in some instances it could lead to arrest, public humiliations, but most of all loss of a career I prized.
Leaping forward to 1993, April 25, 1993 to be precise, standing on the curb on the edge of Layfette Park across Pennsylvania Avenue from the White House in Washington D.C., watching as thousands of LGBTQ people streamed by in what because known as the third March on Washington for LGBTQ equality rights- I literally decided that it was time, then, at that exact moment to embrace who I truly was and I stepped off the curb to join them and forever ended my personal torment.
Later that month I was introduced to Frank Kameny.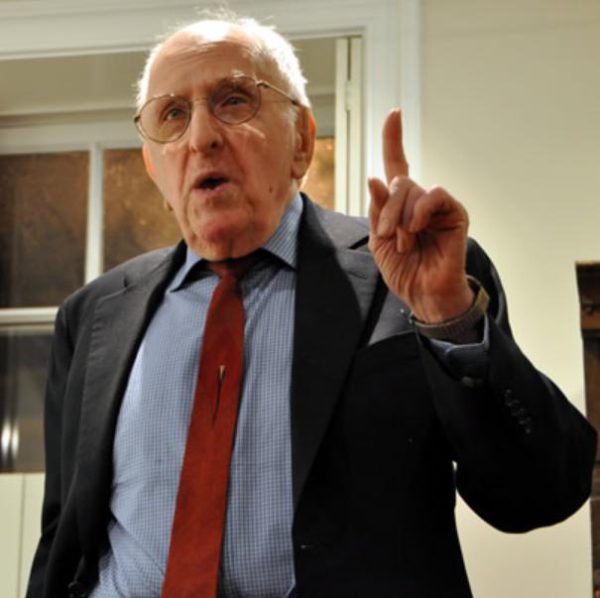 During the time I spent closeted prior to that April day in 93 when I was working in D.C., I would sneak into the gay bookstore owned by an incredible gay couple Deacon Maccubbin and Jim Bennett. Lambda Rising was more than just a bookstore, it was the hub of Washington's DuPont Circle 'gayborhood.' It was where every Friday I made sure to go to pick-up my copy of the gay newspaper, 'The Washington Blade.' I guess you could say that it's a bit ironic for me now to be the Editor of that publication's sister paper some 37 plus years later.
Yet, I still was so insecure and afraid that a press colleague would spot me that after grabbling my copy I'd insert it into that day's copy of The Washington Post so that I could safely carry it to read later. Sounds paranoid on steroids I know, but that was my reality. But, I digress, it was not long after that march I was at Deacon and Jim's store perusing the adult themed magazine rack when I literally bumped into Frank. Actually I stepped on his foot. That started a conversation that would commence our friendship that lasted until Frank passed away, on of all days, National Coming Out Day in 2011.
Frank decided it was his mission to educate me in LGBTQ history and as a result I received a BA in Gay History at Kameny University for which I am forever grateful. I think the one event that stands out was the time we were at Frank's home in Upper Northwest D.C. and he showed me his hand-crafted petition to the U.S. Supreme Court, which turned down his petition for certiorari in his case appealing being fired for being gay from the Federal government.
Frank's stories were the stories of the early LGBTQ movement some of which while serious in nature afforded me a bit of levity. He and pioneering gay journalist Jack Nichols, had founded the D.C. branch of the Mattachine Society, also launching some of the earliest public protests by gays and lesbians most notably in front of the White House. The Mattachine Society had published a newsletter, which it then mailed out to subscribers and members and one Washington power couple, seriously deeply closeted FBI Director J. Edgar Hoover and his companion in life, the Associate Director of the FBI, Clyde Tolson.
With a grin and twinkle in his eye Frank told me how he was visited by bureau agents on behalf of 'The Director' to plead with him to quit sending the newsletter. For some reason that just made me roar with laughter.
The other stories were compelling and captivating. Frank's work along side Jack and Jack's lover Elijah Hadyn "Lige" Clarke, Barbara Gittings who organized the New York chapter of the Daughters of Bilitis and edited the national DOB magazine The Ladder along with her partner Kay Lahusen- in fact the entire Homophile Movement as it was then known. I got to meet gay luminaries like Dr. Lilli Vincenz and Paul Kuntzler through Frank and was immersed in being educated about what the nascent LGBTQ movement had been able to accomplish.
At Frank's memorial service held in the old Carnegie Library, as I stood there quietly surrounded by people who were his friends or those simply impacted by his work, staring at his flag draped coffin I quietly muttered Frank's signature mantra/slogan out loud, 'Gay is Good.' The person standing next to me turned and said quietly but with emphasis, "yes it is." That person was Washington's Mayor, Vincent Gray.
Today is Harvey Milk Day and in his proclamation, California Governor Gavin Newsom wrote:
"As we honor Harvey Milk today, let us remember his words, "Hope will never be silent." Members of the LGBTQ community – in the United States and around the world – still face discrimination and violence, rooted in the same hatred that Milk died fighting. They deserve hope, and they cannot abide our silence. We must carry on his fearless advocacy as we work towards a California for All."
I'll remember Milk's words alongside Frank's because as I have discovered in my personal journey gay is indeed good and as long as there are those willing to carry on both Frank and Harvey's legacy, then too, hope will never be silent.
Happy birthday Harvey and Frank with great affection and respect.
Will Republicans shutdown government in part over trans people?
As Congress hurtles towards the deadline to pass a new budget, the GOP added anti-trans riders to must-pass bills- some drawing a red line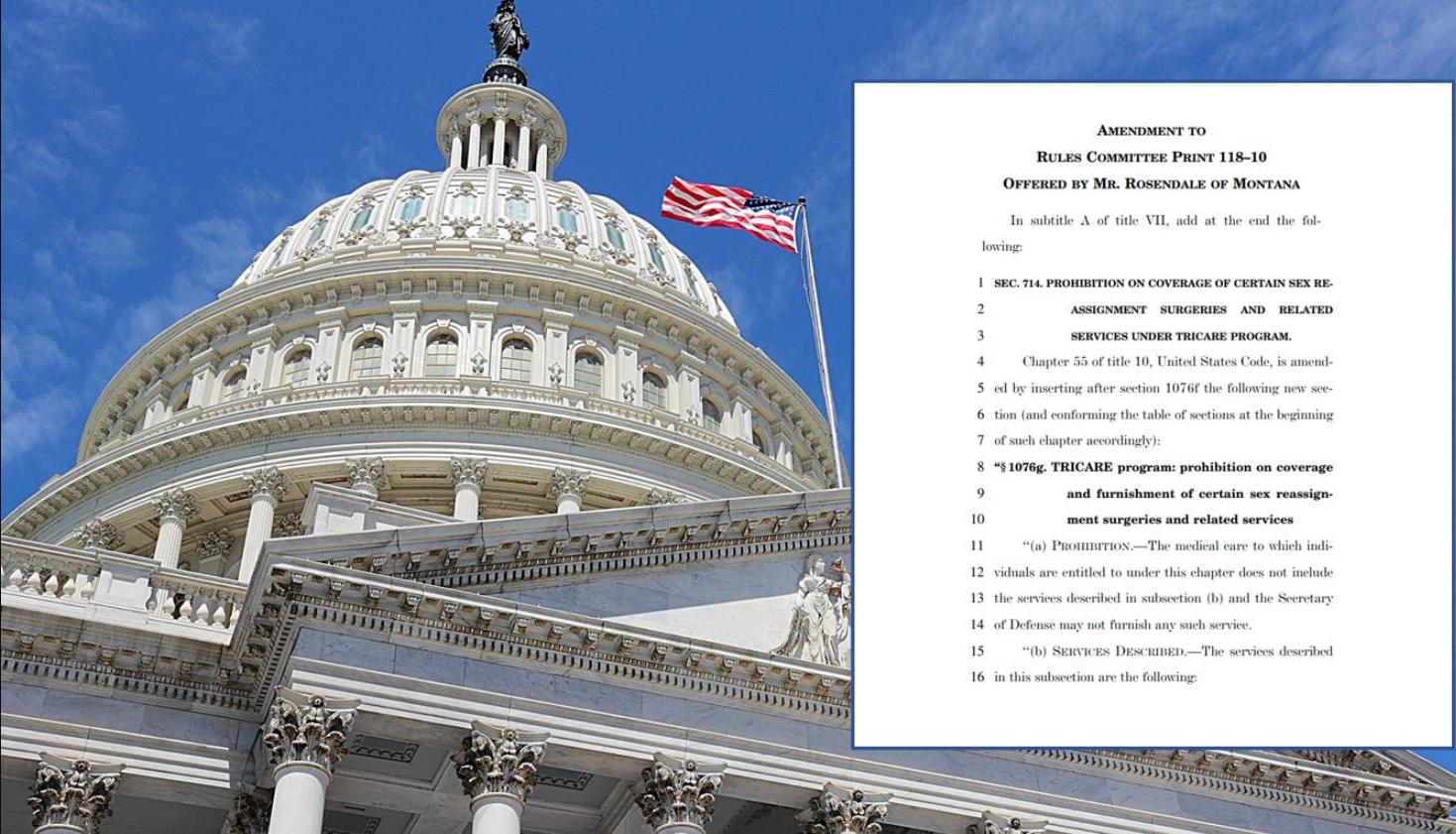 By Erin Reed | WASHINGTON – The United States teeters on the brink of a shutdown, and signs suggest it might be protracted. In Washington, tempers flare as federal workers brace for the possibility of missed paychecks. While the Senate has passed a bipartisan budget to keep the government open, the House is in disarray.
The Republican Party, embroiled in discord over Speaker McCarthy's tenuous hold of leadership, has seemingly reached an impasse on several issues. Among these, some in the party are drawing a red line on gender affirming care for transgender people. The party's fixation on trans issues, salient in state legislatures over the past four years, has abruptly taken the stage nationally, with the very functioning of the government hanging in the balance.
The provisions under scrutiny are social issue riders attached to essential budget bills needed to keep the federal government operational. Many of these target transgender individuals by proposing restrictions on federal funding for medical care, banning the promotion of "transgenderism," barring servicemembers from transitioning, and excluding medical insurance coverage for transgender care.
These stipulations can be found in funding bills for the Military, Health and Human Services, Veterans Affairs, the Food and Drug Administration, and even those that support Children's Hospitals. Just yesterday, the Congressional Equality Caucus issued a statement condemning such riders embedded in the State and Foreign Operations appropriations bill. These riders would prohibit the display of pride flags, DEI efforts, drag, and the promotion of "transgenderism."
The riders are paralleled by a renewed offensive against transgender individuals, propelled by influential figures within the Republican Party. Representative Lauren Boebert, recently scrutinized for inappropriate behavior with her date during a family-friendly theatre performance, assailed the Pentagon's top transgender military official and proposed legislation to slash her salary to a mere dollar.
Meanwhile, Representative Marjorie Taylor Greene presented a bill seeking a national felony ban on gender-affirming care for trans youth. While the prospects of these provisions advancing in this cycle are slim, the contentious budget impasse over transgender rights underscores the escalating emphasis on trans issues by the Republican Party. Additionally, several state governments under the party's control have already passed identical laws.
Such attacks have also been echoed in the presidential election cycle. On the Republican debate stage, Vivek Ramaswamy inaccurately declared that "transgenderism" is a "mental health disorder." Afterwards, Mike Pence, when asked a question about rising violence against LGBTQ+ people, called for a national ban on gender affirming care.
The animosity towards transgender people in the GOP now threatens to destabilize the entire United States Government. In a fight over one of the appropriations bills that would renew funding for teaching hospitals for children, Representative Crenshaw declared that gender affirming care bans are the "hill we will die on." Biden, on the other hand, has stated that he will veto appropriations bills with anti-abortion and anti-LGBTQ+ measures in them. While the Senate has passed its clean and bipartisan budget bill without any of these anti-trans measures, the House remains deadlocked in part because of riders like these.
LGBTQ+ organizations are taking note. The Human Rights Campaign released an ad lambasting Republicans for using these riders to shutdown the government, saying that Republicans are "trying to limit the healthcare you and your family can access, ban books and flags, and block enforcement of civil rights laws, all while risking the government grinding to a halt."
You can see the advertisement here:
For those doubting the lengths to which Republicans might go to advance anti-transgender legislation, one needs only to observe the recent clashes in state legislatures. In Montana, the party silenced a democratically elected representative simply for highlighting the detrimental impacts of such bills. In Nebraska, legislative progression was halted for three months while they tried to enact a gender affirming care ban.
In 2022 alone, the party spent tens of millions of dollars on anti-trans ads, driven largely by organizations like the American Principles Project; Jon Schweppe, the organization's policy director, pledged even greater financial commitment to this cause in 2024. A government shutdown now seems a fitting progression for a party so singularly focused on targeting trans individuals.
While public opinion on trans issues fluctuates considerably, a recurring sentiment is that people prefer legislators not to invest disproportionate effort on these matters. A Fox News poll from earlier this year revealed that 86% of respondents believe political attacks on trans children are problematic, with a mere 1% considering transgender issues as a top priority.
Concurrently, a poll by The 19th indicated that 72% of Americans doubt politicians possess the requisite knowledge to create fair policies concerning gender-affirming care.
Bringing trans issues into the national shutdown fight runs counter to these public sentiments. Historically, the public has responded with great disapproval to government shutdowns. In an era marked by concerns over escalating grocery costs and healthcare affordability, an emphasis on anti-trans politics risks painting the GOP as woefully disconnected.
Yet, the grim reality is that the government's operation might be jeopardized due to the intense disdain some Republicans harbor for transgender individuals, and those repercussions will be felt by everyone.
****************************************************************************
Erin Reed is a transgender woman (she/her pronouns) and researcher who tracks anti-LGBTQ+ legislation around the world and helps people become better advocates for their queer family, friends, colleagues, and community. Reed also is a social media consultant and public speaker.
Follow her on Twitter (Link)
Website here: https://www.erininthemorning.com/
******************************************************************************************
The preceding article was first published at Erin In The Morning and is republished with permission.