State Department urges Ghana to protect LGBTQ rights after activists arrest
Workshop attendees taken into custody after 'unlawful assembly'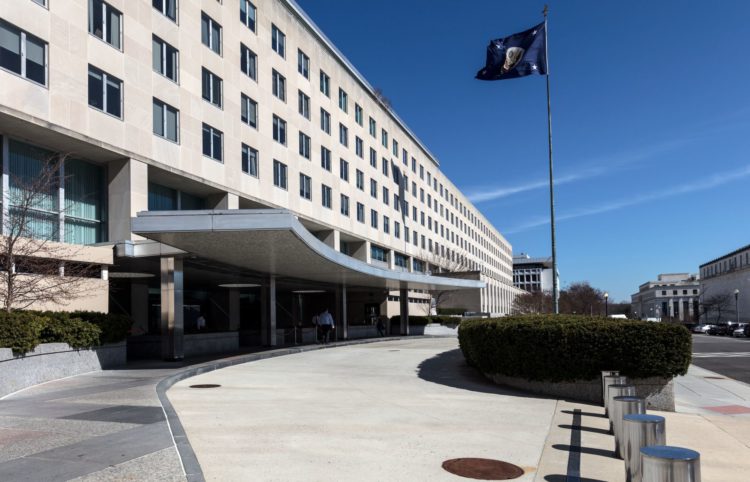 WASHINGTON — The State Department on Monday expressed concern over the arrest of 21 LGBTQ activists in Ghana.
Ghananian police on May 20 arrested the activists in the city of Ho. A State Department spokesperson in their statement said the U.S. "promotes efforts worldwide to protect LGBTQI+ populations from violence and abuse, criminalization, discrimination, and stigma, and to empower local movements and persons seeking to advance the rights of LGBTQI+ persons."
The spokesperson proceeded to say that the situation in Ghana is on the State Department's radar and called upon the country's national leaders and citizens to support and preserve the human rights of LGBTQ Ghanaians.
"We are monitoring the situation closely," said the spokesperson. "We urge national leaders in Ghana to uphold constitutional human rights protections and to adhere to international human rights obligations and commitments for all individuals. This includes members of the LGBTQI+ community."
"We call on all Ghanaians to respect the provisions under Ghana's constitution that guarantee freedom of speech, expression, and peaceful assembly."
What caused the arrests?
A training for activists and paralegals on how to advocate for LGBTQ Ghanaians and record any infringements of their human rights took place on May 20. Someone tipped off the authorities, and they arrested event detainees.
Alex Kofi Donkor, founder and director of LGBT+ Rights Ghana, told The Guardian that "the [event] was to train them on paralegal services for vulnerable groups – how we can document issues of abuse, and how best these trained paralegals can provide support."
Authorities deemed the event an "unlawful assembly," and they immediately arrested 16 men and five women. All were denied bail and are due to appear before a judge on June 4.
Rightify Ghana, a Ghanaian human rights group, in a series of tweets said journalists teamed up with the Ghanaian police when they descended on the event, and took people's belongings.
"Journalists were the first to storm the place, started taking photos, took their notepads, flip charts, puller banner, books, then locked them while calling the police. The worried victims started crying for help, but today a judge has remanded the 21 queer persons #ReleaseThe21," said Rightify Ghana.
Rightify Ghana further expressed their disappointment with the Ghanaian media's actions as it is an entity that has fervently advocated for freedom of press in the West African nation.
"Ghanaian media, which has for decades been advocating for press freedom in Ghana, are enablers in the promotion of hate and discrimination against minority groups in the country, especially sexual minorities. No wonder Ghana is here," said Rightify Ghana.
The activists' arrest last week in Ho is the latest of a series of anti-LGBTQ events that have taken place in Ghana.
Ghanaian police officers earlier this year raided and shut down an LGBTQ center.
This action prompted Black celebrities in the West to urge President Nana Akufo-Addo in an open letter to work with LGBTQ community leaders. Some of the celebrities included actor Idris Elba, model Naomi Campbell, and British Vogue Editor-in-Chief Edward Enninful.
In reaction to the recent arrests, prominent human rights groups have expressed their disapproval of LGBTQ human rights abuses in Ghana.
"The arrest of LGBTIQ people holding a lawful, private gathering about protecting and supporting LGBTIQ people in Ghana is shocking, and unacceptable," said OutRight Action International Executive Director Jessica Stern. "The basic human rights to freedom of assembly and association, enshrined in the country's constitution, should not be limited by anti-LGBTIQ opinions of bystanders or the police."
"Those detained should be released immediately, and an investigation into how such a blatant violation of rights could take place has to be held," added Stern.
"I am deeply saddened that the Ghana police can act on false alarm to arrest and detain innocent citizens," added Davis Mac-Iyalla, executive director of Interfaith Diversity Network of West Africa. "The human rights defenders arrested and jailed did nothing unlawful, they were exercising their freedom of assembly and association."
Mac-Iyalla in his statement said "this illegal arrest is a reflection of the high level of discrimination against minorities in Ghana."
"I call on the government to condemn the arrest and order the release of the human rights defenders," added Mac-Iyalla. "I also call on religious leaders and all civil society locally and internationally to add their voices to this call."
Michael K. Lavers contributed to this story.
UN Security Council urged to focus on LGBTQ+, intersex rights
U.S. Ambassador to the U.N. Linda Thomas-Greenfield chaired Monday meeting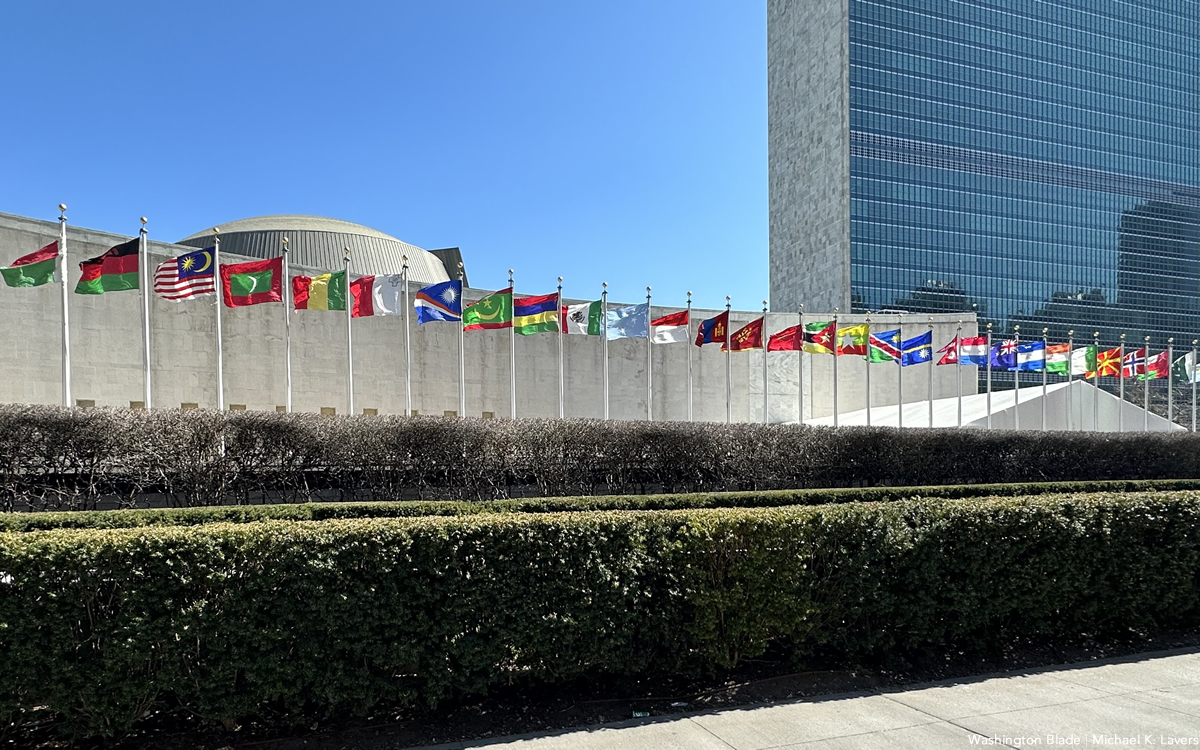 UNITED NATIONS — U.S. Ambassador to the U.N. Linda Thomas-Greenfield on Monday chaired a meeting at the United Nations that focused on the integration of LGBTQ+ and intersex rights into the U.N. Security Council's work.
The U.S. Mission to the U.N. co-sponsored the meeting along with Albania, Brazil, Cyprus, the Czech Republic, France, Greece, Japan, Malta, Switzerland, the U.K. and the LGBTI Core Group, a group of U.N. countries that have pledged to support LGBTQ+ and intersex rights.
Thomas-Greenfield announced four "specific steps the U.S. will take to better integrate LGBTQI+ concerns into the U.N. Security Council's daily work."
• A regular review of the situation of LGBTQ+ and intersex people in conflict zones on the Security Council's agenda that "includes regularly soliciting information from LGBTQI+ human rights defenders.
• Encouraging the U.N. Secretariat and other U.N. officials to "integrate LGBTQI+ concerns and perspectives in their regular reports" to the Security Council.
• A commitment "to raising abuses and violations of the human rights of LGBTQI+ people in our national statements in the Security Council."
• A promise to propose, "when appropriate, language in Security Council products responding to the situation of LGBTQI+ individuals."
"We are proud of these commitments," said Thomas-Greenfield during Monday's meeting. "They are just the beginning."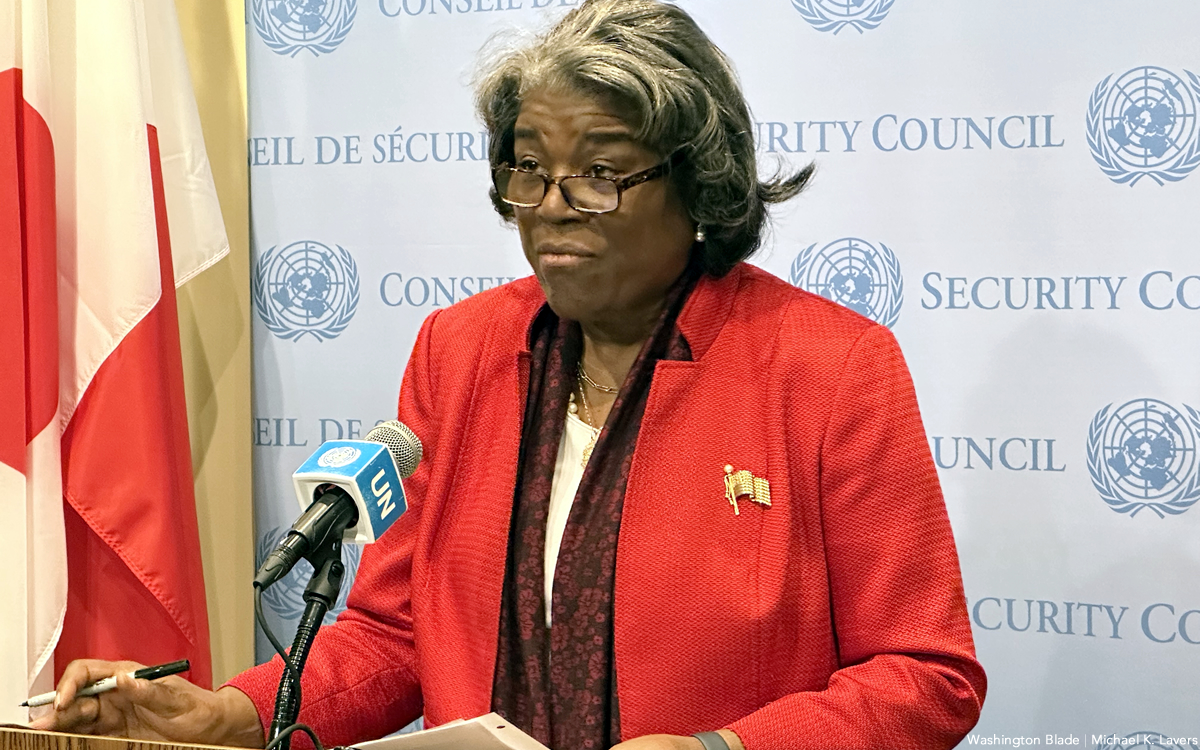 Victor Madrigal-Borloz, the independent U.N. expert on LGBTQ+ and intersex issues, provided a briefing on LGBTQ and intersex rights around the world.
"My mandate is based on one single fact: Diversity and sexual orientation and gender identity is a universal feature of humanity," he said. "For too long, it has been made invisible in national level contributions to peace and security, including policies and programs and in the political and programmatic action of the United Nations."
María Susana Peralta of Colombia Diversa — an LGBTQ+ and intersex advocacy group in Colombia that participated in talks between the country's government and the Revolutionary Armed Forces of Colombia that led to an LGBTQ+-inclusive peace agreement then-President Juan Manuel Santos and then-FARC Commander Rodrigo "Timochenko" Londoño signed in 2016 — and Afghan LGBT Organization Director Artemis Akbary also took part in the meeting.
Peralta said Colombia's peace agreement "has created a standard by which other countries can use," but noted the country's Special Justice for Peace has yet to prosecute anyone who committed human rights abuses based on sexual orientation or gender identity during the war.
Akbary noted the persecution of LGBTQ+ and intersex people in Afghanistan has increased since the Taliban regained control of the country in 2021. Akbary also said LGBTQ+ and intersex Afghans cannot flee to Iran and other neighboring countries because of criminalization laws.
"The whole world is watching as the rights of LGBTQ people are systematically violated in Afghanistan," said Akbary. "LGBTQ people on the ground in Afghanistan need and deserve protection."
Representatives of U.N. delegations from France, Brazil, Albania, Japan, Ecuador, Switzerland, the U.K., Malta, Colombia, South Africa, Ireland, Germany, the Netherlands and the European Union spoke in favor of the integration of LGBTQ+ and intersex rights into the Security Council's work.
"A person's actual or perceived sexual orientation, gender identity or gender expression or sex characteristics often increases the risk of of becoming the target in conflict and crisis situations," said Luis Guilherme Parga Cintra of Brazil.
British Ambassador to the U.N. General Assembly Richard Crocker made a similar point.
"We know the conflicts have disproportionate impact on marginalized communities: Women and girls, persons with disabilities, members of ethnic and religious minority groups," he said. "It is only right the Security Council is discussing this issue today."
Ambassador Karlito Nunes, who is Timor-Leste's permanent U.N. representative, read a statement in support of the Security Council discussions about LGBTQ+ and intersex issues. Representatives from China, Russia and Ghana who spoke said the Security Council is not the appropriate place to discuss them.
"Sexual orientation is an individual choice of every individual," said the Russian representative.
The meeting took place less than 13 months after Russia launched its war against Ukraine.
A Russian airstrike on March 1, 2022, killed Elvira Schemur, a 21-year-old law school student who volunteered for Kharkiv Pride and Kyiv Pride, while she was volunteering inside the Ukrainian city of Kharkiv's regional administration building. Activists with whom the Washington Blade has spoken said LGBTQ+ and intersex people who lived in Russia-controlled areas of the country did not go outside and tried to hide their sexual orientation or gender identity because they were afraid of Russian soldiers.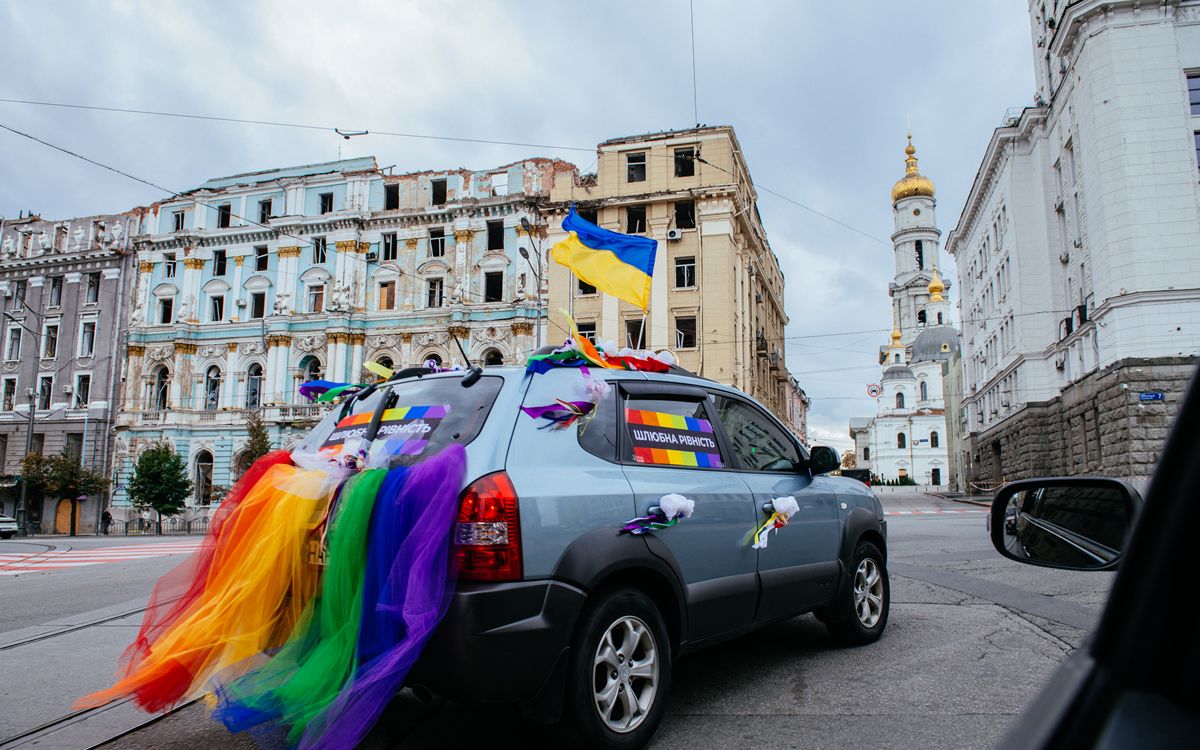 The Security Council's first-ever LGBTQ+-specific meeting, which focused on the Islamic State's persecution of LGBTQ+ Syrians and Iraqis, took place in 2015. Then-U.S. Ambassador to the U.N. Samantha Power, who is now director of the U.S. Agency for International Development, and then-International Gay and Lesbian Human Rights Commission Executive Director Jessica Stern, who is now the special U.S. envoy for the promotion of LGBTQ+ and intersex rights, are among those who participated.
Stern, along with U.S. Reps. David Cicilline (D-R.I.) and Ritchie Torres (D-N.Y.), attended the meeting alongside OutRight International Executive Director Maria Sjödin, among others.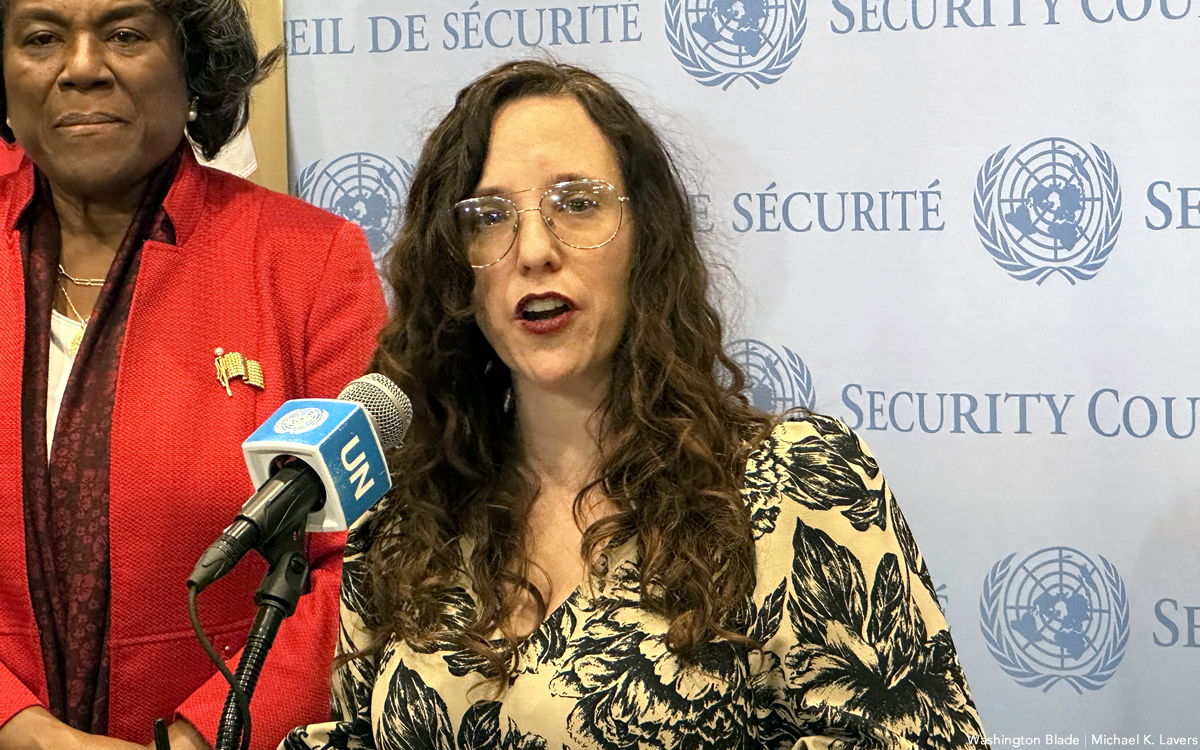 The Security Council in June 2016 formally condemned the Pulse nightclub in Orlando, Fla. The U.N. Human Rights Council a few months later appointed Vitit Muntarbhorn as the first independent U.N. expert on LGBTQ+ and intersex issues. (Madrigal-Borloz succeeded Muntarbhorn in 2018.)
Then-U.S. Ambassador to the U.N. Kelly Knight Craft and then-U.S. Ambassador to Germany Richard Grenell in 2019 during a U.N. General Assembly meeting hosted an event that focused on efforts to decriminalize consensual same-sex sexual relations around the world.
President Joe Biden in 2021 signed a memo that committed the U.S. to promoting LGBTQ+ and intersex rights abroad as part of the Biden-Harris administration's overall foreign policy. Then-State Department spokesperson Ned Price later told the Washington Blade the decriminalization of consensual same-sex sexual relations is one of the White House's five priorities as it relates to the promotion of LGBTQ+ and intersex rights overseas.
The U.S., the U.K., France, China and Russia are the Security Council's five permanent members. Albania, Brazil, Ecuador, Gabon, Ghana, Japan, Malta, Mozambique, Switzerland and the United Arab Emirates are the 10 non-permanent members.
Ghana and the United Arab Emirates are two of the dozens of countries in which consensual same-sex sexual relations remain criminalized.
"Today's meeting was an important first step toward further concrete actions the Security Council, and all parts of the U.N., can take to integrate LGBTQI+ human rights, experiences, and perspectives into their day-to-day work," Thomas-Greenfield told the Blade in a statement after Monday's meeting. "We're proud of the four commitments we made today, and we will keep working to make sure this topic remains on the Council's agenda."