Florida Governor starts Pride Month off signing anti-Trans youth sports ban
DeSantis & lawmakers are legislating on a false, discriminatory premise that puts the safety & well-being of transgender children on the line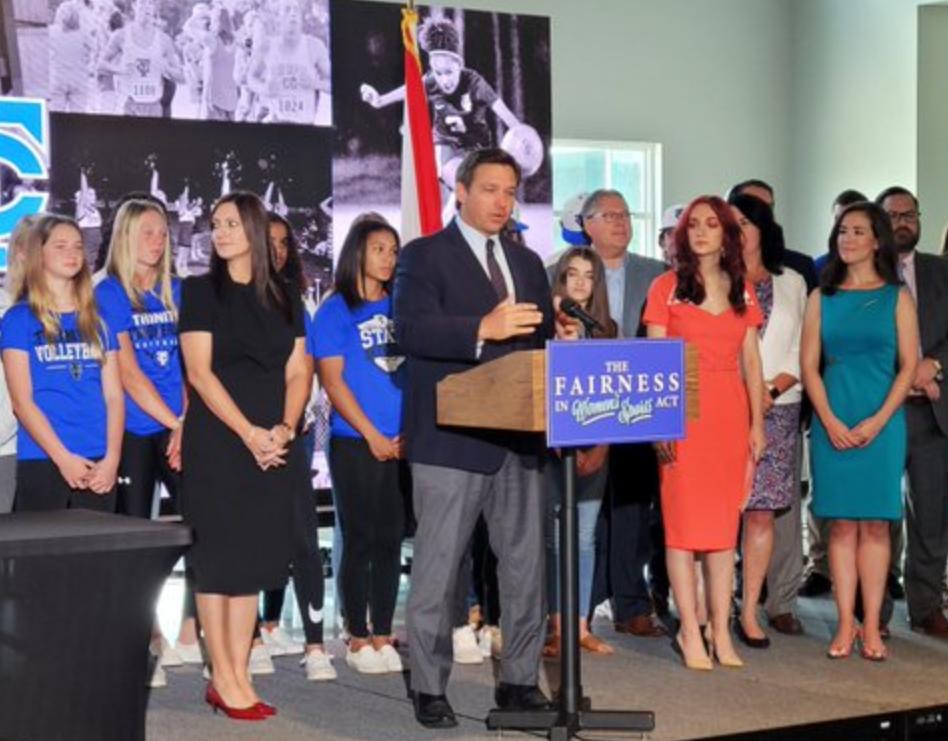 JACKSONVILLE, FL. – Florida's Republican Governor Ron DeSantis signed Senate Bill 1028, a bill that bars Trans youth athletes from participating in sports on the first day of LGBTQ Pride Month 2021 Tuesday June 1. One provision of the law stipulates that a transgender student athlete would have to affirm her biological sex by supplying proof such as a birth certificate.
The bill was an education bill amended to include a previous stand alone bill specifically targeting transgender girls and young women, banning them from playing on female sports teams. DeSantis signed the bill, which includes the so-called Fairness in Women's Sports Act, during a news conference at Trinity Christian Academy in Jacksonville.
The law, scheduled to go into effect on July 1, applies to all public secondary and high schools, public colleges and universities.
"The Governor and Republican leaders in Tallahassee chose to make Florida more dangerous for our community, for no reason but political gain in an election-driven culture war," said Nadine Smith, Equality Florida Executive Director. "Even previously moderate Republicans capitulated to the most extreme wing of their party."
Florida State Representative Carlos G. Smith whose House District encompasses the Eastern portion of Orlando's metro area took to Twitter blasting the Governor's actions. Smith, an openly gay LatinX lawmaker noted, "Appalling. First day of LGBTQ Pride Month and @GovRonDeSantis signs SB 1028 which bans trans kids from school sports. FHSAA has allowed trans kids to participate in FL since 2013 with ZERO problems. This fuels transphobia and puts vulnerable kids at risk for no good reason."
Smith then took aim at the location DeSantis chose for the signing ceremony. "Let's point out some things about Trinity Christian Academy where @GovRonDeSantis signed the trans sports ban. 1) As a private school, they're exempt. 2) Trinity's policy is to expel ANY LGBTQ student from school. 3) They receive millions in taxpayer funded vouchers to do this," Smith tweeted.
"We need to be clear about the message of this hateful bill: Governor DeSantis and GOP leaders in the legislature are not concerned about athletics, they simply don't believe that transgender people exist," said Gina Duncan, Equality Florida Director of Transgender Equality. "That is the kind of erasure that makes life more dangerous for those who are already at the highest risk of violence. Last week, we saw a horrifying story of violence against a transgender girl in her school in Deerfield Beach. It's not an accident that when transphobia is spewed from the highest levels of leadership, trans kids take the brunt of the bigotry. This bill is shameful, violent, and just made the world less safe for our most vulnerable young people."
Other LGBTQ advocates also decried the timing of the bill's signing ABC News reported. Sam Brinton, vice president of advocacy and government affairs for The Trevor Project, an LGBTQ suicide prevention organization, said signing the bill on the first day of LGBTQ Pride Month was "unconscionable."
"This group of young people desperately needs more support, not to be further marginalized and attacked by those in positions of power," Brinton said in a statement.
"Gov. DeSantis and Florida lawmakers are legislating based on a false, discriminatory premise that puts the safety and well-being of transgender children on the line. Transgender kids are kids; transgender girls are girls. Like all children, they deserve the opportunity to play sports with their friends and be a part of a team. Transgender youth must not be deprived of the opportunity to learn important skills of sportsmanship, healthy competition, and teamwork," Human Rights Campaign (HRC) President Alphonso David said in a statement.
"Transgender children should be loved and valued exactly as they are. We should be affirming and uplifting them, not terrorizing them for political gain. Supporters of equality everywhere will always stand by transgender young people. History will judge harshly those who have abandoned some of the most marginalized members of our community for cheap political points and we will hold them accountable in court," he added.
Over 30 states have introduced or passed restrictions on trans youth athletes with Florida now listed as the seventh state — following Arkansas, Alabama, Mississippi, Montana, Tennessee and West Virginia — to enact such legislation. In South Dakota, its Republican Governor Kristi Noem issued similar executive orders.
The similar bills that banned sports and criminalized medical care for trans youth were introduced this year as part of a nationally coordinated attack on the transgender community in advance of the upcoming elections.
Out for America; nearly 1,000 elected LGBTQ+ officials but more needed
Lack of representation has consequences, as LGBTQ elected officials are best positioned to defend against anti-LGBTQ legislative attacks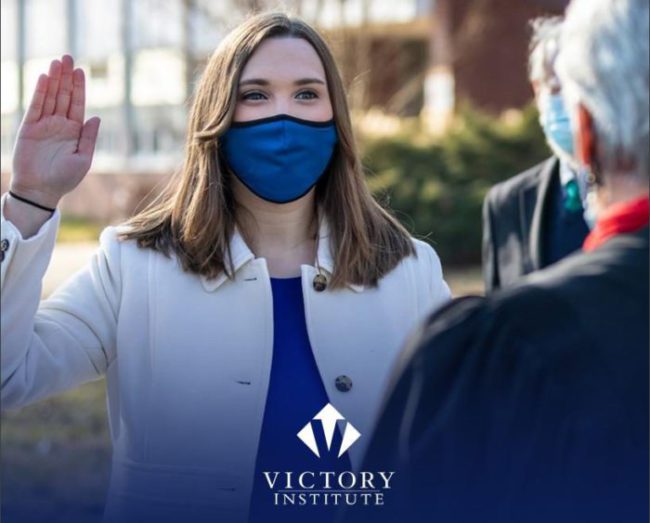 WASHINGTON – In its annual report the Washington D.C. based LGBTQ Victory Institute noted that there had been an increase of 17 percent in the past year of LGBTQ Americans serving as elected officials. According to the data in the Out for America 2021 report released this past week, there are 986 known out LGBTQ elected officials in the United States.
The Victory Institute reported that total included two U.S. senators, nine U.S. representatives, two governors, 189 state legislators, 56 mayors and six statewide executives. While this is considered a large increase, LGBTQ people hold just 0.19 percent of elected positions in the United States, despite making up at least 5.6 percent of the U.S. adult population.
Americans must elect 28,116 more LGBTQ people to public office for LGBTQ people to achieve equitable representation (serving in 5.6 percent of elected positions) the report went on to note.
KEY FINDINGS:
The report found that in the past year (between June 2020 and June 2021):
LGBTQ elected officials of color increased by 51 percent, with Black LGBTQ elected officials growing at the fastest pace (a 75 percent increase);
Trans women elected officials increased by 71 percent (from 21 to 36), yet trans men saw no increase (with just five serving nationwide);
Queer-identified elected officials increased by 83 percent, faster than all other sexual orientations; and
LGBQ cisgender women state legislators surpassed the number of GBQ cisgender men state legislators for the first time.
The report also found that:
LGBTQ elected officials are significantly more racially and ethnically diverse than the overall elected official population, but are less diverse than the U.S. population;
Mississippi is the only state in the nation with zero known out LGBTQ elected officials serving;
23 states have transgender elected officials serving and 29 states have non-cisgender elected officials;
LGBTQ people are equitably represented among mayors of top 100 cities for the first time (with six), but are underrepresented among mayors overall and in all other public positions; and that
84 percent of LGBTQ elected officials are Democrats and just three percent are Republicans.
In an emailed statement, former Houston, Texas Mayor Annise Parker, who currently serves as the President & CEO of LGBTQ Victory Institute reflected, "While LGBTQ elected officials are growing steadily in number, at this pace it will still take decades to come anywhere close to achieving equitable representation in government."
Parker went on to note, "This lack of representation has enormous consequences, because LGBTQ elected officials are best positioned to defend against anti-LGBTQ legislative attacks and to change the hearts and minds of colleagues in supporting inclusive policies. A moonshot effort to increase our numbers is essential to advancing equality at every level of government – and a large part of that is showing LGBTQ people that running for office is our best bet to achieve lasting social change."
In addition to changes in representation over the last year, the report also looks at trends since the first Out for America report was released in November 2017. In that time, LGBTQ elected officials increased by 121 percent (from 448 to 986) overall, and LGBTQ elected officials of color increased by 201 percent (from 92 to 277).
Since November 2017, there is a 296 percent increase in Black LGBTQ elected officials (from 23 to 91), 135 percent increase in Latinx LGBTQ elected officials (from 51 to 120) and a 117 percent increase in Asian American and Pacific Islander elected officials (from 12 to 26). Trans women increased by 800 percent (from four to 36) and bisexual elected officials by 787 percent (from eight to 71).
"LGBTQ elected officials are significantly more diverse than the overall elected official population – so their impact extends beyond LGBTQ equality alone," said Ruben Gonzales, Executive Director of LGBTQ Victory Institute. "LGBTQ elected officials are on the frontlines in legislative efforts to end police brutality, defend voting rights and secure inclusive healthcare reform. LGBTQ people are represented in every community in America and that diversity allows for more thoughtful policy changes when we are in office."
The Out for America report is an annual analysis of LGBTQ elected representation in government based on Victory Institute's LGBTQ elected officials database – the largest and most comprehensive listing available. The interactive Out for America map, updated daily, displays all known LGBTQ elected officials and is available at outforamerica.org.
Read the full Out for America 2021 report at victoryinstitute.org/out-for-america-2021.
Biden to nominate LGBTQ synagogue rabbi to religious freedom commission
Sharon Kleinbaum joined NYC's Congregation Beit Simchat Torah in 1992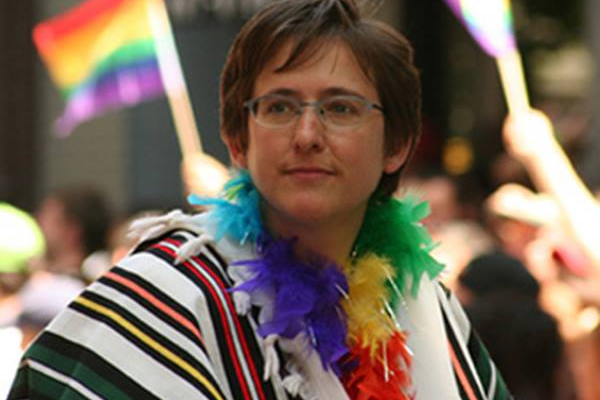 WASHINGTON — President Biden on Friday announced he plans to nominate the chief rabbi of an LGBTQ synagogue in New York City to the U.S. Commission on International Religious Freedom.
Rabbi Sharon Kleinbaum joined Congregation Beit Simchat Torah in 1992.
"She was installed as CBST's first rabbi in 1992, arriving at the height of the AIDS crisis when the synagogue was in desperate need of pastoral care and spiritual leadership," reads a bio that announced Biden's intention to nominate Kleinbaum to the commission. "She guided the congregation through a period of loss and change, while addressing social issues and building a strong and deeply spiritual community. Under her leadership as senior rabbi, CBST has become a powerful voice in the movement for equality and justice for people of all sexual orientations, gender identities and expressions."
Kleinbaum is married to American Federation of Teachers President Randi Weingarten.
The commission seeks to defend religious freedom in the U.S. and around the world. The president and Democratic and Republican leaders in Congress nominate members.
Bill would require universities to apply for Title IX religious exemption waiver
Measure seeks to highlight anti-LGBTQ higher education institutions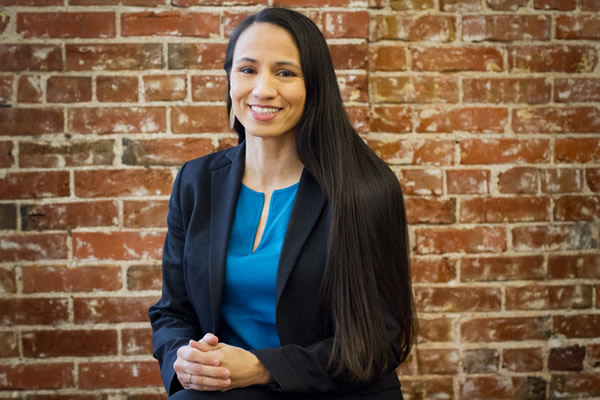 WASHINGTON — Four members of Congress on Thursday introduced a bill that would require federally-funded universities to apply for a waiver from the U.S. Department of Education before they can receive a religious exemption from Title IX of the Education Amendments of 1972.
A press release that U.S. Reps. Katherine Clark (D-Mass.), Chris Pappas (D-N.H.), Sharice Davids (D-Kan.) and Mondaire Jones (D-N.Y.) issued notes the Exposing Discrimination in Higher Education Act would also require "the Department of Education and the exempted higher education institutions to prominently display the waiver on their websites in order to inform students of their beliefs before arriving on campus."
The members of Congress note "several higher education institutions across the U.S." beginning in 2013 "applied for religious exemptions with the Department of Education that would allow them to discriminate against LGBTQ students on campus." The Department of Education during the previous White House sought to revoke the waiver application requirement.
"These exemptions allow students to be removed from extracurricular organizations, leadership posts, sports teams, and even be expelled simply for being members of the LGBTQ community," reads the press release.
The previous White House rescinded guidance to public schools that said Title IX requires them to allow transgender students to use restrooms based on their gender identity. The Biden administration last month said Title IX bans discrimination against LGBTQ students.
"Every student deserves to attend a college where their entire identity is accepted and celebrated," said Clark. "Without transparency about a school's beliefs, students may arrive on campus only to learn that their school has policies in place that infringe on their civil rights. I'm proud to introduce the Exposing Discrimination in Higher Education Act to ensure that students can apply to college with all the information necessary to set them up for success."
Davids added "every student deserves an educational experience free from discrimination and harassment."
"At the moment, we are letting down our LGBTQ+ community on college campuses, as more taxpayer-funded universities quietly skirt around civil rights law," said the Kansas Democrat. "By reinstating the waiver requirement for universities who seek exemption from anti-discrimination protections, we are not only protecting LGBTQ+ students from unfair treatment, but we are reminding them that their experience is visible and valuable."